Abstract
To present an overview of the existing epidemiological evidence regarding the occurrence of tinea gladiatorum in wrestlers and dermatophyte contamination in wrestling halls, five electronic databases including "PubMed," "Scopus," "Google Scholar," "Science Direct," and "Web of Science" were searched from inception to 30 December 2018. Studies focusing on epidemiology of dermatophytosis among wrestlers and on the presence of dermatophytes in wrestler hall were included. Data from 13 studies, 4818 wrestlers, and 391 wrestling mat samples from Turkey, Iran, and the USA (including a separate dataset for Alaska) were included. The prevalence of tinea gladiatorum in wrestlers varied from 2.4 to 90.62%, with the overall prevalence of 34.29% (95% CI 20.33–48.25). The prevalence of dermatophytes in wrestling halls varied from 0 to 56%, with the overall prevalence of 5% (95% CI 4‒7). The most frequent causative agent was Trichophyton tonsurans (875/951; 92%). The most common clinical feature of dermatophytosis among wrestlers was tinea corporis (62.2%). Meta-analysis indicated significant heterogeneity of all included studies (Q = 3204.72, P < 0.001, I2 = 99.6%). The publication bias evaluated using Egger's test was negligible (P = 0.033). The current systematic review and meta-analysis are limited by the relatively low number of published studies on tinea gladiatorum and its prevalence among wrestlers. In Conclusion, the analysis revealed a relatively high prevalence of tinea gladiatorum among wrestlers, with a paucity of evidence on dermatophytes in wrestling halls.
Access options
Buy single article
Instant access to the full article PDF.
USD 39.95
Price includes VAT (USA)
Tax calculation will be finalised during checkout.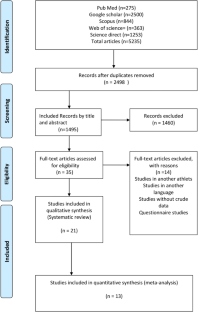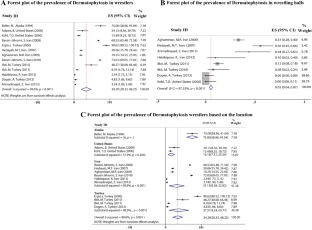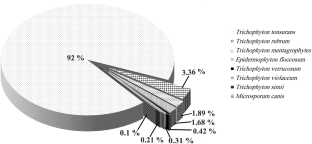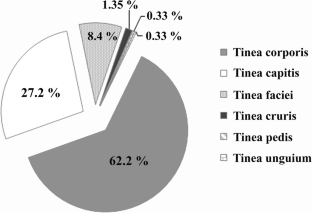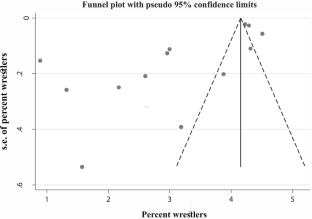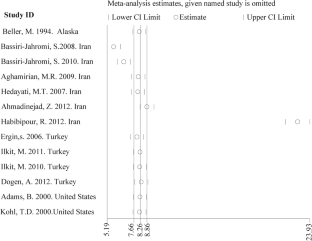 References
1.

Adams BB (2002) Tinea corporis gladiatorum. J Am Acad Dermatol 47(2):286–290

2.

Shiraki Y, Hiruma M, Hirose N, Sugita T, Ikeda S (2006) A nationwide survey of Trichophyton tonsurans infection among combat sport club members in Japan using a questionnaire form and the hairbrush method. J Am Acad Dermatol 54(4):622–626. https://doi.org/10.1016/j.jaad.2005.11.1039

3.

Adams BB (2000) Tinea corporis gladiatorum: a cross-sectional study. J Am Acad Dermatol 43(6):1039–1041

4.

Aghamirian MR, Ghiasian SA (2011) A clinico-epidemiological study on tinea gladiatorum in Iranian wrestlers and mat contamination by dermatophytes. Mycoses 54(3):248–253

5.

Agel J, Ransone J, Dick R, Oppliger R, Marshall SW (2007) Descriptive epidemiology of collegiate men's wrestling injuries: National Collegiate Athletic Association Injury Surveillance System, 1988–1989 through 2003–2004. J Athl Train 42(2):303

6.

Sakata Y, Ushigami T, Anzawa K, Mochizuki T (2018) Molecular epidemiology of Trichophyton tonsurans, the causative dermatophyte of the epidemic of tinea gladiatorum in Japan between 2011 and 2015. Jpn J Infect Dis 2017:2449

7.

Ergin Ş, Ergin C, Erdoğan B, Kaleli I, Evliyaoğlu D (2006) An experience from an outbreak of tinea capitis gladiatorum due to Trichophyton tonsurans. Clin Exp Dermatol 31(2):212–214

8.

Habibipour R, Moradi-Haghgou L (2012) Survey on dermatophytosis in wrestlers and its relationship with wrestling mats in Hamedan. Zahedan J Med Sci 14(8):38–42

9.

Ahmadinejad Z, Razaghi A, Noori A, Hashemi SJ, Asghari R, Ziaee V (2013) Prevalence of fungal skin infections in Iranian wrestlers. Asian J Sports Med 4(1):29–33

10.

Kohl TD, Giesen DP, Moyer J, Lisney M (2002) Tinea gladiatorum: Pennsylvania's experience. Clin J Sport Med 12(3):165–171

11.

Beller M, Gessner BD (1994) An outbreak of tinea corporis gladiatorum on a high school wrestling team. J Am Acad Dermatol 31:197–201

12.

Hedayati MT, Afshar P, Shokohi T, Aghili R (2007) A study on tinea gladiatorum in young wrestlers and dermatophyte contamination of wrestling mats from Sari, Iran. Br J Sports Med 41(5):332–334

13.

Kohl TD, Lisney M (2000) Tinea gladiatorum. Sports Med 29(6):439–447

14.

Stiller MJ, Klein WP, Dorman RI, Rosenthal S (1992) Tinea corporis gladiatorum: an epidemic of Trichophyton tonsurans in student wrestlers. J Am Acad Dermatol 27(4):632–633

15.

el Fari M, Graser Y, Presber W, Tietz HJ (2000) An epidemic of tinea corporis caused by Trichophyton tonsurans among children (wrestlers) in Germany. Mycoses 43(5):191–196

16.

Poisson DM, Rousseau D, Defo D, Esteve E (2005) Outbreak of tinea corporis gladiatorum, a fungal skin infection due to Trichophyton tonsurans, in a French high level judo team. Euro Surveill 10(9):187–190

17.

Shiraki Y, Hiruma M, Hirose N, Ikeda S (2009) Commonly affected body sites in 92 Japanese combat sports participants with Trichophyton tonsurans infection. Mycoses 52(4):339–342. https://doi.org/10.1111/j.1439-0507.2008.01603.x

18.

Dogen A, Gumral R, Oksuz Z, Kaplan E, Serin MS, Ilkit M (2013) Epidemiology of dermatophytosis in junior combat and non-combat sports participants. Mycoses 56(2):95–100. https://doi.org/10.1111/j.1439-0507.2012.02209.x

19.

Moher D, Liberati A, Tetzlaff J, Altman DG (2009) Preferred reporting items for systematic reviews and meta-analyses: the PRISMA statement. Ann Intern Med 151 (4):264–269, w264. https://doi.org/10.7326/0003-4819-151-4-200908180-00135

20.

Higgins JP, Thompson SG (2002) Quantifying heterogeneity in a meta-analysis. Stat Med 21(11):1539–1558

21.

Egger M, Smith GD, Schneider M, Minder C (1997) Bias in meta-analysis detected by a simple, graphical test. BMJ 315(7109):629–634

22.

Bassiri-Jahromi S, Khaksar A (2008) Outbreak of tinea gladiatorum in wrestlers in Tehran (Iran). Indian J Dermatol 53(3):132–136. https://doi.org/10.4103/0019-5154.43219

23.

Bassiri-Jahromi S, Khaksar AA (2010) Prevalence of cutaneous fungal infections among sports-active individuals. Ann Trop Med Public Health 3(2):53

24.

Ilkit M, Saracli MA, Kurdak H, Turac-Bicer A, Yuksel T, Karakas M, Schuenemann E, Abdel-Rahman SM (2010) Clonal outbreak of Trichophyton tonsurans tinea capitis gladiatorum among wrestlers in Adana, Turkey. Med Mycol 48(3):480–485. https://doi.org/10.3109/13693780903278051

25.

Ilkit M, Gümral R, Saraçli MA, Burgut R (2011) Trichophyton tonsurans scalp carriage among wrestlers in a national competition in Turkey. Mycopathologia 172(3):215–222. https://doi.org/10.1007/s11046-011-9421-y

26.

Kohl TD, Martin DC, Nemeth R, Evans DL (2000) Wrestling mats: are they a source of ringworm infections? J Athl Train 35(4):427–430

27.

Seebacher C, Bouchara J-P, Mignon B (2008) Updates on the epidemiology of dermatophyte infections. Mycopathologia 166(5–6):335–352

28.

Lee WJ, Sim HB, Jang YH, Lee S-J, Kim DW, Jun JB, Bang YJ (2016) Skin infection due to Trichophyton tonsurans still occurs in people in Korea but not as outbreaks. J Korean Med Sci 31(2):296–300

29.

Hand JW, Wroble RR (1999) Prevention of tinea corporis in collegiate wrestlers. J Athl Train 34(4):350

30.

Kaynar O, Engin RI, Dagdeviren F, Yilmaz M, Ozkan B, Ozturk S (2017) Investigation of skin infection frequency in Turkish wrestlers. Turkderm Arch Turk Dermatol Venerol 51(3):84–87. https://doi.org/10.4274/turkderm.81231
Acknowledgements
The authors gratefully acknowledge financial support of Deputy of Research of Mazandaran University of Medical Sciences, Sari, Iran (Grant No: 1146). The author would like to thank Prof. Macit Ilkit for valuable comments and suggestions.
Ethics declarations
Conflict of interest
The authors declare that they have no conflict of interest.
Additional information
Publisher's Note
Springer Nature remains neutral with regard to jurisdictional claims in published maps and institutional affiliations.
About this article
Cite this article
Kermani, F., Moosazadeh, M., Hosseini, S.A. et al. Tinea Gladiatorum and Dermatophyte Contamination Among Wrestlers and in Wrestling Halls: A Systematic Review and Meta-analysis. Curr Microbiol 77, 602–611 (2020). https://doi.org/10.1007/s00284-019-01816-3
Received:

Accepted:

Published:

Issue Date: