Abstract
Melaleuca alternifolia tea tree oil (TTO) is largely used in cutaneous infections. Clinical observations reported antibacterial, antifungal, and antiviral activities, whereas in vitro experiments ascribed most of biological properties to terpinen-4-ol. Since different plant chemotypes and storage conditions result in variations of chemical composition of commercially available TTO, in this study we investigated the antimicrobial activity and the chemical profile of ten commercially available TTO products. The antimicrobial activity was assessed against Candida glabrata, Herpes simplex virus type 1 (HSV-1), methicillin-resistant Staphylococcus aureus (MRSA), and Pseudomonas aeruginosa grown in planktonic mode or biofilms. Only five out of ten TTO batches reported significant antimicrobial activity. The identified TTO products reduced bacterial survival in biofilms, generated oxidative damage in C. glabrata, and diminished HSV-1 infectivity. GC–MS analysis revealed that all the analyzed TTO batches fitted into the terpinen-4-ol chemotype even if we reported great variability in composition of nine major ISO-specified TTO components. Overall, we were not able to ascribe the antimicrobial activity to the content in terpinen-4-ol. We therefore conclude that the antimicrobial activity of TTO results from complex interaction among different components.
Access options
Buy single article
Instant access to the full article PDF.
USD 39.95
Price excludes VAT (USA)
Tax calculation will be finalised during checkout.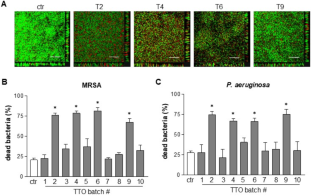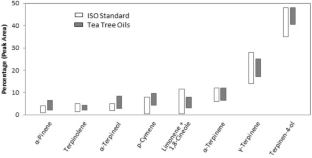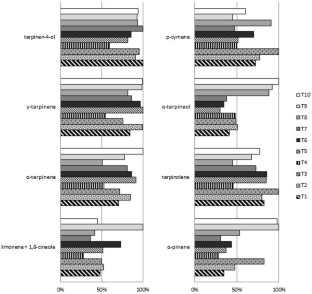 References
American Botanical Council (2017) Botanical adulterants program publishes bulletin on tea tree oil adulteration. cms.herbalgram.org/press/2017. Accessed 25 Oct 2018

Banes-Marshall L, Cawley P, Phillips CA (2001) In vitro activity of Melaleuca alternifolia (tea tree) oil against bacterial and Candida spp. isolates from clinical specimens. Br J Biomed Sci 58:139–145

Borgundvaag B, Ng W, Rowe B, Katz K et al (2013) Prevalence of methicillin-resistant Staphylococcus aureus in skin and soft tissue infections in patients presenting to Canadian emergency departments. CJEM 15:141–160

Brophy JJ, Davies NW, Southwell IA, Stiff IA, Williams LR (1989) Gas chromatographic quality control for oil of Melaleuca terpinen-4-ol type (Australian tea tree). J Agric Food Chem 37:1330–1335

Brun P, Giron MC, Zoppellaro C, Bin A, Porzionato A, De Caro R, Barbara G et al (2010) Herpes simplex virus type 1 infection of the rat enteric nervous system evokes small-bowel neuromuscular abnormalities. Gastroenterology 138:1790–1801

Carson CF, Hammer KA, Riley TV (2006) Melaleuca alternifolia (Tea Tree) oil: a review of antimicrobial and other medicinal properties. Clin Microbiol Rev 19:50–62

Carson CF, Mee BJ, Riley TV (2002) Mechanism of action of Melaleuca alternifolia (tea tree) oil on Staphylococcus aureus determined by time-kill, lysis, leakage, and salt tolerance assays and electron microscopy. Antimicrob Agents Chemother 46:1914–1920

Costerton JW, Stewart PS, Greenberg EP (1999) Bacterial biofilms: a common cause of persistent infections. Science 284:1318–1322

Cox SD, Mann CM, Markham JL, Bell HC, Gustafson JE, Warmington JR, Wyllie SG (2000) The mode of antimicrobial action of the essential oil of Melaleuca alternifolia (tea tree oil). J Appl Microbiol 88:170–175

Cox SD, Mann CM, Markham JL (2001) Interactions between components of the essential oil of Melaleuca alternifolia. J Appl Microbiol 91:492–497

Diaz JH, Lopez FA (2015) Skin, soft tissue and systemic bacterial infections following aquatic injuries and exposures. Am J Med Sci 349:269–275

Donlan RM, Costerton JW (2002) Biofilms: survival mechanisms of clinically relevant microorganisms. Clin Microbiol Rev 15:167–193

Gömöri C, Vidács A, Kerekes EB, Nacsa-Farkas E, Böszörményi A, Vágvölgyi C, Krisch J (2018) Altered antimicrobial and anti-biofilm forming effect of thyme essential oil due to changes in composition. Nat Prod Commun 13:483–487

Gustafson JE, Liew YC, Chew S, Markham J, Bell HC, Wyllie SG, Warmington JR (1998) Effects of tea tree oil on Escherichia coli. Lett Appl Microbiol 26:194–198

Hammer KA, Carson CF, Riley TV (1996) Susceptibility of transient and commensal skin flora to the essential oil of Melaleuca alternifolia (tea tree oil). Am J Infect Control 24:186–189

Hammer KA, Carson CF, Riley TV (2003) Antifungal activity of the components of Melaleuca alternifolia (tea tree) oil. J Appl Microbiol 95:853–860

Høiby N, Bjarnsholt T, Moser C, Bassi GL, Coenye T, Donelli G, Hall-Stoodley L et al (2015) ESCMID guideline for the diagnosis and treatment of biofilm infections 2014. Clin Microbiol Infect 21:S1–S25

Homer LE, Leach DN, Lea D, Lee LS, Henry RJ, Baverstock PR (2000) Natural variation in the essential oil content of Melaleuca alternifolia Cheel (Myrtaceae). Biochem Syst Ecol 28:367–382

International Organization for Standardization (2017) ISO 4730:2017 essential oil of Melaleuca, terpinen-4-ol type (Tea Tree oil) https://www.iso.org/standard/69082.html. Accessed 25 Oct 2018

Kerekes EB, Deak E, Tako M, Tserennadmid R, Petkovits T, Vagvolgyi C, Krisch J (2013) Anti-biofilm forming and anti-quorum sensing activity. J Appl Microbiol 115:933–942

Keszei A, Hassan Y, Foley WJ (2010) A biochemical interpretation of terpene chemotypes in Melaleuca alternifolia. J Chem Ecol 36:652–661

Ki V, Rotstein C (2008) Bacterial skin and soft tissue infections in adults: a review of their epidemiology, pathogenesis, diagnosis, treatment and site of care. Can J Infect Dis Med Microbiol 19:173–184

Lister JL, Horswill AR (2014) Staphylococcus aureus biofilms: recent developments in biofilm dispersal. Front Cell Infect Microbiol 4:178. https://doi.org/10.3389/fcimb.2014.00178

May J, Chan CH, King A, Williams L, French GL (2000) Time-kill studies of tea tree oils on clinical isolates. J Antimicrob Chemother 45:639–643

National Nosocomial Infections Surveillance System (2004) National nosocomial infections surveillance (NNIS) system report, data summary from January 1992 through June 2004, issued October 2004. Am J Infect Control 32:470–485

Papenfort K, Bassler B (2016) Quorum-sensing signal-response systems in gram-negative bacteria. Nat Rev Microbiol 14:576–588

Patel JB, Cockerill FR, Braford PA, Eliopoulos GM, Hindler JA, Jenkins SG, Lewis JS et al (2015) Methods for dilution antimicrobial susceptibility tests for bacteria that grow aerobically; Approved Standard-Tenth Edition. Clinical and Laboratory Standards Institute https://clsi.org/media/1632/m07a10_sample. Accessed 25 Oct 2018

Ray GT, Suaya JA, Baxter R (2013) Incidence, microbiology, and patient characteristics of skin and soft-tissue infections in a U.S. population: a retrospective population-based study. BMC Infect Dis 13:252. https://doi.org/10.1186/1471-2334-13-252

Sikkema J, de Bont JA, Poolman B (1995) Mechanisms of membrane toxicity of hydrocarbons. Microbiol Rev 59:201–222

Stewart PS, Costerton JW (2001) Antibiotic resistance of bacteria in biofilms. Lancet 358:135–138

The European Committee on Antimicrobial Susceptibility Testing (2018) Breakpoint tables for interpretation of MICs and zone diameters, version 8.0 http://www.eucast.org/clinical_breakpoints. Accessed 25 Oct 2018

Veerachamy S, Yarlagadda T, Manivasagam G, Yarlagadda PK (2014) Bacterial adherence and biofilm formation on medical implants: a review. Proc Inst Mech Eng H 228:1083–1099

Wang M, Zhao J, Avula B, Wang YH, Chittiboyna AG, Parcher JF, Khan IA (2015) Quality evaluation of terpinen-4-ol-type Australian tea tree oils and commercial products: an integrated approach using conventional and chiral GC/MS combined with chemiometrics. Agric Food Chem 63:2674–2682

White TC, Findley K, Dawson TL, Scheynius A, Boekhout T, Cuomo CA, Xu J et al (2014) Fungi on the skin: dermatophytes and malassezia. Cold Spring Harb Perspect Med. https://doi.org/10.1101/cshperspect.a019802
Acknowledgements
The study was supported by financial grants from the University of Padova, Italy.
Ethics declarations
Conflict of interest
The authors declare that the research was conducted in the absence of any commercial or financial relationships that could be construed as a potential conflict of interest.
About this article
Cite this article
Brun, P., Bernabè, G., Filippini, R. et al. In Vitro Antimicrobial Activities of Commercially Available Tea Tree (Melaleuca alternifolia) Essential Oils. Curr Microbiol 76, 108–116 (2019). https://doi.org/10.1007/s00284-018-1594-x
Received:

Accepted:

Published:

Issue Date:

DOI: https://doi.org/10.1007/s00284-018-1594-x