Abstract
Rapid detection of Listeria and other microbial pathogens in food is an essential part of quality control and it is critical for ensuring the safety of consumers. Culture-based methods for detecting foodborne pathogens are time-consuming, laborious and cannot detect viable but non-culturable microorganism, whereas viability PCR methodology provides quick results; it is able to detect viable but non-culturable cells, and allows for easier handling of large amount of samples. Although the most critical point to use viability PCR technique is achieving the complete exclusion of dead cell amplification signals, many improvements are being introduced to overcome this. In the present work, the yield of dead cell DNA neutralization was enhanced by incorporating two new sample treatment strategies: tube change combined with a double light treatment. This procedure was successfully tested using artificially contaminated food samples, showing improved neutralization of dead cell DNA.
Access options
Buy single article
Instant access to the full article PDF.
US$ 39.95
Tax calculation will be finalised during checkout.
Subscribe to journal
Immediate online access to all issues from 2019. Subscription will auto renew annually.
US$ 119
Tax calculation will be finalised during checkout.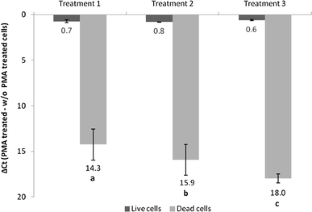 References
1.

Agustí G, Fittipaldi M, Codony F (2017) False-Positive viability PCR results: an association with microtubes. Curr Microbiol 74:377–380

2.

Besnard V, Federighi M, Declerq E, Jugiau F, Cappelier JM (2002) Environmental and physico-chemical factors induce VBNC state in Listeria monocytogenes. Vet Res 33:359–370

3.

Chen JQ, Healey S, Regan P, Laksanalamai P, Hu Z (2017) PCR-based methodologies for detection and characterization of Listeria monocytogenes and Listeria ivanovii in foods and environmental sources. Food Sci Hum Wellness. https://doi.org/10.1016/j.fshw.2017.03.001

4.

D'Agostino M, Wagner M, Vazquez-Boland JA, Kuchta T, Kapriskova R, Hoorfar J, Novella S, Scortti M, Ellison J, Murray A, Fernandes I, Kuhn M, Pazlarova J, Heuvelink A, Cook N (2004) A validated PCR-based method to detect Listeria monocytogenes using raw milk as a food model-towards an international standard. J Food Prot 67:1646–1655

5.

Elizaquivel P, Azizkhanib M, Sanchez G, Aznar R (2013) Evaluation of Zataria multiflora Boiss. essential oil activity against Escherichia coli O157:H7, Salmonella enterica and Listeria monocytogenes by propidium monoazide quantitative PCR in vegetables. Food Control 34:770–776

6.

Elizaquivel P, Aznar R, Sanchez G (2014) Recent developments in the use of viability dyes and quantitative PCR in the food microbiology field. J Appl Microbiol 116:1–13

7.

FDA (2015) Testing methodology for Listeria species or L. monocytogenes in Environmental Samples, version 1

8.

Ferrentino G, Tamburini S, Bath K, Foladori P, Spilimbergo S, Jousson O (2015) Application of culture-independent methods for monitoring Listeria monocytogenes inactivation on food products. Process Biochem 50:188–193

9.

Fittipaldi M, Nocker A, Codony F (2012) Progress in understanding preferential detection of live cells using viability dyes in combination with DNA amplification. J Microbiol Methods 91:276–289

10.

Fittipaldi M, Codony F, Adrados B, Camper AK, Morato J (2011) Viable real-time PCR in environmental samples: can all data be interpreted directly? Microb Ecol 61:7–12

11.

GenIUL Technical Note (45000146-00) (2016) Understanding the tube contribution in vPCR results. Res Gate - Res. https://doi.org/10.13140/RG.2.1.4109.2722

12.

Gurresch A, Gerner W, Pin C, Wagner M, Hein I (2016) Evidence of metabolically active but non-culturable Listeria monocytogenes in long-term growth at 10 °C. Res Microbiol 167:334–343

13.

Kralik P, Nocker A, Pavlik I (2010) Mycobacterium avium subsp. paratuberculosis viability determination using F57 quantitative PCR in combination with propidium monoazide treatment. Int J Food Microbiol 141:S80–S86

14.

Law JF, Ab Mutalib NS, Chan KG, Lee LH (2015) An insight into the isolation, enumeration, and molecular detection of Listeria monocytogenes in food. Front Microbiol 6:1227

15.

Law JF, Ab Mutalib NS, Chan KG, Lee LH (2014) Rapid methods for the detection of foodborne bacterial pathogens: principles, applications, advantages and limitations. Front Microbiol 5:770

16.

Nkuipou-Kenfack E, Engel H, Fakih S, Nocker A (2013) Improving efficiency of viability-PCR for selective detection of live cells. J Microbiol Methods 93:20–24

17.

Pan Y, Breidt F (2007) Enumeration of viable Listeria monocytogenes cells by real-time PCR with propidium monoazide and ethidium monoazide in the presence of dead cells. Appl Environ Microbiol 73:8028–8031

18.

Rudi K, Naterstad K, Drømtorp SM, Holo H (2005) Detection of viable and dead Listeria monocytogenes on gouda-like cheeses by real-time PCR. Lett Appl Microbiol 40:301–306

19.

Scallan E, Hoekstra RM, Angulo FJ, Tauxe RV, Widdowson MA, Roy SL, Jones JL, Griffin PM (2011) Foodborne illness acquired in the United States-major pathogens. Emerg Infect Dis 17:7–15

20.

Takahashi H, Gao Y, Miya S, Kuda T, Kimura B (2016) Discrimination of live and dead cells of Escherichia coli using propidium monoazide after sodium dodecyl sulfate treatment. Food Control 71:79–82

21.

UNE-EN ISO 11290-1 (2017) Microbiology of the food chain-Horizontal method for the detection and enumeration of Listeria monocytogenes and other Listeria spp.-Part 1: detection method

22.

UNE-EN ISO 7218:2007-Microbiology of food and animal feeding stuffs-general requirements and guidance for microbiological examinations

23.

UNE-EN ISO 16140-2:2016-Microbiology of the food chain-Method validation. Part 2: protocol for the validation of alternative (proprietary) methods against a reference method

24.

Zeng D, Chen Z, Jiang Y, Xue F, Li B (2016) Advances and challenges in viability detection of foodborne pathogens. Front Microbiol 7:1833

25.

Zhang Z, Liu H, Lou Y, Xiao L, Liao C, Malakar PK, Pan Y, Zhao Y (2015) Quantifying viable Vibrio parahaemolyticus and Listeria monocytogenes simultaneously in raw shrimp. Appl Microbiol Biotechnol 99:6451–6462

26.

Zhao X, Zhong J, Wei C, Lin CW, Ding T (2017) Current perspectives on viable but non-culturable state in foodborne pathogens. Front Microbiol 8:580
Ethics declarations
Conflict of interest
The authors declare that they have no conflict of interest.
About this article
Cite this article
Agustí, G., Fittipaldi, M. & Codony, F. Optimization of a Viability PCR Method for the Detection of Listeria monocytogenes in Food Samples. Curr Microbiol 75, 779–785 (2018). https://doi.org/10.1007/s00284-018-1448-6
Received:

Accepted:

Published:

Issue Date: