Abstract
Pulmonary tuberculosis (PTB) is one of the major infectious diseases in developing countries. The objective of this study was to compare rapid diagnostics technique, GeneXpert MTB/RIF (GeneXpert) and Multiplex PCR assay (MPCR) targeting IS6110 segment and mpb64 gene for direct detection of Mycobacterium tuberculosis (MTB) in suspected PTB patients. A cross sectional study was carried among 105 sputum samples from suspected PTB patients to evaluate GeneXpert and Multiplex PCR who visited National Tuberculosis Center, Nepal. The patient's sputum samples were used directly for the GeneXpert whereas DNA extraction by CTAB method was followed to process the sample for MPCR. The sensitivity and specificity of GeneXpert and MPCR in smear positive cases was 78.6, 33.3, and 100.0%, 66.7%, respectively (P = 0.125). However, in smear negative cases sensitivity and specificity of both methods exhibited 90.9, 95.2, and 100.0%, 100.0% respectively (P = 0.625). Finally, the sensitivity and specificity of GeneXpert and MPCR were 82.9, 95.3 and 100.0%, 98.5% respectively, (P = 0.549) in pulmonary cases. Comparatively, we observed higher sensitivity and specificity for MPCR than GeneXpert for both smear positive and negative samples. Thus, we recommend MPCR alongside GeneXpert for the better diagnostic accuracy of PTB in a resource-limited country where tuberculosis is endemic.
This is a preview of subscription content, log in to check access.
Access options
Buy single article
Instant access to the full article PDF.
US$ 39.95
Tax calculation will be finalised during checkout.
Subscribe to journal
Immediate online access to all issues from 2019. Subscription will auto renew annually.
US$ 199
Tax calculation will be finalised during checkout.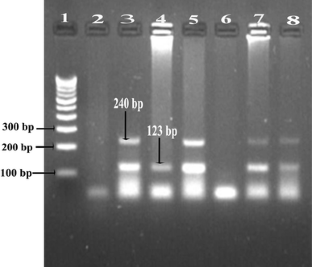 Abbreviations
AFB:

Acid-fast bacillus

MTB:

Mycobacterium tuberculosis

MPCR:

Multiplex polymerase chain reaction

MDR:

Multidrug resistant

PTB:

Pulmonary tuberculosis
References
1.

Agrawal M, Bajaj A, Bhatia V, Dutt S (2016) Comparative study of GeneXpert with ZN stain and culture in samples of suspected pulmonary tuberculosis. J Clin Diagnost Res: JCDR 10(5):DC09–DC12. doi:10.7860/jcdr/2016/18837.7755

2.

Alonso H, Samper S, Martin C, Otal I (2013) Mapping IS6110 in high-copy number Mycobacterium tuberculosis strains shows specific insertion points in the Beijing genotype. BMC Genomics 14:422. doi:10.1186/1471-2164-14-422

3.

Baess I (1974) Isolation and purification of deoxyribonucleic acid from mycobacteria. Acta Pathol Microbiol Scand B Microbiol Immunol 82(6):780–784

4.

Boom R, Sol CJ, Salimans MM, Jansen CL, Wertheim-van Dillen PM, van der Noordaa J (1990) Rapid and simple method for purification of nucleic acids. J Clin Microbiol 28(3):495–503

5.

Centers for Disease C, Prevention (2009) Updated guidelines for the use of nucleic acid amplification tests in the diagnosis of tuberculosis. MMWR Morb Mortal Wkly Rep 58(1):7–10

6.

Coros A, DeConno E, Derbyshire KM (2008) IS6110, a Mycobacterium tuberculosis complex-specific insertion sequence, is also present in the genome of Mycobacterium smegmatis, suggestive of lateral gene transfer among mycobacterial species. J Bacteriol 190(9):3408–3410. doi:10.1128/JB.00009-08

7.

Desikan P (2013) Sputum smear microscopy in tuberculosis: is it still relevant? Indian J Med Res 137(3):442–444

8.

Driscoll MD, McLean KJ, Levy C, Mast N, Pikuleva IA, Lafite P, Rigby SE, Leys D, Munro AW (2010) Structural and biochemical characterization of Mycobacterium tuberculosis CYP142: evidence for multiple cholesterol 27-hydroxylase activities in a human pathogen. J Biol Chem 285(49):38270–38282. doi:10.1074/jbc.M110.164293

9.

Ghosh HK, Cobb M, Pacey DP, Conklin S (1978) Experience with a simplification of the petroff method for laboratory diagnosis of mycobacteria in sputum. Pathology 10(3):257–261

10.

Huh HJ, Jeong BH, Jeon K, Koh WJ, Ki CS, Lee NY (2014) Performance evaluation of the Xpert MTB/RIF assay according to its clinical application. BMC Infect Dis 14(1):589. doi:10.1186/s12879-014-0589-x

11.

Ioannidis P, Papaventsis D, Karabela S, Nikolaou S, Panagi M, Raftopoulou E, Konstantinidou E, Marinou I, Kanavaki S (2011) Cepheid GeneXpert MTB/RIF assay for Mycobacterium tuberculosis detection and rifampin resistance identification in patients with substantial clinical indications of tuberculosis and smear-negative microscopy results. J Clin Microbiol 49(8):3068–3070

12.

Iram S, Zeenat A, Hussain S, Wasim Yusuf N, Aslam M (2015) Rapid diagnosis of tuberculosis using Xpert MTB/RIF assay—report from a developing country. Pak J Med Sci 31(1):105–110. doi:10.12669/pjms.311.6970

13.

Kox LF, Jansen HM, Kuijper S, Kolk AH (1997) Multiplex PCR assay for immediate identification of the infecting species in patients with mycobacterial disease. J Clin Microbiol 35(6):1492–1498

14.

Kwak N, Choi SM, Lee J, Park YS, Lee CH, Lee SM, Yoo CG, Kim YW, Han SK, Yim JJ (2013) Diagnostic accuracy and turnaround time of the Xpert MTB/RIF assay in routine clinical practice. PLoS ONE 8(10):e77456

15.

Lawn SD, Mwaba P, Bates M, Piatek A, Alexander H, Marais BJ, Cuevas LE, McHugh TD, Zijenah L, Kapata N, Abubakar I, McNerney R, Hoelscher M, Memish ZA, Migliori GB, Kim P, Maeurer M, Schito M, Zumla A (2013) Advances in tuberculosis diagnostics: the Xpert MTB/RIF assay and future prospects for a point-of-care test. Lancet Infect Dis 13(4):349–361. doi:10.1016/S1473-3099(13)70008-2

16.

Mangiapan G, Vokurka M, Schouls L, Cadranel J, Lecossier D, van Embden J, Hance AJ (1996) Sequence capture-PCR improves detection of mycobacterial DNA in clinical specimens. J Clin Microbiol 34(5):1209–1215

17.

Maurya AK, Kant S, Nag VL, Kushwaha RA, Kumar M, Dhole TN (2011) Comparative evaluation of IS6110 PCR via conventional methods in rapid diagnosis of new and previously treated cases of extrapulmonary tuberculosis. Tuberk Toraks 59(3):213–220

18.

Maurya AK, Kant S, Nag VL, Kushwaha R, Dhole TN (2012) Detection of 123 bp fragment of insertion element IS6110 Mycobacterium tuberculosis for diagnosis of extrapulmonary tuberculosis. Indian J Med Microbiol 30(2):182–186. doi:10.4103/0255-0857.96688

19.

McEvoy CR, Falmer AA, Gey van Pittius NC, Victor TC, van Helden PD, Warren RM (2007) The role of IS6110 in the evolution of Mycobacterium tuberculosis. Tuberculosis (Edinb) 87(5):393–404. doi:10.1016/j.tube.2007.05.010

20.

Millan-Lou MI, Lopez-Calleja AI, Colmenarejo C, Lezcano MA, Vitoria MA, del Portillo P, Otal I, Martin C, Samper S (2013) Global study of IS6110 in a successful Mycobacterium tuberculosis strain: clues for deciphering its behavior and for its rapid detection. J Clin Microbiol 51(11):3631–3637. doi:10.1128/JCM.00970-13

21.

Pérez-Osorio AC, Boyle DS, Ingham ZK, Ostash A, Gautom RK, Colombel C, Houze Y, Leader BT (2012) Rapid identification of mycobacteria and drug-resistant Mycobacterium tuberculosis by use of a single multiplex PCR and DNA sequencing. J Clin Microbiol 50(2):326–336. doi:10.1128/jcm.05570-11

22.

Murray P (1992) Laboratory diagnosis of mycobacteriosis. Clinical microbiology updates. Hoechst Roussel Pharmaceuticals, Somerville

23.

Rachow A, Zumla A, Heinrich N, Rojas-Ponce G, Mtafya B, Reither K, Ntinginya EN, O'Grady J, Huggett J, Dheda K, Boehme C, Perkins M, Saathoff E, Hoelscher M (2011) Rapid and accurate detection of Mycobacterium tuberculosis in sputum samples by Cepheid Xpert MTB/RIF assay a clinical validation study. PLoS ONE 6(6):29

24.

Sharma K, Sharma A, Sharma SK, Sen RK, Dhillon MS, Sharma M (2012) does multiplex polymerase chain reaction increase the diagnostic percentage in osteoarticular tuberculosis? A prospective evaluation of 80 cases. Int Orthop 36(2):255–259

25.

Sharma K, Gupta V, Bansal R, Sharma A, Sharma M, Gupta A (2013) Novel multi-targeted polymerase chain reaction for diagnosis of presumed tubercular uveitis. J Ophthalmic Inflamm Infect 3(1):25. doi:10.1186/1869-5760-3-25

26.

Sharma K, Ashkin D, Fiorella P, Willis D, Dean S, Sharma A, Singh K, Lee Y, Pedrosa M, Singh G (2013) Evaluation of multiplex Polymerase chain reaction utilising multiple targets in Mycobacterium tuberculosis direct test negative but culture positive cases: A potential method for enhancing the diagnosis of tuberculosis. Indian J Med Microbiol 31(4):370

27.

Sharma K, Gupta N, Sharma A, Singh G, Gupta PK, Rajwanshi A, Varma SC, Sharma M (2013) Multiplex polymerase chain reaction using insertion sequence 6110 (IS6110) and mycobacterial protein fraction from BCG of Rm 0.64 in electrophoresis target genes for diagnosis of tuberculous lymphadenitis. Indian J Med Microbiol 31(1):24–28

28.

Sharma K, Sinha SK, Sharma A, Nada R, Prasad KK, Goyal K, Rana SS, Bhasin DK, Sharma M (2013) Multiplex PCR for rapid diagnosis of gastrointestinal tuberculosis. J Glob Infect Dis 5(2):49–53. doi:10.4103/0974-777X.112272

29

Steingart KR, Sohn H, Schiller I, Kloda LA, Boehme CC, Pai M, Dendukuri N (2013) Xpert(R) MTB/RIF assay for pulmonary tuberculosis and rifampicin resistance in adults. Cochrane Database Syst Rev (1):CD009593. doi:10.1002/14651858.CD009593.pub2

30

Therese KL, Gayathri R, Dhanurekha L, Sridhar R, Meenakshi N, Madhavan HN (2013) Diagnostic appraisal of simultaneous application of two nested PCRs targeting MPB64 gene and IS6110 region for rapid detection of M. tuberculosis genome in culture proven clinical specimens. Indian J Med Microbiol 31(4):366–369. doi:10.4103/0255-0857.118887

31

van Soolingen D, Hermans PW, de Haas PE, Soll DR, van Embden JD (1991) Occurrence and stability of insertion sequences in Mycobacterium tuberculosis complex strains: evaluation of an insertion sequence-dependent DNA polymorphism as a tool in the epidemiology of tuberculosis. J Clin Microbiol 29(11):2578–2586

32

Wallis RS, Pai M, Menzies D, Doherty TM, Walzl G, Perkins MD, Zumla A (2010) Biomarkers and diagnostics for tuberculosis: progress, needs, and translation into practice. Lancet 375(9729):1920–1937. doi:10.1016/S0140-6736(10)60359-5

33

World Health Organization (2013) Automated real-time nucleic acid amplification technology for rapid and simultaneous detection of tuberculosis and rifampicin resistance: Xpert MT

34

Zeka AN, Tasbakan S, Cavusoglu C (2011) Evaluation of the GeneXpert MTB/RIF assay for rapid diagnosis of tuberculosis and detection of rifampin resistance in pulmonary and extrapulmonary specimens. J Clin Microbiol 49(12):4138–4141

35

Zmak L, Jankovic M, Jankovic VK (2013) Evaluation of Xpert MTB/RIF assay for rapid molecular diagnosis of tuberculosis in a two-year period in Croatia. Int J Mycobacteriol 2(3):179–182. doi:10.1016/j.ijmyco.2013.05.003
Acknowledgement
We would like to thank all the staffs from Annapurna Research Center and National TB center for their direct indirect help in executing this research.
Conflict of Interest
The authors declare no conflict of interest.
About this article
Cite this article
Sah, A.K., Joshi, B., Khadka, D.K. et al. Comparative Study of GeneXpert MTB/RIF Assay and Multiplex PCR Assay for Direct Detection of Mycobacterium tuberculosis in Suspected Pulmonary Tuberculosis Patients. Curr Microbiol 74, 1026–1032 (2017). https://doi.org/10.1007/s00284-017-1279-x
Received:

Accepted:

Published:

Issue Date: