Abstract
The Cj1169c-encoded putative protein of Campylobacter was expressed and purified from E. coli after sequence optimization. The purified protein allowed the production of a specific rabbit antiserum that was used to study the protein expression in vitro and its subcellular localization in the bacterial cell and putative interactions with other proteins. This protein is produced in Campylobacter and it clearly localizes into the periplasmic space. The level of protein production depends on factors, including pH, temperature, osmolarity, and growth phase suggesting a role in the Campylobacter environmental adaptation. The cysteine residues present in the sequence are probably involved in disulfide bridges, which may promote covalent interactions with other proteins of the Campylobacter envelope.
This is a preview of subscription content,
to check access.
Access this article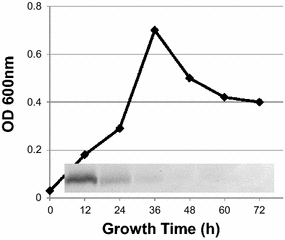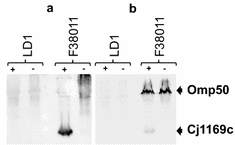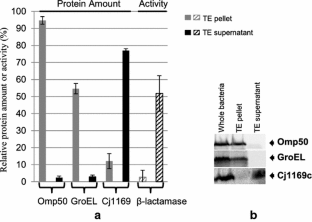 Similar content being viewed by others
References
Ames GF, Prody C, Kustu S (1984) Simple, rapid, and quantitative release of periplasmic proteins by chloroform. J Bacteriol 160:1181–1183

Bessède E, Lehours P, Labadi L, Bakiri S, Mégraud F (2014) Comparison of characteristics of patients infected by Campylobacter jejuni, Campylobacter coli, and Campylobacter fetus. J Clin Microbiol 52:328–330. doi:10.1128/JCM.03029-13

Bolla J-M (2003) Purification of Omp50, a minor porin of Campylobacter jejuni. Methods Mol Biol 228:131–138. doi:10.1385/1-59259-400-X:131

Bolla J-M, Dé E, Dorez A, Pagès J-M (2000) Purification, characterization and sequence analysis of Omp50, a new porin isolated from Campylobacter jejuni. Biochem J 352:637–643

Butcher J, Sarvan S, Brunzelle JS, Couture J-F, Stintzi A (2012) Structure and regulon of Campylobacter jejuni ferric uptake regulator Fur define apo-Fur regulation. Proc Natl Acad Sci USA 109:10047–10052. doi:10.1073/pnas.1118321109

Butcher J, Stintzi A (2013) The transcriptional landscape of Campylobacter jejuni under iron replete and iron limited growth conditions. PLoS One 8:e79475. doi:10.1371/journal.pone.0079475

Corcionivoschi N, Alvarez LAJ, Sharp TH, Strengert M, Alemka A, Mantell J, Verkade P, Knaus UG, Bourke B (2012) Mucosal reactive oxygen species decrease virulence by disrupting Campylobacter jejuni phosphotyrosine signaling. Cell Host Microbe 12:47–59. doi:10.1016/j.chom.2012.05.018

Dash S, Pai AR, Kamath U, Rao P (2014) Pathophysiology and diagnosis of Guillain-Barré syndrome -challenges and needs. Int J Neurosci. doi:10.3109/00207454.2014.913588

Dedieu L, Pagès J-M, Bolla J-M (2004) Use of the omp50 gene for identification of Campylobacter species by PCR. J Clin Microbiol 42:2301–2305

Dugar G, Herbig A, Förstner KU, Heidrich N, Reinhardt R, Nieselt K, Sharma CM (2013) High-resolution transcriptome maps reveal strain-specific regulatory features of multiple Campylobacter jejuni isolates. PLoS Genet 9:e1003495. doi:10.1371/journal.pgen.1003495

Flint A, Butcher J, Clarke C, Marlow D, Stintzi A (2010) Use of a rabbit soft tissue chamber model to investigate Campylobacter jejuni-host interactions. Front Microbiol 1:126. doi:10.3389/fmicb.2010.00126

Fouts DE, Mongodin EF, Mandrell RE, Miller WG, Rasko DA, Ravel J, Brinkac LM, DeBoy RT, Parker CT, Daugherty SC, Dodson RJ, Durkin AS, Madupu R, Sullivan SA, Shetty JU, Ayodeji MA, Shvartsbeyn A, Schatz MC, Badger JH, Fraser CM, Nelson KE (2005) Major structural differences and novel potential virulence mechanisms from the genomes of Multiple Campylobacter species. PLoS Biol 3:e15. doi:10.1371/journal.pbio.0030015.st010

Gupta RS (2006) Molecular signatures (unique proteins and conserved indels) that are specific for the epsilon proteobacteria (Campylobacterales). BMC Genom 7:167. doi:10.1186/1471-2164-7-167

Holmes K, Mulholland F, Pearson BM, Pin C, McNicholl-Kennedy J, Ketley JM, Wells JM (2005) Campylobacter jejuni gene expression in response to iron limitation and the role of Fur. Microbiology 151:243–257. doi:10.1099/mic.0.27412-0

Lefébure T, Bitar PDP, Suzuki H, Stanhope MJ (2010) Evolutionary dynamics of complete Campylobacter pan-genomes and the bacterial species concept. Genome Biol Evol 2:646–655. doi:10.1093/gbe/evq048

Matsumoto Y, Hayama K, Sakakihara S, Nishino K, Noji H, Iino R, Yamaguchi A (2011) Evaluation of multidrug efflux pump inhibitors by a new method using microfluidic channels. PLoS One 6:e18547. doi:10.1371/journal.pone.0018547.t002

Parkhill J, Wren BW, Mungall K, Ketley JM, Churcher C, Basham D, Chillingworth T, Davies RM, Feltwell T, Holroyd S, Jagels K, Karlyshev AV, Moule S, Pallen MJ, Penn CW, Quail MA, Rajandream MA, Rutherford KM, van Vliet AH, Whitehead S, Barrell BG (2000) The genome sequence of the food-borne pathogen Campylobacter jejuni reveals hypervariable sequences. Nature 403:665–668. doi:10.1038/35001088

Platts-Mills JA, Kosek M (2014) Update on the burden of Campylobacter in developing countries. Curr Opin Infect Dis 27:444–450. doi:10.1097/QCO.0000000000000091

Stintzi Alain, Whitworth Lisa (2003) Investigation of the Campylobacter jejuni cold-shock response by global transcript profiling. Genome Lett 2:18–27

Stintzi A, Marlow D, Palyada K, Naikare H, Panciera R, Whitworth L, Clarke C (2005) Use of genome-wide expression profiling and mutagenesis to study the intestinal lifestyle of Campylobacter jejuni. Infect Immun 73:1797–1810. doi:10.1128/IAI.73.3.1797-1810.2005

Tajada P, Gomez-Graces JL, Alós JI, Balas D, Cogollos R (1996) Antimicrobial susceptibilities of Campylobacter jejuni and Campylobacter coli to 12 beta-lactam agents and combinations with beta-lactamase inhibitors. Antimicrob Agents Chemother 40:1924–1925

Wang F, Xiao J, Pan L, Yang M, Zhang G, Jin S, Yu J (2008) A systematic survey of mini-proteins in bacteria and archaea. PLoS One 3:e4027. doi:10.1371/journal.pone.0004027

Xia Q, Muraoka WT, Shen Z, Sahin O, Wang H, Wu Z, Liu P, Zhang Q (2013) Adaptive mechanisms of Campylobacter jejuni to erythromycin treatment. BMC Microbiol 13:133. doi:10.1186/1471-2180-13-133
Electronic supplementary material
Below is the link to the electronic supplementary material.
About this article
Cite this article
Aliouane, S., Pagès, JM. & Bolla, JM. Cloning, Expression, Purification, Regulation, and Subcellular Localization of a Mini-protein from Campylobacter jejuni . Curr Microbiol 72, 511–517 (2016). https://doi.org/10.1007/s00284-015-0980-x
Received:

Accepted:

Published:

Issue Date:

DOI: https://doi.org/10.1007/s00284-015-0980-x
Keywords