Abstract
The emergence of tigecycline resistance has increased in the last years. Although tigecycline-resistant Acinetobacter baumannii isolates were described all over the world, few reports regarding the molecular basis of this resistance are available. It has been recognized that the overexpression of AdeABC efflux pump is related to the tigecycline-resistant phenotype. In 37 clinical A. baumannii isolates we first determined the tigecycline-resistant phenotype and then, within a selected group, we analyzed the sequence of the adeRS operon, which is involved in the expression of the AdeABC efflux pump. Nucleotide sequence analysis of adeR and adeS showed the presence of 5 and 16 alleles, respectively. These results expose a high genetic variability in both genes, the adeS gene being more susceptible to genetic variation. The presence of 2 AdeR and 2 AdeS new variants were reported. Two of the new AdeRS variants were present in the intermediate and the resistant tigecycline A. baumannii isolates, suggesting a putative role in the development of the observed phenotype. More studies need to be addressed to determine the role of the genetic variability observed in the adeRS operon.
Access options
Buy single article
Instant access to the full article PDF.
USD 39.95
Price includes VAT (USA)
Tax calculation will be finalised during checkout.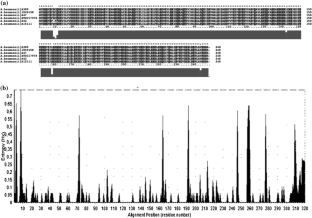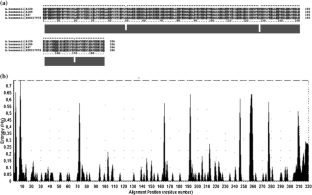 References
1.

Bonnin RA, Nordmann P, Poirel L (2013) Screening and deciphering antibiotic resistance in Acinetobacter baumannii: a state of the art. Expert Rev Anti Infect Ther 11(6):571–583. doi:10.1586/eri.13.38

2.

Chen YH, Ko WC, Hsueh PR (2013) Emerging resistance problems and future perspectives in pharmacotherapy for complicated urinary tract infections. Expert Opin Pharmacother 14(5):587–596. doi:10.1517/14656566.2013.778827

3.

Coyne S, Courvalin P, Perichon B (2011) Efflux-mediated antibiotic resistance in Acinetobacter spp. Antimicrob Agents Chemother 55(3):947–953. doi:10.1128/AAC.01388-10

4.

Deng M, Zhu MH, Li JJ, Bi S, Sheng ZK, Hu FS, Zhang JJ, Chen W, Xue XW, Sheng JF, Li LJ (2014) Molecular epidemiology and mechanisms of tigecycline resistance in clinical isolates of Acinetobacter baumannii from a Chinese university hospital. Antimicrob Agents Chemother 58(1):297–303. doi:10.1128/AAC.01727-13

5.

De Pascale G, Montini L, Pennisi M, Bernini V, Maviglia R, Bello G, Spanu T, Tumbarello M, Antonelli M (2014) High dose tigecycline in critically ill patients with severe infections due to multidrug-resistant bacteria. Crit Care 18(3):R90. doi:10.1186/cc13858

6.

Dinc G, Demiraslan H, Elmali F, Ahmed SS, Metan G, Alp E, Doganay M (2013) Efficacy of sulbactam and its combination with imipenem, colistin and tigecycline in an experimental model of carbapenem-resistant Acinetobacter baumannii sepsis. Chemotherapy 59(5):325–329. doi:10.1159/000356755

7.

Falagas ME, Bliziotis IA, Siempos II (2006) Attributable mortality of Acinetobacter baumannii infections in critically ill patients: a systematic review of matched cohort and case-control studies. Crit Care 10(2):R48. doi:10.1186/cc4869

8.

Hagihara M, Housman ST, Nicolau DP, Kuti JL (2014) In vitro pharmacodynamics of polymyxin B and tigecycline alone and in combination against carbapenem-resistant Acinetobacter baumannii. Antimicrob Agents Chemother 58(2):874–879. doi:10.1128/AAC.01624-13

9.

He C, Xie Y, Fan H, Kang M, Tao C, Zhang R, Hu Y, Chen Z, Wang L (2011) Spread of imipenem-resistant Acinetobacter baumannii of European clone II in Western China. Int J Antimicrob Agents 38(3):257–260. doi:10.1016/j.ijantimicag.2011.04.015

10.

Higgins PG, Schneiders T, Hamprecht A, Seifert H (2010) In vivo selection of a missense mutation in adeR and conversion of the novel blaOXA-164 gene into blaOXA-58 in carbapenem-resistant Acinetobacter baumannii isolates from a hospitalized patient. Antimicrob Agents Chemother 54(12):5021–5027. doi:10.1128/AAC.00598-10

11.

Kim NH, Hwang JH, Song KH, Choe PG, Kim ES, Park SW, Kim HB, Kim NJ, Park WB, Oh MD (2013) Tigecycline in carbapenem-resistant Acinetobacter baumannii bacteraemia: susceptibility and clinical outcome. Scand J Infect Dis 45(4):315–319. doi:10.3109/00365548.2012.732705

12.

Kwon SH, Ahn HL, Han OY, La HO (2014) Efficacy and safety profile comparison of colistin and tigecycline on the extensively drug resistant Acinetobacter baumannii. Biol Pharm Bull 37(3):340–346

13.

Liao CH, Kung HC, Hsu GJ, Lu PL, Liu YC, Chen CM, Lee CM, Sun W, Jang TN, Chiang PC, Cheng YJ, Lin HC, Shi ZY, Wang LS, Chuang YC, Tsao SM, Lu CT, Liu JW, Huang CH, Hsueh PR (2008) In-vitro activity of tigecycline against clinical isolates of Acinetobacter baumannii in Taiwan determined by the broth microdilution and disk diffusion methods. Int J Antimicrob Agents 32(Suppl 3):S192–S196. doi:10.1016/S0924-8579(08)70027-X

14.

Liu JW, Jang TN, Cheng YJ, Hsu GJ, Sun W, Lu CT, Hsueh PR (2010) Comparison of the Etest and broth microdilution method for tigecycline susceptibility testing against clinical isolates of Acinetobacter baumannii from Taiwan. Int J Antimicrob Agents 35(2):201–202. doi:10.1016/j.ijantimicag.2009.09.019

15.

Magiorakos AP, Srinivasan A, Carey RB, Carmeli Y, Falagas ME, Giske CG, Harbarth S, Hindler JF, Kahlmeter G, Olsson-Liljequist B, Paterson DL, Rice LB, Stelling J, Struelens MJ, Vatopoulos A, Weber JT, Monnet DL (2012) Multidrug-resistant, extensively drug-resistant and pandrug-resistant bacteria: an international expert proposal for interim standard definitions for acquired resistance. Clin Microbiol Infect 18(3):268–281. doi:10.1111/j.1469-0691.2011.03570.x

16.

Marchand I, Damier-Piolle L, Courvalin P, Lambert T (2004) Expression of the RND-type efflux pump AdeABC in Acinetobacter baumannii is regulated by the AdeRS two-component system. Antimicrob Agents Chemother 48(9):3298–3304. doi:10.1128/AAC.48.9.3298-3304.2004

17.

Ni W, Cai X, Liang B, Cai Y, Cui J, Wang R (2014) Effect of proton pump inhibitors on in vitro activity of tigecycline against several common clinical pathogens. PLoS One 9(1):e86715. doi:10.1371/journal.pone.0086715

18.

Stietz MS, Ramirez MS, Vilacoba E, Merkier AK, Limansky AS, Centron D, Catalano M (2013) Acinetobacter baumannii extensively drug resistant lineages in Buenos Aires hospitals differ from the international clones I-III. Infect Genet Evol 14:294–301. doi:10.1016/j.meegid.2012.12.020

19.

Sun JR, Chan MC, Chang TY, Wang WY, Chiueh TS (2010) Overexpression of the adeB gene in clinical isolates of tigecycline-nonsusceptible Acinetobacter baumannii without insertion mutations in adeRS. Antimicrob Agents Chemother 54(11):4934–4938. doi:10.1128/AAC.00414-10

20.

Traglia GM, Almuzara M, Merkier AK, Papalia M, Galanternik L, Radice M, Vay C, Centron D, Ramirez MS (2013) Distribution of allelic variants of the chromosomal gene bla OXA-114-like in Achromobacter xylosoxidans clinical isolates. Curr Microbiol 67(5):596–600. doi:10.1007/s00284-013-0407-5

21.

Viehman JA, Nguyen MH, Doi Y (2014) Treatment options for carbapenem-resistant and extensively drug-resistant Acinetobacter baumannii infections. Drugs. doi:10.1007/s40265-014-0267-8

22.

Yang JY, Brooks S, Meyer JA, Blakesley RR, Zelazny AM, Segre JA, Snitkin ES (2013) Pan-PCR, a computational method for designing bacterium-typing assays based on whole-genome sequence data. J Clin Microbiol 51(3):752–758. doi:10.1128/JCM.02671-12

23.

Zarrilli R, Pournaras S, Giannouli M, Tsakris A (2013) Global evolution of multidrug-resistant Acinetobacter baumannii clonal lineages. Int J Antimicrob Agents 41(1):11–19. doi:10.1016/j.ijantimicag.2012.09.008
Acknowledgments
This study was supported by Grants PIP 11420100100152 to MSR and PICT 0120 to MSR, Buenos Aires, Argentina.
Funding
MS.R., and D.C are members of the career investigator of CONICET, Argentina. E.V and G.M.T have a Doctoral Fellowship from CONICET.
About this article
Cite this article
Montaña, S., Vilacoba, E., Traglia, G.M. et al. Genetic Variability of AdeRS Two-Component System Associated with Tigecycline Resistance in XDR-Acinetobacter baumannii Isolates. Curr Microbiol 71, 76–82 (2015). https://doi.org/10.1007/s00284-015-0829-3
Received:

Accepted:

Published:

Issue Date:
Keywords
Colistin

Tigecycline

Acinetobacter Baumannii

Amino Acid Variation

Agar Dilution Method