Abstract
The influence of soluble and immobilized plasma, albumin, and fibronectin (Fn) on the adhesion of three Staphylococcus epidermidis strains to polystyrene was investigated. Both soluble and immobilized plasma and albumin cause to 7-fold reduction of the amounts of adhered cells, regardless of the strain used. The soluble Fn exhibited the adhesion for one strain and did not affect the bacterial sorption for remaining strains, whereas on Fn-coated polystyrene two of the three strains showed about 1.5-fold increase in the number of adsorbed bacteria. The plasma- and albumin-coated surfaces became much more hydrophilic as the contact angle changed from 78 ± 2° for control to 18 ± 2° for plasma and 21 ± 3° for albumin. The ligand–receptor specific interactions strains S. epidermidis with Fn-coated surfaces were proved by measuring the adhesion forces between cell surface and Fn-coated AFM tip. The surface roughness measured using AFM after the plasma and proteins immobilization was changed within 10 nm and not correlate with changes in bacterial adhesion.
Access options
Buy single article
Instant access to the full article PDF.
USD 39.95
Price excludes VAT (USA)
Tax calculation will be finalised during checkout.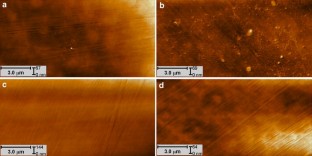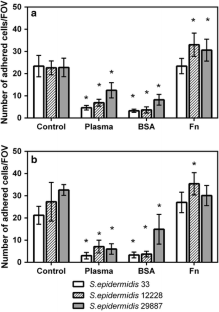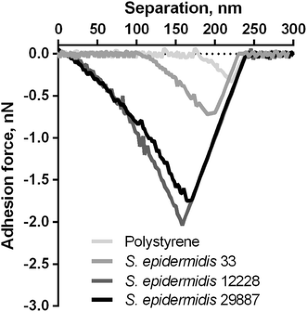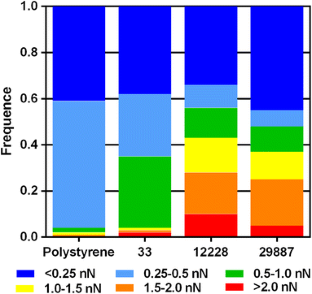 References
An YH, Friedman RJ (2000) Handbook of bacterial adhesion. Humana Press, New Jersey

Ardehali R, Shi L, Janatova J, Mohammad SF, Burns GL (2003) The inhibitory activity of serum to prevent bacterial adhesion is mainly due to apo-transferrin. J Biomed Mater Res A 66:21–28

Arrecubieta C, Toba FA, Von Bayern M, Akashi H, Deng MC, Naka Y, Lowy FD (2009) SdrF, a Staphylococcus epidermidis surface protein, contributes to the initiation of ventricular assist device driveline-related infections. PLoS Pathog 5:1–13

Brokke P, Dankert J, Carballo J, Feijen J (1991) Adherence of coagulase-negative staphylococci onto polyethylene catheters in vitro and in vivo: a study on the influence of various plasma proteins. J Biomater Appl 5:204–226

Carballo J, Ferreirós CM, Criado MT (1991) Influence of blood proteins in the in vitro adhesion of Staphylococcus epidermidis to teflon, polycarbonate, polyethylene and bovine pericardium. Rev Esp Fisiol 47:201–208

Carballo J, Ferreirós CM, Criado MT (1991) Importance of experimental design in the evaluation of the influence of proteins in bacterial adherence to polymers. Med Microbiol Immunol 180:149–155

Christner M, Franke GC, Schommer NN, Wendt U, Wegert K, Pehle P, Kroll G, Schulze C, Buck F, MacK D et al (2010) The giant extracellular matrix-binding protein of Staphylococcus epidermidis mediates biofilm accumulation and attachment to fibronectin. Mol Microbiol 75:187–207

Cottonaro CN, Roohk HV, Shimizu G, Sperling DR (1981) Quantitation and characterization of competitive protein binding to polymers. Trans Am Soc Artif Intern Organs 27:391–395

Dunne WM, Burd EM (1993) Fibronectin and proteolytic fragments of fibronectin interfere with the adhesion of Staphylococcus epidermidis to plastic. J Appl Bacteriol 74:411–416

Eroshenko DV, Lemkina LM, Korobov VP (2012) Adhesion of bacteria Staphylococcus epidermidis 33 during the effects of some physicochemical environmental factors. Bull Perm Univ Biol 1:29–33

Fletcher M, Marshall KC (1982) Bubble contact angle method for evaluating substratum interfacial characteristics and its relevance to bacterial attachment. Appl Environ Microbiol 44:184–192

Fletcher M (1976) The effects of proteins on bacterial attachment to polystyrene. J Gen Microbiol 94:400–404

Galliani S, Viot M, Crémieux A, Van der Auwera P (1994) Early adhesion of bacteremic strains of Staphylococcus epidermidis to polystyrene: influence of hydrophobicity, slime production, plasma, albumin, fibrinogen, and fibronectin. J Lab Clin Med 123:685–692

Grandbois M, Beyer M, Rief M, Clausen-Schaumann H, Gaub HE (1999) How strong is a covalent bond? Science 283:1727–1730

Herrmann M, Vaudaux PE, Pittet D, Auckenthaler R, Lew PD, Schumacher-Perdreau F, Peters G, Waldvogel FA (1988) Fibronectin, fibrinogen, and laminin act as mediators of adherence of clinical staphylococcal isolates to foreign material. J Infect Dis 158:693–701

Hogt AH, Dankert J, Feijen J (1985) Adhesion of Staphylococcus epidermidis and Staphylococcus saprophyticus to a hydrophobic biomaterial. J Gen Microbiol 131:2485–2491

Hussain M, Heilmann C, Peters G, Herrmann M (2001) Teichoic acid enhances adhesion of Staphylococcus epidermidis to immobilized fibronectin. Microb Pathog 31:261–270

Ishiguro R, Yokoyama Y, Maeda H, Shimamura A, Kameyama K, Hiramatsu K (2005) Modes of conformational changes of proteins adsorbed on a planar hydrophobic polymer surface reflecting their adsorption behaviors. J Colloid Interface Sci 290:91–101

Jarvis RA, Bryers JD (2005) Effects of controlled fibronectin surface orientation on subsequent Staphylococcus epidermidis adhesion. J Biomed Mater Res 75:41–55

Khalil H, Williams RJ, Stenbeck G, Henderson B, Meghji S, Nair SP (2007) Invasion of bone cells by Staphylococcus epidermidis. Microbes Infect 9:460–465

Kinnari TJ, Peltonen LI, Kuusela P, Kivilahti J, Könönen M, Jero J (2005) Bacterial adherence to titanium surface coated with human serum albumin. Otol Neurotol 26:380–384

Linnes JC, Ma H, Bryers JD (2013) Giant extracellular matrix binding protein expression in Staphylococcus epidermidis is regulated by biofilm formation and osmotic pressure. Curr Microbiol 66:627–633

Linnes JC, Mikhova K, Bryers JD (2012) Adhesion of Staphylococcus epidermidis to biomaterials is inhibited by fibronectin and albumin. J Biomed Mater Res A 100:1990–1997

Liu Y, Strauss J, Camesano TA (2008) Adhesion forces between Staphylococcus epidermidis and surfaces bearing self-assembled monolayers in the presence of model proteins. Biomaterials 29:4374–4382

Lower BH, Yongsunthon R, Vellano FP, Lower SK (2005) Simultaneous force and fluorescence measurements of a protein that forms a bond between a living bacterium and a solid surface. J Bacteriol 187:2127–2137

Min SC, Schraft H, Hansen LT, Mackereth R (2006) Effects of physicochemical surface characteristics of Listeria monocytogenes strains on attachment to glass. Food Microbiol 23:250–259

Patel JD, Ebert M, Ward R, Anderson JM (2007) S. epidermidis biofilm formation: effects of biomaterial surface chemistry and serum proteins. J Biomed Mater Res 80:742–751

Proctor RA (1987) Fibronectin: a brief overview of its structure, function, and physiology. Rev Infect Dis 9(Suppl 4):S317–S321

Rosenberg M, Gutnick D, Rosenberg E (1980) Adherence of bacteria to hydrocarbons: a simple method for measuring cell-surface hydrophobicity. FEMS Microbiol Lett 9:29–33

Scheuerman T, Camper A, Hamilton M (1998) Effects of substratum topography on bacterial adhesion. J Colloid Interface Sci 208:23–33

Schroeder AC, Schmidbauer JM, Sobke A, Seitz B, Ruprecht KW, Herrmann M (2008) Influence of fibronectin on the adherence of Staphylococcus epidermidis to coated and uncoated intraocular lenses. J Cataract Refract Surg 34:497–504

Shida T, Koseki H, Yoda I, Horiuchi H, Sakoda H, Osaki M (2013) Adherence ability of Staphylococcus epidermidis on prosthetic biomaterials: an in vitro study. Int J Nanomedicine 8:3955–3961

Sousa C, Teixeira P, Oliveira R (2009) Influence of surface properties on the adhesion of Staphylococcus epidermidis to acrylic and silicone. Int J Biomater 2009:718017

Teughels W, Van Assche N, Sliepen I, Quirynen M (2006) Effect of material characteristics and/or surface topography on biofilm development. Clin Oral Implants Res 17:68–81

Vaudaux PE, Waldvogel FA, Morgenthaler JJ, Nydegger UE (1984) Adsorption of fibronectin onto polymethylmethacrylate and promotion of Staphylococcus aureus adherence. Infect Immun 45:768–774

Vroman L, Adams AL, Fischer GC, Munoz PC (1980) Interaction of high molecular weight kininogen, factor XII, and fibrinogen in plasma at interfaces. Blood 55:156–159

Williams RJ, Henderson B, Sharp LJ, Nair SP (2002) Identification of a fibronectin-binding protein from Staphylococcus epidermidis. Infect Immun 70:6805–6810

Xu L-C, Siedlecki CA (2012) Effects of plasma proteins on Staphylococcus epidermidis RP62A adhesion and interaction with platelets on polyurethane biomaterial surfaces. J Biomater Nanobiotechnol 03:487–498

Yongsunthon R, Fowler VG, Lower BH, Vellano FP, Alexander E, Reller LB, Corey GR, Lower SK (2007) Correlation between fundamental binding forces and clinical prognosis of Staphylococcus aureus infections of medical implants. Langmuir 23:2289–2292

Yuan Y, Lee TR (2013) Contact angle and wetting properties. In: Bracco G, Holst B (eds) Surface science techniques, vol 51. Springer, Heidelberg
Acknowledgments
This work was supported by the RFBR under Grants 12-04-01431-a and 14-04-00687; and UB RAS under Grants 12-P-4-1002, 12-I-4-1003 and 12-M-14-2035.
About this article
Cite this article
Eroshenko, D., Morozov, I. & Korobov, V. The Role of Plasma, Albumin, and Fibronectin in Staphylococcus epidermidis Adhesion to Polystyrene Surface. Curr Microbiol 70, 846–853 (2015). https://doi.org/10.1007/s00284-015-0796-8
Received:

Accepted:

Published:

Issue Date:

DOI: https://doi.org/10.1007/s00284-015-0796-8
Keywords