Abstract
Rhodobacter sphaeroides is a non-sulfur photosynthetic bacterium that possesses two cbb operons, cbb I and cbb II , encoding enzymes involved in the Calvin–Bensom–Bassham reductive pentose phosphate pathway of carbon dioxide fixation. In the present study, a number of molecules have been identified that have the ability to alter the in vivo DNA-binding properties of CbbR protein in R. sphaeroides. The CbbR-binding sites on the cbb operon in R. sphaeroides were characterized by chromatin immunoprecipitation (ChIP) assay. The ChIP assay indicated that the CbbR protein binds specifically to the upstream regions cbbF in cbb I operon and cfxB in cbb II operon. The change in the binding of CbbR to the upstream of cbbF and cfxB in the presence of RuBP, fructose 1,6-bisphosphate, NADPH, KH2PO4 was observed under anaerobic, aerobic, aerobic light–dark, and aerobic dark conditions, respectively. From these results, the role of different co-inducer molecules in influencing the interactions of CbbR with the binding site within cbb operon has been ascertained. The biosynthetic intermediates and other potential metabolic effectors have been observed to play an important role in the regulatory mechanism.
Access options
Buy single article
Instant access to the full article PDF.
US$ 39.95
Tax calculation will be finalised during checkout.
Subscribe to journal
Immediate online access to all issues from 2019. Subscription will auto renew annually.
US$ 119
Tax calculation will be finalised during checkout.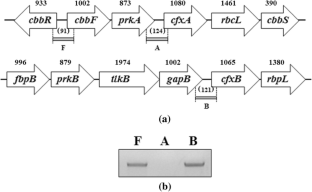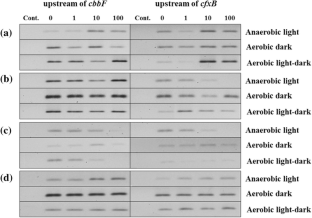 References
1.

Dangel AW, Gibson JL, Janssen AP, Tabita FR (2005) Residues that influence in vivo and in vitro CbbR function in Rhodobacter sphaeroides and identification of a specific region critical for co-inducer recognition. Mol Microbiol 57:1397–1414

2.

Dubbs JM, Bird TH, Bauer CE, Tabita FR (2000) Interaction of CbbR and RegA* transcription regulators with the Rhodobacter sphaeroides cbb I promoter-operator region. J Biol Chem 275:19224–19230

3.

Dubbs P, Dubbs JM, Tabita FR (2004) Effector-mediated interaction of CbbRI and CbbRII regulators with target sequences in Rhodobacter capsulatus. J Bacteriol 186:8026–8035

4.

Gibson JL, Tabita FR (1993) Nucleotide sequence and functional analysis of cbbR, a positive regulator of the Calvin cycle operons of Rhodobacter sphaeroides. J Bacteriol 175:5778–5784

5.

Gibson JL, Dubbs JM, Tabita FR (2002) Differential expression of the CO2 fixation operons of Rhodobacter sphaeroides by the Prr/Reg two-component system during chemoautotrophic growth. J Bacteriol 184:6654–6664

6.

Joshi GS, Zianni M, Bobst CE, Tabita FR (2012) Further unraveling the regulatory twist by elucidating metabolic coinducer-mediated CbbR-cbb I promoter interactions in Rhodopseudomonas palustris CGA010. J Bacteriol 194:1350–1360

7.

Pérez-Martín J, Rojo F, De Lorenzo V (1994) Promoters responsive to DNA bending: a common theme in prokaryotic gene expression. Microbiol Rev 58:268–290

8.

Roh JH, Smith Kaplan S (2004) Effects of oxygen and light intensity on transcriptome expression in Rhodobacter sphaeroides 2.4.1 redox active gene expression profile. J Biol Chem 279:9146–9155

9.

Sambrook J, Fritsch E, Maniatis T (2001) Molecular cloning: a laboratory manual, vol 3. Cold Spring Harbor, New York

10.

Schell MA (1993) Molecular biology of the LysR family of transcriptional regulators. Ann Rev Microbiol 47:597–626

11.

Sistrom W (1962) The kinetics of the synthesis of photopigments in Rhodopseudomonas spheroides. J General Microbiol 28:607–616

12.

Tichi MA, Tabita FR (2002) Metabolic signals that lead to control of cbb gene expression in Rhodobacter capsulatus. J Bacteriol 184:1905–1915

13.

Van Keulen G, Girbal L, Van Den Bergh E, Dijkhuizen L, Meijer W (1998) The LysR-type transcriptional regulator CbbR controlling autotrophic CO2 fixation by Xanthobacter flavus is an NADPH sensor. J Bacteriol 180:1411–1417

14.

Vichivanives P, Bird TH, Bauer CE, Tabita FR (2000) Multiple regulators and their interactions in vivo and in vitro with the cbb regulons of Rhodobacter capsulatus. J Mol Biol 300:1079–1099

15.

Xu HH, Tabita FR (1994) Positive and negative regulation of sequences upstream of the form II cbb CO2 fixation operon of Rhodobacter sphaeroides. J Bacteriol 176:7299–7308
Acknowledgments
This work was carried out with the support of "Cooperative Research Program for Agriculture Science & Technology Development (Project title: Development of microorganism of carbon dioxide reduction using waste medium and the bioplatic production from them, Project No: PJ01051502)" Rural Development Administration, Republic of Korea. The authors are grateful for their support.
Additional information
Hyun Jeong Lee and Simranjeet Singh Sekhon have contributed equally to this work.
About this article
Cite this article
Lee, H.J., Sekhon, S.S., Kim, Y.S. et al. The Effect of CbbR-Binding Affinity to the Upstream of cbbF and cfxB on the Metabolic Effector in Rhodobacter sphaeroides . Curr Microbiol 70, 816–820 (2015). https://doi.org/10.1007/s00284-015-0789-7
Received:

Accepted:

Published:

Issue Date:
Keywords
Calvin Cycle

ChIP Assay

Rhodobacter Sphaeroides

Rhodobacter Capsulatus

Rhodopseudomonas Palustris