Abstract
Artificial climbing walls represent a unique indoor environment in which humans interact closely with a variety of surface types. Climbing wall holds may mediate transmission of organisms between individuals, and yet there are no studies that identify microorganisms present on these surfaces. In the current study, the microorganisms found on climbing wall holds were characterized by analysis of amplified SSU rRNA gene sequences. In contrast to many other studies of built environments, the majority of microorganisms on holds were most closely related to microbes annotated as being recovered from environmental sources, such as soil, with human skin also representing an important source. Regional patterns were evident as rRNA gene sequences from the marine cyanobacterium Prochlorococcus were abundant in gyms found within 16 km of the ocean. Enterobacteriaceae were present on 100 % of holds surveyed, and the members detected are commonly associated with fecal matter.
Access options
Buy single article
Instant access to the full article PDF.
US$ 39.95
Tax calculation will be finalised during checkout.
Subscribe to journal
Immediate online access to all issues from 2019. Subscription will auto renew annually.
US$ 119
Tax calculation will be finalised during checkout.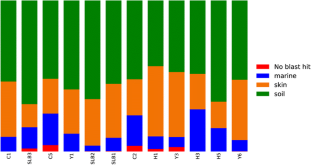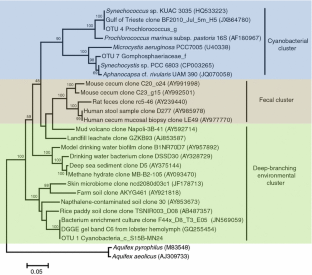 References
1.

Altschul SF, Gish W, Miller W, Myers EW, Lipman DJ (1990) Basic local alignment search tool. J Mol Biol 215:403–410

2.

Archibald LK, Shapiro J, Pass A, Rand K, Southwick F (2008) Methicillin-resistant Staphylococcus aureus infection in a college football team: risk factors outside the locker room and playing field. Infect Control Hosp Epidemiol 29:450–453

3.

Bartley JM, Olmsted RN (2008) Reservoirs of pathogens causing health care-associated infections in the 21st Century: is renewed attention to inanimate surfaces warranted? Clin Microbiol Newslett 30:113–117

4.

Bloomfield SF, Stanwell-Smith R, Crevel RWR, Pickup J (2006) Too clean, or not too clean: the hygiene hypothesis and home hygiene. Clin Exp Allergy 36:402–425

5.

Boone SA, Gerba CP (2007) Significance of fomites in the spread of respiratory and enteric viral disease. Appl Environ Microbiol 73:1687–1696

6.

Bowers AL, Huffman GR, Sennett BJ (2008) Methicillin-resistant Staphylococcus aureus infections in collegiate football players. Med Sci Sports Exerc 40:1362–1367

7.

Bowers RM, Sullivan AP, Costello EK, Collett JL, Knight R, Fierer N (2011) Sources of bacteria in outdoor air across cities in the midwestern United States. Appl Environ Microbiol 77:6350–6356

8.

Caporaso JG, Kuczynski J, Stombaugh J, Bittinger K, Bushman FD, Costello EK, Fierer N, Pena AG, Goodrich JK, Gordon JI, Huttley GA, Kelley ST, Knights D, Koenig JE, Ley RE, Lozupone CA, McDonald D, Muegge BD, Pirrung M, Reeder J, Sevinsky JR, Tumbaugh PJ, Walters WA, Widmann J, Yatsunenko T, Zaneveld J, Knight R (2010) QIIME allows analysis of high-throughput community sequencing data. Nat Methods 7:335–336

9.

Casewell M, Phillips I (1977) Hands as route of transmission for Klebsiella species. BMJ 2:1315–1317

10.

CDC (2009) Methicillin-resistant Staphylococcus aureus among players on a high school football team- New York City, 2007. Morb Mortal Wkly Rep 58:52–55

11.

Cohen PR (2005) Cutaneous community-acquired methicillin-resistant Staphylococcus aureus infection in participants of athletic activities. South Med Assoc 98:596–602

12.

Cohen PR (2008) The skin in the gym: a comprehensive review of the cutaneous manifestations of community-acquired methicillin-resistant Staphylococcus aureus infection in athletes. Clin Dermatol 26:16–26

13.

DeSantis T Jr, Hugenholtz P, Keller K, Brodie E, Larsen N, Piceno Y, Phan R, Andersen G (2006) NAST: a multiple sequence alignment server for comparative analysis of 16S rRNA genes. Nucleic Acids Res 34:W394–W399

14.

Dethlefsen L, McFall-Ngai M, Relman DA (2007) An ecological and evolutionary perspective on human-microbe mutualism and disease. Nature 449:811–818

15.

Donskey CJ (2010) Preventing transmission of Clostridium difficile: is the answer blowing in the wind? Clin Infect Dis 50:1458–1461

16.

Dybwad M, Skogan G, Blatny JM (2014) Temporal variability of the bioaerosol background at a subway station: concentration level, size distribution, and diversity of airborne bacteria. Appl Environ Microbiol 80:257–270

17.

Felsenstein J (2004) PHYLIP (Phylogeny Inference Package) version 3.68.Distributed by the author Department of Genome Sciences, University of Washington, Seattle

18.

Fierer N, Hamady M, Lauber CL, Knight R (2008) The influence of sex, handedness, and washing on the diversity of hand surface bacteria. Proc Natl Acad Sci USA 105:17994–17999

19.

Fierer N, Lauber CL, Zhou N, McDonald D, Costello EK, Knight R (2010) Forensic identification using skin bacterial communities. Proc Natl Acad Sci USA 107:6477–6481

20.

Flores GE, Bates ST, Knights D, Lauber CL, Stombaugh J, Knight R, Fierer N (2011) Microbial biogeography of public restroom surfaces. PLoS One 6:e28132

21.

Flores GE, Bates ST, Caporaso JG, Lauber CL, Leff JW, Knight R, Fierer N (2013) Diversity, distribution and sources of bacteria in residential kitchens. Environ Microbiol 15:588–596

22.

Gihring TM, Green SJ, Schadt CW (2012) Massively parallel rRNA gene sequencing exacerbates the potential for biased community diversity comparisons due to variable library sizes. Environ Microbiol 14:285–290

23.

Grad YH, Lipsitch M, Feldgarden M, Arachchi HM, Cerqueira GC, FitzGerald M, Godfrey P, Haas BJ, Murphy CI, Russ C (2012) Genomic epidemiology of the Escherichia coli O104: H4 outbreaks in Europe, 2011. Proc Natl Acad Sci USA 109:3065–3070

24.

Gwaltney JM, Moskalski PB, Hendley JO (1978) Hand-to-hand transmission of rhinovirus colds. Ann Intern Med 88:463–467

25.

Henderson DK (2006) Managing methicillin-resistant staphylococci: a paradigm for preventing nosocomial transmission of resistant organisms. Am J Infect Control 34:S46–S54

26.

Hewitt KM, Gerba CP, Maxwell SL, Kelley ST (2012) Office space bacterial abundance and diversity in three metropolitan areas. PLoS One 7:e37849

27.

Hewitt KM, Mannino FL, Gonzalez A, Chase JH, Caporaso JG, Knight R, Kelley ST (2013) Bacterial diversity in two neonatal intensive care units (NICUs). PLoS One 8:e54703

28.

Hospodsky D, Qian J, Nazaroff WW, Yamamoto N, Bibby K, Rismani-Yazdi H, Peccia J (2012) Human occupancy as a source of indoor airborne bacteria. PLoS One 7:e34867

29.

Judah G, Donachie P, Cobb E, Schmidt W, Holland M, Curtis V (2010) Dirty hands: bacteria of faecal origin on commuters' hands. Epidemiol Infect 138:409

30.

Karlsson MS, Bowen A, Reporter R, Folster JP, Grass JE, Howie RL, Taylor J, Whichard JM (2013) Outbreak of infections caused by Shigella sonnei with reduced susceptibility to azithromycin in the United States. Antimicrob Agents Chemother 57:1559–1560

31.

Kelley S, Gilbert J (2013) Studying the microbiology of the indoor environment. Genome Biol 14:202

32.

Kembel SW, Jones E, Kline J, Northcutt D, Stenson J, Womack AM, Bohannan BJM, Brown GZ, Green JL (2012) Architectural design influences the diversity and structure of the built environment microbiome. ISME J 6:1469–1479

33.

Klepeis NE, Nelson WC, Ott WR, Robinson JP, Tsang AM, Switzer P, Behar JV, Hern SC, Engelmann WH (2001) The National Human Activity Pattern Survey (NHAPS): a resource for assessing exposure to environmental pollutants. J Expo Anal Environ Epidemiol 11:231–252

34.

Leech JA, Nelson WC, Burnett RT, Aaron S, Raizenne ME (2002) It's about time: a comparison of Canadian and American time-activity patterns. J Expo Anal Environ Epidemiol 12:427–432

35.

Ley RE, Bäckhed F, Turnbaugh P, Lozupone CA, Knight RD, Gordon JI (2005) Obesity alters gut microbial ecology. Proc Natl Acad Sci USA 102:11070–11075

36.

Lopman B, Gastañaduy P, Park GW, Hall AJ, Parashar UD, Vinjé J (2012) Environmental transmission of norovirus gastroenteritis. Curr Opin Virol 2:96–102

37.

Mbithi JN, Springthorpe VS, Boulet JR, Sattar SA (1992) Survival of hepatitis A virus on human hands and its transfer on contact with animate and inanimate surfaces. J Clin Microbiol 30:757–763

38.

Meadow JF, Altrichter AE, Kembel SW, Kline J, Mhuireach G, Moriyama M, Northcutt D, O'Connor TK, Womack AM, Brown GZ, Green JL, Bohannan BJM (2014) Indoor airborne bacterial communities are influenced by ventilation, occupancy, and outdoor air source. Indoor Air 24:41–48

39.

Mukherjee DV, Cohen B, Bovino ME, Desai S, Whittier S, Larson EL (2012) Survival of influenza virus on hands and fomites in community and laboratory settings. Am J Infect Control 40:590

40.

Naether A, Foesel BU, Naegele V, Wüst PK, Weinert J, Bonkowski M, Alt F, Oelmann Y, Polle A, Lohaus G (2012) Environmental factors affect acidobacterial communities below the subgroup level in grassland and forest soils. Appl Environ Microbiol 78:7398–7406

41.

Osburn MR, Sessions AL, Pepe-Ranney C, Spear JR (2011) Hydrogen-isotopic variability in fatty acids from Yellowstone National Park hot spring microbial communities. Geochim Cosmochim Acta 75:4830–4845

42.

Patel A, Fischer S, Calfee R, Plante M, Fadale P (2007) Locker room acquired methicillin-resistant Staphylococcus aureus. Orthopedics 30

43.

Pruesse E, Quast C, Knittel K, Fuchs BM, Ludwig W, Peplies J, Glöckner F (2007) SILVA: a comprehensive online resource for quality checked and aligned ribosomal RNA sequence data compatible with ARB. Nucleic Acids Res 35:7188–7196

44.

Reeder J, Knight R (2010) Rapid denoising of pyrosequencing amplicon data: exploiting the rank-abundance distribution. Nat Methods 7:668

45.

Reynolds CS (2006) The ecology of phytoplankton. Cambridge University Press, Cambridge, p 552

46.

Rintala H, Pitkaeranta M, Toivola M, Paulin L, Nevalainen A (2008) Diversity and seasonal dynamics of bacterial community in indoor environment. BMC Microbiol 8:56

47.

Robertson CE, Baumgartner LK, Harris JK, Peterson KL, Stevens MJ, Frank DN, Pace NR (2013) Culture-independent analysis of aerosol microbiology in a metropolitan subway system. Appl Environ Microbiol 79:3485–3493

48.

Schloss PD, Westcott SL, Ryabin T, Hall JR, Hartmann M, Hollister EB, Lesniewski RA, Oakley BB, Parks DH, Robinson CJ (2009) Introducing mothur: open-source, platform-independent, community-supported software for describing and comparing microbial communities. Appl Environ Microbiol 75:7537–7541

49.

Schloss PD, Gevers D, Westcott SL (2011) Reducing the effects of PCR amplification and sequencing artifacts on 16S rRNA-based studies. PLoS One 6:e27310

50.

Schoffl V, Morrison A, Kupper T (2011) Risk of transmission of blood borne infections in climbing: consensus statement of UIAA Medcom. Int J Sports Med 32:170–173

51.

Stevens DL, Bisno AL, Chambers HF, Everett ED, Dellinger P, Goldstein EJC, Gorbach SL, Hirschmann JV, Kaplan EL, Montoya JG, Wade JC (2005) Practice guidelines for the diagnosis and management of skin and soft-tissue infections. Clin Infect Dis 41:1373–1406

52.

Tringe SG, Zhang T, Liu XG, Yu YT, Lee WH, Yap J, Yao F, Suan ST, Ing SK, Haynes M, Rohwer F, Wei CL, Tan P, Bristow J, Rubin EM, Ruan YJ (2008) The airborne metagenome in an indoor urban environment. PLoS One 3:e1862

53.

Wang Q, Garrity GM, Tiedje JM, Cole JR (2007) Naive Bayesian classifier for rapid assignment of rRNA sequences into the new bacterial taxonomy. Appl Environ Microbiol 73:5261–5267

54.

Wertheim HFL, Melles DC, Vos MC, van Leeuwen W, van Belkum A, Verbrugh HA, Nouwen JL (2005) The role of nasal carriage in Staphylococcus aureus infections. The Lancet 5:751–762

55.

Williams M, Domingo J, Meckes M, Kelty C, Rochon H (2004) Phylogenetic diversity of drinking water bacteria in a distribution system simulator. J Appl Microbiol 96:954–964
Acknowledgments
This research was performed, in part, by participants in the MBL Microbial Diversity Course in Woods Hole, MA, and was supported in part by the Howard Hughes Medical Foundation, the Gordon and Betty Moore Foundation (2493), the National Science Foundation (DEB-091799), the US Department of Energy (DE-FG02-10ER13361), and the NASA Astrobiology Institute. We thank Carey (Trey) Snellings for assistance with culturing conducted at Appalachian State University. Finally, we want to acknowledge four anonymous climbing gym facility managers for allowing us to sample holds and climbing routes.
About this article
Cite this article
Bräuer, S.L., Vuono, D., Carmichael, M.J. et al. Microbial Sequencing Analyses Suggest the Presence of a Fecal Veneer on Indoor Climbing Wall Holds. Curr Microbiol 69, 681–689 (2014). https://doi.org/10.1007/s00284-014-0643-3
Received:

Accepted:

Published:

Issue Date:
Keywords
Prochlorococcus

Fecal Indicator Bacterium

Abundant OTUs

Climbing Wall

Great Sequencing Depth