Access options
Buy single article
Instant access to the full article PDF.
US$ 39.95
Tax calculation will be finalised during checkout.
Subscribe to journal
Immediate online access to all issues from 2019. Subscription will auto renew annually.
US$ 119
Tax calculation will be finalised during checkout.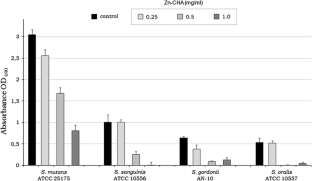 References
1.

Aas JA, Paster BJ, Stokes LN, Olsen I, Dewhirst FE (2005) Defining the normal bacterial flora of the oral cavity. J Clin Microbiol 43:5721–5732

2.

Clinical and Laboratory Standards Institute (2009) Methods for dilution antimicrobial susceptibility tests for bacteria that grow aerobically, 8th ed Approved standard M7-A8. Clinical and Laboratory Standards Institute, Wayne

3.

Hannig C, Basche S, Burghardt T, Al-Ahmad A, Hannig M (2012) Influence of a mouthwash containing hydroxyapatite microclusters on bacterial adherence in situ. Clin Oral Investig. doi:10.1007/s00784-012-0781-6

4.

Jakubovics NS (2010) Talk of the town: interspecies communication in oral biofilms. Mol Oral Microbiol 25:4–14

5.

Lamont RJ, Rosan B (1990) Adherence of mutans streptococci to other oral bacteria. Infect Immun 58:1738–1743

6.

Marsh PD, Moter A, Devine DA (2011) Dental plaque biofilms: communities, conflict and control. Periodontol 2000 55:16–35

7.

Nobbs AH, Lamont RJ, Jenkinson HF (2009) Streptococcus adherence and colonization. Microbiol Mol Biol Rev 73:407–450

8.

Orsini G, Procaccini M, Manzoli L, Giuliodori F, Lorenzini A, Putignano A (2010) A double-blind randomized-controlled trial comparing the desensitizing efficacy of a new dentifrice containing carbonate/hydroxyapatite nanocrystals and a sodium fluoride/potassium nitrate dentifrice. J Clin Periodontol 37:510–517

9.

Periasamy S, Kolenbrander PE (2009) Mutualistic biofilm communities develop with Porphyromonas gingivalis and initial, early, and late colonizers of enamel. J Bacteriol 191:6804–6811

10.

Seymour GJ, Ford PJ, Cullinan MP, Leishman S, Yamazaki K (2007) Relationship between periodontal infections and systemic disease. Clin Microbiol Infect S4:3–10

11.

Stauder M, Papetti A, Daglia M, Vezzulli L, Gazzani G, Varaldo PE, Pruzzo C (2010) Inhibitory activity by barley coffee components towards Streptococcus mutans biofilm. Curr Microbiol 61:417–421

12.

Whitmore SE, Lamont RJ (2011) The pathogenic persona of community-associated oral streptococci. Mol Microbiol 81:305–314
Acknowledgments
Coswell S.P.A. provided the materials and partial support for the study, but had no role in planning, conduction, data analysis or any phase of the study.
Conflict of interest
All authors declare that they have no conflict of interest.
About this article
Cite this article
Palmieri, C., Magi, G., Orsini, G. et al. Antibiofilm Activity of Zinc-Carbonate Hydroxyapatite Nanocrystals Against Streptococcus mutans and Mitis Group Streptococci. Curr Microbiol 67, 679–681 (2013). https://doi.org/10.1007/s00284-013-0419-1
Received:

Accepted:

Published:

Issue Date:
Keywords
American Type Culture Collection

Dental Plaque

Clinical Laboratory Standard Institute

Antibiofilm Activity

Aggregatibacter Actinomycetemcomitans