Abstract
Legionella pneumophila is the causative agent of 90 % of Legionnaires' disease cases. This bacterium lives naturally in fresh water and can colonize biofilms, which play an important role in the protection of Legionella against environmental stress factors. Relationship between the presence of minerals in water and Legionella adherence to surfaces is not well-known. In this study, we studied influence of minerals on bacterial adherence. For the first time, to our knowledge, this report shows that calcium and magnesium in a less extent, enhances the adherence of Legionella to surfaces compared to the bacteria behavior in distilled water. Treatment with proteinase K of live cells showed that surface proteins do not seem to play a crucial role in bacteria adherence to surfaces. Our results represent a first step in understanding effect of ions on Legionella adherence to surfaces. Such field of research could be helpful to better understand biofilm colonization by this bacterium to improve Legionella risk management in water networks.
Access options
Buy single article
Instant access to the full article PDF.
USD 39.95
Price excludes VAT (USA)
Tax calculation will be finalised during checkout.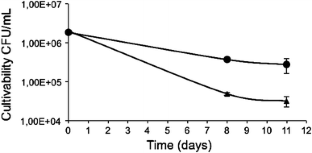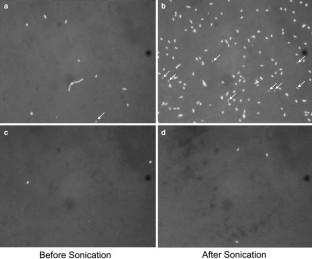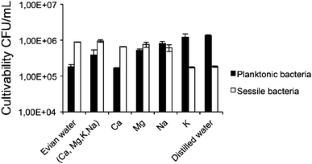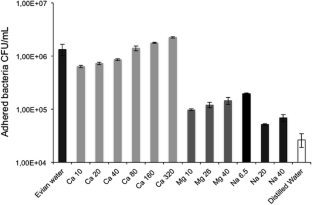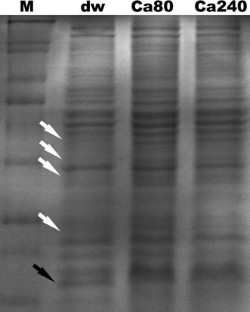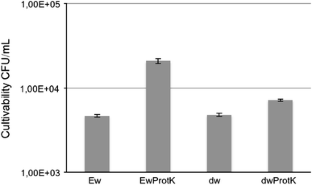 References
Abu Kwaik Y, Venkataraman C, Harb OS, Gao LY (1998) Signal transduction in the protozoan host Hartmannella vermiformis upon attachment and invasion by Legionella micdadei. Appl Environ Microbiol 64:3134–3139

Advincula MC, Petersen D, Rahemtulla F, Advincula R, Lemons JE (2007) Surface analysis and biocorrosion properties of nanostructured surface sol-gel coatings on Ti6Al4V titanium alloy implants. J Biomed Mater Res B Appl Biomater 80:107–120

Alleron L, Merlet N, Lacombe C, Frere J (2008) Long-term survival of Legionella pneumophila in the viable but nonculturable state after monochloramine treatment. Curr Microbiol 57:497–502

Borella P, Montagna MT, Romano-Spica V, Stampi S, Stancanelli G, Triassi M, Marchesi I, Bargellini A, Neglia R, Paglionico N, Spilotros G, Moscato U, Casati G, Legnani PP, Sacchetti R, Ossi C, Moro M, Ribera G (2003) Relationship between mineral content of domestic hot water and microbial contamination. J Trace Elem Med Biol 17(Suppl 1):37–43

Bos R, van der Mei HC, Busscher HJ (1999) Physico-chemistry of initial microbial adhesive interactions–its mechanisms and methods for study. FEMS Microbiol Rev 23:179–230

Elkins JG, Hassett DJ, Stewart PS, Schweizer HP, McDermott TR (1999) Protective role of catalase in Pseudomonas aeruginosa biofilm resistance to hydrogen peroxide. Appl Environ Microbiol 65:4594–4600

Fields BS (1996) The molecular ecology of Legionellae. Trends Microbiol 4:286–290

Fliermans CB (1996) Ecology of Legionella: from data to knowledge with a little wisdom. Microb Ecol 32:203–228

Hantke K (2001) Iron and metal regulation in bacteria. Curr Opin Microbiol 4:172–177

Hindre T, Bruggemann H, Buchrieser C, Hechard Y (2008) Transcriptional profiling of Legionella pneumophila biofilm cells and the influence of iron on biofilm formation. Microbiology 154:30–41

James BW, Mauchline WS, Dennis PJ, Keevil CW (1997) A study of iron acquisition mechanisms of Legionella pneumophila grown in chemostat culture. Curr Microbiol 34:238–243

Rodier MH, Koubar M, Garduno RA, Frere J (2011) Passage through Tetrahymena tropicalis enhances the resistance to stress and the infectivity of Legionella pneumophila. FEMS Microbiol Lett 325:10–15

Laemmli UK (1970) Cleavage of structural proteins during the assembly of the head of bacteriophage T4. Nature 227:680–685

Laurant P, Touyz RM (2000) Physiological and pathophysiological role of magnesium in the cardiovascular system: implications in hypertension. J Hypertens 18:1177–1191

Merino S, Gavin R, Altarriba M, Izquierdo L, Maguire ME, Tomas JM (2001) The MgtE Mg2+ transport protein is involved in Aeromonas hydrophila adherence. FEMS Microbiol Lett 198:189–195

Nardini M, Lang DA, Liebeton K, Jaeger KE, Dijkstra BW (2000) Crystal structure of pseudomonas aeruginosa lipase in the open conformation. The prototype for family I.1 of bacterial lipases. J Biol Chem 275:31219–31225

Rampersaud A, Utsumi R, Delgado J, Forst SA, Inouye M (1991) Ca2(+)-enhanced phosphorylation of a chimeric protein kinase involved with bacterial signal transduction. J Biol Chem 266:7633–7637

Riedewald F (2006) Bacterial adhesion to surfaces: the influence of surface roughness. PDA J Pharm Sci Technol 60:164–171

Sahney NN, Summersgill JT, Ramirez JA, Miller RD (2001) Inhibition of oxidative burst and chemotaxis in human phagocytes by Legionella pneumophila zinc metalloprotease. J Med Microbiol 50:517–525

Santegoeds CM, Schramm A, de Beer D (1998) Microsensors as a tool to determine chemical microgradients and bacterial activity in wastewater biofilms and flocs. Biodegradation 9:159–167

Shirtliff ME, Mader JT, Camper AK (2002) Molecular interactions in biofilms. Chem Biol 9:859–871

Shoham Y, Lamed R, Bayer EA (1999) The cellulosome concept as an efficient microbial strategy for the degradation of insoluble polysaccharides. Trends Microbiol 7:275–281

Smith CA, Toogood HS, Baker HM, Daniel RM, Baker EN (1999) Calcium-mediated thermostability in the subtilisin superfamily: the crystal structure of Bacillus Ak.1 protease at 1.8 A resolution. J Mol Biol 294:1027–1040

Smith RJ (1995) Calcium and bacteria. Adv Microb Physiol 37:83–133

Straley SC, Plano GV, Skrzypek E, Haddix PL, Fields KA (1993) Regulation by Ca2+ in the Yersinia low-Ca2+ response. Mol Microbiol 8:1005–1010

Surman SB, Morton LHG, Keevil CW (1993) The use of biofilm generator in the evaluation of a biocide for use in water treatment. In: Edyvean R (ed) Proceedings of the ninth International Biodeterioration and Biodegradation Society symposium. Institute of Chemical Engineers, Rugby, pp 6–12

Tisa LS, Adler J (1992) Calcium ions are involved in Escherichia coli chemotaxis. Proc Natl Acad Sci USA 89:11804–11808

Tisa LS, Adler J (1995) Cytoplasmic free-Ca2+ level rises with repellents and falls with attractants in Escherichia coli chemotaxis. Proc Natl Acad Sci USA 92:10777–10781

Trombe MC, Rieux V, Baille F (1994) Mutations which alter the kinetics of calcium transport alter the regulation of competence in Streptococcus pneumoniae. J Bacteriol 176:1992–1996

van Asselt EJ, Dijkstra BW (1999) Binding of calcium in the EF-hand of Escherichia coli lytic transglycosylase Slt35 is important for stability. FEBS Lett 458:429–435

Werthen M, Lundgren T (2001) Intracellular Ca(2+) mobilization and kinase activity during acylated homoserine lactone-dependent quorum sensing in Serratia liquefaciens. J Biol Chem 276:6468–6472

Yu XC, Margolin W (1997) Ca2+-mediated GTP-dependent dynamic assembly of bacterial cell division protein FtsZ into asters and polymer networks in vitro. EMBO J 16:5455–5463

Zacheus OM, Lehtola MJ, Korhonen LK, Martikainen PJ (2001) Soft deposits, the key site for microbial growth in drinking water distribution networks. Water Res 35:1757–1765

Zakharov SD, Li X, Red'ko TP, Dilley RA (1996) Calcium binding to the subunit c of E. coli ATP-synthase and possible functional implications in energy coupling. J Bioenerg Biomembr 28:483–494
Acknowledgments
We thank the National Research Agency (ANR) for its participation in this project financing.
About this article
Cite this article
Koubar, M., Rodier, MH. & Frère, J. Involvement of Minerals in Adherence of Legionella pneumophila to Surfaces. Curr Microbiol 66, 437–442 (2013). https://doi.org/10.1007/s00284-012-0295-0
Received:

Accepted:

Published:

Issue Date:

DOI: https://doi.org/10.1007/s00284-012-0295-0
Keywords
Bacterial Adherence

Planktonic Cell

Sessile Cell

Adherence Phenomenon

Buffer Charcoal Yeast Extract