Abstract
Antibacterial agents are common in household cleaning and personal care products, but their long-range impacts on commensal and pathogenic household bacteria are largely unknown. In a one-time survey of 38 households from Boston, MA [19] and Cincinnati, OH [18], 13 kitchen and bathroom sites were sampled for total aerobic bacteria and screened for gram phenotype and susceptibility to six antibiotic drug families. The overall bacterial titers of both user (2 or more antibacterial cleaning or personal care products) and non-user (0 or 1 product) rooms were similar with sponges and sink drains consistently showing the highest overall titers and relatively high titers of antibiotic-resistant bacteria. The mean frequency of resistant bacteria ranged from ≤20 % to as high as 45 % and multi-drug resistance was common. However, no significant differences were noted between biocide users and non-users. The frequency of pathogen recovery was similar in both user and non-user groups.
Access options
Buy single article
Instant access to the full article PDF.
USD 39.95
Price excludes VAT (USA)
Tax calculation will be finalised during checkout.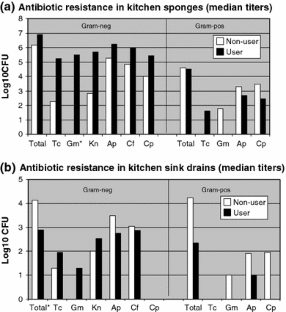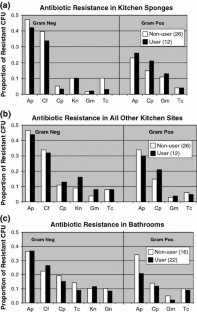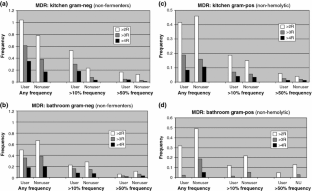 References
Aiello AE, Marshall B, Levy SB, Della-Latta P, Larson E (2004) Relationship between triclosan and antibiotic susceptibilities of bacteria isolated from hands in the community. Antimicrob Agents Chemother 48:2973–2979

Ash RJ, Mauck B, Morgan M (2002) Antibiotic resistance of gram-negative bacteria in rivers, United States. Emerg Infect Dis 8:713–716

Carson RT, Larson E, Levy SB, Marshall BM, Aiello AE (2008) Use of antibacterial consumer products containing quaternary ammonium compounds and drug resistance in the community. J Antimicrob Chemother 62:1160–1162

Cole EC, Addison RM, Rubino JR, Leese KE, Dulaney PD, Newell MS, Wilkins J, Gaber DJ, Wineinger T, Criger DA (2003) Investigation of antibiotic and antibacterial agent cross-resistance in target bacteria from homes of antibacterial product users and nonusers. J Appl Microbiol 95:664–676

Enriquez CE, Enriquez-Gordillo R, Kennedy DI, Gerba CP (1997) Bacteriological survey of used cellulose sponges and cotton dishcloths from domestic kitchens. Dairy Food Environ Sanit 17:20–24

Enriquez CE, Enriquez-Gordillo R, Kennedy DI, Gerba CP (1997) Bacteriological survey of used cellulose sponges and cotton dishcloths from domestic kitchens. Dairy Food Environ Sanit 17:20–24

Esiobu N, Armenta L, Ike J (2002) Antibiotic resistance in soil and water environments. Int J Environ Health Res 12:133–144

Finch JE, Prince J, Hawksworth JM (1978) A bacteriological survey of the domestic environment. J Appl Bacteriol 45:357–364

Finch JE, Prince J, Hawksworth M (1978) A bacteriological survey of the domestic environment. J Appl Bacteriol 45:357–364

Fraise AP (2002) Susceptibility of antibiotic-resistant cocci to biocides. J Appl Microbiol 92:158S–162S

Gilbert P, McBain AJ (2003) Potential impact of increased use of biocides in consumer products on prevalence of antibiotic resistance. Clin Microbiol Rev 16:189–208

Gilliver MA, Bennett M, Begon M, Hazel SM, Hart CA (1999) Enterobacteria: antibiotic resistance found in wild rodents. Nature 401:233–234

Gomez-Escalada MG, Harwood JL, Maillard J-Y, Ochs D (2005) Triclosan inhibition of fatty acid synthesis and its effect on growth of Escherichia coli and Pseudomonas aeruginosa. J Antimicrob Chemother 55:879–882

Hay AG, Dees PM, Sayler GS (2001) Growth of a bacterial consortium on triclosan. FEMS Microbiol Ecol 36:105–112

Haysom IW, Sharp AK (2005) Bacterial contamination of domestic kitchens over a 24-hour period. Br Food J 107:453–466

Heath RJ, Li J, Roland GE, Rock CO (2000) Inhibition of the Staphylococcus aureus NADPH-dependent enoyl-acyl carrier protein reductase by triclosan and hexachlorophene. J Biol Chem 275:4654–4659

Hoang TT, Schweizer HP (1999) Characterization of Pseudomonas aeruginosa enoyl-acyl carrier protein reductase (FabI): a target for the antimicrobial triclosan and its role in acylated homoserine lactone synthesis. J Bacteriol 181:5489–5497

Josephson KL, Rubino JR, Pepper IL (1997) Characterization and quantification of bacteria pathogens and indicator organisms in household kitchens with and without the use of disinfectant cleaner. J Appl Microbiol 83:737–750

Kelch WJ, Lee JS (1978) Antibiotic resistance patterns of gram-negative bacteria isolated from environmental sources. Appl Environ Microbiol 36:450–456

Kelley ST, Theisen U, Angenent LT, St. Amand A, Pace NR (2004) Molecular analysis of shower curtain biofilm microbes. Appl Environ Microbiol 70:4187–4192

Ledder RG, Gilbert P, MA J (2006) Effects of chronic triclosan exposure upon the antimicrobial susceptibility of 40 ex-situ environmental and human isolates. J Appl Microbiol 100:1132–1140

Lederberg J, Lederberg EM (1952) Replica-plating and indirect selection of bacterial mutants. J Bacteriol 63:399–406

Levy SB (2001) Antibacterial household products: cause for concern. Emerg Infect Dis 7:512–515

Levy SB (2002) The antibiotic paradox: how the misuse of antibiotics destroys their curative powers. Perseus Publishing, Cambridge

Marshall BM, McMurry LM (2005) Biocides and Resistance. In: White DG, Alekshun MN, McDermott PF (eds) Frontiers in antimicrobial resistance: a tribute to Stuart B. ASM Press Washington D.C, Levy, pp 174–190

McBain AJ, Bartolo RG, Catrenich CE, Charonneau D, Ledder RG, Price BB, Gilbert P (2003) Exposure of sink drain microcosms to triclosan: population dynamics and antimicrobial susceptibility. Appl Environ Microbiol 69:5433–5442

McBain AJ, Ledder RG, Moore LE, Catrenich CE, Gilbert P (2004) Effects of quaternary-ammonium-based formulations on bacterial community dynamics and antimicrobial susceptibility. Appl Environ Microbiol 70:3449–3456

McMurry L, Oethinger M, Levy S (1998) Overexpression of marA, soxS, or acrAB produces resistance to triclosan in laboratory and clinical strains of Escherichia coli. FEMS Microbiol Lett 166:305–309

Meade MJ, Waddell RL, Callahan TM (2001) Soil bacteria Pseudomonas putida and Alcaligenes xylosoxidans subsp. denitrificans inactivate triclosan in liquid and solid substrates. FEMS Microbiol Lett 204:45–48

Moken MC, McMurry LM, Levy SB (1997) Selection of multiple antibiotic resistant (mar) mutants of Eschericia coli by using the disinfectant pine oil: roles of the mar and acrAB loci. Antimicrob Agents Chemother 41:2770–2772

Moore LE, Ledder RG, Gilbert P, McBain AJ (2008) In vitro study of the effect of cationic biocides on bacterial population dynamics and susceptibility. Appl Environ Microbiol 74:4825–4834

Ojima M, Toshima Y, Koya E, Ara K, Tokuda H, Kawai S, Kasuga F, Ueda N (2002) Hygiene measures considering actual distributions of microorganisms in Japanese households. J Appl Microbiol 93:800–809

Okusu H, Ma D, Nikaido H (1996) AcrAB efflux pump plays a major role in the antibiotic resistance phenotype of Escherichia coli multiple antibiotic-resistance (Mar) mutants. J Bacteriol 178:306–308

Roberts MC, Soge OO, No D, Helgeson SE, Meschke JS (2011) Characterization of methicillin-resistant Staphylococcus aureus isolated from public surfaces on a university campus, student homes and local community. J Appl Microbiol 110:1531–1537

Rusin P, Orosz-Coughlin P, Gerba C (1998) Reduction of faecal coliform, coliform and heterotrophic plate count bacteria in the household kitchen and bathroom by disinfection with hypochlorite cleaners. J Appl Microbiol 85:819–828

Rutala WA, Stiegel MM, Sarubbi FA, Weber DJ (1997) Susceptibility of antibiotic-susceptible and antibiotic-resistant hospital bacteria to disinfectants. Infect Control Hosp Epidemiol 18:417–421

Rutala WA, Weber DJ, Barbee SL, Gergen MF, Sobsey MD (2000) Evaluation of antibiotic resistant bacteria in home kitchens and bathrooms (Abstr.). Infect Control Hosp Epidemiol 21:132

Scott E, Bloomfield S, Barlow C (1984) Evaluation of disinfectants in the domestic environment under 'in use' conditions. J Hyg 92:193–203

Scott E, Bloomfield SF, Barlow CG (1982) An investigation of microbial contamination in the home. J Hyg 89:279–293

Scott E, Duty S, McCue K (2009) A critical evaluation of methicillin-resistant Staphylococcus aureus and other bacteria of medical interest on commonly touched household surfaces in relation to household demographics. Am J Infect Control 37:447–453

Sharp K, Walker H (2003) A microbiological survey of communal kitchens used by undergraduate students. Int J Consumer Stud 27:11–16

Speirs JP, Anderton A, Anderson JH (1995) A study of the microbial content of the domestic kitchen. Int J Environ Health 5:109–122

Tkachenko O, Shepard J, Aris VM, Joy A, Bello A, Londono I, Marku J, Soteropoulos P, Peteroy-Kelly MA (2007) A triclosan-ciprofloxacin cross-resistant mutant strain of Staphylococcus aureus displays an alteration in the expression of several cell membrane structural and functional genes. Res Microbiol 158:651–658

Webber MA, Piddock LJ (2003) The importance of efflux pumps in bacterial antibiotic resistance. J Antimicrob Chemother 51:9–11

White DG, Goldman JD, Demple B, Levy SB (1997) Role of the acrAB locus in organic solvent tolerance mediated by expression of marA, soxS, or RobA in Escherichia coli. J Bacteriol 179:6122–6126
Acknowledgments
The authors thank Bruce Keswick, Ward Bilhimer, and Kathy Kramp for their invaluable assistance with design, methods, logistics and statistics. This study was funded in part by a grant from The Procter & Gamble Company, Cincinnati, OH.
Additional information
A preliminary report of this study was presented at the American Society of Microbiology Annual Meeting in 2003. (B. M. Marshall, E. Robleto, T. Dumont, W. Bilheimer, K. Wiandt, B. Keswick and S. B. Levy, Abstr. 103rd Annual Meeting of the American Society for Microbiology, A147, 2003).
About this article
Cite this article
Marshall, B.M., Robleto, E., Dumont, T. et al. The Frequency of Antibiotic-Resistant Bacteria in Homes Differing in Their Use of Surface Antibacterial Agents. Curr Microbiol 65, 407–415 (2012). https://doi.org/10.1007/s00284-012-0172-x
Received:

Accepted:

Published:

Issue Date:

DOI: https://doi.org/10.1007/s00284-012-0172-x
Keywords
Sponge

Biocide

Triclosan

Multiple Drug Resistance

Mannitol Salt Agar