Abstract
Bacterial culture filtrates of an aggressive rhizobacterium, Pseudomonas chlororaphis O6, displayed strong nematicidal activity. The nematicidal activity of P. chlororaphis O6 was markedly reduced in the gacS mutant of P. chlororaphis O6 grown in the presence of glycine, but no reduction of nematicidal activity in the gacS mutant was noted in the absence of glycine. The results of bioassay with P. chlororaphis O6 mutants showed that phenazine and pyrrolnitrin production was not a major factor, but the effects of glycine in the culture medium suggest that formation of hydrogen cyanide might be important. Assessments in greenhouse studies with tomatoes growing in nematode-infested soils confirmed that the application of P. chlororaphis O6 resulted in the control of the root-knot nematode. Our results demonstrated that P. chlororaphis O6 could be employed as a biocontrol agent for the control of the root-knot nematode, and the global regulator, GacS, functions as a positive regulator of the expression of nematicidal compounds and enzymes in P. chlororaphis O6.
Access options
Buy single article
Instant access to the full article PDF.
USD 39.95
Price excludes VAT (USA)
Tax calculation will be finalised during checkout.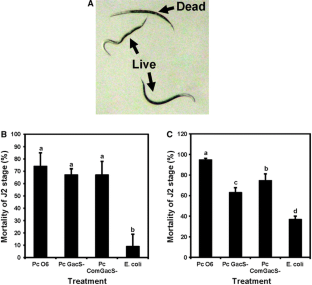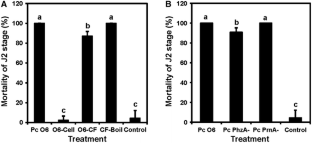 Similar content being viewed by others
References
Oka Y, Koltai H, Bar-Eyal M, Mor M, Sharon E, Chet I, Spiegel Y (2000) New strategies for the control of plant-parasitic nematodes. Pest Manag Sci 56:983–988

Ali NI, Siddiqui IA, Shaukat SS, Zaki MJ (2002) Nematicidal activity of some strains of Pseudomonas spp. Soil Biol Biochem 34:1051–1058

Javed N, Gowen SR, El-Hassan SA, Inam-ul-Haq M, Shahina F, Pembroke B (2008) Efficacy of neem (Azadirachta indica) formulations on biology of root-knot nematodes (Meloidogyne javanica) on tomato. Crop Prot 27:36–43

Martin RS, Magunacelaya JC (2005) Control of plant-parasitic nematodes with extracts of Quillaja saponaria. Nematol 7:577–585

Mittal N, Saxena G, Mukerji KG (1995) Integrated control of root-knot disease in three crop plants using chitin and Paecilomyces lilacinus. Crop Prot 14:647–651

Oyekanmi EO, Coyne DL, Fagade OE, Osonubi O (2007) Improving root-knot nematode management on two soybean genotypes through the application of Bradyrhizobium haponicum, Trichoderma pseudokoningii and Glomus mosseae in full factorial combinations. Crop Prot 26:1006–1012

Anastasiadis IA, Giannakou IO, Prophetou-Athanasiadou DA, Gowen SR (2008) The combined effect of the application of a biocontrol agent Paecilomyces lilacinus, with various practices for the control of root-knot nematodes. Crop Prot 27:352–361

Siddiqui IA, Haas D, Heeb S (2005) Extracellular protease of Pseudomonas fluorescens CHA0, a biocontrol factor with activity against the root-knot nematode Meloidogyne incognita. Appl Environ Microbiol 71:5646–5649

Siddiqui IA, Shaukat SS (2003) Suppression of root-knot disease by Pseudomonas fluorescens CHA0 in tomato: importance of bacterial secondary metabolite, 2,4-diacetylpholoroglucinol. Soil Biol Biochem 35:1615–1623

Gallagher LA, Manoil C (2001) Pseudomonas aeruginosa PAO1 kills Caenorhabditis elegans by cyanide poisoning. J Bacteriol 183:6207–6214

Khan Z, Kim YH, Kim SG, Kim HW (2007) Observations on the suppression of root-knot nematode (Meloidogyne arenaria) on tomato by incorporation of cyanobacterial powder (Oscillatoria chlorina) into potting field soil. Bioresour Technol 98:69–73

Wechter WP, Glandorf DCM, Derrick WC, Leverentz B, Kluepfel DA (2001) Identification of genetic loci in a rhizosphere-inhabiting, species of Pseudomonas involved in expression of a phytoparasitic nematode ovicidal factor. Soil Biol Biochem 33:1749–1758

Cho SM, Kang BY, Han SH, Anderson AJ, Park JU, Lee YH, Cho BK, Yang KY, Ryu C-M, Kim YC (2008) 2R, 3R-butanediol a bacterial volatile produced by Pseudomonas chlororaphis O6, is involved in induction of systemic tolerance to drought in Arabidopsis thaliana. Mol Plant-Microbe Interact 21:1067–1075

Han SH, Lee SJ, Moon JH, Park KH, Yang KY, Cho BH, Kim KY, Kim YW, Lee MC, Anderson AJ, Kim YC (2006) Gacs-dependent production of 2R, 3R-butanediol by Pseudomonas chlororaphis O6 is major determinant for eliciting systemic resistance against Erwinia carotovora but not against Pseudomonas syringe pv. tabaci in tobacco. Mol Plant-Microbe Interact 19:924–930

Kang BR, Han SH, Zdor RE, Anderson AJ, Spencer M, Yang KY, Kim YH, Lee MC, Cho BH, Kim YC (2007) Inhibition of seed germination and induction of systemic disease resistance by Pseudomonas chlororaphis O6 requires phenazine production regulated by the global regulator, GacS. J Microbiol Biotechnol 17:586–593

Kim MS, Cho SM, Kang EY, Im YJ, Hwnagbo H, Kim YC, Ryu CM, Yang KY, Chung GC, Cho BH (2008) Galactinol is signaling component of the induced systemic resistance caused by Pseudomonas chlororaphis O6 root colonization. Mol Plant-Microbe Interact 21:1643–1653

Spencer M, Ryu C-M, Yang KY, Kim YC, Kloepper JW, Anderson AJ (2003) Induced defense in tobacco by Pseudomonas chlororaphis strain O6 involves at least the ethylene pathway. Physiol Mol Plant Pathol 67:27–34

King EO, Ward M, Raney D (1954) Two simple media for the demonstration of pyocyanin and fluorescein. J Lab Clin Med 44:301–307

Southey JF (1986) Laboratory methods for work with plant and soil nematodes. Her Majesty's Stationery Office. London, 202 pp

Hebb S, Hass D (2001) Regulatory roles of GacS/GacA two-component system in plant-associated and other gram-negative bacteria. Mol Plant-Microbe Interact 12:1351–1363

Hass D, Keel C (2003) Regulation of antibiotic production in root-colonizing Pseudomonas spp. and relevance for biological control of plant disease. Annu Rev Phytopathol 41:117–153

Blumer C, Hass D (2000) Mechanism, regulation, and ecological role of bacterial cyanide biosynthesis. Arch Microbiol 173:170–177

Jung WJ, Jung SJ, An KN, Jin YL, Park RD, Kim KY, Shon BK, Kim TH (2002) Effect of chitinase-producing Paenibacillus illinoisensis KJA-424 on egg hatching of root-knot nematode (Meloidogyne incognita). J Microbiol Biotechnol 12:865–871

Khan A, Williams KL, Nevalainen HKM (2004) Effects of Paecilomyces lilacinus protease and chitinase on the eggshell structures and hatching of Meloidogyne javanica juveniles. Biol Control 31:346–352
Acknowledgments
This study was financially supported by Chonnam National University in 2008 (for YCK's sabbatical research grant), and partly by a grant from the "Cooperative Research Program for Agricultural Science & Technology Development (Project No. PJ006304)", RDA, Korea.
About this article
Cite this article
Lee, J.H., Ma, K.C., Ko, S.J. et al. Nematicidal Activity of a Nonpathogenic Biocontrol Bacterium, Pseudomonas chlororaphis O6. Curr Microbiol 62, 746–751 (2011). https://doi.org/10.1007/s00284-010-9779-y
Received:

Accepted:

Published:

Issue Date:

DOI: https://doi.org/10.1007/s00284-010-9779-y
Keywords