Abstract
Vibrio cholerae is causative agent of life threatening diarrheal disease, cholera. The toxin co-regulated pilus (TCP) is a critical colonization factor of V. cholerae and it also serves as receptor for CTXФ. In this study, we describe nucleotide sequence of four novel alleles of tcpA gene from toxigenic and non-toxigenic V. cholerae isolated from environmental sources. The phylogenetic analysis of tcpA revealed that it is related to tcpA of newly emerged O1 strain and unrelated to tcpA of wild type (classical and El Tor strains). All strains showed variant tcpA and also harbored intact Vibrio Pathogenicity Island (VPI). The expression of all variant alleles was demonstrated by RT-PCR.
Access options
Buy single article
Instant access to the full article PDF.
USD 39.95
Price excludes VAT (USA)
Tax calculation will be finalised during checkout.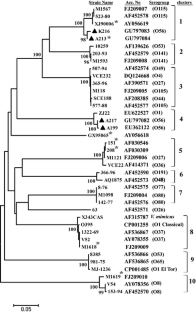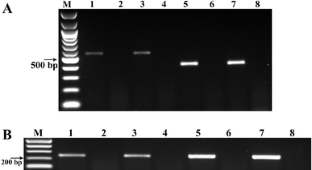 References
Boyd EF, Waldor MK (2002) Evolutionary and functional analyses of variants of the toxin-coregulated pilus protein TcpA from toxigenic Vibrio cholerae non-O1/non-O139 serogroup isolates. Microbiology 148:1655–1666

Chakraborty S, Mukhopadhyay AK, Bhadra RK et al (2000) Virulence genes in environmental strains of Vibrio cholerae. Appl Environ Microbiol 66:4022–4028

Cheng NC, Tsai JL, Kuo YS et al (2004) Bacteremic necrotizing fasciitis caused by Vibrio cholerae serogroup O56 in a patient with liver cirrhosis. J Formos Med Assoc 103:935–938

Chun J, Huq A, Colwell RR (1999) Analysis of 16S–23S rRNA intergenic spacer regions of Vibrio cholerae and Vibrio mimicus. Appl Environ Microbiol 65:2202–2208

Coelho A, Vicente AC, Baptista MA et al (1995) The distinction of pathogenic Vibrio cholerae groups using arbitrarily primed PCR fingerprints. Res Microbiol 146:671–683

Faruque SM, Asadulghani, Alim AR et al (1998) Induction of the lysogenic phage encoding cholera toxin in naturally occurring strains of toxigenic Vibrio cholerae O1 and O139. Infect Immun 66:3752–3757

Faruque SM, Asadulghani, Saha MN et al (1998) Analysis of clinical and environmental strains of nontoxigenic Vibrio cholerae for susceptibility to CTXPhi: molecular basis for origination of new strains with epidemic potential. Infect Immun 66:5819–5825

Faruque SM, Mekalanos JJ (2003) Pathogenicity islands and phages in Vibrio cholerae evolution. Trends Microbiol 11:505–510

Hoshino K, Yamasaki S, Mukhopadhyay AK et al (1998) Development and evaluation of a multiplex PCR assay for rapid detection of toxigenic Vibrio cholerae O1 and O139. FEMS Immunol Med Microbiol 20:201–207

Karaolis DK, Lan R, Kaper JB et al (2001) Comparison of Vibrio cholerae pathogenicity islands in sixth and seventh pandemic strains. Infect Immun 69:1947–1952

Karaolis DK, Somara S, Maneval DR et al (1999) A bacteriophage encoding a pathogenicity island, a type-IV pilus and a phage receptor in cholera bacteria. Nature 399:375–379

Kirn TJ, Lafferty MJ, Sandoe CM et al (2000) Delineation of pilin domains required for bacterial association into microcolonies and intestinal colonization by Vibrio cholerae. Mol Microbiol 35:896–910

Ko WC, Chuang YC, Huang GC et al (1998) Infections due to non-O1 Vibrio cholerae in southern Taiwan: predominance in cirrhotic patients. Clin Infect Dis 27:774–780

Kumar P, Peter WA, Thomas S (2008) Detection of virulence genes in Vibrio cholerae isolated from aquatic environment in Kerala, Southern India. Appl Biochem Biotechnol 151:256–262

Kumar P, Wilson PA, Bhai R et al (2009) Characterization of an SXT variant Vibrio cholerae O1 Ogawa isolated from a patient in Trivandrum, India. FEMS Microbiol Lett 303:132–136

Kumar P, Peter WA, Thomas S (2010) Rapid detection of virulence-associated genes in environmental strains of Vibrio cholerae by multiplex PCR. Curr Microbiol 60:199–202

Meyer TF, Gibbs CP, Haas R (1990) Variation and control of protein expression in Neisseria. Annu Rev Microbiol 44:451–477

Morris JG Jr (2003) Cholera and other types of vibriosis: a story of human pandemics and oysters on the half shell. Clin Infect Dis 37:272–280

Mukhopadhyay AK, Garg S, Mitra R et al (1996) Temporal shifts in traits of Vibrio cholerae strains isolated from hospitalized patients in Calcutta: a 3-year (1993 to 1995) analysis. J Clin Microbiol 34:2537–2543

Novais RC, Coelho A, Salles CA et al (1999) Toxin-co-regulated pilus cluster in non-O1, non-toxigenic Vibrio cholerae: evidence of a third allele of pilin gene. FEMS Microbiol Lett 171:49–55

Restrepo D, Huprikar SS, Van Horn K et al (2006) O1 and non-O1 Vibrio cholerae bacteremia produced by hemolytic strains. Diagn Microbiol Infect Dis 54:145–148

Rivera IN, Chun J, Huq A, Sack RB et al (2001) Genotypes associated with virulence in environmental isolates of Vibrio cholerae. Appl Environ Microbiol 67:2421–2429

Rozemeijer W, Korswagen LA, Voskuyl AE et al (2009) Vibrio cholerae non-O1 non-O139 infection in an immunocompromised patient returning from Spain. Eurosurveillence 14:1–2

Sabeena F, Thirivikramji G, Radhakutty G et al (2001) In vitro susceptibility of Vibrio cholerae O1 biotype El Tor strains associated with an outbreak of cholera in Kerala, Southern India. J Antimicrob Chemother 47:361–362

Safa A, Bhuiyan NA, Murphy D et al (2009) Multilocus genetic analysis reveals that the Australian strains of Vibrio cholerae O1 are similar to the pre-seventh pandemic strains of the El Tor biotype. J Med Microbiol 58:105–111

Sarkar A, Nandy RK, Nair GB et al (2002) Vibrio pathogenicity island and cholera toxin genetic element-associated virulence genes and their expression in non-O1 non-O139 strains of Vibrio cholerae. Infect Immun 70:4735–4742

Sharma C, Thungapathra M, Ghosh A et al (1998) Molecular analysis of non-O1, non-O139 Vibrio cholerae associated with an unusual upsurge in the incidence of cholera-like disease in Calcutta, India. J Clin Microbiol 36:756–763

Stine OC, Sozhamannan S, Gou Q et al (2000) Phylogeny of Vibrio cholerae based on recA sequence. Infect Immun 68:7180

Taylor RK, Miller VL, Furlong DB et al (1987) Use of phoA gene fusions to identify a pilus colonization factor coordinately regulated with cholera toxin. Proc Natl Acad Sci USA 84:2833–2837

Tamura K, Dudley J, Nei M et al (2007) MEGA4: molecular evolutionary genetics analysis (MEGA) software version 4.0. Mol Biol Evol 24:1596

Thomas S, Ramachandran D, Remani B et al (2008) Detection and molecular characterization of Vibrio cholerae O1 Inaba biotype El Tor strain in Kerala, S. India. World J Microbiol Biotechnol 24:433–434

Waldor MK, Mekalanos JJ (1996) Lysogenic conversion by a filamentous phage encoding cholera toxin. Science 272:1910–1914
Acknowledgments
This study was supported by an intramural support from Rajiv Gandhi Centre for Biotechnology, Trivandrum, India. Praveen Kumar gratefully acknowledges the Council of Scientific and Industrial Research, Govt. of India for research fellowship. We are grateful to Dr. D. V. Singh, Institute of Life Sciences, Bhubaneswar, India for providing V. cholerae strains VC20 and 569B used in this study. The authors are thankful to Prof. M. Radhakrishna Pillai, Director, RGCB for the facilities provided. The helpful technical assistance of Dr. Manoj P, Technical Officer, RGCB is acknowledged.
About this article
Cite this article
Kumar, P., Thulaseedharan, A., Chowdhury, G. et al. Characterization of Novel Alleles of Toxin Co-Regulated Pilus A Gene (tcpA) from Environmental Isolates of Vibrio cholerae . Curr Microbiol 62, 758–763 (2011). https://doi.org/10.1007/s00284-010-9774-3
Received:

Accepted:

Published:

Issue Date:

DOI: https://doi.org/10.1007/s00284-010-9774-3
Keywords
Horizontal Gene Transfer

Necrotizing Fasciitis

Toxigenic Strain

Cholerae Strain

tcpA Gene