Abstract
There is great concern about the potential pathogen contamination of horse manure compost spread in the same fields horses graze in. To ensure that pathogen destruction occurs, temperatures need to be sufficiently high during composting. Here, we investigated the survival rate of two marker organisms, Rhodococcus equi and Parascaris equorum eggs, exposed to temperatures potentially encountered during horse manure composting. Our results show that the time required to achieve a 1 log10 reduction in R. equi population (D-value) are 17.1 h (±1.47) at 45°C, 8.6 h (±0.28) at 50°C, 2.9 h (±0.04) at 55°C and 0.7 h (±0.04) at 60°C. For P. equorum eggs we show that at 45 and 50°C, 2 log10 reduction of viability is reached between 8 and 24 h of incubation and that it takes less than 2 h at 55 and 60°C to achieve a viability reduction of 2 log10. These results are useful for identifying composting conditions that will reduce the risk of environmental contamination by R. equi and P. equorum eggs.
This is a preview of subscription content,
to check access.
Access this article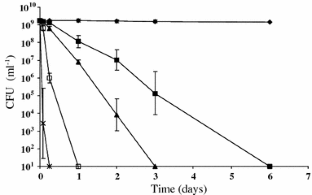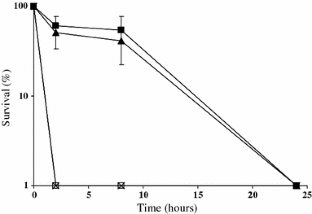 Similar content being viewed by others
References
Augustin JC, Carlier V, Rozier J (1998) Mathematical modelling of the heat resistance of Listeria monocytogenes. J Appl Microbiol 84:185–191

Barton MD, Hughes KL (1984) Ecology of Rhodococcus equi. Vet Microbiol 9:65–76

Boyle AG, Houston R (2006) Parasitic pneumonitis and treatment in horses. Clin Tech Eq Pract 5:225–232

Clayton HM (1986) Ascarids recent advances. Vet Clin North Am Eq Pract 2:313–328

Clayton HM, Duncan JL (1979) The migration and development of Parascaris equorum in the horse. Int J Parasitol 9:285–292

Doyle ME, Mazzotta AS (2000) Review of studies on the thermal resistance of salmonellae. J Food Prot 63:779–795

EPA US (2003) Control of pathogens and vector attraction in sewage sludge. EPA/625/R-92/013, pp 173–177

Grewal SK, Rajeev S, Sreevatsan S, Michel FC Jr (2006) Persistence of Mycobacterium avium subsp. paratuberculosis and other zoonotic pathogens during simulated composting, manure packing, and liquid storage of dairy manure. Appl Environ Microbiol 72:565–574

Hondalus MK (1997) Pathogenesis and virulence of Rhodococcus equi. Vet Microbiol 56:257–268

Hughes KL, Sulaiman I (1987) The ecology of Rhodococcus equi and physicochemical influences on growth. Vet Microbiol 14:241–250

Jenkins MB, Walker MJ, Bowman DD, Anthony LC, Ghiorse WC (1999) Use of a sentinel system for field measurements of Cryptosporidium parvum oocyst inactivation in soil and animal waste. Appl Environ Microbiol 65:1998–2005

Jones DL (1999) Potential health risks associated with the persistence of Escherichia coli O157 in agricultural environments. Soil Use Manag 15:76–83

Koudela B, Bodeček Š (2006) Effects of low and high temperatures on viability of Parascaris equorum eggs suspended in water. Vet Parasitol 142:123–128

Lee AS, Dyer JR (2004) Severe Streptococcus zooepidemicus infection in a gardener. Med J Aust 180:366

Lindgren K, Ljungvall Ö, Nilsson O, Ljungström BL, Lindahl C, Höglund J (2008) Parascaris equorum in foals and in their environment on a Swedish stud farm, with notes on treatment failure of ivermectin. Vet Parasitol 151:337–343

Mafart P (2000) Taking injuries of surviving bacteria into account for optimising heat treatments. Int J Food Microbiol 55:175–179

Muscatello G, Leadon DP, Klayt M, Ocampo-Sosa A, Lewis DA, Fogarty U, Buckley T, Gilkerson JR, Meijer WG, Vazquez-Boland JA (2007) Rhodococcus equi infection in foals: the science of 'rattles'. Eq Vet J 39:470–478

Takai S, Sasaki Y, Tsubaki S (1995) Rhodococcus equi infection in foals—current concepts and implication for future research. J Eq Sci 6:105–119

Turner C (2002) The thermal inactivation of E. coli in straw and pig manure. Bioresource Technol 84:57–61
Acknowledgments
L. Hébert was founded by a grand awarded by the Fonds EPERON (FNCF Paris, France). We are very grateful to the Unit observatoire anatomo-pathologique et epidémiologique des maladies équines majeures ou émergente (AFSSA Dozulé, France) for providing adult P. equorum.
About this article
Cite this article
Hébert, L., Cauchard, J., Doligez, P. et al. Viability of Rhodococcus equi and Parascaris equorum Eggs Exposed to High Temperatures. Curr Microbiol 60, 38–41 (2010). https://doi.org/10.1007/s00284-009-9497-5
Received:

Revised:

Accepted:

Published:

Issue Date:

DOI: https://doi.org/10.1007/s00284-009-9497-5
Keywords