Abstract
Five yeast morphotypes were isolated from biogas reactors at North Wyke Research, Okehampton, UK. Out of the five morphotypes, four were identified as known species. In contrast, the fifth morphotype strain, Bio10T, was found to differ from Bullera dendrophila and Kwoniella mangroviensis, its closest phylogenetic neighbours, by 2.6–2.9% with respect to the nucleotide sequence of the D1/D2 domain of the 26S rRNA gene and by 5.6–6.2% with respect to the internal transcribed spacer 1 (ITS1)-5.8S rRNA gene-ITS2 region. Bio10T also differs from these two species by a number of phenotypic characteristics. Thus, based on the phenotypic differences and phylogenetic analysis, strain Bio10T is assigned the status of a new species of Cryptococcus, for which the name Cryptococcus shivajii sp. nov. is proposed. The type strain is Bio10T (NCYC 3541T = CBS 11374T).
Access options
Buy single article
Instant access to the full article PDF.
US$ 39.95
Tax calculation will be finalised during checkout.
Subscribe to journal
Immediate online access to all issues from 2019. Subscription will auto renew annually.
US$ 119
Tax calculation will be finalised during checkout.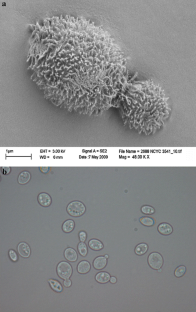 References
1.

Bhadra B, Rao SR, Kumar PS, Sarkar PK, Shivaji S (2008) Yeasts and yeast like fungi associated with the bark of trees: diversity of yeasts and identification of yeasts producing extracellular endoxylanases. Curr Microbiol 56:489–494

2.

Boekhout T, Nakase T (1998) Bullera Derx. In: Kurtzman CP, Fell JW (eds) The yeasts, a taxonomic study, 4th edn. Elsevier, Amsterdam, pp 731–741

3.

Felsenstein J (1985) Confidence limits on phylogenies: an approach using bootstrap. Evolution 39:783–791

4.

Golubev W, Pfeiffer I, Tomashevskaya MA (2008) Cryptococcus pinus sp. Nov., an anamorphic basidiomycetous yeast isolated from pine litter. Int J Syst Evol Microbiol 58:1968–1971

5.

Guindon S, Gascuel O (2003) A simple, fast, and accurate algorithm to estimate large phylogenies by maximum likelihood. Syst Biol 52:696–704

6.

James SA, Collins MD, Roberts IN (1996) Use of an rRNA internal transcribed spacer region to distinguish phylogenetically closely related species of the genera Zygosaccharomyces and Torulaspora. Int J Syst Bacteriol 46:189–194

7.

Klockea M, Mahnerta P, Mundta K, Souidia K, Linke B (2007) Microbial community analysis of a biogas-producing completely stirred tank reactor fed continuously with fodder beet silage as mono-substrate. Syst Appl Microbiol 30:139–151

8.

Klockea M, Nettmanna E, Bergmanna I, Mundta K, Souidia K, Mummea J, Linkea B (2008) Characterization of the methanogenic Archaea within two-phase biogas reactor systems operated with plant biomass. Syst Appl Microbiol 31:190–205

9.

Kurtzman CP, Robnett CJ (1998) Identification and phylogeny of ascomycetous yeasts from analysis of nuclear large subunit (26S) ribosomal DNA partial sequences. Antonie Van Leeuwenhoek 73:331–371

10.

Leclerc M, Delbes C, Moletta R, Godon JJ (2001) Single strand conformation polymorphism monitoring of 16S rDNA Archaea during start-up of an anaerobic digester. FEMS Microbiol Ecol 34:213–220

11.

Leclerc M, Delgènes JP, Godon JJ (2004) Diversity of the archaeal community in 44 anaerobic digesters as determined by single strand conformation polymorphism analysis and 16S rDNA sequencing. Environ Microbiol 8:809–819

12.

Makimura K, Murayama SY, Yamaguchi H (1994) Detection of a wide range of medically important fungi by the polymerase chain reaction. J Med Microbiol 40:358–364

13.

Martinez-Garcia G, Johnson AC, Bachmann RT, Williams CJ, Burgoyne A, Edyvean RGJ (2009) Anaerobic treatment of olive mill waste water and piggery effluents fermented with Candida tropicalis. J Hazard Mater 164:1398–1405

14.

McHugh S, Carton M, Mahony T, O'Flaherty V (2003) Methanogenic population structure in a variety of anaerobic bioreactors. FEMS Microbiol Lett 219:297–304

15.

O'Donnell K (1993) Fusarium and its near relatives. In: Reynolds DR, Taylor JW (eds) The fungal holomorph: mitotic, meiotic and pleomorphic speciation in fungal systematics. CAB International, Wallingford, pp 225–233

16.

Olcay O, Kocasoy G (2004) Acceleration of the decomposition rate of anaerobic biological treatment. J Environ Sci Health 39:1083–1093

17.

Saitou N, Nei M (1987) The neighbor-joining method: a new method for reconstructing phylogenetic trees. Mol Biol Evol 4:406–425

18.

Savant DV, Shouche YS, Prakash S, Ranade DR (2002) Methanobrevibacter acididurans sp. nov., a novel methanogen from a sour anaerobic digester. Int J Syst Evol Microbiol 52:1081–1087

19.

Saxena DM (2007) Dr. S. Shivaji—a zoologist turned microbiologist. Ind J Microbiol 47:94–95

20.

Scorzetti G, Fell JW, Fonseca A, Statzell-Tallman A (2002) Systematics of basidiomycetous yeasts: a comparison of large subunit D1/D2 and internal transcribed spacer rDNA regions. FEMS Yeast Res 2:495–517

21.

Statzell-Tallman A, Belloch C, Fell JW (2008) Kwoniella mangroviensis gen. nov., sp. nov. (Tremellales, Basidiomycota), a teleomorphic yeast from mangrove habitats in the Florida Everglades and Bahamas. FEMS Yeast Res 8:103–113

22.

Strayer RF, Finger BW, Alazraki MP (1997) Evaluation of an anaerobic digestion system for processing celss crop residues for resource recovery. Adv Space Res 20:2009–2015

23.

Thompson JD, Gibson TJ, Plewniak F, Jeanmougin F, Higgins DG (1997) The CLUSTAL_X windows interface: flexible strategies for multiple sequence alignment aided by quality analysis tools. Nucleic Acids Res 25:4876–4882

24.

White TJ, Bruns T, Lee S, Taylor J (1990) Amplification and direct sequencing of fungal ribosomal RNA genes for phylogenetics. In: Innis MA, Gelfand DH, Sninsky JJ, White TJ (eds) PCR protocols: a guide to methods and applications. Academic Press, San Diego, pp 315–322

25.

Yarrow D (1998) Methods for the isolation, maintenance and identification of yeasts. In: Kurtzman CP, Fell JW (eds) The yeasts, a taxonomic study, 4th edn. Elsevier, Amsterdam, pp 77–100

26.

Zumstein E, Moletta R, Godon JJ (2000) Examination of two years of community dynamics in an anaerobic bioreactor using fluorescence polymerase chain reaction (PCR) single-strand conformation polymorphism analysis. Environ Microbiol 2:69–78
Acknowledgements
We would like to thank Biotechnology and Biological Sciences Research Council (BBSRC) UK for India Partnering Award and EU for Agro biogas project. North Wyke Research is an institute of the Biotechnology and Biological Sciences Research Council of UK. We thank Dr Mary Parker for her kind advice and assistance with the imaging at the Institute of Food Research, Norwich Research Park, Colney, Norwich, UK. Sreenivas would like to thank Waqar Ali, University of Oxford, UK for his bioinformatics support during bioinformatics course at University of Oxford, UK.
About this article
Cite this article
Ravella, S.R., James, S.A., Bond, C.J. et al. Cryptococcus shivajii sp. nov.: A Novel Basidiomycetous Yeast Isolated from Biogas Reactor. Curr Microbiol 60, 12–16 (2010). https://doi.org/10.1007/s00284-009-9493-9
Received:

Accepted:

Published:

Issue Date:
Keywords
Biogas

Anaerobic Digestion

Rose Bengal

Corn Meal Agar

Rhodotorula Glutinis