Abstract
In this study, di-isononyl phthalate (DINP) was efficiently degraded by Sphingobium chungbukense KCTC 2955. The optimal conditions for DINP (100 mg L−1) degradation by S. chungbukense in a mineral salts medium were found to be pH 7.0, 30°C, and stirring at 200 rpm. The maximum specific rate of DINP degradation was found to be concentration dependent, with a maximum of 4.12 mg DINP L−1 h−1. DINP was transformed rapidly by S. chungbukense, with the formation of monoisononyl phthalate (MIP) and phthalic acid, which subsequently degraded further. These results highlight the potential of this bacterium for removing DINP-contaminated waste in the environment.
Access options
Buy single article
Instant access to the full article PDF.
USD 39.95
Price excludes VAT (USA)
Tax calculation will be finalised during checkout.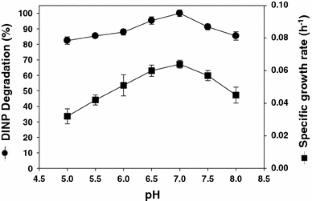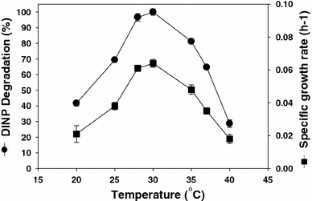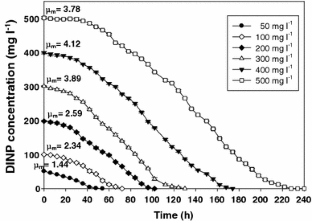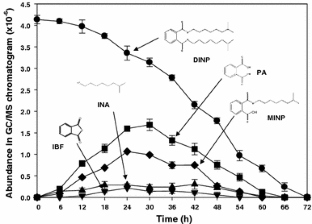 References
Babich MA, Chen SB, Greene MA, Kiss CT, Porter WK, Smith TP, Wind ML, Zamula WW (2004) Risk assessment of oral exposure to diisononyl phthalate from children's products. Regul Toxicol Pharmacol 40:151–167

Barlow N, Phillips S, Wallace D, Sar M, Gaido K, Foster P (2003) Quantitative changes in gene expression in fetal rat testes following exposure to di(n-butyl) phthalate. Toxicol Sci 73:431–441

Chang BV, Yang CM, Cheng CH, Yuan SY (2004) Biodegradation of phthalate esters by two bacteria strains. Chemosphere 55:533–538

Eaton RW (2001) Plasmid-encoded phthalate catabolic pathway in Arthrobacter keyseri 12B. J Bacteriol 183:3689–3703

Fang HH, Liang D, Zhang T (2007) Aerobic degradation of diethyl phthalate by Sphingomonas sp. Bioresour Technol 98:717–720

Gray JR, Frith CH, Parker JD (2000) In vivo enhancement of chemotherapy with static electric or magnetic fields. Bioelectromagnetics 21:575–583

Harris CA, Henttu P, Parker MG, Sumpter JP (1997) The estrogenic activity of phthalate esters in vitro. Environ Health Perspect 105:802–811

Jianlong W, Lujun C, Hanchang S, Yi Q (2000) Microbial degradation of phthalic acid esters under anaerobic digestion of sludge. Chemosphere 41:1245–1248

Kavlock R, Boekelheide K, Chapin R, Cunningham M, Faustman E, Foster P, Golub M, Henderson R, Hinberg I, Little R, Seed J, Shea K, Tabacova S, Tyl R, Williams P, Zacharewski T (2002) NTP Center for the Evaluation of Risks to Human Reproduction: phthalates expert panel report on the reproductive and developmental toxicity of di-isononyl phthalate. Reprod Toxicol 16:679–708

Kim SJ, Chun J, Bae KS, Kim YC (2000) Polyphasic assignment of an aromatic-degrading Pseudomonas sp., strain DJ77, in the genus Sphingomonas as Sphingomonas chungbukensis sp. nov. Int J Syst Evol Microbiol 4:1641–1647

Kim YH, Lee J, Ahn JY, Gu MB, Moon SH (2002) Enhanced degradation of an endocrine-disrupting chemical, butyl benzyl phthalate, by Fusarium oxysporum f. sp. pisi cutinase. Appl Environ Microbiol 68:4684–4688

Lington AW, Bird MG, Plutnick RT, Stubblefield WA, Scala RA (1997) Chronic toxicity and carcinogenic evaluation of diisononyl phthalate in rats. Fundam Appl Toxicol 36:79–89

McKee RH, El-Hawari M, Stoltz M, Pallas F, Lington AW (2002) Absorption, disposition and metabolism of di-isononyl phthalate (DINP) in F–344 rats. J Appl Toxicol 22:293–302

Patil NK, Kundapur R, Shouche YS, Karegoudar TB (2006) Degradation of a plasticizer, di-n-butylphthalate, by Delftia sp. TBKNP–05. Curr Microbiol 52:225–230

Quan CS, Liu Q, Tian WJ, Kikuchi J, Fan SD (2005) Biodegradation of an endocrine-disrupting chemical, di–2-ethylhexyl phthalate, by Bacillus subtilis No. 66. Appl Microbiol Biotechnol 66:702–710

Scholz N (2003) Ecotoxicity and biodegradation of phthalate monoesters. Chemosphere 53:921–926

Scippo ML, Argiris C, Van De Weerdt C, Muller M, Willemsen P, Martial J, Maghuin-Rogister G (2004) Recombinant human estrogen, androgen and progesterone receptors for detection of potential endocrine disruptors. Anal Bioanal Chem 378:664–669

Shaw D, Lee R, Roberts RA (2002) Species differences in response to the phthalate plasticizer monoisononylphthalate (MINP) in vitro: a comparison of rat and human hepatocytes. Arch Toxicol 76:344–350

Shea KM, American Academy of Pediatrics Committee on Environmental Health (2003) Pediatric exposure and potential toxicity of phthalate plasticizers. Pediatrics 111:1467–1474

Silva MJ, Kato K, Wolf C, Samandar E, Silva SS, Gray EL, Needham LL, Calafat AM (2006) Urinary biomarkers of di-isononyl phthalate in rats. Toxicology 223:101–112

Smith JH, Isenberg JS, Pugh G Jr, Kamendulis LM, Ackley D, Lington AW, Klaunig JE (2000) Comparative in vivo hepatic effects of Di-isononyl phthalate (DINP) and related C7–C11 dialkyl phthalates on gap junctional intercellular communication (GJIC), peroxisomal beta-oxidation (PBOX), and DNA synthesis in rat and mouse liver. Toxicol Sci 54:312–321

Staples CA, Peterson DR, Parkerton TF, Adams WJ (1997) The environmental fate of phthalate esters: a literature review. Chemosphere 35:667–749

Wilkinson CF, Lamb JC 4th (1999) The potential health effects of phthalate esters in children's toys: a review and risk assessment. Regul Toxicol Pharmacol 30:140–155
Acknowledgment
This study was supported by a 2007 research grant from Chungbuk National University.
Additional information
Jae-Min Park and Miri Jeon contributed equally to this work.
About this article
Cite this article
Park, JM., Jeon, M., Lim, ES. et al. Biodegradation of a Phthalate Plasticizer, Di-Isononyl Phthalate (DINP), by Sphingobium chungbukense . Curr Microbiol 57, 515–518 (2008). https://doi.org/10.1007/s00284-008-9232-7
Received:

Revised:

Accepted:

Published:

Issue Date:

DOI: https://doi.org/10.1007/s00284-008-9232-7
Keywords