Abstract
The activity of Eucalyptus globulus essential oil was determined for 120 isolates of Streptococcus pyogenes, 20 isolates of S. pneumoniae, 40 isolates of S. agalactiae, 20 isolates of Staphylococcus aureus, 40 isolates of Haemophilus influenzae, 30 isolates of H. parainfluenzae, 10 isolates of Klebsiella pneumoniae, 10 isolates of Stenotrophomonas maltophilia and two viruses, a strain of adenovirus and a strain of mumps virus, all obtained from clinical specimens of patients with respiratory tract infections. The cytotoxicity was evaluated on VERO cells by the MTT test. The antibacterial activity was evaluated by the Kirby Bauer paper method, minimum inhibitory concentration, and minimum bactericidal concentration. H. influenzae, parainfluenzae, and S. maltophilia were the most susceptible, followed by S. pneumoniae. The antiviral activity, assessed by means of virus yield experiments titered by the end-point dilution method for adenovirus, and by plaque reduction assay for mumps virus, disclosed only a mild activity on mumps virus.
This is a preview of subscription content, log in to check access.
Access options
Buy single article
Instant access to the full article PDF.
US$ 39.95
Price includes VAT for USA
Subscribe to journal
Immediate online access to all issues from 2019. Subscription will auto renew annually.
US$ 199
This is the net price. Taxes to be calculated in checkout.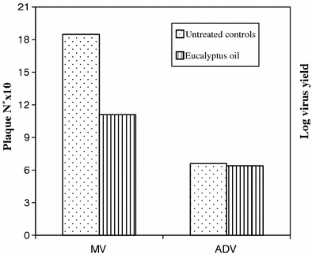 References
1.

Denizot F, Lang R (1986) Rapid colorimetric assay for cell growth and survival. Modifications to the tetrazolium dye procedure giving improved sensitivity and reliability. J Immunol Methods 89:271–277

2.

Harkenthal M, Reichling J, Geiss HK, Saller R (1999) Comparative study on the in vitro antibacterial activity of Australian tea tree oil, cajuput oil, niaouli oil, manuka oil, kanuka oil, and eucalyptus oil. Pharmazie 54:460–463

3.

Inouye S, Yamaguchi H, Takizawa T (2001) Screening of antibacterial effect of a variety of essential oils on respiratory tract pathogens, using a modified dilution assay method. J Infect Chemiother 7:251–254

4.

Inouye S, Takizawa T, Yamaguchi H (2001) Antibacterial activity of essential oils and their major constituents against respiratory tract pathogens by gaseous contact. J Antimicrob Chemother 47:565–573

5.

Lennette EH (1964) General principles underlying laboratory diagnosis of virus and rickettsia infections. In: Lennette EH, Schmidt NH (eds). Diagnostic procedures of virus and rickettsia disease. New York: American Public Health Association, p 45

6.

Nicoletti P, Quaglio P (2002) Valutazione preliminare dell'attività antimicrobica in vitro di alcuni oli essenziali. Microbiol Med 17:373–377

7.

Salari MH, Amine G, Shirazi MH, Hafezi R, Mohammadypour M (2006) Antibacterial effects of Eucalyptus globulus leaf extract on pathogenic bacteria isolated from specimens of patients with respiratory tract disorders. Clin Microbiol Infect 12:194–196

8.

Schnitzler P, Schon K, Reichling J (2001) Antiviral activity of Australian tea tree oil and eucalyptus oil against herpes simplex virus in cell culture. Pharmazie 56:343–347

9.

Takahashi T, Kokubo R, Sakaino M (2004) Antimicrobial activities of eucalyptus leaf extracts and flavonoids from Eucalyptus maculata. Lett Appl Microbiol 39:60–64

10.

Wilkinson JM, Cavanagh HM (2005) Antibacterial activity of essential oils from Australian native plants. Phytother Res 19:643–646
About this article
Cite this article
Cermelli, C., Fabio, A., Fabio, G. et al. Effect of Eucalyptus Essential Oil on Respiratory Bacteria and Viruses. Curr Microbiol 56, 89–92 (2008). https://doi.org/10.1007/s00284-007-9045-0
Received:

Accepted:

Published:

Issue Date:
Keywords
Minimum Inhibitory Concentration

Eucalyptus

VERO Cell

Haemophilus Influenzae

Maintenance Medium