Abstract
The nucleic acid sequence-based amplification (NASBA) assay has been demonstrated to be more sensitive for detection of enteroviruses (EV) than RT-PCR. Many laboratories, however, do not have a dedicated instrument for the NASBA assay. This study aimed to evaluate the use of the Roche LightCycler as a platform for performing the NASBA assay for detection of EV. A diverse subgenera of EV were used to assess the specificity of the NASBA assay, including coxsackie, echovirus, poliovirus, and other enteroviruses together with related and unrelated viruses, including rhinovirus, respiratory syncytial virus, herpes simplex virus, adenovirus, influenza virus A, and cytomegalovirus. All species of EV tested were successfully detected using NASBA and no cross reactivity with other viruses was observed. Using serial dilutions of EV to assess sensitivity, the NASBA assay was compared to an in-house EV RT-PCR assay. The NASBA assay demonstrated a higher level of sensitivity. Fifty-one clinical samples positive for EV by viral culture were also evaluated. All NASBA results obtained were concordant with viral culture results. This study confirmed that the NASBA assay for the detection of EV could be readily performed on the LightCycler and easily incorporated into the workflow of a diagnostic laboratory equipped with a LightCycler, thereby eliminating the need for additional instrumentation.
Access options
Buy single article
Instant access to the full article PDF.
USD 39.95
Price excludes VAT (USA)
Tax calculation will be finalised during checkout.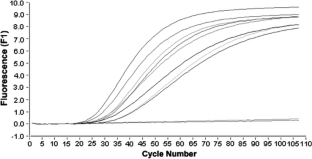 References
Alexander R, Lamb D, White D, Wentzel T, Politis S, Rijnsburger J, van Ruyven D, Kelly N, Garland SM (2001) "RETCIF": a rapid, sensitive method for detection of viruses, applicable for large numbers of clinical samples. J Virol Methods 97(1–2):77–85

Brink AA, Vervoort MB, Middeldorp JM, Meijer CJ, van den Brule AJ (1998) Nucleic acid sequence-based amplification, a new method for analysis of spliced and unspliced Epstein-Barr virus latent transcripts, and its comparison with reverse transcriptase PCR. J Clin Microbiol 36:3164–3169

Capaul SE, Gorgieska-Hrisoho M (2005) Detection of enterovirus RNA in cerebrospinal fluid (CSF) using NucliSens EasyQ enterovirus assay. J Clin Virol 32:236–240

Carroll KC, Taggart B, Robison J, Byington C, Hillyard D (2000) Evaluation of the Roche AMPLICOR enterovirus PCR assay in the diagnosis of enteroviral central nervous system infections. J Clin Virol 19:149–156

DeBiasi RL, Tyler KL (2004) Molecular methods for diagnosis of viral encephalitis. Clin Microbiol Rev 17:903–925

Ginocchio CC, Zhang F, Malhotra A, Manji R, Sillekens P, Foolen H, Overdyk M, Peeters M (2005) Development, technical performance, and clinical evaluation of a NucliSens basic kit application for detection of enterovirus RNA in cerebrospinal fluid. J Clin Microbiol 43:2616–2623

Heim A, Schumann J (2002) Development and evaluation of a nucleic acid based amplification (NASBA) protocol for the detection of enterovirus RNA in cerebrospinal fluid samples. J Virol Methods 103:101–107

Huang C, Morse D, Slater B, Anand M, Tobin E, Smith P, Dupuis M, Hull R, Ferrera R, Rossen S, Grady L (2004) Multiple-year experience in the diagnosis of viral central nervous system infections with a panel of polymerase chain reaction assays for detection of 11 viruses. Clin Infect Dis 39:630–635

Kupila L, Vuorinen T, Vainionpää R, Mattila RJ, Kotilainen P (2005) Diagnosis of enteroviral meningitis by use of polymerase chain reaction of cerebrospinal fluid, stool, and serum specimens. Clin Infect Dis 40:982–987

Landry ML, Garner R, Ferguson D (2003) Rapid enterovirus detection in clinical specimens by using nucleic acid sequence-based amplification. J Clin Microbiol 41:346–350

Landry ML, Garner R, Ferguson D (2003) Comparison of the NucliSens basic kit (nucleic acid sequence-based amplification) and the Argene Biosoft Enterovirus consensus reverse transcription-PCR for rapid detection of enterovirus RNA in clinical specimens. J Clin Microbiol 41:5006–5010

Landry ML, Garner R, Ferguson D (2005) Real-time nucleic acid sequence-based amplification using molecular beacons for detection of enterovirus RNA in clinical specimens. J Clin Microbiol 43:3136–3139

Nijhuis M, van Maarseveen N, Schuurman R, Verkuijlen S, de Vos M, Hendriksen K, van Loon AM (2002) Rapid and sensitive routine detection of all members of the genus enterovirus in different clinical specimens by real-time PCR. J Clin Microbiol 40:3666–3670

O'Shea MK, Cane PA (2004) Development of a highly sensitive semi-quantitative real-time PCR and molecular beacon probe assay for the detection of respiratory syncytial virus. J Virol Methods 118:101–110

Petitjean J, Vabret A, Dina J, Gouarin S, Freymuth F (2006) Development and evaluation of a real-time RT-PCR assay on the LightCycler for the rapid detection of enterovirus in cerebrospinal fluid specimens. J Clin Virol 35:278–284

Schneider P, Wolters L, Schoone G, Schallig H, Sillekens P, Hermsen R, Sauerwein R (2005) Real-time nucleic acid sequence-based amplification is more convenient than real-time PCR for quantification of Plasmodium falciparum. J Clin Microbiol 43:402–405

Verstrepen WA, Bruynseels P, Mertens AH (2002) Evaluation of a rapid real-time RT-PCR assay for detection of enterovirus RNA in cerebrospinal fluid specimens. J Clin Virol 25(Suppl 1):S39–S43

Templeton KE, Scheltinga SA, Beersma MFC, Kroes AC, Claas EC (2004) Rapid and sensitive method using multiplex real-time PCR for diagnosis of infections by influenza A and influenza B viruses, respiratory syncytial virus, and parainfluenza viruses 1, 2, 3, and 4. J Clin Microbiol 42:1564–1569

Verstrepen WA, Kuhn S, Kockx MM, Van De Vyvere ME, Mertens AH (2001) Rapid detection of enterovirus RNA in cerebrospinal fluid specimens with a novel single-tube real-time reverse transcription-PCR assay. J Clin Microbiol 39:4093–4096

Watkins-Riedel T, Woegerbauer M, Hollemann D, Hufnagl P (2002) Rapid diagnosis of enterovirus infections by real-time PCR on the LightCycler using the TaqMan format. Diag Microbiol Infect Dis 42:99–105
About this article
Cite this article
Costa, AM., Lamb, D., Garland, S.M. et al. Evaluation of LightCycler as a Platform for Nucleic Acid Sequence-Based Amplification (NASBA) in Real-Time Detection of Enteroviruses. Curr Microbiol 56, 80–83 (2008). https://doi.org/10.1007/s00284-007-9043-2
Received:

Accepted:

Published:

Issue Date:

DOI: https://doi.org/10.1007/s00284-007-9043-2
Keywords