Abstract
The aim of this study was to investigate in vitro the protective effect of commercial probiotic strains (Bifidobacterium lactis Bb12 and Lactobacillus rhamnosus LGG) alone and in combination on the adhesion of pathogenic strains as Salmonella, Clostridium, and Escherichia coli to pig intestinal mucus obtained from different intestinal regions. In combination, probiotic strains enhanced each other's adhesion, mainly in large intestinal mucus. Treatment of intestinal mucus with Bb12 and LGG, alone or in combination, significantly reduced (P < 0.05) the adhesion of the tested pathogens. The ability to inhibit pathogen adhesion appears to depend on the specific probiotics and pathogens and on the mucosal site. B. lactis Bb12 and L. rhamnosus LGG in combination revealed a better ability to inhibit adhesion of all pathogens tested to pig intestinal mucus than probiotic strains. Probiotic combinations could be useful for counteracting disease-associated aberrations in intestinal microbiota. Specific protective probiotics could be selected for particular pig pathogens. Probiotic strains from human origin and intended for human use also adhere to pig intestinal mucus and are able to displace and inhibit pathogens.
Access options
Buy single article
Instant access to the full article PDF.
USD 39.95
Price excludes VAT (USA)
Tax calculation will be finalised during checkout.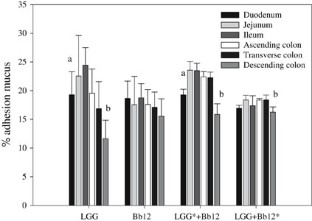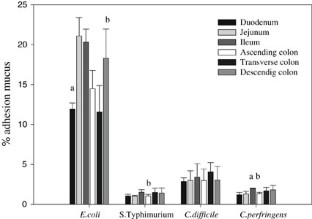 References
Alander M, Satokari R, Korpela R, Saxelin M, Vilpponen-Salmela T, Mattila-Sandholm T, von Wright A (1999) Persistence of colonization of human colonic mucosa by a probiotic strain, Lactobacillus rhamnosus LGG, after oral consumption. Appl Environ Microbiol 65:351–354

Collado MC, Gueimonde M, Hernandez M, Sanz Y, Salminen S (2005) Adhesion of selected Bifidobacterium strains to human intestinal mucus and the role of adhesion in enteropathogen exclusion. J Food Prot 68:2672–2678

Collado MC, Meriluoto J, Salminen S (2007) In vitro analysis of probiotic strains combinations to inhibit pathogen adhesion to human intestinal mucus. Food Res Int 40(5):629–636

Collado MC, Meriluoto J, Salminen S (2007) Development of new probiotics by strains combination: Is it possible to improve the adhesion to intestinal mucus? J Dairy Sci 90:2710–2716

Gueimonde M, Jalonen L, He F, Hiramatsu M, Salminen S (2006) Adhesion and competitive inhibition and displacement of human enteropathogens by selected lactobacilli. Food Res Int 39:467–471

Ibrahim F, Ouwehand A, Salminen S (2004) Effect of temperature on in vitro adhesion of potential fish probiotics. Microb Ecol Health Dis 6:222–227

Lee Y-K, Puong K-Y (2002) Competition for adhesion between probiotics and human gastrointestinal pathogens in presence of carbohydrate. Br J Nutr 88:101–108

Nikoskelainen S, Salminen S, Bylund G, Ouwehand A (2001) Characterization of the properties of human and dairy-derived probiotics for prevention of infectious diseases in fish. Appl Environ Microbiol 67:2430–2435

Ouwehand AC, Isolauri E, Kirjavainen PV, Tolkko S, Salminen S (2000) The mucus binding of Bifidobacterium lactis Bb12 is enhanced in the presence of Lactobacillus LGG and Lactobacillus delbrueckii subsp. bulgaricus. Lett Appl Microbiol 30(1):10–13

Ouwehand AC, Salminen S (2003) In vitro adhesion assays for probiotics and their in vivo relevance: a review. Microb Ecol Health Dis 15:175–184

Reid G, McGroarty JA, Angotti R, Cook RL (1988) Lactobacillus inhibitor production against Escherichia coli and coaggregation ability with uropathogens. Can J Microbiol 34:344–351

Salminen S, Bouley C, Boutron-Ruault M-C, Cummings JH, Franck A, Gibson GR, Isolauri E, Moreau M-C, Roberfroid M, Rowland I (1998) Functional food science and gastrointestinal physiology and function. Br J Nutr 80:147–171

Songer JG, Anderson MA (2006) Clostridium difficile: an important pathogen of food animals. Anaerobe 12(1):1–4

Tuomola EM, Ouwehand AC, Salminen S (1999) The effect of probiotic bacteria on the adhesion of pathogens to human intestinal mucus. FEMS Immunol Med Microbiol 26:137–142

Weese JS, Anderson MEC (2002) Preliminary evaluation of Lactobacillus rhamnosus strain LGG, a potential probiotic in dogs. Can Vet J 43:771–774
Acknowledgments
This work was supported by the Academy of Finland, Research Council for Biosciences and Environment (decision number 210310 to University of Turku). M.C. Collado is the recipient of an Excellence Postdoctoral grant from Conselleria Empresa, Universidad y Ciencia de la Generalitat Valenciana, Spain (BPOSTDOC 06/016).
About this article
Cite this article
Collado, M.C., Grześkowiak, Ł. & Salminen, S. Probiotic Strains and Their Combination Inhibit In Vitro Adhesion of Pathogens to Pig Intestinal Mucosa. Curr Microbiol 55, 260–265 (2007). https://doi.org/10.1007/s00284-007-0144-8
Received:

Accepted:

Published:

Issue Date:

DOI: https://doi.org/10.1007/s00284-007-0144-8
Keywords
Mucus

Adhesion

Bifidobacterium
Lactobacillus

Pathogens