Abstract
Idiopathic change nephrotic syndrome (INS), the most frequent glomerular disease in children and young adults, is characterized by heavy proteinuria and a relapsing remitting course. Although the mechanisms underlying the pathophysiology of proteinuria remain unclear, clinical and experimental observations suggest that lymphocyte and podocyte disturbances are two sides of the disease. The current hypothesis suggests that immune cells release a putative factor, which alters podocyte function resulting in nephrotic proteinuria. Besides T-cell abnormalities, recent evidence of B-cell depletion efficacy in sustained remissions added a new challenge in understanding the immunological mechanisms of INS. In this review, we discuss recent insights related to podocyte disorders occurring in INS and their relevance in human diseases.
Access options
Buy single article
Instant access to the full article PDF.
USD 39.95
Price includes VAT (USA)
Tax calculation will be finalised during checkout.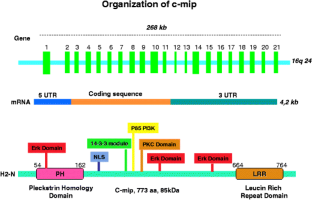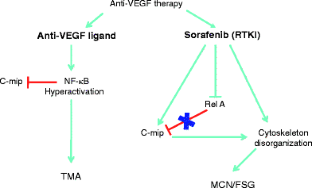 References
1.

Niaudet P (1993) Nephrotic syndrome in children. Curr Opin Pediatr 5:174–179

2.

Nakayama M, Katafuchi R, Yanase T, Ikeda K, Tanaka H, Fujimi S (2002) Steroid responsiveness and frequency of relapse in adult-onset minimal change nephrotic syndrome. Am J Kidney Dis 39:503–512

3.

Mathieson PW (2007) Minimal change nephropathy and focal segmental glomerulosclerosis. Semin Immunopathol 29:415–426

4.

Kestila M, Lenkkeri U, Mannikko M et al (1998) Positionally cloned gene for a novel glomerular protein—nephrin—is mutated in congenital nephrotic syndrome. Mol Cell 1:575–582

5.

Boute N, Gribouval O, Roselli S et al (2000) NPHS2, encoding the glomerular protein podocin, is mutated in autosomal recessive steroid-resistant nephrotic syndrome. Nat Genet 24:349–354

6.

Hinkes B, Wiggins RC, Gbadegesin R et al (2006) Positional cloning uncovers mutations in PLCE1 responsible for a nephrotic syndrome variant that may be reversible. Nat Genet 38:1397–1405

7.

Kaplan JM, Kim SH, North KN et al (2000) Mutations in ACTN4, encoding alpha-actinin-4, cause familial focal segmental glomerulosclerosis. Nat Genet 24:251–256

8.

Reiser J, Polu KR, Moller CC et al (2005) TRPC6 is a glomerular slit diaphragm-associated channel required for normal renal function. Nat Genet 37:739–744

9.

Lowik MM, Groenen PJ, Pronk I et al (2007) Focal segmental glomerulosclerosis in a patient homozygous for a CD2AP mutation. Kidney Int 72:1198–1203

10.

Brown EJ, Schlondorff JS, Becker DJ et al (2010) Mutations in the formin gene INF2 cause focal segmental glomerulosclerosis. Nat Genet 42:72–76

11.

Eddy AA, Symons JM (2003) Nephrotic syndrome in childhood. Lancet 362:629–639

12.

Guigonis V, Dallocchio A, Baudouin V et al (2008) Rituximab treatment for severe steroid- or cyclosporine-dependent nephrotic syndrome: a multicentric series of 22 cases. Pediatr Nephrol 23:1269–1279

13.

Munyentwali H, Bouachi K, Audard V et al (2013) Rituximab is an efficient and safe treatment in adults with steroid-dependent minimal change disease. Kidney Int 83:511–516

14.

Ravani P, Ponticelli A, Siciliano C et al (2013) Rituximab is a safe and effective long-term treatment for children with steroid and calcineurin inhibitor-dependent idiopathic nephrotic syndrome. Kidney Int 84:1025–1033

15.

Zhang S, Audard V, Fan Q et al (2011) Immunopathogenesis of idiopathic nephrotic syndrome. Contrib Nephrol 169:94–106

16.

Yap HK, Cheung W, Murugasu B et al (1999) Th1 and Th2 cytokine mRNA profiles in childhood nephrotic syndrome: evidence for increased IL-13 mRNA expression in relapse. J Am Soc Nephrol 10:529–537

17.

Lai KW, Wei CL, Tan LK et al (2007) Overexpression of interleukin-13 induces minimal-change-like nephropathy in rats. J Am Soc Nephrol 18:1476–1485

18.

Van Den Berg JG, Aten J, Chand MA et al (2000) Interleukin-4 and interleukin-13 act on glomerular visceral epithelial cells. J Am Soc Nephrol 11:413–422

19.

Zhu P, Goh YY, Chin HF et al (2012) Angiopoietin-like 4: a decade of research. Bioscience reports 32:211–219

20.

Koliwad SK, Gray NE, Wang JC. Angiopoietin-like 4 (Angptl4) (2012): A glucocorticoid-dependent gatekeeper of fatty acid flux during fasting. Adipocyte.1:182–187.

21.

Koliwad SK, Kuo T, Shipp LE et al (2009) Angiopoietin-like 4 (ANGPTL4, fasting-induced adipose factor) is a direct glucocorticoid receptor target and participates in glucocorticoid-regulated triglyceride metabolism. J Biol Chem 284:25593–25601

22.

Koster A, Chao YB, Mosior M et al (2005) Transgenic angiopoietin-like (angptl)4 overexpression and targeted disruption of angptl4 and angptl3: regulation of triglyceride metabolism. Endocrinology 146:4943–4950

23.

Clement LC, Avila-Casado C, Mace C et al (2011) Podocyte-secreted angiopoietin-like-4 mediates proteinuria in glucocorticoid-sensitive nephrotic syndrome. Nat Med 17:117–122

24.

Reiser J, von Gersdorff G, Loos M et al (2004) Induction of B7-1 in podocytes is associated with nephrotic syndrome. J Clin Invest 113:1390–1397

25.

Garin EH, Diaz LN, Mu W, Wasserfall C et al (2009) Urinary CD80 excretion increases in idiopathic minimal-change disease. J Am Soc Nephrol 20: 260–266.

26.

Garin EH, MuW, Arthur JMet al (2010) Urinary CD80 is elevated in minimal change di sease but not in focal s egmental glomerulosclerosis. Kidney Int 78:296–302

27.

Navarro-Munoz M, Ibernon M, Perez V et al (2011) Messenger RNA expression of B7-1 and NPHS1 in urinary sediment could be useful to differentiate between minimal-change disease and focal segmental glomerulosclerosis in adult patients. Nephrol Dial Transplant 26:3914–3923

28.

Yu CC, Fornoni A, Weins A et al (2013) Abatacept in B7-1-Positive Proteinuric Kidney Disease. N Engl J Med 2013

29.

Sahali D, Pawlak A, Valanciute A et al (2002) A novel approach to investigation of the pathogenesis of active minimal-change nephrotic syndrome using subtracted cDNA library screening. J Am Soc Nephrol 13:1238–1247

30.

Grimbert P, Valanciute A, Audard V et al (2003) Truncation of C-mip (Tc-mip), a new proximal signaling protein, induces c-maf Th2 transcription factor and cytoskeleton reorganization. J Exp Med 198:797–807

31.

Kamal M, Valanciute A, Dahan K et al (2009) C-mip interacts physically with RelA and inhibits nuclear factor kappa B activity. Mol Immunol 46:991–998

32.

Zhang SY, Kamal M, Dahan K et al. (2010) c-mip impairs podocyte proximal signaling and induces heavy proteinuria. Sci Signal 3:ra39.

33.

Audard V, Zhang SY, Copie-Bergman C et al (2010) Occurrence of minimal change nephrotic syndrome in classical Hodgkin lymphoma is closely related to the induction of c-mip in Hodgkin-Reed Sternberg cells and podocytes. Blood 115:3756–3762

34.

Cambier JF, Ronco P (2012) Onco-nephrology: glomerular diseases with cancer. Clin J Am Soc Nephrol 7:1701–1712

35.

Sendeyo K, Audard V, Zhang SY et al (2013) Upregulation of c-mip is closely related to podocyte dysfunction in membranous nephropathy. Kidney Int 83:414–425

36.

Ory V, Fan Q, Hamdaoui N et al (2012) c-mip down-regulates NF-kappaB activity and promotes apoptosis in podocytes. Am J Pathol 180:2284–2292

37.

Patrakka J, Tryggvason K (2007) Nephrin—a unique structural and signaling protein of the kidney filter. Trends Mol Med 13:396–403

38.

New LA, Keyvani Chahi A, Jones N (2013) Direct regulation of nephrin tyrosine phosphorylation by Nck adaptor proteins. J Biol Chem 288:1500–1510

39.

Huber TB, Hartleben B, Kim J et al (2003) Nephrin and CD2AP associate with phosphoinositide 3-OH kinase and stimulate AKT-dependent signaling. Mol Cell Biol 23:4917–4928

40.

Quack I, Rump LC, Gerke P et al (2006) beta-Arrestin2 mediates nephrin endocytosis and impairs slit diaphragm integrity. Proc Natl Acad Sci U S A 103:14110–14115

41.

Uchida K, Suzuki K, Iwamoto M et al (2008) Decreased tyrosine phosphorylation of nephrin in rat and human nephrosis. Kidney Int 73:926–932

42.

Foster RR, Saleem MA, Mathieson PW et al (2005) Vascular endothelial growth factor and nephrin interact and reduce apoptosis in human podocytes. Am J Physiol Renal Physiol 288:F48–F57

43.

Schiffer M, Bitzer M, Roberts IS et al (2001) Apoptosis in podocytes induced by TGF-beta and Smad7. J Clin Invest 108:807–816

44.

Schiffer M, Mundel P, Shaw AS et al (2004) A novel role for the adaptor molecule CD2-associated protein in transforming growth factor-beta-induced apoptosis. J Biol Chem 279:37004–37012

45.

Shih NYLJ, Karpitskii V, Nguyen A et al (1999) Congenital nephrotic syndrome in mice lacking CD2-associated protein. Science 286:312–315

46.

Sakai N, Wada T, Furuichi K et al (2002) p38 MAPK phosphorylation and NF-kappa B activation in human crescentic glomerulonephritis. Nephrol Dial Transplant 17:998–1004

47.

Stambe C, Nikolic-Paterson DJ, Hill PA et al (2004) p38 Mitogen-activated protein kinase activation and cell localization in human glomerulonephritis: correlation with renal injury. J Am Soc Nephrol 15:326–336

48.

Koshikawa M, Mukoyama M, Mori K et al (2005) Role of p38 mitogen-activated protein kinase activation in podocyte injury and proteinuria in experimental nephrotic syndrome. J Am Soc Nephrol 16:2690–2701

49.

Mima A, Kitada M, Geraldes P et al (2012) Glomerular VEGF resistance induced by PKCdelta/SHP-1 activation and contribution to diabetic nephropathy. FASEB J 26:2963–2974

50.

Emoto Y, Manome Y, Meinhardt G et al (1995) Proteolytic activation of protein kinase C delta by an ICE-like protease in apoptotic cells. EMBO J 14:6148–6156

51.

Kamal M, Pawlak BMAF et al (2010) C-mip interacts with the p85 subunit of PI3 kinase and exerts a dual effect on ERK signaling via the recruitment of Dip1 and DAP kinase. FEBS Lett 584:500–506

52.

Wang WJ, Kuo JC, Yao CC et al (2002) DAP-kinase induces apoptosis by suppressing integrin activity and disrupting matrix survival signals. J Cell Biol 159:169–179

53.

Gourlay CW, Carpp LN, Timpson P et al (2004) A role for the actin cytoskeleton in cell death and aging in yeast. J Cell Biol 164:803–809

54.

Eremina V, Jefferson JA, Kowalewska J et al (2008) VEGF inhibition and renal thrombotic microangiopathy. N Engl J Med 358:1129–1136

55.

Sison K, Eremina V, Baelde H et al (2010) Glomerular structure and function require paracrine, not autocrine, VEGF-VEGFR-2 signaling. J Am Soc Nephrol 21:1691–1701

56.

Veron D, Reidy KJ, Bertuccio C et al (2010) Overexpression of VEGF-A in podocytes of adult mice causes glomerular disease. Kidney Int 77:989–999

57.

Ivy SP, Wick JY, Kaufman BM (2009) An overview of small-molecule inhibitors of VEGFR signaling. Nat Rev Clin Oncol 6:569–579

58.

Izzedine H, Massard C, Spano JP et al (2010) VEGF signalling inhibition-induced proteinuria: mechanisms, significance and management. Eur J Cancer 46:439–448

59.

Echeverria V, Burgess S, Gamble-George J et al (2009) Sorafenib inhibits nuclear factor kappa B, decreases inducible nitric oxide synthase and cyclooxygenase-2 expression, and restores working memory in APPswe mice. Neuroscience 162:1220–1231

60.

Niaudet P, Gagnadoux MF, Broyer M (1998) Treatment of childhood steroid-resistant idiopathic nephrotic syndrome. Adv Nephrol Necker Hosp 28:43–61

61.

Magnasco A, Ravani P, Edefonti A et al (2012) Rituximab in children with resistant idiopathic nephrotic syndrome. J Am Soc Nephrol 23:1117–1124

62.

Ramos EL (1991) Recurrent diseases in the renal allograft. J Am Soc Nephrol 2:109–121

63.

Fairhead T, Knoll G (2010) Recurrent glomerular disease after kidney transplantation. Curr Opin Nephrol Hypertens 19:578–585

64.

Canaud G, Martinez F, Noel LH et al (2010) Therapeutic approach to focal and segmental glomerulosclerosis recurrence in kidney transplant recipients. Transplant Rev (Orlando) 24:121–128

65.

Cravedi P, Kopp JB, Remuzzi G (2013) Recent progress in the pathophysiology and treatment of FSGS recurrence. Am J Transplant 13:266–274

66.

Hoyer JR, Vernier RL, Najarian JS et al (1972) Recurrence of idiopathic nephrotic syndrome after renal transplantation. Lancet 2:343–348

67.

Kemper MJ, Wolf G, Muller-Wiefel DE (2001) Transmission of glomerular permeability factor from a mother to her child. N Engl J Med 344:386–387

68.

Ali AA, Wilson E, Moorhead JF et al (1994) Minimal-change glomerular nephritis. Normal kidneys in an abnormal environment? Transplantation 58:849–852

69.

Rea R, Smith C, Sandhu K et al (2001) Successful transplant of a kidney with focal segmental glomerulosclerosis. Nephrol Dial Transplant 16:416–417

70.

Feld SMFP, Savin V, Nast CC (1998) Plasmapheresis in the treatment of steroid-resistant focal segmental glomerulosclerosis in native kidneys. Am J Kidney Dis 32:230–237

71.

Ginsburg DSDP (1997) Plasmapheresis in the treatment of steroid-resistant focal segmental glomerulosclerosis. Clin Nephrol 48:282–287

72.

Dantal J, Bigot E, Bogers W et al (1994) Effect of plasma protein adsorption on protein excretion in kidney- transplant recipients with recurrent nephrotic syndrome [see comments]. N Engl J Med 330:7–14

73.

Dantal J, Godfrin Y, Koll R et al (1998) Antihuman immunoglobulin affinity immunoadsorption strongly decreases proteinuria in patients with relapsing nephrotic syndrome. J Am Soc Nephrol 9:1709–1715

74.

Savin VJ, Sharma R, Sharma M et al (1996) Circulating factor associated with increased glomerular permeability to albumin in recurrent focal segmental glomerulosclerosis. N Engl J Med 334:878–883

75.

Boulton Jones JM, Tulloch I, Dore B et al (1983) Changes in the glomerular capillary wall induced by lymphocyte products and serum of nephrotic patients. Clin Nephrol 20:72–77

76.

Yoshizawa N, Kusumi Y, Matsumoto K et al (1989) Studies of a glomerular permeability factor in patients with minimal-change nephrotic syndrome. Nephron 51:370–376

77.

Koyama A, Fujisaki M, Kobayashi M et al (1991) A glomerular permeability factor produced by human T cell hybridomas. Kidney Int 40:453–460

78.

McCarthy ET, Sharma M, Savin VJ (2010) Circulating permeability factors in idiopathic nephrotic syndrome and focal segmental glomerulosclerosis. Clin J Am Soc Nephrol 5:2115–2121

79.

Wei C, El Hindi S, Li J, Fornoni A et al (2011) Circulating urokinase receptor as a cause of focal segmental glomerulosclerosis. Nat Med 17:952–960

80.

Eugen-Olsen J, Andersen O, Linneberg A et al (2010) Circulating soluble urokinase plasminogen activator receptor predicts cancer, cardiovascular disease, diabetes and mortality in the general population. J Intern Med 268:296–308

81.

Bock ME, Price HE, Gallon L, Langman CB (2013) Serum soluble urokinase-type plasminogen activator receptor levels and idiopathic FSGS in children: a single-center report. Clin J Am Soc Nephrol 8:1304–1311

82.

Maas RJ, Wetzels JF, Deegens JK (2012) Serum-soluble urokinase receptor concentration in primary FSGS. Kidney Int 81:1043–1044

83.

Wei C, Trachtman H, Li J et al (2012) Circulating suPAR in two cohorts of primary FSGS. J Am Soc Nephrol 23:2051–2059

84.

Franco Palacios CR, Lieske JC, Wadei HM et al (2013) Urine but not serum soluble urokinase receptor (suPAR) may identify cases of recurrent FSGS in kidney transplant candidates. Transplantation 96:394–399

85.

Beaudreuil S, Zhang X, Kriaa F et al. (2013) Protein A immunoadsorption cannot significantly remove the soluble receptor of urokinase from sera of patients with recurrent focal segmental glomerulosclerosis. Nephrol Dial Transplant. Nov 13 [Epub ahead of print].

86.

Fornoni A, Sageshima J, Wei C et al (2011) Rituximab targets podocytes in recurrent focal segmental glomerulosclerosis. Sci Transl Med 3:85ra46
Acknowledgments
We would like to thank Pr Pierre Ronco for his helpful comments and supports during the progression of this work.
Additional information
This article is a contribution to the special issue on Immunopathology of Glomerular Diseases - Guest Editors: P. Ronco and J. Floege
About this article
Cite this article
Sahali, D., Sendeyo, K., Mangier, M. et al. Immunopathogenesis of idiopathic nephrotic syndrome with relapse. Semin Immunopathol 36, 421–429 (2014). https://doi.org/10.1007/s00281-013-0415-3
Received:

Accepted:

Published:

Issue Date:
Keywords
Idiopathic nephrotic syndrome

Podocyte diseases

Podocyte signaling

NF-κB

c-mip

Cytoskeleton

Apoptosis

CD80

suPAR