Abstract
Background
Pretherapeutic screening for dihydropyrimidine dehydrogenase (DPD) deficiency is recommended prior to the administration of fluoropyrimidine-based chemotherapy. However, the best strategy to identify DPD deficiency in End Stage Renal Disease (ESRD) patients is unknown.
Methods
We assessed the characteristics of both DPD phenotypes and DPYD genotypes in 20 dialyzed patients before and after dialysis session. The extent to which the concentrations of uracil [U] and dihydrouracil [UH2] were affected by dialysis was evaluated.
Results
Mean [U] was 14 ± 3.3 ng/ml before the dialysis session, and 7.9 ± 2.7 ng/ml after. Notably, mean [U] in 119 non-ESRD patients during the same timeline was 8.7 ± 3.9 ng/ml, which is similar to [U] values after dialysis session (p = 0.38). [U] values > 16 ng/ml were measured in 4 ESRD patients (20%), whereas the rate was 3.3% in the non-ESRD cohort. Whole gene sequencing did not reveal DPYD deleterious allelic variants in the 4 ESRD patients with [U] values > 16 ng/ml. The profile of [UH2] values during dialysis was similar to that of [U]: 385 ± 86 ng/ml before, and 185 ± 62 ng/ml after (mean reduction rate 42.5%). Thus, [UH2]:[U] ratio remained unaffected by dialysis, and was similar to the values in non-ESRD patients (22.4 ± 7.1).
Conclusion
Phenotyping based on measuring plasma [U] before a dialysis sessions in ESRD patients is associated with an unacceptable high rate of false positives. The optimal strategy for the identification of patients with DPD deficiency in this population would be the monitor the [UH2]:[U] ratio, which remains unaffected.
Access options
Buy single article
Instant access to the full article PDF.
US$ 39.95
Tax calculation will be finalised during checkout.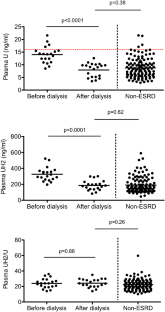 Ethics declarations
Conflict of interest
The authors have no conflict of interest to disclose.
Additional information
Publisher's Note
Springer Nature remains neutral with regard to jurisdictional claims in published maps and institutional affiliations.
About this article
Cite this article
Gaible, C., Narjoz, C., Loriot, MA. et al. Pretherapeutic screening for Dihydropyrimidine deshydrogenase deficiency in measuring uracilemia in dialysis patients leads to a high rate of falsely positive results. Cancer Chemother Pharmacol 88, 1049–1053 (2021). https://doi.org/10.1007/s00280-021-04354-7
Received:

Accepted:

Published:

Issue Date:
Keywords
Dihydropyrimidine deshydrogenase

Deficiency

Fluoropyrimidines

End stage renal disease

Hemodialysis

Pharmacogenetics