Abstract
Purpose
Megestrol acetate is a synthetic progestogen used to treat some cancers and cancer-associated cachexia, but its potential interactions with other drugs are not well known. This study aims to determine the regulation of drug metabolizing enzymes by megestrol acetate.
Methods
Primary human hepatocytes were treated and analyzed by PCR array to identify genes involved in drug metabolism that are impacted by megestrol acetate. P450 3A4 (CYP3A4) reporter gene assay and HPLC analyses of nifedipine metabolites were used to determine CYP3A4 gene expression and activities. Competitive ligand binding assay was used to determine the affinity of megestrol acetate toward human pregnane x receptor (hPXR). Electrophoretic mobility shift assay and mammalian two hybrid assay were used to determine the mechanism of megestrol to activate hPXR.
Results
The levels and activities of CYP3A4 were significantly induced (> 4-folds) by megestrol acetate in human hepatocytes and HepG2 cells. Megestrol treatment induced CYP3A4 through the activation of hPXR, a ligand-activated transcription factor that plays a role in drug metabolism and transport. Other tested nuclear receptors showed no response. The mechanism studies showed that megestrol activated hPXR by binding to the ligand binding domain (LBD) of hPXR and increasing the recruitment of the cofactors such as steroid receptor cofactor (SRC-1).
Conclusion
The results suggest that megestrol acetate is a specific inducer of CYP3A4 mediated by hPXR and therefore has the potential to cause drug interactions, especially in the co-administration with drugs that are substrates of CYP3A4.
Access options
Buy single article
Instant access to the full article PDF.
US$ 39.95
Tax calculation will be finalised during checkout.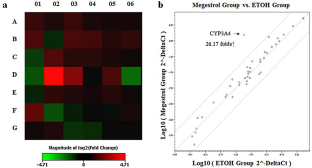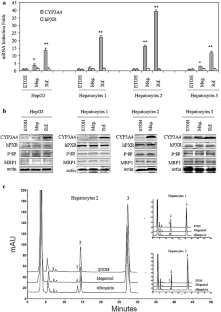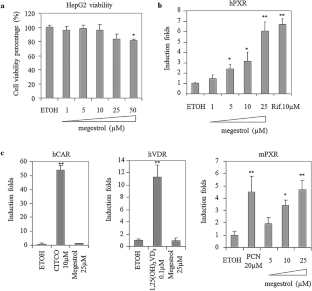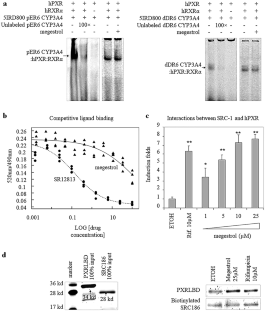 Data availability statement
Data will be available upon reasonable request.
References
1.

Blower P et al (2005) Drug-drug interactions in oncology: why are they important and can they be minimized? Crit Rev Oncol Hematol 55(2):117–142

2.

Beijnen JH, Schellens JH (2004) Drug interactions in oncology. Lancet Oncol 5(8):489–496

3.

Harmsen S et al (2007) The role of nuclear receptors in pharmacokinetic drug-drug interactions in oncology. Cancer Treat Rev 33(4):369–380

4.

Anzenbacher P, Anzenbacherova E (2001) Cytochromes P450 and metabolism of xenobiotics. Cell Mol Life Sci 58(5–6):737–747

5.

Tian D, Hu Z (2014) CYP3A4-mediated pharmacokinetic interactions in cancer therapy. Curr Drug Metab 15(8):808–817

6.

Mathijssen RH et al (2002) Effects of St. John's wort on irinotecan metabolism. J Natl Cancer Inst 94(16):1247–1249

7.

Chen L, Waxman DJ (1995) Intratumoral activation and enhanced chemotherapeutic effect of oxazaphosphorines following cytochrome P-450 gene transfer: development of a combined chemotherapy/cancer gene therapy strategy. Cancer Res 55(3):581–589

8.

Wei MX et al (1994) Experimental tumor therapy in mice using the cyclophosphamide-activating cytochrome P450 2B1 gene. Hum Gene Ther 5(8):969–978

9.

Guengerich FP (1999) Cytochrome P-450 3A4: regulation and role in drug metabolism. Annu Rev Pharmacol Toxicol 39:1–17

10.

Wojnowski L, Kamdem LK (2006) Clinical implications of CYP3A polymorphisms. Expert Opin Drug Metab Toxicol 2(2):171–182

11.

Lehmann JM et al (1998) The human orphan nuclear receptor PXR is activated by compounds that regulate CYP3A4 gene expression and cause drug interactions. J Clin Invest 102(5):1016–1023

12.

Bertilsson G et al (1998) Identification of a human nuclear receptor defines a new signaling pathway for CYP3A induction. Proc Natl Acad Sci U S A 95(21):12208–12213

13.

Schmiedlin-Ren P et al (2001) Induction of CYP3A4 by 1 alpha,25-dihydroxyvitamin D3 is human cell line-specific and is unlikely to involve pregnane X receptor. Drug Metab Dispos 29(11):1446–1453

14.

Goodwin B et al (2002) Transcriptional regulation of the human CYP3A4 gene by the constitutive androstane receptor. Mol Pharmacol 62(2):359–365

15.

Kawamoto T et al (1999) Phenobarbital-responsive nuclear translocation of the receptor CAR in induction of the CYP2B gene. Mol Cell Biol 19(9):6318–6322

16.

Chang TK, Waxman DJ (2006) Synthetic drugs and natural products as modulators of constitutive androstane receptor (CAR) and pregnane X receptor (PXR). Drug Metab Rev 38(1–2):51–73

17.

Synold TW, Dussault I, Forman BM (2001) The orphan nuclear receptor SXR coordinately regulates drug metabolism and efflux. Nat Med 7(5):584–590

18.

Desai PB et al (2002) Induction of cytochrome P450 3A4 in primary human hepatocytes and activation of the human pregnane X receptor by tamoxifen and 4-hydroxytamoxifen. Drug Metab Dispos 30(5):608–612

19.

Schacter L et al (1989) Megestrol acetate: clinical experience. Cancer Treat Rev 16(1):49–63

20.

Westman G et al (1999) Megestrol acetate in advanced, progressive, hormone-insensitive cancer. Effects on the quality of life: a placebo-controlled, randomised, multicentre trial. Eur J Cancer 35(4):586–595

21.

Markovic S et al (2002) Randomized, placebo-controlled, phase III surgical adjuvant clinical trial of megestrol acetate (Megace) in selected patients with malignant melanoma. Am J Clin Oncol 25(6):552–556

22.

Pu YS et al (1998) Megestrol acetate antagonizes cisplatin cytotoxicity. Anticancer Drugs 9(8):733–738

23.

Carrero JJ et al (2008) Appetite disorders in uremia. J Ren Nutr 18(1):107–113

24.

Tchekmedyian NS, Tait N, Aisner J (1986) High-dose megestrol acetate in the treatment of postmenopausal women with advanced breast cancer. Semin Oncol 13(4 Suppl 4):20–25

25.

Tchekmedyian NS et al (1988) High-dose megestrol acetate in the treatment of advanced breast cancer. Semin Oncol 15(2 Suppl 1):44–49

26.

Dev R et al (2017) The evolving approach to management of cancer cachexia. Oncology (Williston Park) 31(1):23–32

27.

Wang L et al (1994) Reversal of the human and murine multidrug-resistance phenotype with megestrol acetate. Cancer Chemother Pharmacol 34(2):96–102

28.

Fleming GF et al (1992) Megestrol acetate reverses multidrug resistance and interacts with P-glycoprotein. Cancer Chemother Pharmacol 29(6):445–449

29.

Chen Y et al (2007) Human pregnane X receptor and resistance to chemotherapy in prostate cancer. Cancer Res 67(21):10361–10367

30.

Luo G et al (2004) CYP3A4 induction by xenobiotics: biochemistry, experimental methods and impact on drug discovery and development. Curr Drug Metab 5(6):483–505

31.

Tirona RG et al (2003) The orphan nuclear receptor HNF4alpha determines PXR- and CAR-mediated xenobiotic induction of CYP3A4. Nat Med 9(2):220–224

32.

Thompson PD et al (2002) Liganded VDR induces CYP3A4 in small intestinal and colon cancer cells via DR3 and ER6 vitamin D responsive elements. Biochem Biophys Res Commun 299(5):730–738

33.

Goodwin B, Hodgson E, Liddle C (1999) The orphan human pregnane X receptor mediates the transcriptional activation of CYP3A4 by rifampicin through a distal enhancer module. Mol Pharmacol 56(6):1329–1339

34.

Squires EJ, Sueyoshi T, Negishi M (2004) Cytoplasmic localization of pregnane X receptor and ligand-dependent nuclear translocation in mouse liver. J Biol Chem 279(47):49307–49314

35.

Orans J, Teotico DG, Redinbo MR (2005) The nuclear xenobiotic receptor pregnane X receptor: recent insights and new challenges. Mol Endocrinol 19(12):2891–2900

36.

Conney AH (1982) Induction of microsomal enzymes by foreign chemicals and carcinogenesis by polycyclic aromatic hydrocarbons: G. H. A. Clowes Memorial Lecture. Cancer Res 42(12):4875–4917

37.

Paine MF et al (2006) The human intestinal cytochrome P450 "pie." Drug Metab Dispos 34(5):880–886

38.

Shimada T et al (1994) Interindividual variations in human liver cytochrome P-450 enzymes involved in the oxidation of drugs, carcinogens and toxic chemicals: studies with liver microsomes of 30 Japanese and 30 Caucasians. J Pharmacol Exp Ther 270(1):414–423

39.

Thummel KE, Wilkinson GR (1998) In vitro and in vivo drug interactions involving human CYP3A. Annu Rev Pharmacol Toxicol 38:389–430

40.

Gaver RC et al (1985) Bioequivalence evaluation of new megestrol acetate formulations in humans. Semin Oncol 12(1 Suppl 1):17–19

41.

Matin K et al (2002) Phase I and pharmacokinetic study of vinblastine and high-dose megestrol acetate. Cancer Chemother Pharmacol 50(3):179–185

42.

Ripp SL et al (2006) Use of immortalized human hepatocytes to predict the magnitude of clinical drug-drug interactions caused by CYP3A4 induction. Drug Metab Dispos 34(10):1742–1748

43.

Hellum BH, Nilsen OG (2008) In vitro inhibition of CYP3A4 metabolism and P-glycoprotein-mediated transport by trade herbal products. Basic Clin Pharmacol Toxicol 102(5):466–475

44.

LeCluyse EL (2001) Human hepatocyte culture systems for the in vitro evaluation of cytochrome P450 expression and regulation. Eur J Pharm Sci 13(4):343–368
Acknowledgements
We acknowledge and thank the following people for providing plasmids: Gal4DB-SRC-1-RID and TK-MH100×4-LUC from Dr. Sridhar Mani at Albert Einstein College of Medicine. pTracer-CMV2-CAR3 and pTracer-CMV2 from Dr. Curtis J. Omiecinski at Center for Molecular Toxicology and Carcinogenesis, the Pennsylvania State University. pSG5-mPXR and pVP-hPXR from Dr. Jeff L. Staudinger at Department of Pharmacology and Toxicology, University of Kansas. pCMX-RXRa from Dr. David John Mangelsdorf at Howard Hughes Medical Institute, UT Southwestern Medical Center. We also acknowledge and thank Lydia Howes at Southern Illinois University School of Medicine Library for professional editing of the manuscript.
Ethics declarations
Conflict of interest
On behalf of all authors, the corresponding author states that there is no conflict of interest.
Significance statement
Megestrol acetate specifically induces the expression of cytochrome P450 3A4 (CYP3A4) in human hepatocytes through binding to human PXR and recruitment of cofactors. But it has minimal effects on the expression of other drug metabolizing enzymes and efflux transporters. The study suggests a potential interaction of megestrol acetate with other drugs that are substrates of CYP3A4, as well as the utility of this compound to induce CYP3A4 specifically for pharmacological studies.
Additional information
Publisher's Note
Springer Nature remains neutral with regard to jurisdictional claims in published maps and institutional affiliations.
About this article
Cite this article
Chen, Y., Tang, Y., Nie, J.Z. et al. Megestrol acetate is a specific inducer of CYP3A4 mediated by human pregnane X receptor. Cancer Chemother Pharmacol (2021). https://doi.org/10.1007/s00280-021-04352-9
Received:

Accepted:

Published:
Keywords
Megestrol acetate

CYP3A4

PXR

Drug metabolizing enzymes