Abstract
Objective
Senescence mechanisms are vital to resistance to long-term olaparib maintenance treatment. Recently, peroxisome proliferator-activated receptor-γ agonists (e.g., rosiglitazone) have been reported to ameliorate the senescence-like phenotype by modulating inflammatory mediator production. This study examined synergistic effects on the anti-tumor activity of rosiglitazone combined with olaparib in ovarian cancer treatment.
Methods
A2780 and SKOV3 mouse subcutaneous xenograft models were established for observing anti-tumor effects in living organisms and were randomly split into combination (both olaparib and rosiglitazone), rosiglitazone (10 mg/kg), olaparib (10 mg/kg), control (solvent) groups that received treatment once every 2 or 3 days (n = 6 per group). Cell counting kit-8 (CCK-8) assays were used to test the influences of rosiglitazone and olaparib on cell proliferation. PI and Annexin-V-FITC staining was used with flow cytometry to assess the cell cycle distribution and cell apoptosis. Senescence-associated β-galactosidase (SA-β-Gal) staining was used to observe cellular senescence. We performed quantitative real-time polymerase chain reaction assays to study the senescence-related secretory phenotype (SASP).
Results
Olaparib and rosiglitazone were observed to synergistically retard subcutaneous ovarian cancer growth in vivo, and synergistically suppress ovarian cancer cell proliferation in vitro. Compared with olaparib alone, the percentage of positive cells expressed SA-β-gal and SASP were significantly decreased in the treatment of combination of olaparib and rosiglitazone. Furthermore, olaparib plus rosiglitazone increased the percentage of apoptosis in ovarian cancer cell compared with olaparib alone. In A2780 cells, it showed lower expression of P53, phospho-p53 (Ser15), P21, and P18 protein in combination treatment compared with olaparib alone. While, in SKOV3 cells, it showed lower expression of phosphor-retinoblastoma protein (Rb) (Ser807/811), and higher expression of cyclin D1, P21, and P16 protein in combination treatment compared with olaparib alone.
Conclusions
Rosiglitazone combined with olaparib can help manage ovarian cancer by ameliorating olaparib-induced senescence and improving anti-tumor effects.
Access options
Buy single article
Instant access to the full article PDF.
US$ 39.95
Tax calculation will be finalised during checkout.
Subscribe to journal
Immediate online access to all issues from 2019. Subscription will auto renew annually.
US$ 119
Tax calculation will be finalised during checkout.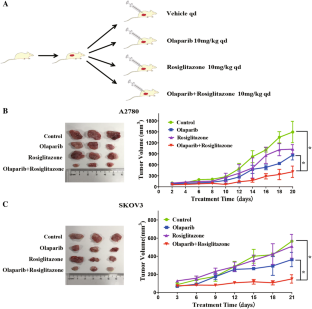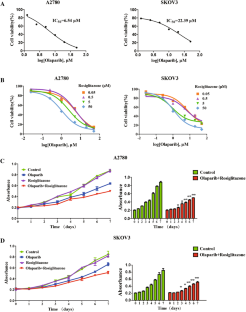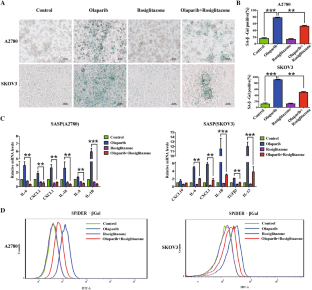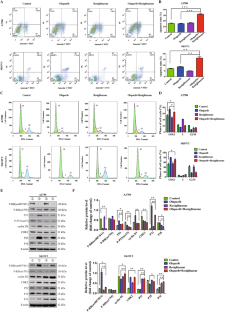 References
1.

Mowla SN, Lam EW, Jat PS (2014) Cellular senescence and aging: the role of B-MYB. Aging Cell 13(5):773–779

2.

Hornsby PJ (2007) Senescence as an anticancer mechanism. J Clin Oncol 25(14):1852–1857

3.

Wu CH, Van Riggelen J, Yetil A et al (2007) Cellular senescence is an important mechanism of tumor regression upon c-Myc inactivation. Proc Natl Acad Sci USA 104(32):13028–13033

4.

Ohtani N, Takahashi A, Mann DJ et al (2012) Cellular senescence: a double-edged sword in the fight against cancer. Exp Dermatol 21(s1):1–4

5.

Wiggans AJ, Cass GKS, Bryant A et al (2015) Poly(ADP-ribose) polymerase (PARP) inhibitors for the treatment of ovarian cancer. Cochrane Database Syst Rev 5(5):CD007929

6.

Bacalbasa N, Balescu I, Dima S et al (2015) Hematogenous splenic metastases as an independent negative prognosis factor at the moment of primary cytoreduction in advanced stage epithelial ovarian cancer—a single center experience. Anticancer Res 35(10):5649–5654

7.

Scholz HS, Tasdemir H, Hunlich T et al (2007) Multivisceral cytoreductive surgery in FIGO stages IIIC and IV epithelial ovarian cancer: results and 5-year follow-up. Gynecol Oncol 106(3):591–595

8.

Saladino E, Fleres F, Irato S et al (2014) The role of cytoreductive surgery and hyperthermic intraperitoneal chemotherapy in the treatment of ovarian cancer relapse. Updates Surg 66(2):109–113

9.

Ogiwara H, Ui A, Shiotani B et al (2013) Curcumin suppresses multiple DNA damage response pathways and has potency as a sensitizer to PARP inhibitor. Carcinogenesis 34(11):2486–2497

10.

Gelmon KA, Tischkowitz M, Mackay H et al (2011) Olaparib in patients with recurrent high-grade serous or poorly differentiated ovarian carcinoma or triple-negative breast cancer: a phase 2, multicentre, open-label, non-randomised study. Lancet Oncol 12(9):827–828

11.

Wang Z, Gao J, Zhou J, Liu H, Xu C (2019) Olaparib induced senescence under P16 or P53 dependent manner in ovarian cancer. J Gynecol Oncol 30(2):e26

12.

Issemann I, Green S (1990) Activation of a member of the steroid hormone receptor superfamily by peroxisome proliferators. Nature 347(6294):645–650

13.

Jay MA, Ren J (2007) Peroxisome proliferator-activated receptor (PPAR) in metabolic syndrome and type 2 diabetes mellitus. Curr Diabetes Rev 3(1):33–39

14.

Aird KM, Worth AJ, Snyder NW et al (2015) ATM couples replication stress and metabolic reprogramming during cellular senescence. Cell Rep 11(6):893–901

15.

Liu ZJ, Tan Y, Tian R et al (2012) Notch activation induces endothelial cellular senescence and pro-inflammatory response: implication of notch signaling in atherosclerosis. Atherosclerosis 225(2):296–303

16.

Szanto A, Nagy L (2008) The many faces of PPAR γ: anti-inflammatory by any means? Immunobiology 213(9–10):789–793

17.

Yi JH, Park SW, Brooks N et al (2008) PPARγ agonist rosiglitazone is neuroprotective after traumatic brain injury via anti-inflammatory and anti-oxidative mechanisms. Brain Res 1244:164–172

18.

Villegas I, Martín AR, Toma W et al (2004) Rosiglitazone, an agonist of peroxisome proliferator-activated receptor gamma, protects against gastric ischemia–reperfusion damage in rats: role of oxygen free radicals generation. Eur J Pharmacol 505(1):195–203

19.

Yao H, Sundar IK, Gorbunova V et al (2013) P21-PARP-1 pathway is involved in cigarette smoke-induced lung DNA damage and cellular senescence. PLoS ONE 8(11):e80007

20.

Liu JF, Konstantinopoulos PA, Matulonis UA (2014) PARP inhibitors in ovarian cancer: current status and future promise. Gynecol Oncol 133(2):362–369

21.

Ledermann J, Harter P, Gourley C et al (2014) Olaparib maintenance therapy in patients with platinum-sensitive relapsed serous ovarian cancer: a preplanned retrospective analysis of outcomes by BRCA status in a randomised phase 2 trial. Lancet Oncol 15(8):852–861

22.

Alotaibi M, Sharma K, Saleh T et al (2016) Radiosensitization by PARP inhibition in DNA repair proficient and deficient tumor cells: proliferative recovery in senescent cells. Radiat Res 185(3):229–245

23.

De Jesus BB, Blasco MA (2012) Assessing cell and organ senescence biomarkers. Circ Res 111(1):97–99

24.

Zhu Y, Armstrong JL, Tchkonia T et al (2014) Cellular senescence and the senescent secretory phenotype in age-related chronic diseases. Curr Opin Clin Nutr Metab Care 17(4):324–328

25.

Rodier F (2013) Detection of the senescence-associated secretory phenotype (SASP). Methods Mol Biol 965:165–173

26.

Coppé JP, Desprez PY, Krtolica A et al (2010) The Senescence-associated secretory phenotype: the dark side of tumor suppression. Annu Rev Pathol 5(1):99–118

27.

Conesa-Zamora P, Domenech-Peris A, Orantes-Casado FJ et al (2009) Effect of human papillomavirus on cell cycle-related proteins p16, Ki-67, cyclin D1, p53, and ProEx C in precursor lesions of cervical carcinoma: a tissue microarray study. Am J Clin Pathol 132(3):378–390

28.

Kanavaros P, Stefanaki K, Rontogianni D et al (2001) Immunohistochemical expression of p53, p21/waf1, rb, p16, cyclin D1, p27, Ki67, cyclin A, cyclin B1, bcl2, bax and bak proteins and apoptotic index in normal thymus. Histol Histopathol 16(4):1005–1012

29.

Gil J, Peters G (2006) Regulation of the INK4b-ARF-INK4a tumour suppressor locus: all for one or one for all. Nat Rev Mol Cell Biol 7(9):667–677

30.

Sharpless NE (2005) INK4a/ARF: a multifunctional tumor suppressor locus. Mutat Res 576(1–2):22–38

31.

Collado M, Blasco MA, Serrano M (2007) Cellular senescence in cancer and aging. Cell 130(2):223–233

32.

Prasad ML, Patel SG, Shah JP et al (2012) Prognostic significance of regulators of cell cycle and apoptosis, p16INK4a, p53, and bcl-2 in primary mucosal melanomas of the head and neck. Head Neck Pathol 6(2):184–190

33.

Diederich M, Dicato M, Grandjenette C et al (2016) Roles of apoptosis and cellular senescence in cancer and aging. Curr Drug Targets 17(4):405–415

34.

Zhang Y, Gao Y, Zhang G et al (2011) DNMT3a plays a role in switches between doxorubicin-induced senescence and apoptosis of colorectal cancer cells. Int J Cancer 128(3):551–561

35.

Fulda S (2004) Sensitization for tumor necrosis factor-related apoptosis-inducing ligand-induced apoptosis by the chemopreventive agent resveratrol. Cancer Res 64(1):337–346

36.

Rao S, Lowe M, Herliczek TW et al (1998) Lovastatin mediated G1 arrest in normal and tumor breast cells is through inhibition of CDK2 activity and redistribution of p21 and p27, independent of p53. Oncogene 17(18):2393–2402

37.

Zhang W, Zhang Y, Hou J et al (2017) Tris (2-chloroethyl) phosphate induces senescence-like phenotype of hepatocytes via the p21 Waf1/Cip1 -Rb pathway in a p53-independent manner. Environ Toxicol Pharmacol 56:68–75
Acknowledgements
This work was supported by funding from National Key R&D Program of China (2016YFC1303100), National Natural Science Foundation of China (31570803, 81773090, 81272879, 81402151).
Funding
This study was funded by National Key R&D Program of China (2016YFC1303100), National Natural Science Foundation of China (31570803, 81773090, 81272879, 81402151).
Ethics declarations
Conflict of interest
The authors declare that they have no competing interests.
Ethical approval
All applicable international, national, and/or institutional guidelines for the care and use of animals were followed.
Additional information
Publisher's Note
Springer Nature remains neutral with regard to jurisdictional claims in published maps and institutional affiliations.
Electronic supplementary material
Below is the link to the electronic supplementary material.
About this article
Cite this article
Wang, Z., Gao, J., Ohno, Y. et al. Rosiglitazone ameliorates senescence and promotes apoptosis in ovarian cancer induced by olaparib. Cancer Chemother Pharmacol 85, 273–284 (2020). https://doi.org/10.1007/s00280-019-04025-8
Received:

Accepted:

Published:

Issue Date:
Keywords
Olaparib

Rosiglitazone

Senescence

Ovarian cancer