Abstract
Purpose
Cancer cells with stem-like phenotype are frequently proliferative and show high resistance to chemotherapeutic agents. Specific cell markers to identify the cancer stem cells and reverse the drugs resistance are urgent needs in clinic cancer treatment.
Methods
To identify the potential role of integrin β3 in melanoma stem cells. Flow cytometry and immunofluorescence were performed to detect the expression levels of integrin β3 and integrin β3 related signal molecules. qRT-PCR and western blotting were used to detect the signaling pathways induced by integrin β3. Colony formation analysis and melanoma-bearing mice treatment by chemotherapeutic agents and integrin β3 inhibitors were used to detect the curative effects.
Results
We proved that integrin β3 could serve as a marker of stem-like cancer cells in melanoma, along with the acquired chemotherapeutic drugs resistance. Furthermore, we observed that the membrane–proximal complex of integrin β3 with KRAS and Galectin-3 on the surface of melanoma cancer cells could recruit the RalB, resulting in the activation of TBK1. The phosphorylated TBK1 facilitates the activation of NF-κB signaling pathway, leading to the stem-like phenotype and drug resistance development in melanoma. Herein, the combination of cilengitide, an integrin β3 inhibitor, and chemotherapeutic agents were capable of suppressing the tumor growth and reversing the drug resistance induced by integrin β3.
Conclusion
These findings identified integrin β3 as a driver of melanoma stem-like cells with drug resistance and revealed an innovative strategy in clinic melanoma treatment.
Access options
Buy single article
Instant access to the full article PDF.
USD 39.95
Price excludes VAT (USA)
Tax calculation will be finalised during checkout.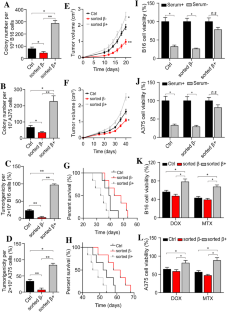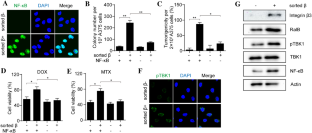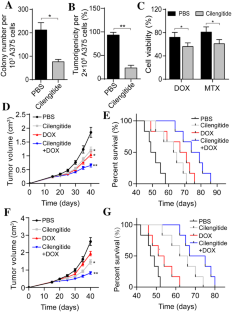 References
Siegel RL, Miller KD, Jemal A (2017) Cancer statistics, 2017. CA Cancer J Clin 67:7–30

Buder K, Gesierich A, Gelbrich G, Goebeler M (2013) Systemic treatment of metastatic uveal melanoma: review of literature and future perspectives. Cancer Med 2:674–686

Das Thakur M, Salangsang F, Landman AS, Sellers WR, Pryer NK, Levesque MP, Dummer R, McMahon M, Stuart DD (2013) Modelling vemurafenib resistance in melanoma reveals a strategy to forestall drug resistance. Nature 494:251–255

Holohan C, Van Schaeybroeck S, Longley DB, Johnston PG (2013) Cancer drug resistance: an evolving paradigm. Nat Rev Cancer 13:714–726

Singh A, Settleman J (2010) EMT, cancer stem cells and drug resistance: an emerging axis of evil in the war on cancer. Oncogene 29:4741–4751

Clevers H (2011) The cancer stem cell: premises, promises and challenges. Nat Med 17:313–319

Margadant C, Sonnenberg A (2010) Integrin-TGF-beta crosstalk in fibrosis, cancer and wound healing. EMBO Rep 11:97–105

Desgrosellier JS, Cheresh DA (2010) Integrins in cancer: biological implications and therapeutic opportunities. Nat Rev Cancer 10:9–22

Kim C, Ye F, Ginsberg MH (2011) Regulation of integrin activation. Annu Rev Cell Dev Biol 27:321–345

Kim SH, Turnbull J, Guimond S (2011) Extracellular matrix and cell signalling: the dynamic cooperation of integrin, proteoglycan and growth factor receptor. J Endocrinol 209:139–151

Seguin L, Desgrosellier JS, Weis SM, Cheresh DA (2015) Integrins and cancer: regulators of cancer stemness, metastasis, and drug resistance. Trends Cell Biol 25:234–240

Seguin L, Camargo MF, Wettersten HI (2017) Galectin-3, a druggable vulnerability for KRAS-addicted cancers. Cancer Discov 7:CD-17-0539

Seguin L, Kato S, Franovic A (2014) An integrin β3-KRAS-RalB complex drives tumour stemness and resistance to EGFR inhibition. Nat Cell Biol 16:457–468

Rathinam R, Alahari SK (2010) Important role of integrins in the cancer biology. Cancer Metastasis Rev 29:223–237

Miller PG, Al-Shahrour F, Hartwell KA, Chu LP, Jaras M, Puram RV, Puissant A, Callahan KP, Ashton J, McConkey ME et al (2013) In Vivo RNAi screening identifies a leukemia-specific dependence on integrin beta 3 signaling. Cancer Cell 24:45–58

Vinogradov S, Wei X (2012) Cancer stem cells and drug resistance: the potential of nanomedicine. Nanomedicine (London) 7:597–615

Singh A, Settleman J (2010) EMT, cancer stem cells and drug resistance: an emerging axis of evil in the war on cancer [J]. Oncogene 29:4741

Song YJ, Zhang SS, Guo XL, Sun K, Han ZP, Li R, Zhao QD, Deng WJ, Xie XQ, Zhang JW et al (2013) Autophagy contributes to the survival of CD133+ liver cancer stem cells in the hypoxic and nutrient-deprived tumor microenvironment. Cancer Lett 339:70–81

Sandri C, Caccavari F, Valdembri D, Camillo C, Veltel S, Santambrogio M, Lanzetti L, Bussolino F, Ivaska J, Serini G (2012) The R-Ras/RIN2/Rab5 complex controls endothelial cell adhesion and morphogenesis via active integrin endocytosis and Rac signaling. Cell Res 22:1479–1501

McHugh BJ, Buttery R, Lad Y, Banks S, Haslett C, Sethi T (2010) Integrin activation by Fam38A uses a novel mechanism of R-Ras targeting to the endoplasmic reticulum. J Cell Sci 123:51–61

Sundblad V, Morosi LG (2017) Galectin-1: a jack-of-all-trades in the resolution of acute and chronic inflammation. J Immunol 199:3721–3730

Yadav A, Kumar B, Datta J, Teknos TN, Kumar P (2011) IL-6 promotes head and neck tumor metastasis by inducing epithelial-mesenchymal transition via the JAK-STAT3-SNAIL signaling pathway. Mol Cancer Res 9:1658–1667

Wang H, Wu Q, Liu Z (2014) Downregulation of FAP suppresses cell proliferation and metastasis through PTEN/PI3K/AKT and Ras-ERK signaling in oral squamous cell carcinoma [J]. Cell Death Dis 5:e1155

Erez N, Truitt M, Olson P, Arron ST, Hanahan D (2010) Cancer-associated fibroblasts are activated in incipient neoplasia to orchestrate tumor-promoting inflammation in an NF-kappaB-dependent manner. Cancer Cell 17:135–147

Perkins ND (2012) The diverse and complex roles of NF-kappaB subunits in cancer. Nat Rev Cancer 12:121–132

Cho HH, Shin KK, Kim YJ, Song JS, Kim JM, Bae YC, Kim CD, Jung JS (2010) NF-kappaB activation stimulates osteogenic differentiation of mesenchymal stem cells derived from human adipose tissue by increasing TAZ expression. J Cell Physiol 223:168–177

Staudt LM (2010) Oncogenic activation of NF-kappaB. Cold Spring Harb Perspect Biol 2:a000109

Reardon DA, Neyns B, Weller M (2011) Cilengitide: an RGD pentapeptide ανβ3 and ανβ5 integrin inhibitor in development for glioblastoma and other malignancies [J]. Future Oncol 7:339–354

Visvader JE, Lindeman GJ (2012) Cancer stem cells: current status and evolving complexities. Cell Stem Cell 10:717–728

Silva IA, Bai S, McLean K, Yang K, Griffith K, Thomas D, Ginestier C, Johnston C, Kueck A, Reynolds RK et al (2011) Aldehyde dehydrogenase in combination with CD133 defines angiogenic ovarian cancer stem cells that portend poor patient survival. Cancer Res 71:3991–4001

de Beca FF, Caetano P, Gerhard R, Alvarenga CA, Gomes M, Paredes J, Schmitt F (2013) Cancer stem cells markers CD44, CD24 and ALDH1 in breast cancer special histological types. J Clin Pathol 66:187–191

Vermeulen L, De Sousa EMF, van der Heijden M, Cameron K, de Jong JH, Borovski T, Tuynman JB, Todaro M, Merz C, Rodermond H et al (2010) Wnt activity defines colon cancer stem cells and is regulated by the microenvironment. Nat Cell Biol 12:468–476

Jaggupilli A, Elkord E (2012) Significance of CD44 and CD24 as cancer stem cell markers: an enduring ambiguity. Clin Dev Immunol 2012:708036

Lathia JD, Gallagher J, Heddleston JM, Wang J, Eyler CE, Macswords J, Wu Q, Vasanji A, McLendon RE, Hjelmeland AB, Rich JN (2010) Integrin alpha 6 regulates glioblastoma stem cells. Cell Stem Cell 6:421–432

Trerotola M, Rathore S, Goel HL, Li J, Alberti S, Piantelli M, Adams D, Jiang Z, Languino LR (2010) CD133, Trop-2 and alpha2beta1 integrin surface receptors as markers of putative human prostate cancer stem cells. Am J Transl Res 2:135–144

Naber HP, Wiercinska E, Pardali E, van Laar T, Nirmala E, Sundqvist A, van Dam H, van der Horst G, van der Pluijm G, Heckmann B et al (2012) BMP-7 inhibits TGF-beta-induced invasion of breast cancer cells through inhibition of integrin beta(3) expression. Cell Oncol (Dordr) 35:19–28

Roca-Cusachs P, del Rio A, Puklin-Faucher E, Gauthier NC, Biais N, Sheetz MP (2013) Integrin-dependent force transmission to the extracellular matrix by alpha-actinin triggers adhesion maturation. Proc Natl Acad Sci USA 110:E1361–E1370

Liu Z, Han L, Dong Y, Tan Y, Li Y, Zhao M, Xie H, Ju H, Wang H, Zhao Y et al (2016) EGFRvIII/integrin beta3 interaction in hypoxic and vitronectin enriching microenvironment promote GBM progression and metastasis. Oncotarget 7:4680–4694

Kim KB, Prieto V, Joseph RW, Diwan AH, Gallick GE, Papadopoulos NE et al (2012) A randomized phase II study of cilengitide (EMD 121974) in patients with metastatic melanoma. Melanoma Res 22(4):294–301
Acknowledgements
This study was supported by the fund of Health and Family Planning Commission of Zhejiang Province (2017189412).
Funding
This study was supported by the fund of Health and Family Planning Commission of Zhejiang Province (2017189412).
Ethics declarations
Conflict of interest
Author Yi Tang has received research grants from Health and Family Planning Commission of Zhejiang Province in China. Author Xiaoxia Zhu declares that he has no conflict of interest. Author Xiaohua Tao declares that he has no conflict of interest. Author Wei Lu declares that she has no conflict of interest. Author Yang Ding declares that he has no conflict of interest.
Ethical approval
All applicable international, national, and/or institutional guidelines for the care and use of animals were followed.
Electronic supplementary material
Below is the link to the electronic supplementary material.
Supplementary material 1 Supplementary figure 1. Activation of integrin β3/Galectin-3/KRAS results in the stem-like phenotype and drug resistance. (a) Relative KRAS expression in integrin β3 positive A375 cells treated with NRAS siRNA silence or not. (b) Relative activated GTP-KRAS level in integrin β3 positive or negative A375 cells. (c) Immunofluorescence of integrin β3 and KRAS in sorted β3- and the β3+ populations from A375 cells. Scale bar is 10 μm. (d) Immunofluorescence of integrin β3 and Galectin-3 in sorted β3- and the β3+ populations from A375 cells. Scale bar is 10 μm. The data was presented as the means ± SEM from three independent experiments. *, p<0.05; **, p<0.01; ***, p<0.001; ns, not statistically significant (TIF 2474 KB)
Supplementary material 2 Supplementary figure 2. Integrin β3/KRAS complex formation is independent of integrin β3 RGD binding domain. (a) Quantification of colonies formed by the β3+ population from A375 cells (D119A mutant or not) treated with PBS and cilengitide (10nM). (b-c) Cell viability of sorted β3+ population from A375 cells (D119A mutant or not) treated with DOX (1μg/ml), DOX(1μg/ml) combined with cilengitide (10nM), MTX (0.5 μg/ml) and MTX (0.5 μg/ml) combined with cilengitide (10nM) for 24h. The data was presented as the means ± SEM from three independent experiments. *, p<0.05; **, p<0.01; ***, p<0.001; ns, not statistically significant (TIF 2161 KB)
Supplementary material 3 Supplementary figure 3. Integrin β3/Galectin-3/KRAS regulates the macropinocytosis and intracellular ROS. (a) Relative micropinocytosis in integrin β3 positive or negative A375 cells. (b) Relative ROS level in integrin β3 positive or negative A375 cells. (c) Quantification of colonies formed by the β3+ population from A375 cells treated with PBS, MK-2206 (50nM) and SCH772984 (10nM). (d) Cell viability of sorted β3+ population from A375 cells treated with DOX (1μg/ml), DOX(1μg/ml) combined with MK-2206 (50nM) and SCH772984 (10nM), MTX (0.5 μg/ml) and MTX (0.5 μg/ml) combined with MK-2206 (50nM) and SCH772984 (10nM) for 24h. The data was presented as the means ± SEM from three independent experiments. *, p<0.05; **, p<0.01; ***, p<0.001; ns, not statistically significant (TIF 2344 KB)
About this article
Cite this article
Zhu, X., Tao, X., Lu, W. et al. Blockade of integrin β3 signals to reverse the stem-like phenotype and drug resistance in melanoma. Cancer Chemother Pharmacol 83, 615–624 (2019). https://doi.org/10.1007/s00280-018-3760-z
Received:

Accepted:

Published:

Issue Date:

DOI: https://doi.org/10.1007/s00280-018-3760-z
Keywords
Integrin β3

Stem-like phenotype

Drug resistance

Melanoma