Abstract
Purpose
Streptozocin (STZ) is a key agent for treating advanced pancreatic neuroendocrine tumors (pNET). Most STZ regimens for pNET are daily and also include 5-fluorouracil (5FU), whereas STZ monotherapy and weekly regimens have also been applied in daily practice in Japan. The present study aimed to evaluate responses to weekly regimens and to STZ monotherapy, and to identify a predictive marker of a response to STZ.
Methods
Clinical data regarding STZ-based chemotherapy for pNET were collected between 2015 and 2017 at 25 facilities. We analyzed the effects, safety, progression-free survival (PFS), and factors that correlate with responses to STZ.
Results
The overall objective response rate (ORR) of 110 patients who underwent STZ-based chemotherapy (monotherapy, 81.8%; weekly regimen 46.4%) was 21.8%, and PFS was 9.8 months. The ORR of weekly vs. daily regimens was 21.6 vs. 22.0% (P = 1.000), and that of monotherapy vs. combination therapy was 21.1 vs. 25.0% (P = 0.766). A Ki67 proliferation index (Ki67) of > 5% was a predictive marker of a response to STZ (P = 0.017), whereas regimen type, mono- or combination therapy, treatment line and liver tumor burden were not associated with responses. The frequencies of Grade ≥ 3 nausea and hematological adverse events were significantly lower for monotherapy than combination therapy (P = 0.032).
Conclusions
The effects of weekly STZ monotherapy on pNET are comparable to those previously reported and the toxicity profile was acceptable. Ki67 > 5% was the sole predictive marker of an objective response.
Access options
Buy single article
Instant access to the full article PDF.
USD 39.95
Price excludes VAT (USA)
Tax calculation will be finalised during checkout.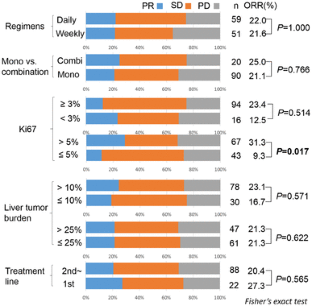 References
Yao JC, Hassan M, Phan A et al (2008) One hundred years after "carcinoid": epidemiology of and prognostic factors for neuroendocrine tumors in 35,825 cases in the United States. J Clin Oncol 26(18):3063–3072

Ito T, Igarashi H, Nakamura K et al (2015) Epidemiological trends of pancreatic and gastrointestinal neuroendocrine tumors in Japan: a nationwide survey analysis. J Gastroenterol 50(1):58–64

Ito T, Sasano H, Tanaka M et al (2010) Epidemiological study of gastroenteropancreatic neuroendocrine tumors in Japan. J Gastroenterol 45(2):234–243

Aoki T, Kokudo N, Komoto I et al (2015) Streptozocin chemotherapy for advanced/metastatic well-differentiated neuroendocrine tumors: an analysis of a multi-center survey in Japan. J Gastroenterol 50(7):769–775

Moertel CG, Hanley JA, Johnson LA et al (1980) Streptozocin alone compared with streptozocin plus fluorouracil in the treatment of advanced islet-cell carcinoma. N Engl J Med 303:1189–1194

Frame J, Kelsen D, Kemeny N et al (1988) A phase II trial of streptozotocin and adriamycin in advanced APUD tumors. Am J Clin Oncol 11(4):490–495

Eriksson B, Skogseid B, Lundqvist G et al (1990) Medical treatment and long-term survival in a prospective study of 84 patients with endocrine pancreatic tumors. Cancer 65(9):1883–1890

Moertel CG, Lefkopoulo M, Lipsitz S et al (1992) Streptozocin-doxorubicin, streptozocin-fluorouracil or chlorozotocin in the treatment of advanced islet-cell carcinoma. N Engl J Med 326(8):519–523

Rivera E, Ajani JA (1998) Doxorubicin, streptozocin, and 5-fluorouracil chemotherapy for patients with metastatic islet-cell carcinoma. Am J Clin Oncol 21(1):36–38

Cheng PN, Saltz LB (1999) Failure to confirm major objective antitumor activity for streptozocin and doxorubicin in the treatment of patients with advanced islet cell carcinoma. Cancer 86(6):944–948

McCollum AD, Kulke MH, Ryan DP et al (2004) Lack of efficacy of streptozocin and doxorubicin in patients with advanced pancreatic endocrine tumors. Am J Clin Oncol 27(5):485–488

Delaunoit T, Ducreux M, Boige V et al (2004) The doxorubicin-streptozotocin combination for the treatment of advanced well-differentiated pancreatic endocrine carcinoma; a judicious option? Eur J Cancer 40(4):515–520

Pavel ME, Baum U, Hahn EG et al (2005) Doxorubicin and streptozotocin after failed biotherapy of neuroendocrine tumors. Int J Gastrointest Cancer 35(3):179–185

Turner NC, Strauss SJ, Sarker D et al (2010) Chemotherapy with 5-fluorouracil, cisplatin and streptozocin for neuroendocrine tumours. Br J Cancer 102(7):1106–1112

Naidoo J, O'Toole D, Kennedy MJ et al (2012) A single institution experience of streptozocin/fluorouracil combination chemotherapy: a case series. Ir J Med Sci 181(2):211–214

Ducreux M, Dahan L, Smith D et al (2014) Bevacizumab combined with 5-FU/streptozocin in patients with progressive metastatic well-differentiated pancreatic endocrine tumours (BETTER trial)—a phase II non-randomized trial. Eur J Cancer 50(18):3098–3106

Dilz LM, Denecke T, Steffen IG et al (2015) Streptozocin/5-fluorouracil chemotherapy is associated with durable response in patients with advanced pancreatic neuroendocrine tumours. Eur J Cancer 51:1253

Krug S, Boch M, Daniel H et al (2015) Streptozocin-based chemotherapy in patients with advanced neuroendocrine neoplasms—predictive and prognostic markers for treatment stratification. PLoS One 10(12):e0143822

Clewemar Antonodimitrakis P, Sundin A, Wassberg C et al (2016) Streptozocin and 5-fluorouracil for the treatment of pancreatic neuroendocrine tumors: efficacy, prognostic factors and toxicity. Neuroendocrinology 103(3–4):345–353

Prakash L, Bhosale P, Cloyd J et al (2017) Role of fluorouracil, doxorubicin, and streptozocin therapy in the preoperative treatment of localized pancreatic neuroendocrine tumors. J Gastrointest Surg 21(1):155–163

Krug S, Boch M, Nimphius W et al (2017) Relevance of dihydropyrimidine-dehydrogenase and thymidylate-synthase in patients with pancreatic neuroendocrine neoplasms treated with 5-FU-based chemotherapy. Pancreatology 17(1):139–145

Krug S, Boch M, Rexin P et al (2017) Impact of therapy sequence with alkylating agents and MGMT status in patients with advanced neuroendocrine tumors. Anticancer Res 37(5):2491–2500

Pavel M, O'Toole D, Costa F et al (2016) ENETS consensus guidelines update for the management of distant metastatic disease of intestinal, pancreatic, bronchial neuroendocrine neoplasms (NEN) and NEN of unknown primary site. Neuroendocrinology 103(2):172–185

Broder LE, Carter SK (1973) Pancreatic islet cell carcinoma. II. Results of therapy with streptozotocin in 52 patients. Ann Intern Med 79:108–118

Lamarca A, Elliott E, Barriuso J et al (2016) Chemotherapy for advanced non-pancreatic well-differentiated neuroendocrine tumours of the gastrointestinal tract, a systematic review and meta-analysis: a lost cause? Cancer Treat Rev 44:26–41

Yao JC, Shah MH, Ito T et al (2011) Everolimus for advanced pancreatic neuroendocrine tumors. N Engl J Med 364:514–523

Raymond E, Dahan L, Raoul J-L et al (2011) Sunitinib malate for the treatment of pancreatic neuroendocrine tumors. N Engl J Med 364:501–513

Strosberg JR, Fine RL, Choi J et al (2011) First-line chemotherapy with capecitabine and temozolomide in patients with metastatic pancreatic endocrine carcinomas. Cancer 117(2):268–275

Kulke MH, Hornick JL, Frauenhoffer C et al (2009) O6-methylguanine DNA methyltransferase deficiency and response to temozolomide-based therapy in patients with neuroendocrine tumors. Clin Cancer Res 15(1):338–345
Acknowledgements
We are grateful to Drs. Yuichi Tachibana, Nozomu Machida, and Yutaka Kawano for cooperation and helpful discussions.
Funding
This work received no outside funding.
Ethics declarations
Conflict of interest
Author Masafumi Ikeda has received research grants from Ono Pharmaceutical, AstraZeneca, Taiho Pharmaceutical, Merck Serono, Yakult, Kyowa Hakko Kirin, Eisai, Eli Lilly Japan, Baxter, ASLAN Pharmaceuticals, Chugai Pharmaceutical; speaker honoraria from Bayer Yakuhin, Taiho Pharmaceutical, Novartis Pharma, Bristol-Myers Squibb, Eli Lilly Japan. Author Susumu Hijioka has received speaker honoraria from Novelpharma, Novartis Pharma and Teijin Pharma. Author Hiroshi Imaoka has received a speaker honorarium from Novartis Pharma. The other authors have no conflicts of interest to declare.
Ethical approval
All procedures involving human participants proceeded in accordance with the ethical standards of each institutional research committee and with the 1964 Helsinki declaration and its later amendments or comparable ethical standards. Formal consent is not required for this type of study.
Informed consent
Informed consent was obtained from all individual participants included in the study.
Electronic supplementary material
Below is the link to the electronic supplementary material.
About this article
Cite this article
Shibuya, H., Hijioka, S., Sakamoto, Y. et al. Multi-center clinical evaluation of streptozocin-based chemotherapy for advanced pancreatic neuroendocrine tumors in Japan: focus on weekly regimens and monotherapy. Cancer Chemother Pharmacol 82, 661–668 (2018). https://doi.org/10.1007/s00280-018-3656-y
Received:

Accepted:

Published:

Issue Date:

DOI: https://doi.org/10.1007/s00280-018-3656-y
Keywords
Pancreatic neuroendocrine tumor

Streptozocin

Monotherapy

Prognostic factor

Ki67 proliferation index