Abstract
Purpose
Chemotherapy dosing in neonates represents a major clinical challenge because of a lack of clinical pharmacology information in this patient population. In this study, we investigate the use of cisplatin dose adaptation based on therapeutic drug monitoring in a 2-week-old neonate with localized hepatoblastoma.
Methods
Cisplatin concentrations were determined in plasma and ultrafiltrate samples collected on each of six cycles of a monotherapy regimen, beginning with a dose of 1.6 mg/kg at 16 days of age. Pharmacokinetic data were analyzed to generate clearance (CL) and area under the curve (AUC0–∞) for each administration. Toxicity and clinical response were monitored.
Results
The first cisplatin dose (1.6 mg/kg) resulted in an AUC0–∞ of 535 µg/mL · min, was well tolerated and associated with a good response. This AUC was, therefore, considered as an appropriate target for this patient. Increases in cisplatin CL were observed across consecutive treatment cycles, and, therefore, dose was gradually increased to finally reach 2.5 mg/kg on the sixth cycle. Treatment was well tolerated over the six courses and resulted in a good response, with the patient remaining in remission at 15 months. Cisplatin CL was significantly correlated to age (p = 0.013) and weight (p = 0.013).
Conclusions
Our study provides useful data on the pharmacokinetics of cisplatin monotherapy in neonates treated within the first few weeks of life. These data provide a reference point to support clinicians in determining appropriate dosing regimens for neonates and support the implementation of therapeutic drug monitoring in such challenging patients.
This is a preview of subscription content, log in to check access.
Access options
Buy single article
Instant access to the full article PDF.
US$ 39.95
Price includes VAT for USA
Subscribe to journal
Immediate online access to all issues from 2019. Subscription will auto renew annually.
US$ 199
This is the net price. Taxes to be calculated in checkout.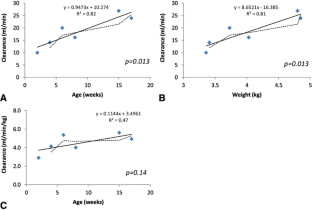 References
1.

Meyers RL, Maibach R, Hiyama E et al (2017) Risk-stratified staging in paediatric hepatoblastoma: a unified analysis from the Children's Hepatic tumors International Collaboration. Lancet Oncol 18:122–131

2.

Stocker JT (2001) Hepatic tumors in children. Clin Liver Dis 5:259–281 (viii–ix)

3.

Dall'Igna P, Brugieres L, Christin AS et al (2018) Hepatoblastoma in children aged less than six months at diagnosis: a report from the SIOPEL group. Pediatr Blood Cancer 65. https://www-ncbi-nlm-nih-gov.gate2.inist.fr/pubmed/28921839

4.

Zsiros J, Brugieres L, Brock P et al (2013) Dose-dense cisplatin-based chemotherapy and surgery for children with high-risk hepatoblastoma (SIOPEL-4): a prospective, single-arm, feasibility study. Lancet Oncol 14:834–842

5.

Veal GJ, Errington J, Hayden J et al (2015) Carboplatin therapeutic monitoring in preterm and full-term neonates. Eur J Cancer 51:2022–2030

6.

Veal GJ, Errington J, Sastry J et al (2016) Adaptive dosing of anticancer drugs in neonates: facilitating evidence-based dosing regimens. Cancer Chemother Pharmacol 77:685–692

7.

Perilongo G, Maibach R, Shafford E et al (2009) Cisplatin versus cisplatin plus doxorubicin for standard-risk hepatoblastoma. N Engl J Med 361:1662–1670

8.

LeRoy AF, Wehling ML, Sponseller HL et al (1977) Analysis of platinum in biological materials by flameless atomic absorption spectrophotometry. Biochem Med 18:184–191

9.

Burger H, Loos WJ, Eechoute K et al (2011) Drug transporters of platinum-based anticancer agents and their clinical significance. Drug Resist Updat 14:22–34

10.

Sweeney DE, Vallon V, Rieg T et al (2011) Functional maturation of drug transporters in the developing, neonatal, and postnatal kidney. Mol Pharmacol 80:147–154

11.

Lickteig AJ, Cheng X, Augustine LM et al (2008) Tissue distribution, ontogeny and induction of the transporters Multidrug and toxin extrusion (MATE) 1 and MATE2 mRNA expression levels in mice. Life Sci 83:59–64

12.

Bardin C, Veal G, Paci A et al (2014) Therapeutic drug monitoring in cancer—are we missing a trick? Eur J Cancer Oxf Engl 1990 50:2005–2009
Ethics declarations
Conflict of interest
The authors declare that they have no conflict of interest.
Ethical approval
All procedures performed in studies involving human participants were in accordance with the ethical standards of the institutional and/or national research committee and with the 1964 Helsinki Declaration and its later amendments or comparable ethical standards.
Informed consent
Informed consent was obtained from the parents of the patient to take blood samples to perform individualized dosing.
Electronic supplementary material
Below is the link to the electronic supplementary material.
About this article
Cite this article
Thomas, F., Veal, G.J., El Balkhi, S. et al. Therapeutic drug monitoring and dose adaptation of cisplatin in a newborn with hepatoblastoma: a case report. Cancer Chemother Pharmacol 82, 361–365 (2018). https://doi.org/10.1007/s00280-018-3625-5
Received:

Accepted:

Published:

Issue Date:
Keywords
Cisplatin

Hepatoblastoma

SIOPEL

Pharmacokinetics

Neonate