Abstract
Background
A sequential approach, synchronizing cell-cycle specific chemotherapy during VEGFR-TKI treatment breaks, may improve the therapeutic index of this combination therapy. In this study we investigate the safety/tolerability and pharmacodynamic effects of docetaxel used in sequential combination with the novel VEGFR-TKI X-82.
Methods
Patients with advanced solid malignancies underwent 21-day treatment cycles with X-82 administered daily on days 1–14, a treatment break on days 15–20, and docetaxel administered on day 21. Randomization was 1:1 to either a low-dose X-82 (200 mg) or high-dose X-82 (400 mg) arm. Patients were scheduled to undergo four 3′-deoxy-3′-18F-fluorothymidine (FLT) PET/CT scans to assess changes in tumor cell proliferation. PET standardized uptake values (SUV) were summarized for tumors and changes were assessed using mixed effects models.
Results
14 patients were enrolled and treated with median 3.5 cycles (range 0–12). Three patients in the high-dose cohort (50%) and three patients in the low-dose cohort (38%) experienced at least one grade 3 adverse event during the study (infections, cytopenias, electrolyte abnormalities, and vascular complications). Four patients with 13 metastatic tumors underwent FLT PET/CT scanning. During the cycle 1 X-82 exposure period, tumor SUVmax decreased by − 11% (p = 0.04). After administration of docetaxel and the cycle 2 X-82 exposure period, tumor SUVmax decreased − 44% (p = 0.03).
Conclusions
The sequential combination of X-82 and docetaxel was safe and led to diminished FLT uptake. Further, decrease in FLT uptake during cycle 2 (X-82 plus docetaxel) was greater than in cycle 1 (X-82 alone), suggesting sequential chemotherapy enhances the pharmacodynamic effect of therapy.
This is a preview of subscription content, log in to check access.
Access options
Buy single article
Instant access to the full article PDF.
US$ 39.95
Price includes VAT for USA
Subscribe to journal
Immediate online access to all issues from 2019. Subscription will auto renew annually.
US$ 199
This is the net price. Taxes to be calculated in checkout.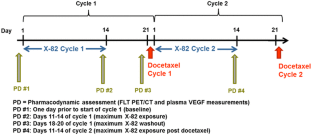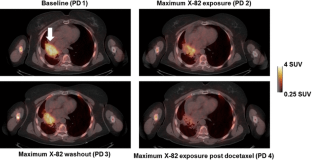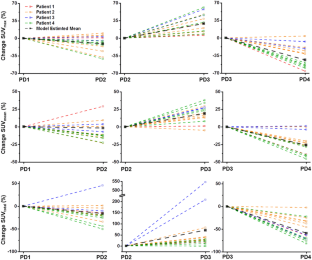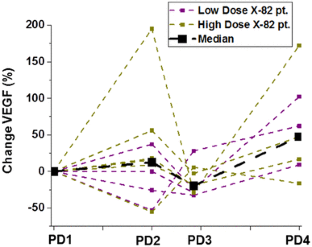 References
1.

Folkman J (1971) Tumor angiogenesis: therapeutic implications. N Engl J Med 285(21):1182–1186. https://doi.org/10.1056/NEJM197111182852108

2.

Hurwitz H, Fehrenbacher L, Novotny W, Cartwright T, Hainsworth J, Heim W, Berlin J, Baron A, Griffing S, Holmgren E, Ferrara N, Fyfe G, Rogers B, Ross R, Kabbinavar F (2004) Bevacizumab plus irinotecan, fluorouracil, and leucovorin for metastatic colorectal cancer. N Engl J Med 350(23):2335–2342. https://doi.org/10.1056/NEJMoa032691

3.

Sandler A, Gray R, Perry MC, Brahmer J, Schiller JH, Dowlati A, Lilenbaum R, Johnson DH (2006) Paclitaxel-carboplatin alone or with bevacizumab for non-small-cell lung cancer. N Engl J Med 355(24):2542–2550. https://doi.org/10.1056/NEJMoa061884

4.

Cunningham D, Lang I, Marcuello E, Lorusso V, Ocvirk J, Shin DB, Jonker D, Osborne S, Andre N, Waterkamp D, Saunders MP, Investigators As (2013) Bevacizumab plus capecitabine versus capecitabine alone in elderly patients with previously untreated metastatic colorectal cancer (AVEX): an open-label, randomised phase 3 trial. Lancet Oncol 14(11):1077–1085. https://doi.org/10.1016/S1470-2045(13)70154-2

5.

Reck M, von Pawel J, Zatloukal P, Ramlau R, Gorbounova V, Hirsh V, Leighl N, Mezger J, Archer V, Moore N, Manegold C (2009) Phase III trial of cisplatin plus gemcitabine with either placebo or bevacizumab as first-line therapy for nonsquamous non-small-cell lung cancer: AVAil. J Clin Oncol 27(8):1227–1234. https://doi.org/10.1200/JCO.2007.14.5466

6.

Escudier B, Eisen T, Stadler WM, Szczylik C, Oudard S, Staehler M, Negrier S, Chevreau C, Desai AA, Rolland F, Demkow T, Hutson TE, Gore M, Anderson S, Hofilena G, Shan M, Pena C, Lathia C, Bukowski RM (2009) Sorafenib for treatment of renal cell carcinoma: final efficacy and safety results of the phase III treatment approaches in renal cancer global evaluation trial. J Clin Oncol 27(20):3312–3318. https://doi.org/10.1200/JCO.2008.19.5511

7.

Motzer RJ, Hutson TE, Tomczak P, Michaelson MD, Bukowski RM, Oudard S, Negrier S, Szczylik C, Pili R, Bjarnason GA, Garcia-del-Muro X, Sosman JA, Solska E, Wilding G, Thompson JA, Kim ST, Chen I, Huang X, Figlin RA (2009) Overall survival and updated results for sunitinib compared with interferon alfa in patients with metastatic renal cell carcinoma. J Clin Oncol 27(22):3584–3590. https://doi.org/10.1200/JCO.2008.20.1293

8.

Rini BI, Escudier B, Tomczak P, Kaprin A, Szczylik C, Hutson TE, Michaelson MD, Gorbunova VA, Gore ME, Rusakov IG, Negrier S, Ou YC, Castellano D, Lim HY, Uemura H, Tarazi J, Cella D, Chen C, Rosbrook B, Kim S, Motzer RJ (2011) Comparative effectiveness of axitinib versus sorafenib in advanced renal cell carcinoma (AXIS): a randomised phase 3 trial. Lancet 378(9807):1931–1939. https://doi.org/10.1016/S0140-6736(11)61613-9

9.

Raymond E, Dahan L, Raoul JL, Bang YJ, Borbath I, Lombard-Bohas C, Valle J, Metrakos P, Smith D, Vinik A, Chen JS, Hörsch D, Hammel P, Wiedenmann B, Van Cutsem E, Patyna S, Lu DR, Blanckmeister C, Chao R, Ruszniewski P (2011) Sunitinib malate for the treatment of pancreatic neuroendocrine tumors. N Engl J Med 364(6):501–513. https://doi.org/10.1056/NEJMoa1003825

10.

Llovet JM, Ricci S, Mazzaferro V, Hilgard P, Gane E, Blanc JF, de Oliveira AC, Santoro A, Raoul JL, Forner A, Schwartz M, Porta C, Zeuzem S, Bolondi L, Greten TF, Galle PR, Seitz JF, Borbath I, Häussinger D, Giannaris T, Shan M, Moscovici M, Voliotis D, Bruix J, Group SIS (2008) Sorafenib in advanced hepatocellular carcinoma. N Engl J Med 359(4):378–390. https://doi.org/10.1056/NEJMoa0708857

11.

Scagliotti G, Novello S, von Pawel J, Reck M, Pereira JR, Thomas M, Abrão Miziara JE, Balint B, De Marinis F, Keller A, Arén O, Csollak M, Albert I, Barrios CH, Grossi F, Krzakowski M, Cupit L, Cihon F, Dimatteo S, Hanna N (2010) Phase III study of carboplatin and paclitaxel alone or with sorafenib in advanced non-small-cell lung cancer. J Clin Oncol 28(11):1835–1842. https://doi.org/10.1200/JCO.2009.26.1321

12.

Kindler HL, Ioka T, Richel DJ, Bennouna J, Létourneau R, Okusaka T, Funakoshi A, Furuse J, Park YS, Ohkawa S, Springett GM, Wasan HS, Trask PC, Bycott P, Ricart AD, Kim S, Van Cutsem E (2011) Axitinib plus gemcitabine versus placebo plus gemcitabine in patients with advanced pancreatic adenocarcinoma: a double-blind randomised phase 3 study. Lancet Oncol 12(3):256–262. https://doi.org/10.1016/S1470-2045(11)70004-3

13.

Carrato A, Swieboda-Sadlej A, Staszewska-Skurczynska M, Lim R, Roman L, Shparyk Y, Bondarenko I, Jonker DJ, Sun Y, De la Cruz JA, Williams JA, Korytowsky B, Christensen JG, Lin X, Tursi JM, Lechuga MJ, Van Cutsem E (2013) Fluorouracil, leucovorin, and irinotecan plus either sunitinib or placebo in metastatic colorectal cancer: a randomized, phase III trial. J Clin Oncol 31(10):1341–1347. https://doi.org/10.1200/JCO.2012.45.1930

14.

Hauschild A, Agarwala SS, Trefzer U, Hogg D, Robert C, Hersey P, Eggermont A, Grabbe S, Gonzalez R, Gille J, Peschel C, Schadendorf D, Garbe C, O'Day S, Daud A, White JM, Xia C, Patel K, Kirkwood JM, Keilholz U (2009) Results of a phase III, randomized, placebo-controlled study of sorafenib in combination with carboplatin and paclitaxel as second-line treatment in patients with unresectable stage III or stage IV melanoma. J Clin Oncol 27(17):2823–2830. https://doi.org/10.1200/JCO.2007.15.7636

15.

Hecht JR, Trarbach T, Hainsworth JD, Major P, Jäger E, Wolff RA, Lloyd-Salvant K, Bodoky G, Pendergrass K, Berg W, Chen BL, Jalava T, Meinhardt G, Laurent D, Lebwohl D, Kerr D (2011) Randomized, placebo-controlled, phase III study of first-line oxaliplatin-based chemotherapy plus PTK787/ZK 222584, an oral vascular endothelial growth factor receptor inhibitor, in patients with metastatic colorectal adenocarcinoma. J Clin Oncol 29(15):1997–2003. https://doi.org/10.1200/JCO.2010.29.4496

16.

Crown JP, Diéras V, Staroslawska E, Yardley DA, Bachelot T, Davidson N, Wildiers H, Fasching PA, Capitain O, Ramos M, Greil R, Cognetti F, Fountzilas G, Blasinska-Morawiec M, Liedtke C, Kreienberg R, Miller WH, Tassell V, Huang X, Paolini J, Kern KA, Romieu G (2013) Phase III trial of sunitinib in combination with capecitabine versus capecitabine monotherapy for the treatment of patients with pretreated metastatic breast cancer. J Clin Oncol 31(23):2870–2878. https://doi.org/10.1200/JCO.2012.43.3391

17.

Rugo HS, Stopeck AT, Joy AA, Chan S, Verma S, Lluch A, Liau KF, Kim S, Bycott P, Rosbrook B, Bair AH, Soulieres D (2011) Randomized, placebo-controlled, double-blind, phase II study of axitinib plus docetaxel versus docetaxel plus placebo in patients with metastatic breast cancer. J Clin Oncol 29(18):2459–2465. https://doi.org/10.1200/JCO.2010.31.2975

18.

Liu G, Jeraj R, Vanderhoek M, Perlman S, Kolesar J, Harrison M, Simoncic U, Eickhoff J, Carmichael L, Chao B, Marnocha R, Ivy P, Wilding G (2011) Pharmacodynamic study using FLT PET/CT in patients with renal cell cancer and other solid malignancies treated with sunitinib malate. Clin Cancer Res 17(24):7634–7644. https://doi.org/10.1158/1078-0432.CCR-11-1677

19.

Scarpelli M, Bruce JY, Carmichael L, Eickhoff J, Kolesar J, Perlman S, Jeraj R, Liu G (2016) (18)F-FLT PET/CT imaging in patients with advanced solid malignancies treated with axitinib on an intermittent dosing regimen. Cancer Chemother Pharmacol 78(6):1245–1252. https://doi.org/10.1007/s00280-016-3183-7

20.

Bruce JY, Scully PC, Carmichael LL, Eickhoff JC, Perlman SB, Kolesar JM, Heideman JL, Jeraj R, Liu G (2015) Pharmacodynamic study of axitinib in patients with advanced malignancies assessed with (18)F-3′deoxy-3′fluoro-L-thymidine positron emission tomography/computed tomography. Cancer Chemother Pharmacol 76(1):187–195. https://doi.org/10.1007/s00280-015-2779-7

21.

Eisenhauer EA, Therasse P, Bogaerts J, Schwartz LH, Sargent D, Ford R, Dancey J, Arbuck S, Gwyther S, Mooney M, Rubinstein L, Shankar L, Dodd L, Kaplan R, Lacombe D, Verweij J (2009) New response evaluation criteria in solid tumours: revised RECIST guideline (version 1.1). Eur J Cancer 45(2):228–247. https://doi.org/10.1016/j.ejca.2008.10.026

22.

Scarpelli M, Eickhoff J, Cuna E, Perlman S, Jeraj R (2017) Optimal transformations leading to normal distributions of positron emission tomography standardized uptake values. Phys Med Biol. https://doi.org/10.1088/1361-6560/aaa175

23.

Reck M, Kaiser R, Mellemgaard A, Douillard JY, Orlov S, Krzakowski M, von Pawel J, Gottfried M, Bondarenko I, Liao M, Gann CN, Barrueco J, Gaschler-Markefski B, Novello S, Group L-LS (2014) Docetaxel plus nintedanib versus docetaxel plus placebo in patients with previously treated non-small-cell lung cancer (LUME-Lung 1): a phase 3, double-blind, randomised controlled trial. Lancet Oncol 15(2):143–155. https://doi.org/10.1016/S1470-2045(13)70586-2

24.

Contractor KB, Kenny LM, Stebbing J, Rosso L, Ahmad R, Jacob J, Challapalli A, Turkheimer F, Al-Nahhas A, Sharma R, Coombes RC, Aboagye EO (2011) [18F]-3′Deoxy-3′-fluorothymidine positron emission tomography and breast cancer response to docetaxel. Clin Cancer Res 17(24):7664–7672. https://doi.org/10.1158/1078-0432.CCR-11-0783

25.

Tan B, Picus J, Chan E, Lockhart A, Roth B, Morton A, Liang C, Wang-Gillam (2016) A Phase I study of X-82, an oral dual anti-VEGFR/PDGFR tyrosine kinase inhibitor, with everolimus in solid tumors. In: American Society of Clinical Oncology Annual Meeting, Chicago, Illinois, 2016
Acknowledgements
The authors would like to thank the nurses and research specialists of the UWCCC Phase I Program for their efforts in managing this trial. The authors would also like to thank the WIMR PET imaging staff especially Chris Jaskowiak for her help with PET/CT scanning, the UW Cyclotron for preparing the radiotracer, and the patients for their participation in the study.
Funding
This study was funded by Tyrogenex. Support was also provided by the National Cancer Institute (NCI) awards P30 CA014520 and UM1 CA186716. The content is solely the responsibility of the authors and does not necessarily represent the official views of the NIH.
Ethics declarations
Conflict of interest
Author Chris Liang is a shareholder of Tyrogenex.
Informed Consent
Informed consent was obtained from all individual participants included in the study.
Ethical approval
All procedures performed in studies involving human participants were in accordance with the ethical standards of the institutional and/or national research committee and with the 1964 Helsinki Declaration and its later amendments or comparable ethical standards.
Electronic supplementary material
Below is the link to the electronic supplementary material.
About this article
Cite this article
Scarpelli, M., Rampurwala, M., Eickhoff, J. et al. Pharmacodynamic study using FLT PET/CT in advanced solid malignancies treated with a sequential combination of X-82 and docetaxel. Cancer Chemother Pharmacol 82, 211–219 (2018). https://doi.org/10.1007/s00280-018-3599-3
Received:

Accepted:

Published:

Issue Date:
Keywords
FLT PET/CT

VEGFR-TKI

Combination therapy

Docetaxel

Anti-angiogenic therapy

VEGF