Abstract
Background and aim
The FOLFOX family of chemotherapy regimens are hampered by the development of a painful neuropathy. Current clinical treatments are inadequate, and furthermore, the research of innovative drugs is strongly disadvantaged by the absence of a preclinical model based on the complete mixture of FOLFOX components. The aim of this study was to set up a rat model of FOLFOX-induced neuropathy in rats, validate its predictability by reference drugs, and evaluate the effectiveness of the new anti-neuropathic compound dimiracetam.
Methods
Male Sprague–Dawley rats were treated intraperitoneally with the FOLFOX components (6 mg kg−1 oxaliplatin, 50 mg kg−1 5-FU, 90 mg kg−1 leucovorin calcium salt) or oxaliplatin alone (6 mg kg−1) on days 0, 7, 14, and 21, whereas a separate group received one more injection of FOLFOX on day 28. Pain behavioural measurements (paw pressure, cold plate, and electronic Von Frey tests) and motor coordination (Rota-rod test) were assessed before and after treatments. Behavioural, motor, neurological, and autonomic parameters (open field and Irwin tests) were evaluated.
Results
FOLFOX reduced the pain threshold in response to mechanical noxious and thermal (cold) non-noxious stimuli beginning from day 14 up to day 42 comparably to oxaliplatin alone. A fifth FOLFOX injection enhanced the severity but not the duration of painful alterations. Spontaneous activity, behavioural, autonomic, and neurological functions were also affected, whereas the motor coordination was not altered. On day 22, duloxetine (15 mg kg−1, per os), morphine (10 mg kg−1, subcutaneously), or pregabalin (20 mg kg−1, per os), acutely administered, reduced the FOLFOX-dependent hypersensitivity. Repeated treatments with dimiracetam (150 mg kg−1, per os, twice daily, from day 22) significantly protected rats from FOLFOX-induced alterations of pain threshold as well as from autonomic and neurological impairments taking effect after 7 days treatment. Pregabalin repeatedly administered (20 mg kg−1, per os, twice daily, from day 22) was less effective in reducing mechanical hypersensitivity.
Conclusion
A clinically consistent model of FOLFOX-induced neurotoxicity has been developed in rats. Dimiracetam fully reduced hypersensitivity and neurological alterations showing a relevant profile as anti-neuropathic resource.
Access options
Buy single article
Instant access to the full article PDF.
US$ 39.95
Tax calculation will be finalised during checkout.
Subscribe to journal
Immediate online access to all issues from 2019. Subscription will auto renew annually.
US$ 119
Tax calculation will be finalised during checkout.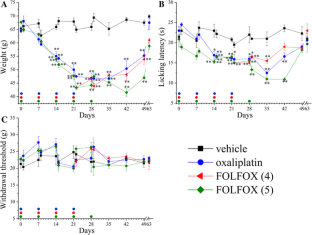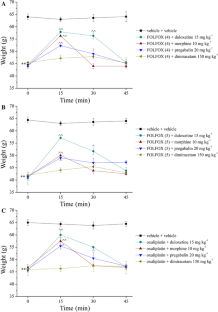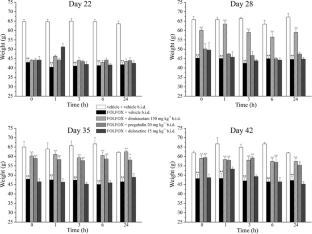 References
1.

Rothenberg ML, Oza AM, Bigelow RH, Berlin JD, Marshall JL, Ramanathan RK, Hart LL, Gupta S, Garay CA, Burger BG, Le Bail N, Haller DG (2003) Superiority of oxaliplatin and fluorouracil–leucovorin compared with either therapy alone in patients with progressive colorectal cancer after irinotecan and fluorouracil–leucovorin: interim results of a phase III trial. J Clin Oncol 21:2059–2069

2.

Lonardi S, Sobrero A, Rosati G, Di Bartolomeo M, Ronzoni M, Aprile G, Scartozzi M, Banzi M, Zampino MG, Pasini F, Marchetti P, Cantore M, Zaniboni A, Rimassa L, Ciuffreda L, Ferrari D, Barni S, Zagonel V, Maiello E, Rulli E, Labianca R, TOSCA (Three or Six Colon Adjuvant) Investigators (2016) Phase III trial comparing 3–6 months of adjuvant FOLFOX4/XELOX in stage II–III colon cancer: safety and compliance in the TOSCA trial, 2016. Ann Oncol 27(11):2074–2081

3.

Pachman DR, Qin R, Seisler DK, Smith EM, Beutler AS, Ta LE, Lafky JM, Wagner-Johnston ND, Ruddy KJ, Dakhil S, Staff NP, Grothey A, Loprinzi CL (2015) Clinical course of oxaliplatin-induced neuropathy: results from the randomized phase III trial N08CB (Alliance). J Clin Oncol 33(30):3416–3422

4.

Stefansson M, Nygren P (2016) Oxaliplatin added to fluoropyrimidine for adjuvant treatment of colorectal cancer is associated with long-term impairment of peripheral nerve sensory function and quality of life. Acta Oncol 55(9–10):1227–1235 (Epub 2016 Aug 23)

5.

André T, Boni C, Navarro M, Tabernero J, Hickish T, Topham C, Bonetti A, Clingan P, Bridgewater J, Rivera F, de Gramont A (2009) Improved overall survival with oxaliplatin, fluorouracil, and leucovorin as adjuvant treatment in stage II or III colon cancer in the MOSAIC trial. J Clin Oncol 27(19):3109–3116

6.

Land SR, Kopec JA, Cecchini RS, Ganz PA, Wieand HS, Colangelo LH, Murphy K, Kuebler JP, Seay TE, Needles BM, Bearden JD, Colman LK, Lanier KS, Pajon ER Jr, Cella D, Smith RE, O'Connell MJ, Costantino JP, Wolmark N (2007) Neurotoxicity from oxaliplatin combined with weekly bolus fluorouracil and leucovorin as surgical adjuvant chemotherapy for stage II and III colon cancer: NSABP C-07. J Clin Oncol 25(16):2205–2211

7.

Werbrouck BF, Pauwels WJ, De Bleecker JL (2008) A case of 5-fluorouracil-induced peripheral neuropathy. Clin Toxicol (Phila) 46(3):264–266

8.

Di Cesare Mannelli L, Pacini A, Corti F, Boccella S, Luongo L, Esposito E, Cuzzocrea S, Maione S, Calignano A, Ghelardini C (2015) Antineuropathic profile of N-palmitoylethanolamine in a rat model of oxaliplatin-induced neurotoxicity. PLoS One 10(6):e0128080. doi:10.1371/journal.pone.0128080 (eCollection 2015)

9.

Renn CL, Carozzi VA, Rhee P, Gallop D, Dorsey SG, Cavaletti G (2011) Multimodal assessment of painful peripheral neuropathy induced by chronic oxaliplatin-based chemotherapy in mice. Mol Pain 7:29

10.

Di Cesare Mannelli L, Pacini A, Bonaccini L, Zanardelli M, Mello T, Ghelardini C (2013) Morphologic features and glial activation in rat oxaliplatin-dependent neuropathic pain. J Pain 14(12):1585–1600

11.

Di Cesare Mannelli L, Pacini A, Micheli L, Tani A, Zanardelli M, Ghelardini C (2014) Glial role in oxaliplatin-induced neuropathic pain. Exp Neurol 261:22–33

12.

Lavoie Smith EM, Pang H, Cirrincione C, Fleishman S, Paskett ED, Ahles T, Bressler LR, Fadul CE, Knox C, Le-Lindqwister N, Gilman PB, Shapiro CL, For the Alliance for Clinical Trials in Oncology (2013) Effect of duloxetine on pain, function, and quality of life among patients with chemotherapy-induced painful peripheral neuropathy: a randomized clinical trial. JAMA 309(13):1359–1367

13.

Hershman DL, Lacchetti C, Dworkin RH, Lavoie Smith EM, Bleeker J, Cavaletti G, Chauhan C, Gavin P, Lavino A, Lustberg MB, Paice J, Schneider B, Smith ML, Smith T, Terstriep S, Wagner-Johnston N, Bak K, Loprinzi CL, American Society of Clinical Oncology (2014) Prevention and management of chemotherapy-induced peripheral neuropathy in survivors of adult cancers: American Society of Clinical Oncology clinical practice guideline. J Clin Oncol 32:1941–1967

14.

Fariello RG, Ghelardini C, Di Cesare Mannelli L, Bonanno G, Pittaluga A, Milanese M, Misiano P, Farina C (2014) Broad spectrum and prolonged efficacy of dimiracetam in models of neuropathic pain. Neuropharmacology 81:223–254

15.

Latremoliere A, Woolf CJ (2009) Central sensitization: a generator of pain hypersensitivity by central neural plasticity. J Pain 10(9):895–926

16.

McGrath JC, Lilley E (2015) Implementing guidelines on reporting research using animals (ARRIVE etc.): new requirements for publication in BJP. Br J Pharmacol 172(13):3189–3193

17.

Robinson SM, Mann J, Vasilaki A, Mathers J, Burt AD, Oakley F, White SA, Mann DA (2013) Pathogenesis of FOLFOX induced sinusoidal obstruction syndrome in a murine chemotherapy model. J Hepatol 59(2):318–326

18.

Leighton GE, Rodriguez RE, Hill RG, Hughes J (1988) K-Opioid agonists produce antinociception after i.v. and i.c.v. but not intrathecal administration in the rat. Br J Pharmacol 93:553–560

19.

Irwin S (1968) Comprehensive observational assessment: Ia. A systematic, quantitative procedure for assessing the behavioral and physiologic state of the mouse. Psychopharmacologia 13(3):222–257

20.

Argyriou AA, Velasco R, Briani C, Cavaletti G, Bruna J, Alberti P, Cacciavillani M, Lonardi S, Santos C, Cortinovis D, Cazzaniga M, Kalofonos HP (2012) Peripheral neurotoxicity of oxaliplatin in combination with 5-fluorouracil (FOLFOX) or capecitabine (XELOX): a prospective evaluation of 150 colorectal cancer patients. Ann Oncol 23:3116–3122

21.

Reagan-Shaw S, Nihal M, Ahmad N (2008) Dose translation from animal to human studies revisited. FASEB J 22(3):659–661

22.

Andrè T, Boni C, Mounedji-Boudiaf L, Navarro M, Tabernero J, Hickish T, Topham C, Zaninelli M, Clingan P, Bridgewater J, Tabah-Fisch I, de Gramont A, For the Multicenter International Study of Oxaliplatin/5-Fluorouracil/Leucovorin in the Adjuvant Treatment of Colon Cancer (MOSAIC) Investigators et al (2004) Oxaliplatin, fluorouracil, and leucovorin as adjuvant treatment for colon cancer. N Engl J Med 350:2343–2351

23.

André T, Louvet C, Maindrault-Goebel F, Gramont AD (2001) Oxaliplatin in combination with 5-fluoro-uracil and folinic acid as treatment of metastatic colorectal cancer. Bull Cancer 88:S20-5

24.

Cavaletti G, Tredici G, Petruccioli MG, Dondè E, Tredici P, Marmiroli P, Minoia C, Ronchi A, Bayssas M, Etienne GG (2001) Effects of different schedules of oxaliplatin treatment on the peripheral nervous system of the rat. Eur J Cancer 37(18):2457–2463

25.

Nixon RA, Lewis SE, Marotta CA (1987) Posttranslational modification of neurofilament proteins by phosphate during axoplasmic transport in retinal ganglion cell neurons. J Neurosci 7:1145–1158

26.

Carlton SM, Du J, Tan HY, Nesic O, Hargett GL, Bopp AC, Yamani A, Lin Q, Willis WD, Hulsebosch CE (2009) Peripheral and central sensitization in remote spinal cord regions contribute to central neuropathic pain after spinal cord injury. Pain 147:265–276

27.

Jacobs SS, Fox E, Dennie C, Morgan LB, McCully CL, Balis FM (2005) Plasma and cerebrospinal fluid pharmacokinetics of intravenous oxaliplatin, cisplatin, and carboplatin in nonhuman an primates. Clin Cancer Res 11:1669–1674

28.

Huang ZZ, Li D, Ou-Yang HD, Liu CC, Liu XG, Ma C, Wei JY, Liu Y, Xin WJ (2016) Cerebrospinal fluid oxaliplatin contributes to the acute pain induced by systemic administration of oxaliplatin. Anesthesiology 124(5):1109–1121

29.

Di Cesare Mannelli L, Zanardelli M, Failli P, Ghelardini C (2012) Oxaliplatin-induced neuropathy: oxidative stress as pathological mechanism. Protective effect of silibinin. J Pain 13(3):276–284

30.

Marchand F, Perretti M, McMahon SB (2005) Role of the immune system in chronic pain. Nat Rev Neurosci 6:521–532

31.

Wieseler-Frank J, Maier SF, Watkins LR (2004) Glial activation and pathological pain. Neurochem Int 45:389–395

32.

Pacini A, Micheli L, Maresca M, Branca JJ, McIntosh JM, Ghelardini C, Di Cesare Mannelli L (2016) The α9α10 nicotinic receptor antagonist α-conotoxin RgIA prevents neuropathic pain induced by oxaliplatin treatment. Exp Neurol 282:37–48

33.

Smith EM, Pang H, Ye C, Cirrincione C, Fleishman S, Paskett ED, Ahles T, Bressler LR, Le-Lindqwister N, Fadul CE, Loprinzi C, Shapiro CL (2015) Alliance for clinical trials in oncology. Predictors of duloxetine response in patients with oxaliplatin-induced painful chemotherapy-induced peripheral neuropathy (CIPN): a secondary analysis of randomised controlled trial—CALGB/alliance 170601. Eur J Cancer Care (Engl). doi:10.1111/ecc.12421 (Epub ahead of print)

34.

Ling B, Coudoré F, Decalonne L, Eschalier A, Authier N (2008) Comparative antiallodynic activity of morphine, pregabalin and lidocaine in a rat model of neuropathic pain produced by one oxaliplatin injection. Neuropharmacology 55:724–728

35.

Fernandes M, Kluwe S, Coper H (1977) The development of tolerance to morphine in the rat. Psychopharmacology (Berl) 54(2):197–201

36.

Williams JT, Ingram SL, Henderson G, Chavkin C, von Zastrow M, Schulz S, Koch T, Evans CJ, Christie MJ (2013) Regulation of mu-opioid receptors: desensitization, phosphorylation, internalization, and tolerance. Pharmacol Rev 65(1):223–254

37.

Rashid MH, Ueda H (2002) Nonopioid and neuropathy-specific analgesic action of the nootropic drug nefiracetam in mice. J Pharmacol Exp Ther 303:226–231

38.

Ozcan M, Ayar A, Canpolat S, Kutlu S (2008) Antinociceptive efficacy of levetiracetam in a mice model for painful diabetic neuropathy. Acta Anaesthesiol Scand 52:926–930

39.

Farina C, Gagliardi S, Ghelardini C, Martinelli M, Norcini M, Parini C, Petrillo P, Ronzoni S (2008) Synthesis and biological evaluation of novel dimiracetam derivatives useful for the treatment of neuropathic pain. Bioorg Med Chem 16(6):3224–3232

40.

Di Cesare Mannelli L, Maresca M, Farina C, Scherz MW, Ghelardini C (2015) A model of neuropathic pain induced by sorafenib in the rat: effect of dimiracetam. Neurotoxicology 50:101–107

41.

Micheva KD, Taylor CP, Smith SJ (2006) Pregabalin reduces the release of synaptic vesicles from cultured hippocampal neurons. Mol Pharmacol 70:467–476

42.

Di Cesare Mannelli L, Marcoli M, Micheli L, Zanardelli M, Maura G, Ghelardini C, Cervetto C (2015) Oxaliplatin evokes P2 × 7-dependent glutamate release in the cerebral cortex: a pain mechanism mediated by Pannexin 1. Neuropharmacology. 97:133–141

43.

Werry EL, Liu GJ, Bennett MR (2006) Glutamate-stimulated ATP release from spinal cord astrocytes is potentiated by substance P. J Neurochem 99:924–936
Acknowledgements
This research was funded by the Italian Ministry of Instruction, University and Research (MIUR), University of Florence and Metys Pharmaceuticals.
Ethics declarations
Conflict of interest
CG, MS, and CF have a patent (patent n. EP2857017) issued. MS and CF report personal fees, outside the submitted work, from Metys Pharma as CEO and as employee, respectively. LDCM, MM, and LM declare that have no conflict of interest.
Ethical approval
All applicable international, national, and/or institutional guidelines for the care and use of animals were followed. Procedures were approved by the Italian Ministry of Health, decree No. 54/2014B.
About this article
Cite this article
Di Cesare Mannelli, L., Maresca, M., Micheli, L. et al. A rat model of FOLFOX-induced neuropathy: effects of oral dimiracetam in comparison with duloxetine and pregabalin. Cancer Chemother Pharmacol 80, 1091–1103 (2017). https://doi.org/10.1007/s00280-017-3449-8
Received:

Accepted:

Published:

Issue Date:
Keywords
FOLFOX

Oxaliplatin

Pain model

Neuropathy

Dimiracetam

Pregabalin

HT-29