Abstract
Purpose
The present study was aimed at investigating whether imatinib pharmacogenetics is related to its pharmacodynamics in patients affected by chronic myeloid leukemia.
Methods
Through a procedure based on a sequence of classical statistics methods, we investigated the possible relationships between treatment efficacy/tolerability and combinations of time-independent variables as gender and genetic covariates in the form of single nucleotide polymorphisms (SNPs) or combinations thereof. Moreover, since the drug tolerability has a strong incidence on the discontinuation of the therapy, we investigated whether the time of manifestation of the most frequent toxic effects can be related to time-independent patients' characteristics or not.
Results
We found that a combination of two polymorphisms, namely hOCT1 c.480C>G (rs683369) and ABCB1 c.3435C>T (rs1045642), seems to play the role of predictor for imatinib in both efficacy and toxicity. Furthermore, the time of manifestation of edema toxicity is found to be associated to a combination of gender and ABCB1 c.3435C>T, whereas the time of manifestation of cramp toxicity appears related to gender.
Conclusions
The novelty of this study is dual: the achievement of results that potentially have a significant clinical interest and the demonstration that the adoption of composed covariates may represent a unique tool to study different aspects of the treatment with imatinib.
This is a preview of subscription content,
to check access.
Access this article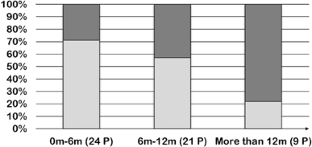 Similar content being viewed by others
References
Hochhaus A, O'Brien SG, Guilhot F et al (2009) Six-year follow-up of patients receiving imatinib for the first-line treatment of chronic myeloid leukemia. Leukemia 23:1054–1061

Larson RA, Hochhaus A, Hughes TP et al (2012) Nilotinib vs imatinib in patients with newly diagnosed Philadelphia chromosome-positive chronic myeloid leukemia in chronic phase: ENESTnd 3-year follow-up. Leukemia 26:2197–2203

Jabbour E, Kantarjian HM, Saglio G et al (2014) Early response with dasatinib or imatinib in chronic myeloid leukemia: 3-year follow-up from a randomized phase 3 trial (DASISION). Blood 123:494–500

Hanfstein B, Müller MC, Hehlmann R et al (2012) Early molecular and cytogenetic response is predictive for long-term progression-free and overall survival in chronic myeloid leukemia (CML). Leukemia 26:2096–2102

Marin D, Ibrahim AR, Lucas C et al (2012) Assessment of BCR-ABL1 transcript levels at 3 months is the only requirement for predicting outcome for patients with chronic myeloid leukemia treated with tyrosine kinase inhibitors. J Clin Oncol 30:232–238

Breccia M, Alimena G, Baccarani M et al (2014) Current management of CML patients: Summary of the Italian Consensus Meeting held in Rome, April 11–12, 2013. Crit Rev Oncol Hematol 90:181–189

Baccarani M, Deininger MW, Rosti G et al (2013) European LeukemiaNet recommendations for the management of chronic myeloid leukemia: 2013. Blood 122:872–884

Tauchi T, Kizaki M, Okamoto S et al (2011) Seven-year follow-up of patients receiving imatinib for the treatment of newly diagnosed chronic myelogenous leukemia by the TARGET system. Leuk Res 35:585–590

Ibrahim AR, Eliasson L, Apperley JF et al (2011) Poor adherence is the main reason for loss of CCyR and imatinib failure for chronic myeloid leukemia patients on long-term therapy. Blood 117:3733–3736

Awidi A, Salem, II, Najib N et al (2010) Determination of imatinib plasma levels in patients with chronic myeloid leukemia by high performance liquid chromatography-ultraviolet detection and liquid chromatography-tandem mass spectrometry: methods' comparison. Leuk Res 34:714–717

Gotta V, Widmer N, Montemurro M et al (2012) Therapeutic drug monitoring of imatinib: Bayesian and alternative methods to predict trough levels. Clin Pharmacokinet 51:187–201

Rezende VM, Rivellis A, Novaes MM et al (2013) Quantification of imatinib in human serum: validation of a high-performance liquid chromatography-mass spectrometry method for therapeutic drug monitoring and pharmacokinetic assays. Drug Des Devel Ther 7:699–710

Guilhot F, Hughes TP, Cortes J et al (2012) Plasma exposure of imatinib and its correlation with clinical response in the Tyrosine Kinase Inhibitor Optimization and Selectivity Trial. Haematologica 97:731–738

Zhong JS, Meng FY, Xu D (2012) Correlation between imatinib trough concentration and efficacy in Chinese chronic myelocytic leukemia patients. Acta Haematol 127:221–227

Sohn SK, Oh SJ, Kim BS et al (2011) Trough plasma imatinib levels are correlated with optimal cytogenetic responses at 6 months after treatment with standard dose of imatinib in newly diagnosed chronic myeloid leukemia. Leuk Lymphoma 52:1024–1029

Forrest DL, Trainor S, Brinkman RR et al (2009) Cytogenetic and molecular responses to standard-dose imatinib in chronic myeloid leukemia are correlated with Sokal risk scores and duration of therapy but not trough imatinib plasma levels. Leuk Res 33:271–275

Faber E, Friedecký D, Mičová K et al (2012) Imatinib trough plasma levels do not correlate with the response to therapy in patients with chronic myeloid leukemia in routine clinical setting. Ann Hematol 91:923–929

Saborowski M, Kullak-Ublick GA, Eloranta JJ (2006) The human organic cation transporter-1 gene is transactivated by hepatocyte nuclear factor-4alpha. J Pharmacol Exp Ther 317:778–785

Ciarimboli G, Struwe K, Arndt P et al (2004) Regulation of the human organic cation transporter hOCT1. J Cell Physiol 201:420–428

Di Paolo A, Polillo M, Capecchi M et al (2014) The c.480C>G polymorphism of hOCT1 influences imatinib clearance in patients affected by chronic myeloid leukemia. Pharmacogenomics J 14:328–335

Angelini S, Soverini S, Ravegnini G (2013) Association between imatinib transporters and metabolizing enzymes genotype and response in newly diagnosed chronic myeloid leukemia patients receiving imatinib therapy. Haematologica 98:193–200

Koren-Michowitz M, Buzaglo Z, Ribakovsky E et al (2014) OCT1 genetic variants are associated with long term outcomes in imatinib treated chronic myeloid leukemia patients. Eur J Haematol 92:283–288

Watkins DB, Hughes TP, White DL (2015) OCT1 and imatinib transport in CML: is it clinically relevant? Leukemia 29:1960–1969

Vivona D, Lima LT, Rodrigues AC et al (2014) ABCB1 haplotypes are associated with P-gp activity and affect a major molecular response in chronic myeloid leukemia patients treated with a standard dose of imatinib. Oncol Lett 7:1313–1319

Au A, Aziz Baba A, Goh AS et al (2014) Association of genotypes and haplotypes of multi-drug transporter genes ABCB1 and ABCG2 with clinical response to imatinib mesylate in chronic myeloid leukemia patients. Biomed Pharmacother 68:343–349

Kim DH, Sriharsha L, Xu W et al (2009) Clinical relevance of a pharmacogenetic approach using multiple candidate genes to predict response and resistance to imatinib therapy in chronic myeloid leukemia. Clin Cancer Res 15:4750–4758

Petain A, Kattygnarath D, Azard J, Chatelut E, Delbaldo C, Georger B, Barrois M, Séronie-Vivien S, LeCesne A, Vassal G, Innovative therapies with Children with Cancer European Consortium (2008) Population pharmacokinetics and pharmacogenetics of imatinib in children and adults. Clin Cancer Res 14:7102–7109

The R Project for Statistical Computing. http://www.r-project.org

Kantarjian H, Cortes JE (2014) Complete Cytogenetic Response, not Deep Molecular Response, is associated with survival in Chronic Myeloid Leukemia. J Clin Oncol 32:3077

Singh O, Chan JY, Lin K et al (2012) SLC22A1-ABCB1 haplotype profiles predict imatinib pharmacokinetics in Asian patients with chronic myeloid leukemia. PLoS ONE 7:e51771

Jiang ZP, Zhao XL, Takahashi N, Angelini S, Dubashi B, Sun L, Xu P (2017) Trough concentration and ABCG2 polymorphism are better to predict imatinib response in chronic myeloid leukemia: a meta-analysis. Pharmacogenomics 18:35–56
Acknowledgements
We would like to thank all patients who accepted to participate in the TIKlet study. Funds from the Regione Toscana to G.C. and from University of Pisa (PRA grant) to A.D.P. are gratefully acknowledged.
Ethics declarations
Conflict of interest
ADP and SG served as board members for Novartis Pharma SpA. The other Authors declare that they have no conflict of interest. Furthermore, the present study was performed according to the TIKlet protocol that was approved by the Ethics Committees and every patient gave his/her informed consent to the trial participation.
Additional information
L. Galeotti and F. Ceccherini have equally contributed to the study.
About this article
Cite this article
Galeotti, L., Ceccherini, F., Domingo, D. et al. Association of the hOCT1/ABCB1 genotype with efficacy and tolerability of imatinib in patients affected by chronic myeloid leukemia. Cancer Chemother Pharmacol 79, 767–773 (2017). https://doi.org/10.1007/s00280-017-3271-3
Received:

Accepted:

Published:

Issue Date:

DOI: https://doi.org/10.1007/s00280-017-3271-3
Keywords