Abstract
Hepatocellular carcinoma is a lethal cancer with high recurrence ratio and lacks effective therapeutics. In the past few years, it has been reported that increased intake of vegetables and fruits could reduce the cancer incidence, which suggests dietary agents might possess anticancer effects. Eriocitrin is a flavonoid isolated from lemon, which is known as a strong antioxidant agent. We here for the first time demonstrated that eriocitrin could inhibit the proliferation of hepatocellular carcinoma cell lines by arresting cell cycle in S phase through up-regulation of p53, cyclin A, cyclin D3 and CDK6. Furthermore, we found that eriocitrin could trigger apoptosis by activating mitochondria-involved intrinsic signaling pathway. Thus, eriocitrin might be regarded as a potential chemopreventive natural product to inhibit the early malignant transformation of hepatocellular carcinoma.
Access options
Buy single article
Instant access to the full article PDF.
US$ 39.95
Tax calculation will be finalised during checkout.
Subscribe to journal
Immediate online access to all issues from 2019. Subscription will auto renew annually.
US$ 119
Tax calculation will be finalised during checkout.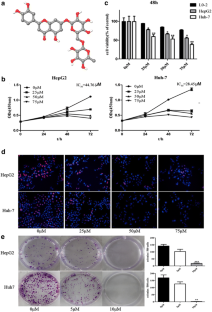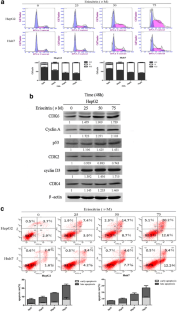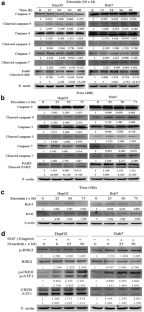 References
1.

World Health Organization (WHO) (2014) Global battle against cancer won't be won with treatment alone effective prevention measures urgently needed to prevent cancer crisis. Cent Eur J Publ Health 22(23):28

2.

Forner A, Llovet JM, Bruix J (2012) Hepatocellular carcinoma. Lancet 379:1245–1255

3.

Llovet JM, Bruix J (2008) Molecular targeted therapies in hepatocellular carcinoma. Hepatology 48:1312–1327

4.

Lu SC (2010) Where are we in the chemoprevention of hepatocellular carcinoma? Hepatology 51:734–736

5.

Song MJ (2015) Hepatic artery infusion chemotherapy for advanced hepatocellular carcinoma. World J Gastroenterol 21:3843–3849

6.

Key TJ (2010) Fruit and vegetables and cancer risk. Br J Cancer 104:6–11

7.

Reddy L, Odhav B, Bhoola KD (2003) Natural products for cancer prevention: a global perspective. Pharmacol Ther 99:1–13

8.

Lee KW, Bode AM, Dong Z (2011) Molecular targets of phytochemicals for cancer prevention. Nat Rev Cancer 11:211–218

9.

Gonzalez-Molina E, Dominguez-Perles R, Moreno DA, Garcia-Viguera C (2010) Natural bioactive compounds of Citrus limon for food and health. J Pharm Biomed Anal 51:327–345

10.

Li C, Zug C, Qu H, Schluesener H, Zhang Z (2015) Hesperidin ameliorates behavioral impairments and neuropathology of transgenic APP/PS1 mice. Behav Brain Res 281:32–42

11.

Bacanli M, Basaran AA, Basaran N (2015) The antioxidant and antigenotoxic properties of citrus phenolics limonene and naringin. Food Chem Toxicol 81:160–170

12.

Banjerdpongchai R, Wudtiwai B, Khaw-On P, Rachakhom W, Duangnil N, Kongtawelert P (2016) Hesperidin from Citrus seed induces human hepatocellular carcinoma HepG2 cell apoptosis via both mitochondrial and death receptor pathways. Tumour Biol 37(1):227–237

13.

Miyake Y, Yamamoto K, Tsujihara N, Osawa T (1998) Protective effects of lemon flavonoids on oxidative stress in diabetic rats. Lipids 33:689–695

14.

K-i Minato, Miyake Y, Fukumoto S, Yamamoto K, Kato Y, Shimomura Y et al (2003) Lemon flavonoid, eriocitrin, suppresses exercise-induced oxidative damage in rat liver. Life Sci 72:1609–1616

15.

Hiramitsu M, Shimada Y, Kuroyanagi J, Inoue T, Katagiri T, Zang L et al (2014) Eriocitrin ameliorates diet-induced hepatic steatosis with activation of mitochondrial biogenesis. Sci Rep 4:3708

16.

Wang Y, Yu H, Zhang J, Gao J, Ge X, Lou G (2015) Hesperidin inhibits HeLa cell proliferation through apoptosis mediated by endoplasmic reticulum stress pathways and cell cycle arrest. BMC Cancer 15:682

17.

Schrödinger Release 2015-2 (2015) Maestro, version 10.2, Schrödinger, LLC, New York

18.

Whitfield ML, George LK, Grant GD, Perou CM (2006) Common markers of proliferation. Nat Rev Cancer 6:99–106

19.

Musgrove EA, Caldon CE, Barraclough J, Stone A, Sutherland RL (2011) Cyclin D as a therapeutic target in cancer. Nat Rev Cancer 11:558–572

20.

Lee J, Kim SS (2009) The function of p27 KIP1 during tumor development. Exp Mol Med 41:765–771

21.

Chen J (2016) The cell-cycle arrest and apoptotic functions of p53 in tumor initiation and progression. Cold Spring Harb Perspect Med 6(3):a026104

22.

Shalini S, Dorstyn L, Dawar S, Kumar S (2014) Old, new and emerging functions of caspases. Cell Death Differ 22:526–539

23.

Delbridge AR, Grabow S, Strasser A, Vaux DL (2016) Thirty years of BCL-2: translating cell death discoveries into novel cancer therapies. Nat Rev Cancer 16:99–109

24.

Liu K, Cho YY, Yao K, Nadas J, Kim DJ, Cho EJ et al (2011) Eriodictyol inhibits RSK2-ATF1 signaling and suppresses EGF-induced neoplastic cell transformation. J Biol Chem 286:2057–2066

25.

Bruix J, Han KH, Gores G, Llovet JM, Mazzaferro V (2015) Liver cancer: approaching a personalized care. J Hepatol 62:S144–S156

26.

Demain AL, Vaishnav P (2011) Natural products for cancer chemotherapy. Microb Biotechnol 4:687–699

27.

O'Leary B, Finn RS, Turner NC (2016) Treating cancer with selective CDK4/6 inhibitors. Nat Rev Clin Oncol 13(7):417–430

28.

Malumbres M, Barbacid M (2005) Mammalian cyclin-dependent kinases. Trends Biochem Sci 30:630–641

29.

Mateo F, Vidal-Laliena M, Canela N, Busino L, Martinez-Balbas MA, Pagano M et al (2009) Degradation of cyclin A is regulated by acetylation. Oncogene 28:2654–2666

30.

Hydbring P, Malumbres M, Sicinski P (2016) Non-canonical functions of cell cycle cyclins and cyclin-dependent kinases. Nat Rev Mol Cell Biol 17(5):280-292

31.

Inoue S, Browne G, Melino G, Cohen GM (2009) Ordering of caspases in cells undergoing apoptosis by the intrinsic pathway. Cell Death Differ 16:1053–1061

32.

Sebolt-Leopold JS, Herrera R (2004) Targeting the mitogen-activated protein kinase cascade to treat cancer. Nat Rev Cancer 4:937–947

33.

Manson MM (2003) Cancer prevention—the potential for diet to modulate molecular signalling. Trends Mol Med 9:11–18

34.

Henderson AJ, Ollila CA, Kumar A, Borresen EC, Raina K, Agarwal R et al (2012) Chemopreventive properties of dietary rice bran: current status and future prospects. Adv Nutr: Int Rev J 3:643–653
Acknowledgements
This work was supported by National Natural Science Foundation of China (31170676, 81300398), Natural Science Foundation of Guangdong Province, China (2015A030313518), Scientific Research Foundation for the Returned Overseas Chinese Scholars, State Education Ministry (2014-1685) and Scientific Research Foundation for Returned Overseas Scholars of Guangdong Medical College, China (B2012082). This work was also supported by the funds from 2013 Sail Plan "the introduction of the Shortage of Top-Notch Talent" Project (YueRenCai-Ban [2014] 1), Science and Technology Planning Project (2013B021800072) and Education Discipline Construction Project (2013KJCX0090) of Guangdong Province, China.
Ethics declarations
Conflict of interest
The authors have declared that there are no conflict of interests to disclose.
Additional information
Ziyou Wang and Hua Zhang have contributed equally to this work.
About this article
Cite this article
Wang, Z., Zhang, H., Zhou, J. et al. Eriocitrin from lemon suppresses the proliferation of human hepatocellular carcinoma cells through inducing apoptosis and arresting cell cycle. Cancer Chemother Pharmacol 78, 1143–1150 (2016). https://doi.org/10.1007/s00280-016-3171-y
Received:

Accepted:

Published:

Issue Date:
Keywords
Eriocitrin

Hepatocellular carcinoma

Cell cycle arrest

Apoptosis