Abstract
Purpose
To compare the pharmacokinetics of 13-cis retinoic acid (13-cisRA) between Indian and UK neuroblastoma patients receiving comparable treatment, alongside measures of toxicity and response.
Methods
13-cisRA (160 mg/m2/day) was administered to 36 patients ≤16 years in two divided doses. Plasma 13-cisRA concentrations were determined on days 1 and 14 of cycles 1 and 4 of treatment. Area under the plasma concentration–time curve (AUC0–6h) was estimated using non-compartment modelling. Patients were genotyped for UGT2B7, CYP3A5*3, CYP3A7*2 and *2, *3 and *4 variants of CYP2C8.
Results
Marked inter-patient variability in 13-cisRA pharmacokinetics was observed. There was a trend towards a higher AUC0–6h on day 1 versus day 14 for both treatment cycles studied. Children who swallowed 13-cisRA capsules (n = 18) achieved higher AUC0–6h values compared to those who could not (n = 16) (Mean AUC 21.53 vs. 9.35 µM h, P < 0.05). Patients who were event free at 1 year tended to have higher AUC0–6h on C1D1 compared to those patients who progressed, although this did not reach significance with the number of patients studied (P = 0.08). Similarly, patients who achieved a 13-cisRA C max of ≥2 µM on C1D1 tended to have higher median EFS compared to those who did not (17.0 vs. 8.1 months). UGT2B7, CYP2C8*2/*3/*4 or CYP3A5*3 genotype did not have any effect on 13-cisRA pharmacokinetics.
Conclusions
Method of administration markedly affects 13-cisRA pharmacokinetics in Indian neuroblastoma patients, supporting similar findings in UK patients. An appropriate oral liquid formulation of 13-cisRA that can be administered to all children with neuroblastoma is urgently needed on an international level.
This is a preview of subscription content, log in to check access.
Access options
Buy single article
Instant access to the full article PDF.
US$ 39.95
Price includes VAT for USA
Subscribe to journal
Immediate online access to all issues from 2019. Subscription will auto renew annually.
US$ 199
This is the net price. Taxes to be calculated in checkout.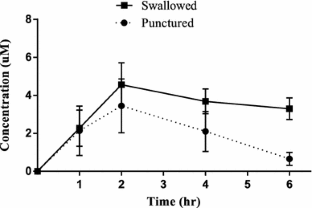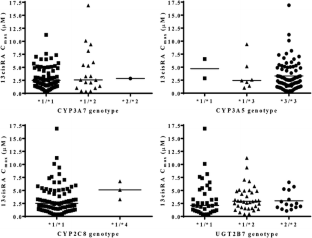 References
1.

Veal GJ, Cole M, Errington J, Pearson AD, Foot AB, Whyman G, Boddy AV (2007) Pharmacokinetics and metabolism of 13-cis-retinoic acid (13-cisRA) in children with high-risk neuroblastoma—a study of the United Kingdom Children's Cancer Study Group. Br J Cancer 96(3):424–431

2.

Matthay KK, Villablanca JG, Seeger RC, StramDO Harris RE, Ramsay NK, Swift P, Shimada H, Black CT, Brodeur GM, Gerbing RB, Reynolds CP (1999) Treatment of high-risk neuroblastoma with intensive chemotherapy, radiotherapy, autologous bone marrow transplantation and 13-cisretinoic acid. New Engl J Med 341:1165–1173

3.

Matthay KK, Reynolds CP (2000) Is there a role for retinoids to treat minimal residual disease in neuroblastoma? Br J Cancer 83:1121–1123

4.

Veal G, Rowbotham S, Boddy A (2007) Pharmacokinetics and pharmacogenetics of 13-cis-retinoic acid in the treatment of neuroblastoma. Therapie 62(2):91–93

5.

Veal GJ, Errington J, Rowbotham S, Illingworth NA, Malik G, Cole M, Daly AK, Pearson AD, Boddy AV (2013) Adaptive dosing approaches to the individualization of 13-cisRA in treatment for children with high risk neuroblastoma. Clin Cancer Res 19(2):469–479. doi:10.1158/1078-0432.CCR-12-2225

6.

Khan AA, Villablanca JG, Reynolds CP, Avramis VI (1999) Pharmacokinetic studies of 13-cis-retinoic acid in pediatric patients with neuroblastoma following bone marrow transplantation. Cancer Chemother Pharmacol 39:34–41

7.

Marill J, Capron CC, Idres N, Chabot GG (2002) Human cytochrome P450s involved in the metabolism of 9-cis- and 13-cis-retinoic acids. Biochem Pharmacol 63:933–943

8.

Rowbotham SE, Illingworth NA, Daly AK, Veal GJ, Boddy AV (2010) Role of UDP-glucuronosyltransferase isoforms in 13-cis retinoic acid metabolism in humans. Drug Metab Dispos 38(7):1211–1217. doi:10.1124/dmd.109.031625

9.

Guidance for industry: bioanalytical method validation. www.fda.gov/downloads/Drugs/GuidanceComplianceRegulatoryInformation/Guidances/UCM070107.pdf. Accessed Sept 2015

10.

Bauters TG, Laureys G, Van de Velde V, Benoit Y, Robays H (2011) Practical implications for the administration of 13-cis retinoic acid in pediatric oncology. Int J Clin Pharm 33:597–598. doi:10.1007/s11096-011-9519-9

11.

EMEA Evaluation of Medicines for Human Use: Overview of comments received on list of paediatric needs oncology I (cytotoxic therapy). http://www.ema.europa.eu/docs/en_GB/document_library/Other/2009/10/WC500004052.pdf. Assessed June 2016

12.

Sonawane P, Cho HE, Tagde A, Verlekar D, Yu AL, Reynolds CP, Kang MH (2014) Metabolic characteristics of 13-cis-retinoic acid (isotretinoin) and anti-tumour activity of the 13-cis-retinoic acid metabolite 4-oxo-13-cis-retinoic acid in neuroblastoma. Br J pharmacol 171:5330–5344. doi:10.1111/bph.12846

13.

Israels T, Damen CW, Cole M, van Geloven N, Boddy AV, Caron HN, Beijnen JH, Molyneux EM, Veal GJ (2010) Malnourished Malawian patients presenting with large Wilms tumours have a decreased vincristine clearance rate. Eur J Cancer 46:1841–1847. doi:10.1016/j.ejca.2010.03.002
Acknowledgments
We thank the Terry Fox Foundation for providing financial support through the Tata Memorial Centre intramural grant. The authors are also grateful to UICC for the ICRETT fellowship offered to Dr. Vikram Gota which facilitated his training in HPLC at Northern Institute of Cancer Research. The authors are also thankful to Ms. Julie Errington for imparting this training.
Funding
The study was funded by the Terry Fox Foundation through the Tata Memorial Centre Intramural Grant (Grant No. 716 dated December 21, 2011).
Ethics declarations
Conflict of interest
None.
Electronic supplementary material
Below is the link to the electronic supplementary material.
About this article
Cite this article
Gota, V., Chinnaswamy, G., Vora, T. et al. Pharmacokinetics and pharmacogenetics of 13-cis retinoic acid in Indian high-risk neuroblastoma patients. Cancer Chemother Pharmacol 78, 763–768 (2016). https://doi.org/10.1007/s00280-016-3126-3
Received:

Accepted:

Published:

Issue Date:
Keywords
13-cis retinoic acid

Neuroblastoma

Pharmacokinetics

Pharmacogenetics

Drug formulation