Abstract
Purpose
Vitamin E delta-tocotrienol (VEDT) has demonstrated chemopreventive and antineoplastic activity in preclinical models. The aim of our study was to determine the safety and pharmacokinetics of VEDT and its metabolites after single- and multiple-dose administrations in healthy subjects.
Methods
Thirty-six subjects received from 100 to 1600 mg of oral VEDT as a single dose or twice daily for 14 consecutive days. A 3 + 3 dose escalation design was utilized. Pharmacokinetic data were derived from high-performance liquid chromatography (HPLC) assays. Serial blood and urine samples were collected before and during VEDT administration, with serum and urine metabolites assessed using HPLC.
Results
No drug-related adverse events were observed. Pharmacokinetic parameters for single and multiple doses were, respectively, as follows (shown as range): time to maximum concentration of 4–9.3 and 4.7–7.3 h, maximum concentration of 795.6–3742.6 and 493.3–3746 ng/mL, half-life of 1.7–5.9 and 2.3–6.9 h, and 0–12 h area under the curve of 4518.7–20,781.4 and 1987.7–22,171.2 ng h/mL. Plasma tocotrienols were significantly increased after VEDT administration, indicating oral bioavailability of VEDT in humans. Plasma and urine levels of metabolites, δ-carboxyethyl hydroxychroman, and δ-carboxymethylbutyl hydroxychroman were elevated after VEDT administration in a dose-dependent manner and were 30–60 times significantly higher than δ-tocotrienol levels. VEDT can be safely administered at doses up to 1600 mg twice daily. Plasma VEDT concentrations were comparable to those obtained in VEDT-treated mice in which tumor growth was delayed.
Conclusions
Our results suggest that VEDT can be safely consumed by healthy subjects and achieve bioactive levels, supporting the investigation of VEDT for chemoprevention.
Access options
Buy single article
Instant access to the full article PDF.
USD 39.95
Price excludes VAT (USA)
Tax calculation will be finalised during checkout.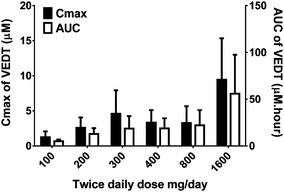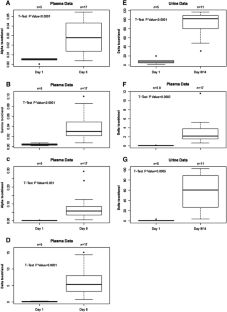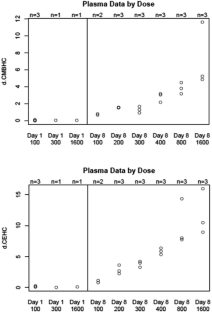 References
(1994) The effect of vitamin E and beta carotene on the incidence of lung cancer and other cancers in male smokers. The Alpha-Tocopherol, Beta Carotene Cancer Prevention Study Group. N Engl J Med 330:1029–1035

Brigelius-Flohe R, Kelly FJ, Salonen JT, Neuzil J, Zingg JM, Azzi A (2002) The European perspective on vitamin E: current knowledge and future research. Am J Clin Nutr 76:703–716

Fairus S, Nor RM, Cheng HM, Sundram K (2006) Postprandial metabolic fate of tocotrienol-rich vitamin E differs significantly from that of alpha-tocopherol. Am J Clin Nutr 84:835–842

Fairus S, Nor RM, Cheng HM, Sundram K (2012) Alpha-tocotrienol is the most abundant tocotrienol isomer circulated in plasma and lipoproteins after postprandial tocotrienol-rich vitamin E supplementation. Nutr J 11:5

Fu JY, Che HL, Tan DM, Teng KT (2014) Bioavailability of tocotrienols: evidence in human studies. Nutr Metab (Lond) 11:5

Guan F, Li G, Liu AB, Lee MJ, Yang Z, Chen YK, Lin Y, Shih W, Yang CS (2012) delta- and gamma-tocopherols, but not alpha-tocopherol, inhibit colon carcinogenesis in azoxymethane-treated F344 rats. Cancer Prev Res (Phila) 5:644–654

Gupta SC, Kim JH, Prasad S, Aggarwal BB (2010) Regulation of survival, proliferation, invasion, angiogenesis, and metastasis of tumor cells through modulation of inflammatory pathways by nutraceuticals. Cancer Metastasis Rev 29:405–434

Husain K, Centeno BA, Chen DT, Fulp WJ, Perez M, Zhang Lee G, Luetteke N, Hingorani SR, Sebti SM, Malafa MP (2013) Prolonged survival and delayed progression of pancreatic intraepithelial neoplasia in LSL-KrasG12D/+; Pdx-1-Cre mice by vitamin E delta-tocotrienol. Carcinogenesis 34:858–863

Husain K, Centeno BA, Chen DT, Hingorani SR, Sebti SM, Malafa MP (2013) Vitamin E delta-tocotrienol prolongs survival in the LSL-KrasG12D/+; LSL-Trp53R172H/+; Pdx-1-Cre (KPC) transgenic mouse model of pancreatic cancer. Cancer Prev Res (Phila) 6:1074–1083

Husain K, Francois RA, Hutchinson SZ, Neuger AM, Lush R, Coppola D, Sebti S, Malafa MP (2009) Vitamin E delta-tocotrienol levels in tumor and pancreatic tissue of mice after oral administration. Pharmacology 83:157–163

Husain K, Francois RA, Yamauchi T, Perez M, Sebti SM, Malafa MP (2011) Vitamin E delta-tocotrienol augments the antitumor activity of gemcitabine and suppresses constitutive NF-kappaB activation in pancreatic cancer. Mol Cancer Ther 10:2363–2372

Jiang Q (2014) Natural forms of vitamin E: metabolism, antioxidant, and anti-inflammatory activities and their role in disease prevention and therapy. Free Radic Biol Med 72:76–90

Khosla P, Patel V, Whinter JM, Khanna S, Rakhkovskaya M, Roy S, Sen CK (2006) Postprandial levels of the natural vitamin E tocotrienol in human circulation. Antioxid Redox Signal 8:1059–1068

Lippman SM, Klein EA, Goodman PJ, Lucia MS, Thompson IM, Ford LG, Parnes HL, Minasian LM, Gaziano JM, Hartline JA, Parsons JK, Bearden JD 3rd, Crawford ED, Goodman GE, Claudio J, Winquist E, Cook ED, Karp DD, Walther P, Lieber MM, Kristal AR, Darke AK, Arnold KB, Ganz PA, Santella RM, Albanes D, Taylor PR, Probstfield JL, Jagpal TJ, Crowley JJ, Meyskens FL Jr, Baker LH, Coltman CA Jr (2009) Effect of selenium and vitamin E on risk of prostate cancer and other cancers: the Selenium and Vitamin E Cancer Prevention Trial (SELECT). JAMA 301:39–51

Liu HK, Wang Q, Li Y, Sun WG, Liu JR, Yang YM, Xu WL, Sun XR, Chen BQ (2010) Inhibitory effects of gamma-tocotrienol on invasion and metastasis of human gastric adenocarcinoma SGC-7901 cells. J Nutr Biochem 21:206–213

Luk SU, Yap WN, Chiu YT, Lee DT, Ma S, Lee TK, Vasireddy RS, Wong YC, Ching YP, Nelson C, Yap YL, Ling MT (2011) Gamma-tocotrienol as an effective agent in targeting prostate cancer stem cell-like population. Int J Cancer 128:2182–2191

Miyazawa T, Inokuchi H, Hirokane H, Tsuzuki T, Nakagawa K, Igarashi M (2004) Anti-angiogenic potential of tocotrienol in vitro. Biochemistry (Mosc) 69:67–69

Qureshi AA, Bradlow BA, Brace L, Manganello J, Peterson DM, Pearce BC, Wright JJ, Gapor A, Elson CE (1995) Response of hypercholesterolemic subjects to administration of tocotrienols. Lipids 30:1171–1177

Qureshi AA, Pearce BC, Nor RM, Gapor A, Peterson DM, Elson CE (1996) Dietary alpha-tocopherol attenuates the impact of gamma-tocotrienol on hepatic 3-hydroxy-3-methylglutaryl coenzyme A reductase activity in chickens. J Nutr 126:389–394

Qureshi AA, Sami SA, Salser WA, Khan FA (2002) Dose-dependent suppression of serum cholesterol by tocotrienol-rich fraction (TRF25) of rice bran in hypercholesterolemic humans. Atherosclerosis 161:199–207

Rasool AH, Yuen KH, Yusoff K, Wong AR, Rahman AR (2006) Dose dependent elevation of plasma tocotrienol levels and its effect on arterial compliance, plasma total antioxidant status, and lipid profile in healthy humans supplemented with tocotrienol rich vitamin E. J Nutr Sci Vitaminol (Tokyo) 52:473–478

Shibata A, Nakagawa K, Sookwong P, Tsuduki T, Oikawa S, Miyazawa T (2009) delta-Tocotrienol suppresses VEGF induced angiogenesis whereas alpha-tocopherol does not. J Agric Food Chem 57:8696–8704

Springett GM, Husain K, Neuger A, Centeno B, Chen DT, Hutchinson TZ, Lush RM, Sebti S, Malafa MP (2015) A phase I safety, pharmacokinetic, and pharmacodynamic presurgical trial of vitamin E delta-tocotrienol in patients with pancreatic ductal neoplasia. EBioMedicine 2:1987–1995

Sylvester PW, Ayoub NM (2013) Tocotrienols target PI3K/Akt signaling in anti-breast cancer therapy. Anticancer Agents Med Chem 13:1039–1047
Acknowledgments
We thank Rasa Hamilton (Moffitt Cancer Center) for editorial assistance.
Grants
The study was supported in part by National Cancer Institute Grant 1RO1 CA-129227-01A1. Our study also received valuable assistance from the Clinical Pharmacology Lab of the Translational Research Core Facility at the H. Lee Moffitt Cancer Center & Research Institute, an NCI designated Comprehensive Cancer Center (P30-CA076292).
Ethics declarations
Conflict of interest
Dr. Malafa is named as an inventor on the US Patent "Delta-Tocotrienol Treatment and Prevention of Pancreatic Cancer" (June 26, 2007; OTML docket number 06A069), but does not have financial interest in the companies that have licensed this patent. All other authors have no conflicts of interest to disclose.
Research involving human participants and/or animals and Informed consent
All participants provided written inform consent, and the study was conducted in accordance with the applicable guidelines on Good Clinical Practice.
About this article
Cite this article
Mahipal, A., Klapman, J., Vignesh, S. et al. Pharmacokinetics and safety of vitamin E δ-tocotrienol after single and multiple doses in healthy subjects with measurement of vitamin E metabolites. Cancer Chemother Pharmacol 78, 157–165 (2016). https://doi.org/10.1007/s00280-016-3048-0
Received:

Accepted:

Published:

Issue Date:

DOI: https://doi.org/10.1007/s00280-016-3048-0
Keywords