Abstract
Purpose
Triptolide induces cancer cell apoptosis by inhibiting RNA synthesis and signaling pathways like NF-κB. We compared triptolide prodrug MRx102 to triptolide to determine whether it displayed comparable efficacy and improved toxicology and toxicokinetic profiles.
Methods
MV4-11 AML cells and cells from AML patients were analyzed for MRx102- and triptolide-induced cytotoxicity/apoptosis. MRx102 and triptolide were compared in toxicology/toxicokinetics studies in rat and dog using a new emulsion formulation.
Results
MRx102 induced cytotoxicity in MV4-11 cells (IC50 = 15.2 nM, 7.29 nM for triptolide) and apoptosis in cells from AML patients (EC50 = 40.6 nM and 2.13 nM for triptolide). MRx102 and triptolide induced apoptosis in CD34+CD38− AML stem/progenitor cells with a similar difference in activity (EC50, MRx102 = 40.8 nM, triptolide = 2.14 nM). In a rat toxicology comparison using a new intravenous emulsion formulation, the MRx102 MTD was 4.5 mg/kg for males and 3 mg/kg for females; the triptolide MTD was 0.63 mg/kg for males and 0.317 mg/kg for females. The MRx102 NOAEL was 1.5–3.0 mg/kg, and the triptolide NOAEL was 0.05–0.15 mg/kg. Mean plasma concentrations for both MRx102 and triptolide decreased rapidly from a high C max following i.v. injection. Plasma triptolide levels stabilized at a consistent level through 2 h after MRx102 injection. Triptolide T 1/2,e values for MRx102-injected rats (~0.85 to ~3.7 h) were markedly greater than triptolide-injected rats (~0.15 to ~0.39 h), indicating more extended triptolide exposure with MRx102. MRx102 dog toxicology and toxicokinetics results are presented.
Conclusions
MRx102 was 20- to 60-fold safer than triptolide comparing rat NOAELs. This may be due to the improved toxicokinetic profile of MRx102 compared to triptolide using the emulsion formulation, with no high C max and more consistent early exposure to triptolide.
Access options
Buy single article
Instant access to the full article PDF.
US$ 39.95
Tax calculation will be finalised during checkout.
Subscribe to journal
Immediate online access to all issues from 2019. Subscription will auto renew annually.
US$ 119
Tax calculation will be finalised during checkout.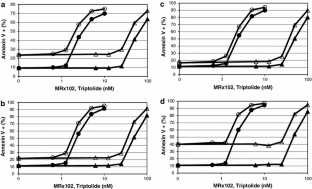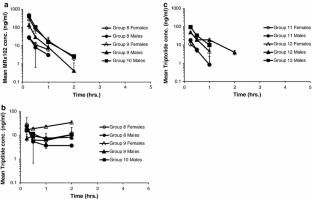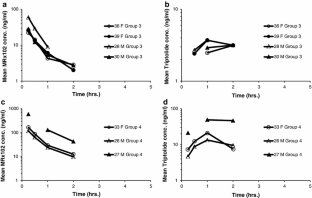 References
1.

Kupchan SM, Court WA, Dailey RG Jr, Gilmore CJ, Bryan RF (1972) Triptolide and tripdiolide, novel antileukemic diterpenoid triepoxides from Tripterygium wilfordii. J Am Chem Soc 94:7194–7195

2.

Su D, Song Y, Li R (1990) Comparative clinical study of rheumatoid arthritis treated by triptolide and an ethyl acetate extract of Tripterygium wilfordii. Zhong Xi Yi Jie He Za Zhi Mar 10:144–146

3.

Song HX, Gong J, Chen W (2005) Effect of triptolide on urinary monocyte chemoattractant protein-1 in patients with diabetic nephropathy. Zhongguo Zhong Xi Yi Jie He Za Zhi 25:416–418

4.

Lu LH, Lian YY, He GY, Lin SP, Huan SH, Chen ZZ, Dend HX, Zheng YL (1992) Clinical study of triptolide in treatment of acute leukemia. Clin Exp Investig Hematol 3:1–3

5.

Harousseau JL, Dombret H, Pigneux A, Michellet M, Brandely M (2008) Phase 1 study of F60008, a triptolide derivative, in patients with refractory or relapsing leukemia. Haematologica 93:14 (abstract 0038)

6.

Kitzen JJ, de Jonge MJ, Lamers CH, Eskens FA, van der Biessen D, van Doorn L, Ter Steeg J, Brandely M, Puozzo Ch, Verweij J (2009) Phase 1 dose escalation study of F60008, a novel apopotosis inducer in patients with solid tumors. Eur J Cancer 45:1764–1772. doi:10.1016/j.ejca.2009.01.026

7.

Itoh K, Friel J, Kluge N, Kina T, Kondo-Takaori A, Kawamata S, Uchiyama T, Ostertag W (1996) A novel hematopoietic multilineage clone, Myl-D-7, is stromal cell-dependent and supported by an alternative mechanism (s) independent of stem cell factor/c-kit interaction. Blood 87:3218–3228

8.

Itoh K, Tezuka H, Sakoda H, Konno M, Nagata K, Uchiyama T, Uchino H, Mori KJ (1989) Reproducible establishment of hemopoietic supportive stromal cell lines from murine bone marrow. Exp Hematol 17:145–153

9.

Konopleva M, Konoplev S, Hu W, Zaritskey AY, Afanasiev BV, Andreeff M (2002) Stroma cells prevent apoptosis of AML cells by upregulation of anti-apoptotic proteins. Leukemia 16:1713–1724

10.

Carter BZ, Mak DH, Schober WD, McQueen T, Harris D, Estrov Z, Evans RL, Andreeff M (2006) Triptolide induces caspase-dependent cell death mediated via the mitochondrial pathway in leukemic cells. Blood 108:630–637. doi:10.1182/blood-2005-09-3898

11.

Tengchaisri T, Chawengkirttikul R, Rachaphaew N, Reutrakul V, Sangsuwan R, Sirisinha S (1998) Antitumor activity of triptolide against cholangiocarcinoma growth in vitro and in hamsters. Cancer Lett 133:169–175

12.

Kiviharju TM, Lecane PS, Sellers RG, Peehl DM (2002) Antiproliferative and proapoptotic activities of triptolide (PG490), a natural product entering clinical trials, on primary cultures of human prostatic epithelial cells. Clin Cancer Res 8:2666–2674

13.

Shamon LA, Pezzuto JM, Graves JM, Mehta RR, Wangcharoentrakul S, Sangsuwan R, Chaichana S, Tuchinda P, Cleason P, Reutrakul V (1997) Evaluation of the mutagenic, cytotoxic, and antitumor potential of triptolide, a highly oxygenated diterpene isolated from tripterygium wilfordii. Cancer Lett 112:113–117

14.

Lee KY, Chang W, Qiu D, Kao PN, Rosen GD (1999) PG490 (triptolide) cooperates with tumor necrosis factor-alpha to induce apoptosis in tumor cells. J Biol Chem 274:13451–13455

15.

Chang WT, Kang JJ, Lee KY, Wei K, Anderson E, Gotmare S, Ross JA, Rosen GD (2001) Triptolide and chemotherapy cooperate in tumor cell apoptosis. A role for the p53 pathway. J Biol Chem 276:2221–2227 Epub 2000 Oct 26

16.

Mak DH, Schober WD, Chen W, Konopleva M, Cortes J, Kantarjian HM, Andreeff M, Carter BZ (2009) Triptolide induces cell death independent of cellular responses to imatinib in blast crisis chronic myelogenous leukemia cells including quiescent CD34+ primitive progenitor cells. Mol Cancer Ther 8:2509–2516. doi:10.1158/1535-7163

17.

Carter BZ, Mak DH, Shi Y, Fidler JM, Chen R, Ling X, Plunkett W, Andreeff M (2012) MRx102, a triptolide derivative, has potent antileukemic activity in vitro and in a murine model of AML. Leukemia 26:443–450. doi:10.1038/leu.2011.246

18.

Costello RT, Mallet F, Gaugler B, Sainty D, Arnoulet C, Gastaut JA, Olive D (2000) Human acute myeloid leukemia CD34+/CD38− progenitor cells have decreased sensitivity to chemotherapy and Fas-induced apoptosis, reduced immunogenicity, and impaired dendritic cell transformation capacities. Cancer Res 60:4403–4411

19.

Chugh R, Sangwan V, Patil SP, Dudeja V, Dawra RK, Banerjee S, Schumacher RJ, Blazar BR, Georg GI, Vickers SM, Saluja AK (2012) A preclinical evaluation of Minnelide as a therapeutic agent against pancreatic cancer. Sci Transl Med 4:156ra139. doi:10.1126/scitranslmed.3004334

20.

Titov DV, Gilman B, He QL, Bhat S, Low WK, Dang Y, Smeaton M, Demain AL, Miller PS, Kugel JF, Goodrich JA, Liu JO (2011) XPB, a subunit of TFIIH, is a target of the natural product triptolide. Nat Chem Biol 7:182–188. doi:10.1038/nchembio.522

21.

Vispe S, DeVries L, Creancier L, Besse J, Breand S, Hobson DJ, Svejstrup JQ, Annereau JP, Cussac D, Dumontet C, Guilbaud N, Barret JM, Bailly C (2009) Triptolide is an inhibitor of RNA polymerase I and II-dependent transcription leading predominantly to down-regulation of shortlived mRNA. Mol Cancer Ther 8:2780–2790. doi:10.1158/1535-7163

22.

Leuenroth SJ, Crews CM (2008) Triptolide-induced transcriptional arrest is associated with changes in nuclear substructure. Cancer Res 68:5257–5266. doi:10.1158/0008-5472

23.

Bensaude O (2011) Inhibiting eukaryotic transcription: which compound to choose? How to evaluate its activity? Transcription 2:103–108. doi:10.4161/trns.2.3.16172

24.

Manzo SG, Zhou ZL, Wang YQ, Marinello J, He JX, Li YC, Ding J, Capranico G, Miao ZH (2012) Natural product triptolide mediates cancer cell death by triggering CDK7-dependent degradation of RNA polymerase II. Cancer Res 72:5363–5373. doi:10.1158/0008-5472

25.

Xue M, Zhao Y, Li XJ, Jiang ZZ, Zhang L, Liu SH, Li XM, Zhang LY, Yang SY (2012) Comparison of toxicokinetic and tissue distribution of triptolide-loaded solid lipid nanoparticles vs free triptolide in rats. Eur J Pharm Sci 47:713–717. doi:10.1016/j.ejps.2012.05.012

26.

Mei Z, Chen H, Weng T, Yang Y, Yang X (2003) Solid lipid nanoparticle and microemulsion for topical delivery of triptolide. Eur J Pharm Biopharm 56:189–196

27.

Chen JG, Liu YF, Gao TW (2010) Preparation and anti-inflammatory activity of triptolide ethosomes in an erythema model. J Liposome Res 20:297–303. doi:10.3109/08982100903544144

28.

Li H, Wen XS, Di W (2012) In vitro and in vivo evaluation of triptolide-loaded pluronic P105 polymeric micelles. Arzneimittelforschung 62:340–344. doi:10.1055/s-0032-1312602

29.

Wang Y, Lu JJ, He L, Yu Q (2011) Triptolide (TPL) inhibits global transcription by inducing proteasome-dependent degradation of RNA polymerase II (Pol II). PLoS One 6:e23993. doi:10.1371/journal.pone.0023993
Acknowledgments
This work was supported in part by grants from the National Institutes of Health (P01 CA055164 and MD Anderson's Cancer Center Support Grant CA016672) and by the Paul and Mary Haas Chair in Genetics to MA and NCI SBIR Contract HHSN261200900061C to MyeloRx LLC with J.M.F as the Principal Investigator. The efforts of Jill Fogelman and Steven Sloneker in the toxicology and toxicokinetics studies at Calvert Laboratories, Inc., and of Steve Noonan and Henry Lopez in the studies with triptolide and MRx102 at Murigenics, Inc., are acknowledged.
Conflict of interest
J.M.F. and J.A. are employees of MyeloRx LLC. The other authors have no conflict of interest.
About this article
Cite this article
Fidler, J.M., An, J., Carter, B.Z. et al. Preclinical antileukemic activity, toxicology, toxicokinetics and formulation development of triptolide derivative MRx102. Cancer Chemother Pharmacol 73, 961–974 (2014). https://doi.org/10.1007/s00280-014-2428-6
Received:

Accepted:

Published:

Issue Date:
Keywords
AML

Prodrug

Leukemia

Triptolide

MRx102

Toxicology

Toxicokinetics