Abstract
Purpose
Curcumin has shown a variety of biological activity for various human diseases including cancer in preclinical setting. Its poor oral bioavailability poses significant pharmacological barriers to its clinical application. Here, we established a practical nano-emulsion curcumin (NEC) containing up to 20% curcumin (w/w) and conducted the pharmacokinetics of curcuminoids and curcumin metabolites in mice.
Methods
This high loading NEC was formulated based on the high solubility of curcumin in polyethylene glycols (PEGs) and the synergistic enhancement of curcumin absorption by PEGs and Cremophor EL. The pharmacokinetics of curcuminoids and curcumin metabolites was characterized in mice using a LC–MS/MS method, and the pharmacokinetic parameters were determined using WinNonlin computer software.
Results
A tenfold increase in the AUC 0→24h and more than 40-fold increase in the C max in mice were observed after an oral dose of NEC compared with suspension curcumin in 1% methylcellulose. The plasma pharmacokinetics of its two natural congeners, demethoxycurcumin and bisdemethoxycurcumin, and three metabolites, tetrahydrocurcumin (THC), curcumin-O-glucuronide, and curcumin-O-sulfate, was characterized for the first time in mice after an oral dose of NEC.
Conclusion
This oral absorption enhanced NEC may provide a practical formulation to conduct the correlative study of the PK of curcuminoids and their pharmacodynamics, e.g., hypomethylation activity in vivo.
This is a preview of subscription content, log in to check access.
Access options
Buy single article
Instant access to the full article PDF.
US$ 39.95
Price includes VAT for USA
Subscribe to journal
Immediate online access to all issues from 2019. Subscription will auto renew annually.
US$ 199
This is the net price. Taxes to be calculated in checkout.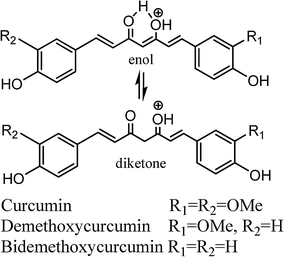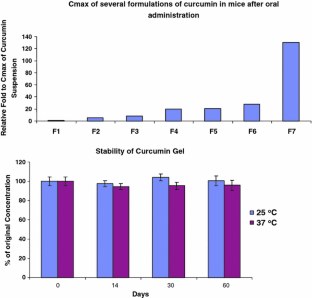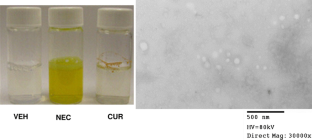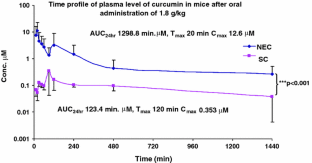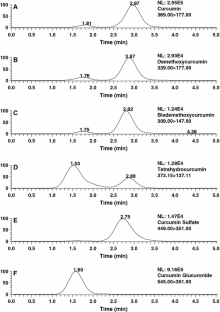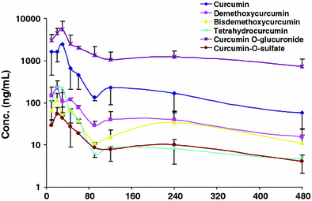 Abbreviations
PEG:

Polyethylene glycol

NEC:

Nano-emulsion curcumin

SC:

Suspension curcumin

PK:

Pharmacokinetic

MP:

Mobile phase

LC:

Liquid chromatography

MS/MS:

Tandem mass spectrometric detection

I.S.:

Internal standard

CV:

Coefficient of variation

ULAR:

University laboratory animal resources

XIC:

Extract ion mass chromatograms

SD:

Solid disperse
References
1.

Lopez-Lazaro M (2008) Anticancer and carcinogenic properties of curcumin: considerations for its clinical development as a cancer chemopreventive and chemotherapeutic agent. Mol Nutr Food Res 52(Suppl 1):S103–S127

2.

Hsu CH, Cheng AL (2007) Clinical studies with curcumin. Adv Exp Med Biol 595:471–480

3.

Pan MH, Huang TM, Lin JK (1999) Biotransformation of curcumin through reduction and glucuronidation in mice. Drug Metab Dispos Biol Fate Chem 27:486–494

4.

Vareed SK, Kakarala M, Ruffin MT, Crowell JA, Normolle DP, Djuric Z, Brenner DE (2008) Pharmacokinetics of curcumin conjugate metabolites in healthy human subjects. Cancer Epidemiol Biomarkers Prev 17:1411–1417

5.

Perkins S, Verschoyle RD, Hill K, Parveen I, Threadgill MD, Sharma RA, Williams ML, Steward WP, Gescher AJ (2002) Chemopreventive efficacy and pharmacokinetics of curcumin in the min/+ mouse: a model of familial adenomatous polyposis. Cancer Epidemiol Biomarkers Prev 11:535–540

6.

Cheng AL, Hsu CH, Lin JK, Hsu MM, Ho YF, Shen TS, Ko JY, Lin JT, Lin BR, Ming-Shiang W et al (2001) Phase I clinical trial of curcumin, a chemopreventive agent, in patients with high-risk or pre-malignant lesions. Anticancer Res 21:2895–2900

7.

Shoba G, Joy D, Joseph T, Majeed M, Rajendran R, Srinivas PS (1998) Influence of piperine on the pharmacokinetics of curcumin in animals and human volunteers. Planta Med 64:353–356

8.

Thangapazham RL, Puri A, Tele S, Blumenthal R, Maheshwari RK (2008) Evaluation of a nanotechnology-based carrier for delivery of curcumin in prostate cancer cells. Int J Oncol 32:1119–1123

9.

Cui J, Yu B, Zhao Y, Zhu W, Li H, Lou H, Zhai G (2009) Enhancement of oral absorption of curcumin by self-microemulsifying drug delivery systems. Int J Pharm 371:148–155

10.

Gao Y, Li Z, Sun M, Li H, Guo C, Cui J, Li A, Cao F, Xi Y, Lou H et al (2010) Preparation, characterization, pharmacokinetics, and tissue distribution of curcumin nanosuspension with TPGS as stabilizer. Drug Dev Ind Pharm 36:1225–1234

11.

Gota VS, Maru GB, Soni TG, Gandhi TR, Kochar N, Agarwal MG (2010) Safety and pharmacokinetics of a solid lipid curcumin particle formulation in osteosarcoma patients and healthy volunteers. J Agric Food Chem 58:2095–2099

12.

Ma Z, Shayeganpour A, Brocks DR, Lavasanifar A, Samuel J (2007) High-performance liquid chromatography analysis of curcumin in rat plasma: application to pharmacokinetics of polymeric micellar formulation of curcumin. Biomed Chromatogr 21:546–552

13.

Mach CM, Chen JH, Mosley SA, Kurzrock R, Smith JA (2010) Evaluation of liposomal curcumin cytochrome p450 metabolism. Anticancer Res 30:811–814

14.

Maiti K, Mukherjee K, Gantait A, Saha BP, Mukherjee PK (2007) Curcumin-phospholipid complex: preparation, therapeutic evaluation and pharmacokinetic study in rats. Int J Pharm 330:155–163

15.

Marczylo TH, Verschoyle RD, Cooke DN, Morazzoni P, Steward WP, Gescher AJ (2007) Comparison of systemic availability of curcumin with that of curcumin formulated with phosphatidylcholine. Cancer Chemother Pharmacol 60:171–177

16.

Mohanty C, Acharya S, Mohanty AK, Dilnawaz F, Sahoo SK (2010) Curcumin-encapsulated MePEG/PCL diblock copolymeric micelles: a novel controlled delivery vehicle for cancer therapy. Nanomed (Lond, Engl) 5:433–449

17.

Mohanty C, Sahoo SK (2010) The in vitro stability and in vivo pharmacokinetics of curcumin prepared as an aqueous nanoparticulate formulation. Biomaterials 31:6597–6611

18.

Mukerjee A, Vishwanatha JK (2009) Formulation, characterization and evaluation of curcumin-loaded PLGA nanospheres for cancer therapy. Anticancer Res 29:3867–3875

19.

Onoue S, Takahashi H, Kawabata Y, Seto Y, Hatanaka J, Timmermann B, Yamada S (2010) Formulation design and photochemical studies on nanocrystal solid dispersion of curcumin with improved oral bioavailability. J Pharm Sci 99:1871–1881

20.

Shahani K, Swaminathan SK, Freeman D, Blum A, Ma L, Panyam J (2010) Injectable sustained release micro particles of curcumin: a new concept for cancer chemoprevention. Cancer Res 70:4443–4452

21.

Yallapu MM, Gupta BK, Jaggi M, Chauhan SC (2009) Fabrication of curcumin encapsulated PLGA nanoparticles for improved therapeutic effects in metastatic cancer cells. J Colloid Interface Sci 351:19–29

22.

Cui J, Yu B, Zhao Y, Zhu W, Li H, Lou H, Zhai G (2009) Enhancement of oral absorption of curcumin by self-microemulsifying drug delivery systems. Int J Pharm 371(1–2):148–155

23.

Mosley CA, Liotta DC, Snyder JP (2007) Highly active anticancer curcumin analogues. Adv Exp Med Biol 595:77–103

24.

Ohtsu H, Xiao Z, Ishida J, Nagai M, Wang HK, Itokawa H, Su CY, Shih C, Chiang T, Chang E et al (2002) Antitumor agents. 217. Curcumin analogues as novel androgen receptor antagonists with potential as anti-prostate cancer agents. J Med Chem 45:5037–5042

25.

Kurien BT, Singh A, Matsumoto H, Scofield RH (2007) Improving the solubility and pharmacological efficacy of curcumin by heat treatment. Assay Drug Dev Technol 5:567–576

26.

Tomren MA, Masson M, Loftsson T, Tonnesen HH (2007) Studies on curcumin and curcuminoids XXXI. Symmetric and asymmetric curcuminoids: stability, activity and complexation with cyclodextrin. Int J Pharm 338:27–34

27.

Barik A, Priyadarsini KI, Mohan H (2003) Photophysical studies on binding of curcumin to bovine serum albumins. Photochem Photobiol 77:597–603

28.

Vijaya Saradhi UV, Ling Y, Wang J, Chiu M, Schwartz EB, Fuchs JR, Chan KK, Liu Z (2010) A liquid chromatography-tandem mass spectrometric method for quantification of curcuminoids in cell medium and mouse plasma. J Chromatogr 878:3045–3051

29.

Lin JK, Pan MH, Lin-Shiau SY (2000) Recent studies on the biofunctions and biotransformations of curcumin. Biofactors (Oxf, Engl) 13:153–158

30.

Liu Z, Xie Z, Jones W, Pavlovicz RE, Liu S, Yu J, Li PK, Lin J, Fuchs JR, Marcucci G et al (2009) Curcumin is a potent DNA hypomethylation agent. Bioorg Med Chem Lett 19:706–709

31.

Bisht S, Feldmann G, Soni S, Ravi R, Karikar C, Maitra A, Maitra A (2007) Polymeric nanoparticles-encapsulated curcumin ("nanocurcumin"): a novel strategy for human cancer therapy. J Nanobiotechnol 5:3

32.

Xu DH, Wang S, Mei XT, Luo XJ, Xu SB (2008) Studies on solubility enhancement of curcumin by polyvinylpyrrolidione K30. Zhong Yao Cai = Zhong Yao Cai = J Chin Med Mater 31:438–442

33.

Begum AN, Jones MR, Lim GP, Morihara T, Kim P, Heath DD, Rock CL, Pruitt MA, Yang F, Hudspeth B et al (2008) Curcumin structure-function, bioavailability, and efficacy in models of neuroinflammation and Alzheimer's disease. J Pharmacol Exp Ther 326:196–208

34.

Woo JS, Song YK, Hong JY, Lim SJ, Kim CK (2008) Reduced food-effect and enhanced bioavailability of a self-microemulsifying formulation of itraconazole in healthy volunteers. Eur J Pharm Sci 33:159–165

35.

Patel D, Sawant KK (2007) Oral bioavailability enhancement of acyclovir by self-microemulsifying drug delivery systems (SMEDDS). Drug Dev Ind Pharm 33:1318–1326

36.

Wang DK, Shi ZH, Liu L, Wang XY, Zhang CX, Zhao P (2006) Development of self-microemulsifying drug delivery systems for oral bioavailability enhancement of alpha-asarone in beagle dogs. PDA J Pharm Sci Technol/PDA 60:343–349

37.

Dempe JS, Pfeiffer E, Grimm AS, Metzler M (2008) Metabolism of curcumin and induction of mitotic catastrophe in human cancer cells. Mol Nutr Food Res 52:1074–1081

38.

Hoehle SI, Pfeiffer E, Metzler M (2007) Glucuronidation of curcuminoids by human microsomal and recombinant UDP-glucuronosyltransferases. Mol Nutr Food Res 51:932–938

39.

Pfeiffer E, Hoehle SI, Walch SG, Riess A, Solyom AM, Metzler M (2007) Curcuminoids form reactive glucuronides in vitro. J Agric Food Chem 55:538–544

40.

Matsunaga T, Endo S, Soda M, Zhao HT, El-Kabbani O, Tajima K, Hara A (2009) Potent and selective inhibition of the tumor marker AKR1B10 by bisdemethoxycurcumin: probing the active site of the enzyme with molecular modeling and site-directed mutagenesis. Biochem Biophys Research Commun 389:128–132
Acknowledgments
This work was supported by National Institute of Health (NIH) grants [R21 CA135478] (Zhongfa Liu) and Biomedical Mass Spectrometric Laboratory (Kenneth K. Chan and Zhongfa Liu) at The Ohio State University.
Conflict of interest
The contents of this manuscript have been submitted for a patent application.
About this article
Cite this article
Zhongfa, L., Chiu, M., Wang, J. et al. Enhancement of curcumin oral absorption and pharmacokinetics of curcuminoids and curcumin metabolites in mice. Cancer Chemother Pharmacol 69, 679–689 (2012). https://doi.org/10.1007/s00280-011-1749-y
Received:

Accepted:

Published:

Issue Date:
Keywords
Nano-emulsion curcumin (NEC)

Pharmacokinetics

Curcuminoids

Curcumin metabolites

LC–MS/MS