Abstract
Background
More and more preclinical studies support the idea that curcumin, a plant-derived natural polyphenol, could be a promising anticancer drug. However, poor bioavailability has limited its efficacy in clinical trials, and plasma curcumin levels remain low despite patients taking gram doses of curcumin.
Methods
This study aimed to evaluate the safety and pharmacokinetics of newly developed nanoparticle curcumin with increased water solubility (named THERACURMIN). Six healthy human volunteers were recruited and received THERACURMIN at a single oral dose of 150 mg. After an interval of 2 weeks, the same subjects then received THERACURMIN at a single dose of 210 mg. Plasma curcumin levels were measured at 0, 1, 2, 4, 6, and 24 h after THERACURMIN intake using high-performance liquid chromatography (HPLC).
Results
One subject reported grade 1 diarrhea after intake of 150 mg THERACURMIN. No other toxicities were observed in this study. C max for THERACURMIN at 150 and 210 mg was 189 ± 48 and 275 ± 67 ng/ml (mean ± SEM), respectively, and the area under the curve for 24 h was estimated to be 2,649 ± 350 and 3,649 ± 430 ng/ml × h (mean ± SEM), respectively. The t 1/2 was estimated to be 9.7 ± 2.1 h for 150 mg and 13.0 ± 3.3 h for 210 mg.
Conclusion
THERACURMIN can safely increase plasma curcumin levels in a dose-dependent manner at least up to 210 mg without saturating the absorption system. To the best of our knowledge, THERACURMIN is the first nanoparticle formulation of curcumin that demonstrates improved bioavailability in human subjects. We believe this compound could be a promising tool when testing the potential anticancer effects of curcumin in clinical trials.
Access options
Buy single article
Instant access to the full article PDF.
US$ 39.95
Tax calculation will be finalised during checkout.
Subscribe to journal
Immediate online access to all issues from 2019. Subscription will auto renew annually.
US$ 119
Tax calculation will be finalised during checkout.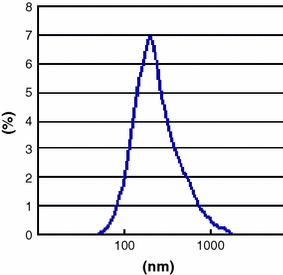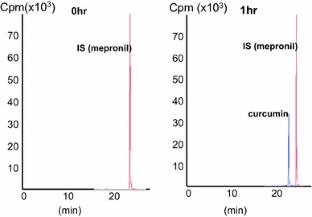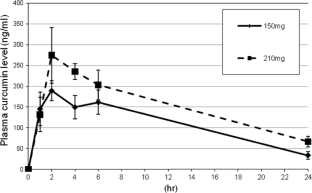 References
1.

Anand P, Kunnumakkara AB, Newman RA, Aggarwal BB (2007) Bioavailability of curcumin: problems and promises. Mol Pharm 4:807–818

2.

Anand P, Nair HB, Sung B, Kunnumakkara AB, Yadav VR, Tekmal RR, Aggarwal BB (2010) Design of curcumin-loaded PLGA nanoparticles formulation with enhanced cellular uptake, and increased bioactivity in vitro and superior bioavailability in vivo. Biochem Pharmacol 79:330–338

3.

Ankola DD, Viswanad B, Bhardwaj V, Ramarao P, Kumar MN (2007) Development of potent oral nanoparticulate formulation of coenzyme Q10 for treatment of hypertension: can the simple nutritional supplements be used as first line therapeutic agents for prophylaxis/therapy? Eur J Pharm Biopharm 67:361–369

4.

Antony B, Merina B, Iyer VS, Judy N, Lennertz K, Joyal S (2008) A pilot cross-over study to evaluate human oral bioavailability of BCM-95CG (Biocurcumax), a novel Bioenhanced preparation of curcumin. Indian J Pharm Sci 70:445–449

5.

Bala I, Bhardwaj V, Hariharan S, Kharade SV, Roy N, Ravi Kumar MN (2006) Sustained release nanoparticulate formulation containing antioxidant-ellagic acid as potential prophylaxis system for oral administration. J Drug Target 14:27–34

6.

Bisht S, Feldmann G, Soni S, Ravi R, Karikar C, Maitra A (2007) Polymeric nanoparticle-encapsulated curcumin ("nanocurcumin"): a novel strategy for human cancer therapy. J Nanobiotechnol 5:3

7.

Cheng AL, Hsu CH, Lin JK, Hsu MM, Ho YF, Shen TS, Ko JY, Lin JT, Lin BR, Ming-Shiang W, Yu HS, Jee SH, Chen GS, Chen TM, Chen CA, Lai MK, Pu YS, Pan MH, Wang YJ, Tsai CC, Hsieh CY (2001) Phase I clinical trial of curcumin, a chemopreventive agent, in patients with high-risk or pre-malignant lesions. Anticancer Res 21:2895–2900

8.

Corson TW, Crews CM (2007) Molecular understanding and modern application of traditional medicines: triumphs and trials. Cell 130:769–774

9.

Das RK, Kasoju N, Bora U (2010) Encapsulation of curcumin in alginate-chitosan-pluronic composite nanoparticles for delivery to cancer cells. Nanomedicine 6:153–160

10.

Garcea G, Berry DP, Jones DJ, Singh R, Dennison AR, Farmer PB, Sharma RA, Steward WP, Gescher AJ (2005) Consumption of the putative chemopreventive agent curcumin by cancer patients: assessment of curcumin levels in the colorectum and their pharmacodynamic consequences. Cancer Epidemiol Biomarkers Prev 14:120–125

11.

Gupta V, Aseh A, Rios CN, Aggarwal BB, Mathur AB (2009) Fabrication and characterization of silk fibroin-derived curcumin nanoparticles for cancer therapy. Int J Nanomedicine 4:115–122

12.

Hariharan S, Bhardwaj V, Bala I, Sitterberg J, Bakowsky U, Ravi Kumar MN (2006) Design of estradiol loaded PLGA nanoparticulate formulations: a potential oral delivery system for hormone therapy. Pharm Res 23:184–195

13.

John VD, Kuttan G, Krishnankutty K (2002) Anti-tumour studies of metal chelates of synthetic curcuminoids. J Exp Clin Cancer Res 21:219–224

14.

Kanai M, Yoshimura K, Asada M, Imaizumi A, Suzuki C, Matsumoto S, Nishimura T, Mori Y, Masui T, Kawaguchi Y, Yanagihara K, Yazumi S, Chiba T, Guha S, Aggarwal BB (2010) A phase I/II study of gemcitabine-based chemotherapy plus curcumin for patients with gemcitabine-resistant pancreatic cancer. Cancer Chemother Pharmacol [Epub ahead of print]

15.

Koppolu B, Rahimi M, Nattama S, Wadajkar A, Nguyen KT (2010) Development of multiple-layer polymeric particles for targeted and controlled drug delivery. Nanomedicine 6:355–361

16.

Lao CD, MTt Ruffin, Normolle D, Heath DD, Murray SI, Bailey JM, Boggs ME, Crowell J, Rock CL, Brenner DE (2006) Dose escalation of a curcuminoid formulation. BMC Complement Altern Med 6:10

17.

Li L, Braiteh FS, Kurzrock R (2005) Liposome-encapsulated curcumin: in vitro and in vivo effects on proliferation, apoptosis, signaling, and angiogenesis. Cancer 104:1322–1331

18.

Liu A, Lou H, Zhao L, Fan P (2006) Validated LC/MS/MS assay for curcumin and tetrahydrocurcumin in rat plasma and application to pharmacokinetic study of phospholipid complex of curcumin. J Pharm Biomed Anal 40:720–727

19.

Marczylo TH, Verschoyle RD, Cooke DN, Morazzoni P, Steward WP, Gescher AJ (2007) Comparison of systemic availability of curcumin with that of curcumin formulated with phosphatidylcholine. Cancer Chemother Pharmacol 60:171–177

20.

Mosley CA, Liotta DC, Snyder JP (2007) Highly active anticancer curcumin analogues. Adv Exp Med Biol 595:77–103

21.

Mu L, Feng SS (2003) A novel controlled release formulation for the anticancer drug paclitaxel (Taxol): PLGA nanoparticles containing vitamin E TPGS. J Control Release 86:33–48

22.

Mukerjee A, Vishwanatha JK (2009) Formulation, characterization and evaluation of curcumin-loaded PLGA nanospheres for cancer therapy. Anticancer Res 29:3867–3875

23.

Ohori H, Yamakoshi H, Tomizawa M, Shibuya M, Kakudo Y, Takahashi A, Takahashi S, Kato S, Suzuki T, Ishioka C, Iwabuchi Y, Shibata H (2006) Synthesis and biological analysis of new curcumin analogues bearing an enhanced potential for the medicinal treatment of cancer. Mol Cancer Ther 5:2563–2571

24.

Sahu A, Bora U, Kasoju N, Goswami P (2008) Synthesis of novel biodegradable and self-assembling methoxy poly(ethylene glycol)-palmitate nanocarrier for curcumin delivery to cancer cells. Acta Biomater 4:1752–1761

25.

Sasaki H, Sunagawa Y, Takahashi K, Imaizumi A, Fukuda H, Hashimoto T, Wada H, Katanasaka Y, Kakeya H, Fujita M, Hasegawa K, Morimoto T (2011) Innovative preparation of curcumin for improved oral bioavailability. Biol Pharm Bull (in press)

26.

Shaikh J, Ankola DD, Beniwal V, Singh D, Kumar MN (2009) Nanoparticle encapsulation improves oral bioavailability of curcumin by at least 9-fold when compared to curcumin administered with piperine as absorption enhancer. Eur J Pharm Sci 37:223–230

27.

Sharma RA, Euden SA, Platton SL, Cooke DN, Shafayat A, Hewitt HR, Marczylo TH, Morgan B, Hemingway D, Plummer SM, Pirmohamed M, Gescher AJ, Steward WP (2004) Phase I clinical trial of oral curcumin: biomarkers of systemic activity and compliance. Clin Cancer Res 10:6847–6854

28.

Shoba G, Joy D, Joseph T, Majeed M, Rajendran R, Srinivas PS (1998) Influence of piperine on the pharmacokinetics of curcumin in animals and human volunteers. Planta Med 64:353–356

29.

Shutava TG, Balkundi SS, Vangala P, Steffan JJ, Bigelow RL, Cardelli JA, O'Neal DP, Lvov YM (2009) Layer-by-layer-coated gelatin nanoparticles as a vehicle for delivery of natural polyphenols. ACS Nano 3:1877–1885

30.

Sou K, Inenaga S, Takeoka S, Tsuchida E (2008) Loading of curcumin into macrophages using lipid-based nanoparticles. Int J Pharm 352:287–293

31.

Strimpakos AS, Sharma RA (2008) Curcumin: preventive and therapeutic properties in laboratory studies and clinical trials. Antioxid Redox Signal 10:511–545

32.

Takahashi M, Uechi S, Takara K, Asikin Y, Wada K (2009) Evaluation of an oral carrier system in rats: bioavailability and antioxidant properties of liposome-encapsulated curcumin. J Agric Food Chem 57:9141–9146

33.

Trotti A, Colevas AD, Setser A, Rusch V, Jaques D, Budach V, Langer C, Murphy B, Cumberlin R, Coleman CN, Rubin P (2003) CTCAE v3.0: development of a comprehensive grading system for the adverse effects of cancer treatment. Semin Radiat Oncol 13:176–181

34.

Vareed SK, Kakarala M, Ruffin MT, Crowell JA, Normolle DP, Djuric Z, Brenner DE (2008) Pharmacokinetics of curcumin conjugate metabolites in healthy human subjects. Cancer Epidemiol Biomarkers Prev 17:1411–1417
Acknowledgments
This work was supported by the Grant-in-Aid for Young Scientists (21790661) from the Japan Society for the Promotion of Science and Japanese Research Foundation for Clinical Pharmacology.
Conflict of interest
A. Imaizumi is a consultant to Theravalues Corporation. Y. Otsuka and H. Sasaki are employees of Theravalues Corporation.
About this article
Cite this article
Kanai, M., Imaizumi, A., Otsuka, Y. et al. Dose-escalation and pharmacokinetic study of nanoparticle curcumin, a potential anticancer agent with improved bioavailability, in healthy human volunteers. Cancer Chemother Pharmacol 69, 65–70 (2012). https://doi.org/10.1007/s00280-011-1673-1
Received:

Accepted:

Published:

Issue Date:
Keywords
Curcumin

Nanotechnology

Bioavailability

THERACURMIN