Abstract
Purpose
The gemcitabine and oxaliplatin (GEMOX) has yielded among the longest progression-free survival durations in patients with advanced pancreatic cancer (APC). We postulated that adding bevacizumab would increase the effectiveness of GEMOX.
Methods
Eligible patients had stage III or IV pancreatic cancer, ECOG PS 0-2, and no prior gemcitabine. Treatment included 1,000 mg/m2 intravenous gemcitabine over 100 min on day 1, 10 mg/kg intravenous bevacizumab on day 1, and 100 mg/m2 oxaliplatin given on day 2. Cycles were repeated every 2 weeks. CT imaging was performed every 6 weeks.
Results
Fifty patients were enrolled: 14 had stage III disease, the remainder stage IV. Median age was 59 years. Fourty-five patients were ECOG 0-1. The grade 3–4 toxicity rate was 94%; fatigue (47%) and nausea (40%) were frequent. One patient died after a bowel perforation; a second died of a CVA. The median PFS was 4.9 months; median survival was 11.9 months; 1 year survival was 42%. Locally advanced patients lived 12.8 months; metastatic patients lived 10.2 months. Patients developing grade 3 hypertension were more likely to have a radiologic response (P = .012); survival among the top and bottom quintiles of hypertension was 14.7 and 6.2 months, respectively. Survival correlated with baseline CA 19–9 (P = .004) and radiologic response. The overall response rate was 36%; 34% demonstrated stable disease.
Conclusions
The GEMOX/bevacizumab regimen demonstrated an excellent median overall survival but did not meet our objective of a 14 month median survival. Toxicity was significant. We do not recommend further evaluation of this regimen.
Access options
Buy single article
Instant access to the full article PDF.
USD 39.95
Price excludes VAT (USA)
Tax calculation will be finalised during checkout.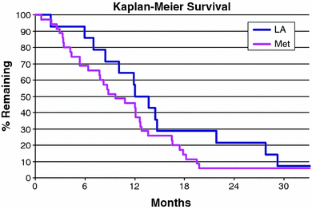 References
Jemal A, Siegel R, Ward E, Hao Y, Xu J, Thun MJ (2009) Cancer statistics, 2009. CA Cancer J Clin 59:225–249

Louvet C, LaBianca R, Hammel P et al (2005) Gemcitabine in combination with oxaliplatin compared with gemcitabine alone in locally advanced or metastatic patients with pancreatic cancer: results of a GERCOR and GISCAD phase III trial. J Clin Oncol 23:3509–3516

Burris HA, Moore MJ, Andersen J et al (1997) Improvements in survival and clinical benefit with gemcitabine for advanced pancreatic cancer: a randomized trial. J Clin Oncol 15:2403–2413

Heinemann V, Quietzsch D, Gieseler F et al (2006) Randomized Phase III trial of gemcitabine plus cisplatin compared with gemcitabine alone in advanced pancreatic cancer. J Clin Oncol 24:3946–3952

Rocha Lima CM, Green MR, Rotche R et al (2004) Irinotecan plus gemcitabine results in no survival advantage compared with gemcitabine monotherapy in patients with locally advanced or metastatic pancreatic cancer despite increased tumor response rate. J Clin Oncol 18:3776–3783

Oettle H, Richards D, Ramanathan RK et al (2005) A Phase III trial of pemetrexed plus gemcitabine versus gemcitabine in patients with unrespectable or metastatic pancreatic cancer. Ann Oncol 16:1639–1645

Berlin JD, Catalano P, Thomas JP, Kugler JW, Haller DG, Benson AB (2002) Phase III study of gemcitabine in combination with fluorouracil versus gemcitabine alone in patients with advanced pancreatic carcinoma: eastern cooperative oncology group trial E2297. J Clin Oncol 20:3270–3275

Cunningham D, Chau I, Stocken D et al (2009) Phase III randomized comparison of gemcitabine versus gemcitabine plus capecitabine in patients with advanced pancreatic cancer. J Clin Oncol 27:5513–5518

Moore MJ, Goldstein D, Hamm J et al (2007) Erlotinib plus gemcitabine compared with gemcitabine alone in patients with advanced pancreatic cancer: a phase III trial of the national cancer institute of Canada clinical trials group. J Clin Oncol 25:1960–1966

Faivre S, Chan D, Salinas R, Woynarowska B, Woynarowski JM (2003) DNA strand breaks and apoptosis induced by oxaliplatin in cancer cells. Biochem Pharmacol 66:225–237

Poplin E, Feng Y, Berlin J et al (2009) Phase III, randomized study of gemcitabine and oxaliplatin versus gemcitabine (fixed-dose rate infusion) compared with gemcitabine (30 min infusion) in patients with pancreatic carcinoma E7201: a trial of the eastern cooperative oncology group. J Clin Oncol 27:3778–3785

Kindler HL, Friberg G, Singh DA et al (2005) Phase II trial of bevacizumab plus gemcitabine in patients with advanced pancreatic cancer. J Clin Oncol 23:8033–8040

Therasse P, Arbuck SG, Eisenhauer EA et al (2000) New guidelines to evaluate the response to treatment in solid tumors. J Nat Cancer Inst 92:205–216

Kaplan EL, Meier P (1958) Non parametric estimation from incomplete observations. J Am Stat Assoc 53:457–481

Cox DR (1972) Regression models and life tables. J R Stat Soc A 29:187–220

Kindler HL, Niedzwiecki D, Hollis D et al (2007) A double-blind, placebo controlled, randomized phase III trial of gemcitabine (G) plus bevacizumab (B) versus gemcitabine plus placebo (P) in patients (pts) with advanced pancreatic cancer (PC): a preliminary analysis of cancer and leukemia group B (CALGB) 80303. J Clin Oncol 25:18s (suppl; abstr 4508)

Van Cutsem E, Vervenne WL, Bennouna J et al (2009) Phase III trial of bevacizumab in combination with gemcitabine and erlotinib in patients with metastatic pancreatic cancer. J Clin Oncol 27:2231–2237

Conroy T, Desseigne F, Ychou M et al (2010) Randomized phase III trial comparing FOLFIRINOX (F: 5FU/leucovorin [LV], irinotecan [I], and oxaliplatin [O]) versus gemcitabine (G) as first-line treatment for metastatic pancreatic adenocarcinoma (MPA): Preplanned interim analysis results of the PRODIGE 4/ACCORD 11 trial. J Clin Oncol 28:15s (suppl, Abstr 4010)

Fine RL, Fogelman DR, Schreibman SM, Desai M, Sherman W, Strauss J, Guba S, Andrade R, Chabot J (2008) The gemcitabine, docetaxel, and capecitabine (GTX) regimen for metastatic pancreatic cancer: a retrospective analysis. Cancer Chemother Pharmacol 61(1):165–167

Heinemann V, Boeck S, Hinke A, Labianca R, Louvet C (2008) Meta-analysis of randomized trials: evaluation of benefit from gemcitabine-based combination chemotherapy applied in advanced pancreatic cancer. BMC Cancer 8:82

Ko AH, Dito E, Schillinger B et al (2008) A phase II study evaluating bevacizumab in combination with fixed-dose gemcitabine and low-dose cisplatin for metastatic pancreatic cancer: is an anti-VEGF strategy still applicable? Invest New Drugs 26(5):463–471

Ko AH, Hwang J, Venook AP, Abbruzzese JL, Bergsland EK, Tempero MA (2005) Serum CA 19–9 response as a surrogate for clinical outcome in patients receiving fixed-dose rate gemcitabine for advanced pancreatic cancer. Br J Cancer 93:195–199

Friberg G, Kasza K, Vokes E, Kindler H (2005) Early Hypertension as a potential pharmacodynamic (PD) marker for survival in pancreatic cancer (PC) patients (pts) treated with bevacizumab (B) and gemcitabine (G). J Clin Oncol 23(16S):3020

Bono P, Elfving H, Utriainen T et al (2009) Letter to the editor. Annal Oncol 20:393–394
Acknowledgments
Dr Wolff: Research funding from Eli Lilly; Dr. Ozer: Consultant to Amgen and honoraria from Bayer, Amgen, OSI, Milennium, Cubist, Genomic Health; Dr Jafari: research funding and honoraria from Genentech. This study was sponsored by Genentech, South San Francisco, CA.
About this article
Cite this article
Fogelman, D., Jafari, M., Varadhachary, G.R. et al. Bevacizumab plus gemcitabine and oxaliplatin as first-line therapy for metastatic or locally advanced pancreatic cancer: a phase II trial. Cancer Chemother Pharmacol 68, 1431–1438 (2011). https://doi.org/10.1007/s00280-011-1601-4
Received:

Accepted:

Published:

Issue Date:

DOI: https://doi.org/10.1007/s00280-011-1601-4
Keywords
Pancreatic cancer

Adenocarcinoma

Pharmacotherapy

Antibodies

Monoclonal

Clinical trial

Chemotherapy