Abstract
Purpose
Oncological and ophthalmological diseases are increasingly treated with antiangiogenic agents. These agents have different intensities and duration of effects that should be considered to choose the most suitable therapy. Our purpose was to evaluate the synergistic effect of two drugs, jointly administered as a pharmaceutical compound, in two animal models.
Methods
Corneal neovascularization was induced in three groups of nine white New Zealand rabbits, applying a filter paper disk soaked in 1 M NaOH on the central cornea (Ormerod et al., Invest Ophthalmol Vis Sci 30:2148–2153, 1989). Group one was treated immediately after injury with intravenous Suramab, compound of Bevacizumab + Suramin, and group two with intravenous Bevacizumab. A third group of non-treated rabbits was included as control group. Digital photographs were taken at days 9, 15, 21, and 35. Neovessel index (NVI) was calculated using the Image J Program. Neovessels formation was quantified and given a score from 0 to 4 to each quadrant according to the centripetal growth of the longest vessel. Colorectal animal model: 6- to 8-week-old male BALB/c mice were inoculated with cancer cells. Seven days after tumor inoculation, four groups of BALB/c mice were treated with intravenous Bevacizumab (n = 9); intravenous Suramin (n = 10); intravenous Suramab (n = 10); and intravenous saline solution (n = 4). Tumor growth was assessed twice weekly by caliper measurement.
Results
The NVI was remarkably inferior in the group of rabbits treated with intravenous Suramab compared with controls after 35 days of follow-up. A greater inhibitory effect was obtained with Suramab compared to that obtained with Bevacizumab. Suramab significantly reduced tumor volume and prolonged survival of mice compared to controls.
Conclusions
Suramab strongly reduced neovascularization in a rabbit model of corneal angiogenesis and induced a potent antitumoral effect in mice.
Access options
Buy single article
Instant access to the full article PDF.
US$ 39.95
Tax calculation will be finalised during checkout.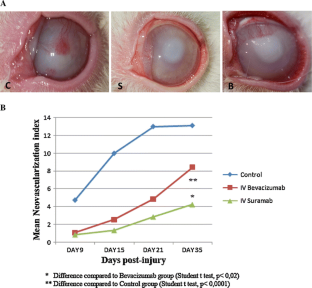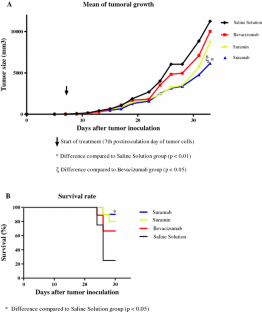 References
1.

Ferrara N, Kerbel RS (2005) Angiogenesis as a therapeutic target. Nature 438:7070

2.

Williams KA, Lowe M, Bartlett C, Kelly TL, Coster DJ (2008) Risk factors for human corneal graft failure within the Australian corneal graft registry. Transplantation 86(12):1720–1724

3.

Manzano R, Peyman GA, Khan P, Carvounis PE, Kivilcim M, Ren M, Lake JC, Chévez-Barrios P (2007) Inhibition of experimental corneal neovascularisation by Bevacizumab (Avastin). Br J Ophthalmol 91:804–807

4.

Erdurmus M, Totan Y (2007) Subconjunctival bevacizumab for corneal neovascularization. Graefe's Arch Clin Exp Ophthalmol 245:1577–1579

5.

Greil R, Moik M, Reitsamer R, Ressler S, Stoll M, Namberger K, Menzel C, Mlineritsch B (2009) Neoadjuvant bevacizumab, docetaxel and capecitabine combination therapy for HER2/neu-negative invasive breast cancer: efficacy and safety in a phase II pilot study. Eur J Surg Oncol 35:1048–1054

6.

Moshfeghi AA, Rosenfeld PJ, Puliafito CA, Michels S, Marcus EN, Lenchus JD, Venkatraman AS (2006) Systemic Bevacizumab (Avastin) therapy for neovascular age-related macular degeneration: twenty-four-week results of an uncontrolled open-label clinical study. Ophthalmology 113:2002–2011

7.

Jo N, Mailhos C, Ju M, Cheung E, Bradley J, Nishijima K, Robinson GS, Adamis AP, Shima DT (2006) Inhibition of platelet-derived growth factor B signaling enhances the efficacy of anti-vascular endothelial growth factor therapy in multiple models of ocular neovascularization. Am J Pathol 168:2036–2053

8.

Sarman S, Mancini J, van der Ploeg I, Croxatto JO, Kvanta A, Gallo JE (2008) Involvement of purinergic p2 receptors in experimental retinal neovascularization. Curr Eye Res 33:285–291

9.

Abbracchio MP, Burnstock G (1994) Purinuceptors: are there families of P2X and P2Y purinoceptors? Pharmacol Ther 64:445–475

10.

Bocci G, Danesi R, Benelli U, Innocenti F, Di Paolo A, Fogli S, Del Tacca M (1999) Inhibitory effect of suramin in rat models of angiogenesis in vitro and in vivo. Cancer Chemother Pharmacol 43:205–212

11.

Stein CA (1993) Suramin: a novel antineoplastic agent with multiple potential mechanisms of action. Cancer Res 53(Suppl):2239–2248

12.

Waltenberger J, Mayr U, Frank H, Hombach V (1996) Suramin is a potent inhibitor of vascular endothelial growth factor. A contribution to the molecular basis of its antiangiogenic action. J Mol Cell Cardiol 28:1523–1529

13.

Lee HS, Chung SK (2010) The effect of subconjunctival suramin on corneal neovascularization in rabbits. Cornea 29(1):86–92

14.

Lopez ES Croxatto JO, Kvanta A, and Gallo JE(2007). Effect of Bevacizumab (Avastin) and Suramin in a rabbit model of corneal neovascularization. Invest Ophthalmol Vis Sci 48: E-Abstract 1717

15.

Ormerod LD, Abelson MB, Kenyon KR (1989) Standard models of corneal injury using Alcali-Inmersed filter discs. Invest Ophthalmol Vis Sci 30:2148–2153

16.

Chang JH, Gabison EE, Kato T, Azar DT (2001) Corneal neovascularization. Curr Opin Ophthalmol 12:242–249

17.

Jyothi S, Chowdhury H, Elagouz M, Sivaprasad S (2010) Intravitreal bevacizumab (Avastin) for age-related macular degeneration: a critical analysis of literature. Eye (Lond) 24(5):816–824

18.

Villalona-Calero MA, Otterson GA, Wientjes MG, Weber F, Bekaii-Saab T, Young D, Murgo AJ, Jensen R, Yeh TK, Wei Y, Zhang Y, Eng C, Grever M, Au JL(2008) Noncytotoxic suramin as a chemosensitizer in patients with advanced non-small-cell lung cancer: a phase II study 19:1903–1909

19.

Luengo Gimeno F, Lavigne V, Gatto S, Croxatto JO, Correa L, Gallo JE (2007) Advances in corneal stem-cell transplantation in rabbits with severe ocular alkali burns. J Cataract Refract Surg 33:1958–1965

20.

Strassman G, Fong M, Freter CE, Windsor S, D`Alessandro F, Nordan RP (1993) Suramin interferes with interleukin-6 receptor binding in vitro and inhibits colon-26-mediated experimental cancer cachexia in vivo. J Clin Invest 92:2152–2159
Acknowledgments
We are grateful to Guillermo Gastón, Norma Montalbetti, and Soledad Arregui for their skillful technical assistance. This work was supported by a grant from Universidad Austral.
Conflict of interest
An international patent application has been submitted about Suramab (patent pending). Title of the patent: Synergistic pharmaceutical composition useful for inhibiting corneal and retinal neovascularization (angiogenesis), and in other organs, in a human being or animal. (10) Publication number: WO2009/022897;(21) Application Number: PCT/MX2008/000104;(51) International Patent Classification: A61 K 45/06 (2006.01); A61P 27/02 (2006.01); A61P 35/00 (2006.01) (71) Applicant(s): Asociación Civil De Estudios Superiores [AR/AR]; Av. Juan de Garay No. 125 Ciudad de Buenos Aires C1063ABB; (AR) (for all designated states except US) RIVAS CUEVAS, Claudio Manuel [MX/MX]; Ruiseñor No. 51-B Col. El Rosedal México, D.F.04330 (MX) (for all designated states except US)GALLO BARRACO, Juan Eduardo María [AR/AR]; Paraná 945, 3er Piso Ciudad de Buenos Aires C1017AAS (AR) (for US only).
About this article
Cite this article
Lopez, E.S., Rizzo, M.M., Croxatto, J.O. et al. Suramab, a novel antiangiogenic agent, reduces tumor growth and corneal neovascularization. Cancer Chemother Pharmacol 67, 723–728 (2011). https://doi.org/10.1007/s00280-010-1457-z
Received:

Accepted:

Published:

Issue Date:
Keywords
Angiogenesis

Cancer

Suramin

Bevacizumab

Cornea