Abstract
Purpose
Cisplatin is a widely used anti-cancer drug in the treatment of a wide range of tumors; however, its application is limited by nephrotoxicity, which is affected by oxidative stress. We have reported that molecular hydrogen (H2) acts as an efficient antioxidant (Ohsawa et al. in Nat Med 13:688–694, 2007). Here we show that hydrogen efficiently mitigates the side effects of cisplatin by reducing oxidative stress.
Methods
Mice were administered cisplatin followed by inhaling hydrogen gas (1% H2 in air). Furthermore, instead of inhaling hydrogen gas, we examined whether drinking water containing hydrogen (hydrogen water; 0.8 mM H2 in water) is applicable by examining oxidative stress, mortality, and body-weight loss. Nephrotoxicity was assessed by morphological changes, serum creatinine and blood urea nitrogen (BUN) levels.
Results
Inhalation of hydrogen gas improved mortality and body-weight loss caused by cisplatin, and alleviated nephrotoxicity. Hydrogen was detected in blood when hydrogen water was placed in the stomach of a rat. Consuming hydrogen water ad libitum also reduced oxidative stress, mortality, and body-weight loss induced by cisplatin in mice. Hydrogen water improved metamorphosis accompanying decreased apoptosis in the kidney, and nephrotoxicity as assessed by serum creatinine and BUN levels. Despite its protective effects against cisplatin-induced toxicity, hydrogen did not impair anti-tumor activity of cisplatin against cancer cell lines in vitro and tumor-bearing mice in vivo.
Conclusion
Hydrogen has potential for improving the quality of life of patients during chemotherapy by efficiently mitigating the side effects of cisplatin.
This is a preview of subscription content, log in to check access.
Access options
Buy single article
Instant access to the full article PDF.
US$ 39.95
Price includes VAT for USA
Subscribe to journal
Immediate online access to all issues from 2019. Subscription will auto renew annually.
US$ 199
This is the net price. Taxes to be calculated in checkout.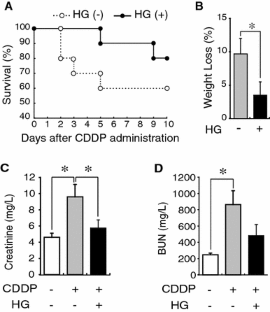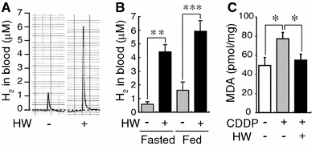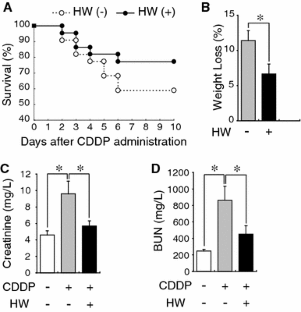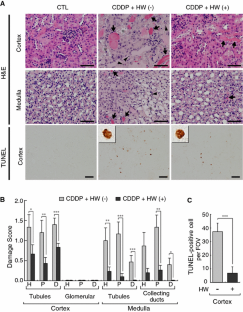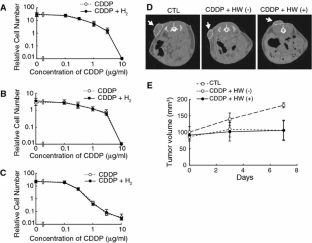 References
1.

Lebwohl D, Canetta R (1998) Clinical development of platinum complexes in cancer therapy: an historical perspective and an update. Eur J Cancer 34:1522–1534

2.

Wolfgang GH, Dominick MA, Walsh KM, Hoeschele JD, Pegg DG (1994) Comparative nephrotoxicity of a novel platinum compound, cisplatin, and carboplatin in male Wistar rats. Fundam Appl Toxicol 22:73–79

3.

Masuda H, Tanaka T, Takahama U (1994) Cisplatin generates superoxide anion by interaction with DNA in a cell-free system. Biochem Biophys Res Commun 203:1175–1180

4.

Kruidering M, Van de Water B, de Heer E, Mulder GJ, Nagelkerke JF (1997) Cisplatin-induced nephrotoxicity in porcine proximal tubular cells: mitochondrial dysfunction by inhibition of complexes I to IV of the respiratory chain. J Pharmacol Exp Ther 280:638–649

5.

Baliga R, Zhang Z, Baliga M, Ueda N, Shah SV (1998) In vitro and in vivo evidence suggesting a role for iron in cisplatin-induced nephrotoxicity. Kidney Int 53:394–401

6.

Zhang JG, Lindup WE (1993) Role of mitochondria in cisplatin-induced oxidative damage exhibited by rat renal cortical slices. Biochem Pharmacol 45:2215–2222

7.

Khynriam D, Prasad SB (2002) Changes in glutathione-related enzymes in tumor-bearing mice after cisplatin treatment. Cell Biol Toxicol 18:349–358

8.

Matsushima H, Yonemura K, Ohishi K, Hishida A (1998) The role of oxygen free radicals in cisplatin-induced acute renal failure in rats. J Lab Clin Med 131:518–526

9.

Taguchi T, Nazneen A, Abid MR, Razzaque MS (2005) Cisplatin-associated nephrotoxicity and pathological events. Contrib Nephrol 148:107–121

10.

Pabla N, Dong Z (2008) Cisplatin nephrotoxicity: mechanisms and renoprotective strategies. Kidney Int 73:994–1007

11.

Yao X, Panichpisal K, Kurtzman N, Nugent K (2007) Cisplatin nephrotoxicity: a review. Am J Med Sci 334:115–124

12.

Ajith TA, Usha S, Nivitha V (2007) Ascorbic acid and alpha-tocopherol protect anticancer drug cisplatin induced nephrotoxicity in mice: a comparative study. Clin Chim Acta 375:82–86

13.

Weijl NI, Elsendoorn TJ, Lentjes EG et al (2004) Supplementation with antioxidant micronutrients and chemotherapy-induced toxicity in cancer patients treated with cisplatin-based chemotherapy: a randomised, double-blind, placebo-controlled study. Eur J Cancer 40:1713–1723

14.

Ohsawa I, Ishikawa M, Takahashi K et al (2007) Hydrogen acts as a therapeutic antioxidant by selectively reducing cytotoxic oxygen radicals. Nat Med 13:688–694

15.

Nagata K, Nakashima-Kamimura N, Mikami T, Ohsawa I, Ohta S (2009) Consumption of molecular hydrogen prevents the stress-induced impairments in hippocampus-dependent learning tasks during chronic physical restraint in mice. Neuropsychopharmacology 34:501–508

16.

Lee S, Moon SO, Kim W et al (2006) Protective role of L-2-oxothiazolidine-4-carboxylic acid in cisplatin-induced renal injury. Nephrol Dial Transplant 21:2085–2095

17.

Fukuda K, Asoh S, Ishikawa M, Yamamoto Y, Ohsawa I, Ohta S (2007) Inhalation of hydrogen gas suppresses hepatic injury caused by ischemia/reperfusion through reducing oxidative stress. Biochem Biophys Res Commun 361:670–674

18.

Samali A, Cotter TG (1999) Measurement of cell death in culture. In: Jenkins N (ed) Animal cell biotechnology. Humana Press, Totowa, pp 155–164

19.

Kuhlmann MK, Burkhardt G, Kohler H (1997) Insights into potential cellular mechanisms of cisplatin nephrotoxicity and their clinical application. Nephrol Dial Transplant 12:2478–2480

20.

Esterbauer H, Schaur RJ, Zollner H (1991) Chemistry and biochemistry of 4-hydroxynonenal, malonaldehyde and related aldehydes. Free Radic Biol Med 11:81–128

21.

Fang J, Sawa T, Akaike T et al (2003) In vivo antitumor activity of pegylated zinc protoporphyrin: targeted inhibition of heme oxygenase in solid tumor. Cancer Res 63:3567–3574

22.

Siddik ZH (2003) Cisplatin: mode of cytotoxic action and molecular basis of resistance. Oncogene 22:7265–7279

23.

Wang D, Lippard SJ (2005) Cellular processing of platinum anticancer drugs. Nat Rev Drug Discov 4:307–320

24.

Kelland L (2007) The resurgence of platinum-based cancer chemotherapy. Nat Rev Cancer 7:573–584

25.

Appenroth D, Frob S, Kersten L, Splinter FK, Winnefeld K (1997) Protective effects of vitamin E and C on cisplatin nephrotoxicity in developing rats. Arch Toxicol 71:677–683

26.

Naziroglu M, Karaoglu A, Aksoy AO (2004) Selenium and high dose vitamin E administration protects cisplatin-induced oxidative damage to renal, liver and lens tissues in rats. Toxicology 195:221–230

27.

Giri A, Khynriam D, Prasad SB (1998) Vitamin C mediated protection on cisplatin induced mutagenicity in mice. Mutat Res 421:139–148

28.

De Martinis BS, Bianchi MD (2001) Effect of vitamin C supplementation against cisplatin-induced toxicity and oxidative DNA damage in rats. Pharmacol Res 44:317–320

29.

Baldew GS, van den Hamer CJ, Los G, Vermeulen NP, de Goeij JJ, McVie JG (1989) Selenium-induced protection against cis-diamminedichloroplatinum(II) nephrotoxicity in mice and rats. Cancer Res 49:3020–3023

30.

Silva CR, Greggi Antunes LM, Bianchi ML (2001) Antioxidant action of bixin against cisplatin-induced chromosome aberrations and lipid peroxidation in rats. Pharmacol Res 43:561–566

31.

Atessahin A, Yilmaz S, Karahan I, Ceribasi AO, Karaoglu A (2005) Effects of lycopene against cisplatin-induced nephrotoxicity and oxidative stress in rats. Toxicology 212:116–123

32.

Sener G, Satiroglu H, Kabasakal L et al (2000) The protective effect of melatonin on cisplatin nephrotoxicity. Fundam Clin Pharmacol 14:553–560

33.

Lynch ED, Gu R, Pierce C, Kil J (2005) Reduction of acute cisplatin ototoxicity and nephrotoxicity in rats by oral administration of allopurinol and ebselen. Hear Res 201:81–89

34.

Yildirim Z, Sogut S, Odaci E et al (2003) Oral erdosteine administration attenuates cisplatin-induced renal tubular damage in rats. Pharmacol Res 47:149–156

35.

Sogut S, Kotuk M, Yilmaz HR, Ulu R, Ozyurt H, Yildirim Z (2004) In vivo evidence suggesting a role for purine-catabolizing enzymes in the pathogenesis of cisplatin-induced nephrotoxicity in rats and effect of erdosteine against this toxicity. Cell Biochem Funct 22:157–162

36.

Nisar S, Feinfeld DA (2002) N-Acetylcysteine as salvage therapy in cisplatin nephrotoxicity. Ren Fail 24:529–533

37.

Dickey DT, Muldoon LL, Doolittle ND, Peterson DR, Kraemer DF, Neuwelt EA (2008) Effect of N-acetylcysteine route of administration on chemoprotection against cisplatin-induced toxicity in rat models. Cancer Chemother Pharmacol (in press)

38.

Hathcock JN, Azzi A, Blumberg J et al (2005) Vitamins E and C are safe across a broad range of intakes. Am J Clin Nutr 81:736–745

39.

Li Y, Schellhorn HE (2007) New developments and novel therapeutic perspectives for vitamin C. J Nutr 137:2171–2184

40.

Sauer H, Wartenberg M, Hescheler J (2001) Reactive oxygen species as intracellular messengers during cell growth and differentiation. Cell Physiol Biochem 11:173–186

41.

Liu H, Colavitti R, Rovira II, Finkel T (2005) Redox-dependent transcriptional regulation. Circ Res 97:967–974

42.

Bjelakovic G, Gluud C (2007) Surviving antioxidant supplements. J Natl Cancer Inst 99:742–743

43.

Miller ER 3rd, Pastor-Barriuso R, Dalal D, Riemersma RA, Appel LJ, Guallar E (2005) Meta-analysis: high-dosage vitamin E supplementation may increase all-cause mortality. Ann Intern Med 142:37–46

44.

Salganik RI (2001) The benefits and hazards of antioxidants: controlling apoptosis and other protective mechanisms in cancer patients and the human population. J Am Coll Nutr 20:464S–472S

45.

Fontanari P, Badier M, Guillot C et al (2000) Changes in maximal performance of inspiratory and skeletal muscles during and after the 7.1-MPa Hydra 10 record human dive. Eur J Appl Physiol 81:325–328

46.

Hayashida K, Sano M, Ohsawa I et al (2008) Inhalation of hydrogen gas reduces infarct size in the rat model of myocardial ischemia–reperfusion injury. Biochem Biophys Res Commun 373:30–35

47.

Cai J, Kang Z, Liu WW et al (2008) Hydrogen therapy reduces apoptosis in neonatal hypoxia-ischemia rat model. Neurosci Lett 441:167–172

48.

Buchholz BM, Kaczorowski DJ, Sugimoto R et al (2008) Hydrogen inhalation ameliorates oxidative stress in transplantation induced intestinal graft injury. Am J Transplant 8:2015–2024

49.

Ritskes-Hoitinga M (2004) Nutrition of laboratory mice. In: Hedrich H (ed) The laboratory mouse. Elsevier, London, pp 463–479

50.

Kajiyama S, Hasegawa G, Asano M et al (2008) Supplementation of hydrogen-rich water improves lipid and glucose metabolism in patients with type 2 diabetes or impaired glucose tolerance. Nutr Res 28:137–143
Acknowledgments
We thank Blue Mercury Inc. (Tokyo, Japan) for the generous gift of hydrogen water. This work was supported by grant from the Ministry of Education, Culture, Sports, Science and Technology of Japan (19659331, S. O. and 20500723 to N. N.-K.).
Conflict of interest statement
Dr. Ohta is a director of Mitos Co. Ltd. (Kawasaki, Japan), and a scientific adviser to Blue Mercury Inc. (Tokyo, Japan). Blue Mercury Inc. supplied the fresh hydrogen water used in this study and has donated a research division to our institute.
About this article
Cite this article
Nakashima-Kamimura, N., Mori, T., Ohsawa, I. et al. Molecular hydrogen alleviates nephrotoxicity induced by an anti-cancer drug cisplatin without compromising anti-tumor activity in mice. Cancer Chemother Pharmacol 64, 753 (2009). https://doi.org/10.1007/s00280-008-0924-2
Received:

Accepted:

Published:
Keywords
Antioxidant

Cisplatin

Dihydrogen

Oxidative stress

Side effect