Abstract
Purpose
Methotrexate (MTX) causes intestinal damage, resulting in diarrhea. The side effects often disturb the cancer chemotherapy. We previously reported that AGE protected the small intestine of rats from the MTX-induced damage. In the present paper, the mechanism of the protection of AGE against the MTX-induced damage of small intestine was investigated, using IEC-6 cells originating from rat jejunum crypt.
Methods
The viability and apoptosis of IEC-6 cells were examined in the presence of MTX and/or AGE.
Results
The viability of IEC-6 cells exposed to MTX was decreased by the increase of MTX concentration. The MTX-induced loss of viable IEC-6 cells was almost completely prevented by the presence of more than 0.1% AGE. In IEC-6 cells exposed to MTX, the cromatin condensation, DNA fragmentation, caspase-3 activation and cytochrome c release were observed. These were preserved to the control levels by the presence of AGE. MTX markedly decreased intracellular GSH in IEC-6 cells, but the presence of AGE in IEC-6 cells with MTX preserved intracellular GSH to the control level. IEC-6 cells in G2/M stage markedly decreased 72 h after the MTX treatment, which was preserved to the control level by the presence of AGE. These results indicated that AGE protected IEC-6 cells from the MTX-induced damage.
Conclusions
The MTX-induced apoptosis of IEC-6 cells was shown to be depressed by AGE. AGE may be useful for the cancer chemotherapy with MTX, since AGE reduces the MTX-induced intestinal damage.
This is a preview of subscription content,
to check access.
Access this article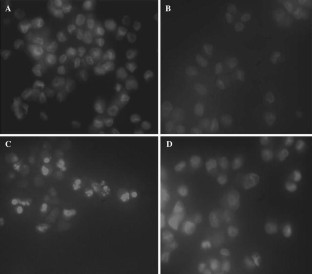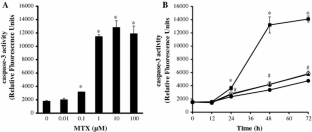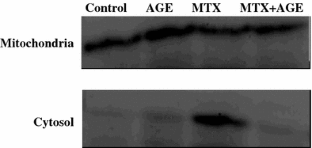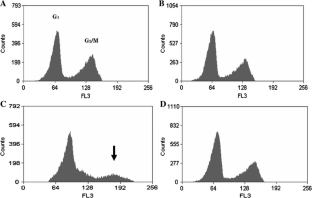 Similar content being viewed by others
References
Jolivet J, Cowan KH, Curt GA, Clendeninn NJ, Chabner BA (1983) The pharmacology and clinical use of methotrexate. N Engl J Med 309:1094–1104

Seitz M (1999) Molecular and cellular effects of methotrexate. Curr Opin Rheumatol 11:226–232

Frei E 3rd, Jaffe N, Tattersall MH, Pitman S, Parker L (1975) New approaches to cancer chemotherapy with methotrexate. N EnglJ Med 292:846–851

Rosen G, Marcove RC, Caparros B, Nirenberg A, Kosloff C, Huvos AG (1979) Primary osteogenic sarcoma: the rationale for preoperative chemotherapy and delayed surgery. Cancer 43:2163–2177

da Silva CP, de Oliveira CR, da Conceicao M, de Lima P (1996) Apoptosis as a mechanism of cell death induced by different chemotherapeutic drugs in human leukemic T-lymphocytes. Biochem Pharmacol 51:1331–1340

Huschtscha LI, Bartier WA, Ross CE, Tattersall MH (1996) Characteristics of cancer cell death after exposure to cytotoxic drugs in vitro. Br J Cancer 73:54–60

Taminiau JA, Gall DG, Hamilton JR (1980) Response of the rat small-intestine epithelium to methotrexate. Gut 21:486–492

Verburg M, Renes IB, Meijer HP, Taminiau JA, Buller HA, Einerhand AW, Dekker J (2000) Selective sparing of goblet cells and paneth cells in the intestine of methotrexate-treated rats. Am J Physiol Gastrointest Liver Physiol 279:G1037–G1047

Quaroni A, Wands J, Trelstad RL, Isselbacher KJ (1979) Epithelioid cell cultures from rat small intestine. Characterization by morphologic and immunologic criteria. J Cell Biol 80:248–265

Suh E, Traber PG (1996) An intestine-specific homeobox gene regulates proliferation and differentiation. Mol Cell Biol 16:619–625

McCormack SA, Viar MJ, Johnson LR (1992) Migration of IEC-6 cells: a model for mucosal healing. Am J Physiol 263:G426–G435

Santos MF, McCormack SA, Guo Z, Okolicany J, Zheng Y, Johnson LR, Tigyi G (1997) Rho proteins play a critical role in cell migration during the early phase of mucosal restitution. J Clin Invest 100:216–225

Li T, Ito K, Horie T (2003) Transport of fluorescein methotrexate by multidrug resistance-associated protein 3 in IEC-6 cells. Am J Physiol Gastrointest Liver Physiol 285:G602–G610

Rajgopal A, Sierra EE, Zhao R, Goldman ID (2001) Expression of the reduced folate carrier SLC19A1 in IEC-6 cells results in two distinct transport activities. Am J Physiol Cell Physiol 281:C1579–C1586

Said HM, Ma TY, Ortiz A, Tapia A, Valerio CK (1997) Intracellular regulation of intestinal folate uptake: studies with cultured IEC-6 epithelial cells. Am J Physiol 272:C729–C736

Agarwal KC (1996) Therapeutic actions of garlic constituents. Med Res Rev 16:111–124

Ide N, Lau BH (1997) Garlic compounds protect vascular endothelial cells from oxidized low density lipoprotein-induced injury. J Pharm Pharmacol 49:908–911

Hu X, Cao BN, Hu G, He J, Yang DQ, Wan YS (2002) Attenuation of cell migration and induction of cell death by aged garlic extract in rat sarcoma cells. Int J Mol Med 9:641–643

Shirin H, Pinto JT, Kawabata Y, Soh JW, Delohery T, Moss SF, Murty V, Rivlin RS, Holt PR, Weinstein IB (2001) Antiproliferative effects of S-allylmercaptocysteine on colon cancer cells when tested alone or in combination with sulindac sulfide. Cancer Res 61:725–731

Horie T, Matsumoto H, Kasagi M, Sugiyama A, Kikuchi M, Karasawa C, Awazu S, Itakura Y, Fuwa T (1999) Protective effect of aged garlic extract on the small intestinal damage of rats induced by methotrexate administration. Planta Med 65:545–548

Horie T, Awazu S, Itakura Y, Fuwa T (2001) Alleviation by garlic of antitumor drug-induced damage to the intestine. J Nutr 131:1071S–1074S

Li T, Ito K, Sumi S-i, Fuwa T, Horie T (2005) Antiapoptosis action of aged garlic extract (AGE) protects epithelial cells from methotrexate induced injury. Gut 54:1819–1820

Horie T, Murayama T, Mishima T, Itoh F, Minamide Y, Fuwa T, Awazu S (1989) Protection of liver microsomal membranes from lipid peroxidation by garlic extract. Planta Med 55:506–508

Ji B, Ito K, Horie T (2004) Multidrug resistance-associated protein 2 (MRP2) enhances 4-hydroxynonenal-induced toxicity in Madin-Darby canine kidney II cells. Chem Res Toxicol 17:158–164

Lowry OH, Rosebrough NJ, Farr AL, Randall RJ (1951) Protein measurement with the Folin phenol reagent. J Biol Chem 193:265–275

Genestier L, Paillot R, Quemeneur L, Izeradjene K, Revillard JP (2000) Mechanisms of action of methotrexate. Immunopharmacology 47:247–257

Green D, Reed JC (1998) Mitochondria and apoptosis. Science 281:1309–1312

Kluck RM, Bossy-Wetzel E, Green DR, Newmeyer DD (1997) The release of cytochrome c from mitochondria: a primary site for Bcl-2 regulation of apoptosis. Science 275:1132–1136

Susin SA, Lorenzo HK, Zamzami N, Marzo I, Snow BE, Brothers GM, Mangion J, Jacotot E, Costantini P, Loeffler M, Larochette N, Goodlett DR, Aebersold R, Siderovski DP, Penninger JM, Kroemer G (1999) Molecular characterization of mitochondrial apoptosis-inducing factor. Nature 397:441–446

Li P, Nijhawan D, Budihardjo I, Srinivasula SM, Ahmad M, Alnemri ES, Wang X (1997) Cytochrome c and dATP-dependent formation of Apaf-1/caspase-9 complex initiates an apoptotic protease cascade. Cell 91:479–489

Nunez G, Benedict MA, Hu Y, Inohara N (1998) Caspases: the proteases of the apoptotic pathway. Oncogene 17:3237–3245

Meister A, Anderson ME (1983) Glutathione. Annu Rev Biochem 52:711–760

Stearns ME (1988) Importance of the thiol disulfide status of microtubule proteins for antimitotic drug action. Pharmacol Ther 37:25–36

Miyazono Y, Gao F, Horie T (2004) Oxidative stress contributes to methotrexate-induced small intestinal toxicity in rats. Scand J Gastroenterol 39:1119–1127

Gao F, Horie T (2002) A synthetic analog of prostaglandin E(1) prevents the production of reactive oxygen species in the intestinal mucosa of methotrexate-treated rats. Life Sci 71:1091–1099

Borek C (2001) Antioxidant health effects of aged garlic extract. J Nutr 131:1010S–1015S

Horie T, Li T, Ito K, Sumi S-i, Fuwa T (2006) Aged garlic extract protects against methotrexate-induced apoptotic cell injury of IEC-6 cells. J Nutr 136:861S–863S
About this article
Cite this article
Li, T., Ito, K., Sumi, Si. et al. Protective effect of aged garlic extract (AGE) on the apoptosis of intestinal epithelial cells caused by methotrexate. Cancer Chemother Pharmacol 63, 873–880 (2009). https://doi.org/10.1007/s00280-008-0809-4
Received:

Accepted:

Published:

Issue Date:

DOI: https://doi.org/10.1007/s00280-008-0809-4
Keywords