Abstract
Purpose
To determine the effect of cucurbitacin B on human hepatocellular carcinoma cell growth and apoptosis, and to explore the potential mechanisms.
Methods
In vitro viability of human hepatocellular carcinoma cell line (HepG2) was investigated using a 3-(4, 5-dimethylthiazol-2-yl)-2, 5-diphenyl tetrazolium bromide (MTT) assay. Morphologic changes of cells were evaluated through light microscopy. Cell cycle distribution was evaluated with flow cytometry following PI staining. Apoptosis was evaluated respectively with flow cytometry and fluorescent microscopy following Annexin V-FITC/PI and Hoechst 33258 staining. Western blot assays were performed to determine the expression of pSTAT3 and Bcl-2. Finally, in vivo effect of cucurbitacin B on the growth of HepG2 cells was determined in nude mice.
Results
The MTT assay showed that cucurbitacin B inhibited HepG2 cell viability in a dose and time-dependent manner. Cucurbitacin B treatment resulted in accumulation of cells at the S phase of cell cycle as well as apoptosis. Marked morphological changes, including condensation of chromatin, nuclear fragmentation and apoptotic bodies were clearly shown on Hoechst 33258 staining. Western blot showed that cucurbitacin B inhibited STAT3 phosphorylation and down-regulated the expression of Bcl-2. Growth of HepG2 tumor in nude mice was also inhibited by cucurbitacin B.
Conclusion
Our results suggest that cucurbitacin B may have a therapeutic value in suppressing the growth of human hepatocellular carcinoma. The mechanism may be attributable to the suppression of STAT3 phosphorylation.
Access options
Buy single article
Instant access to the full article PDF.
US$ 39.95
Tax calculation will be finalised during checkout.
Subscribe to journal
Immediate online access to all issues from 2019. Subscription will auto renew annually.
US$ 119
Tax calculation will be finalised during checkout.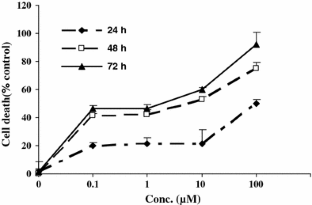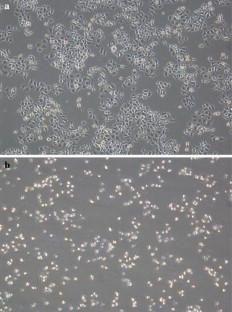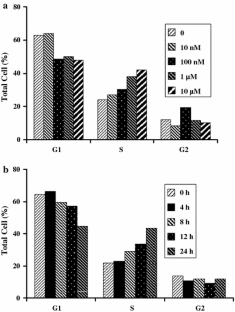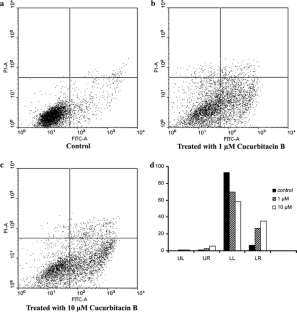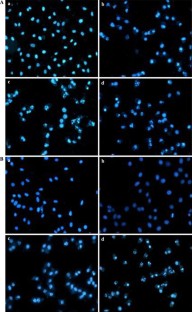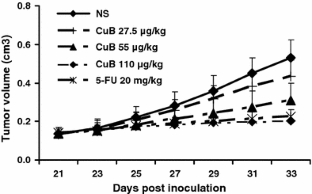 References
1.

Al Zaid Siddiquee K, Turkson J (2008) STAT3 as a target for inducing apoptosis in solid and hematological tumors. Cell Res 18:254–267

2.

Avila MA, Berasain C, Sangro B, Prieto J (2006) New therapies for hepatocellular carcinoma. Oncogene 25:3866–3884

3.

Clericuzio M, Mella M, Vita-Finzi P, Zema M, Vidari G (2004) Cucurbitane triterpenoids from Leucopaxillus gentianeus. J Nat Prod 67:1823–1828

4.

Fuke H, Shiraki K, Sugimoto K, Tanaka J, Beppu T, Yoneda K, Yamamoto N, Ito K, Masuya M, Takei Y (2007) Jak inhibitor induces S phase cell-cycle arrest and augments TRAIL-induced apoptosis in human hepatocellular carcinoma cells. Biochem Biophys Res Commun 363:738–744

5.

Germain D, Frank DA (2007) Targeting the cytoplasmic and nuclear functions of signal transducers and activators of transcription 3 for cancer therapy. Clin Cancer Res 13:5665–5669

6.

Huether A, Hopfner M, Sutter AP, Baradari V, Schuppan D, Scherubl H (2006) Signaling pathways involved in the inhibition of epidermal growth factor receptor by erlotinib in hepatocellular cancer. World J Gastroenterol 12:5160–5167

7.

Klampfer L (2006) Signal transducers and activators of transcription (STATs): Novel targets of chemopreventive and chemotherapeutic drugs. Curr Cancer Drug Targets 6:107–121

8.

Kummoona R, Mohammad Sami S, Al-Kapptan I, Al-Muala H (2008) Study of anti-apoptotic gene of oral carcinoma by using Bcl-2 oncogene. J Oral Pathol Med. 2008 Jan 28 (Epub ahead of print)

9.

Lau CK, Yang ZF, Lam SP, Lam CT, Ngai P, Tam KH, Poon RT, Fan ST (2007) Inhibition of Stat3 Activity by YC-1 Enhances chemo-sensitivity in hepatocellular carcinoma. Cancer Biol Ther 6:1900–1907

10.

Lei XY, Zhong M, Feng LF, Zhu BY, Tang SS, Liao DF (2007) siRNA-mediated Bcl-2 and Bcl-xl gene silencing sensitizes human hepatoblastoma cells to chemotherapeutic drugs. Clin Exp Pharmacol Physiol 34:450–456

11.

Liu T, Zhang M, Zhang H, Sun C, Deng Y (2008) Inhibitory effects of cucurbitacin B on laryngeal squamous cell carcinoma. Eur Arch Otorhinolaryngol 2008 Feb 29 (Epub ahead of print)

12.

Marelli L, Stigliano R, Triantos C, Senzolo M, Cholongitas E, Davies N, Tibballs J, Meyer T, Patch DW, Burroughs AK (2007) Transarterial therapy for hepatocellular carcinoma: which technique is more effective? A systematic review of cohort and randomized studies. Cardiovasc Intervent Radiol 30:6–25

13.

Martin J, Dufour JF (2008) Tumor suppressor and hepatocellular carcinoma. World J Gastroenterol 14:1720–1733

14.

Mohammad R, Giri A, Goustin AS (2008) Small-molecule inhibitors of Bcl-2 family proteins as therapeutic agents in cancer. Recent Patents Anticancer Drug Discov 3:20–30

15.

Pastorelli D, Cartei G, Zustovich F, Marchese F, Artioli G, Zovato S, Binato S, Ceravolo R, Cingarlini S, Salmaso F, Mattiazzi M, Sanavio C, Farinati F, Zanus G, Cillo U (2006) Gemcitabine and liposomal doxorubicin in biliary and hepatic carcinoma (HCC) chemotherapy: preliminary results and review of the literature. Ann Oncol 17(Suppl 5):v153–v157

16.

Sun J, Blaskovich MA, Jove R, Livingston SK, Coppola D, Sebti SM (2005) Cucurbitacin Q: a selective STAT3 activation inhibitor with potent antitumor activity. Oncogene 24:3236–3245

17.

Sun X, Zhang J, Wang L, Tian Z (2008) Growth inhibition of human hepatocellular carcinoma cells by blocking STAT3 activation with decoy-ODN. Cancer Lett 262:201–213

18.

Tannin-Spitz T, Grossman S, Dovrat S, Gottlieb HE, Bergman M (2007) Growth inhibitory activity of cucurbitacin glucosides isolated from Citrullus colocynthis on human breast cancer cells. Biochem Pharmacol 73:56–67

19.

Tomida M, Ohtake H, Yokota T, Kobayashi Y, Kurosumi M (2008) Stat3 up-regulates expression of nicotinamide N-methyltransferase in human cancer cells. J Cancer Res Clin Oncol 134:551–559

20.

van Kester MS, Out-Luiting JJ, von dem Borne PA, Willemze R, Tensen CP, Vermeer MH (2008) Cucurbitacin I inhibits Stat3 and induces apoptosis in sezary cells. J Invest Dermatol 2008 Jan 17 (Epub ahead of print)

21.

Vogl TJ, Zangos S, Eichler K, Selby JB, Bauer RW (2008) Palliative hepatic intraarterial chemotherapy (HIC) using a novel combination of gemcitabine and mitomycin C: results in hepatic metastases. Eur Radiol 18:468–476

22.

Warmann SW, Frank H, Heitmann H, Ruck P, Herberts T, Seitz G, Fuchs J (2008) Bcl-2 gene silencing in pediatric epithelial liver tumors. J Surg Res 144:43–48

23.

Zangos S, Eichler K, Balzer JO, Straub R, Hammerstingl R, Herzog C, Lehnert T, Heller M, Thalhammer A, Mack MG, Vogl TJ (2007) Large-sized hepatocellular carcinoma (HCC): a neoadjuvant treatment protocol with repetitive transarterial chemoembolization (TACE) before percutaneous MR-guided laser-induced thermotherapy (LITT). Eur Radiol 17:553–563
Acknowledgments
This work has been sponsored by a grant from the National Natural Science Foundation of China (No. 60574040). We also thank Dr. Jian Zhang of Shandong University for the provision of STAT3 antibody.
About this article
Cite this article
Zhang, M., Zhang, H., Sun, C. et al. Targeted constitutive activation of signal transducer and activator of transcription 3 in human hepatocellular carcinoma cells by cucurbitacin B. Cancer Chemother Pharmacol 63, 635–642 (2009). https://doi.org/10.1007/s00280-008-0780-0
Received:

Accepted:

Published:

Issue Date:
Keywords
Cucurbitacin B

Hepatocellular carcinoma

HepG2

STAT3

Apoptosis