Abstract
Adrenergic compounds (epinephrine and norepinephrine) are the most important hormones released during stress. Several different receptors are associated with their action in different tissues. However, α2-adrenoceptors have not yet been described in either normal or tumour human breast tissue. The aim of this work was to describe and characterize these receptors in several tumour and non-tumour human cell lines. The expression of α2-adrenoceptors was analyzed at the RNA (RT-PCR) and protein ([3H]-rauwolscine binding and immunocytochemistry) levels in different human breast cell lines, and the biological activity assessed by [3H]-thymidine incorporation. The cancer IBH-6, IBH-7 and MCF-7 and the non-tumour HBL-100 cells line, expressed both α2B- and α2C-adrenoceptor-subtypes. A single subtype was expressed in malignant HS-578T (α2A) and MDA-MB-231 and non-tumour MCF-10A cells (α2B). All cell lines exhibited significant binding for the specific antagonist [3H]-rauwolscine. The α-, α2-, and the α1-compounds with known affinity for α2-adrenoceptors, including epinephrine, norepinephrine, yohimbine, clonidine, rauwolscine and prazosin, competed significantly with binding in MCF-7 cells. In addition, IBH-6, IBH-7 and MCF-7 cells showed significant staining with specific antibodies against α2B- and α2C-adrenoceptor-subtypes, when tested by immunocytochemistry. In all cell lines, the specific agonist clonidine or oxymetazoline stimulated [3H]-thymidine incorporation. EC50 values were in the range of 20–50 fM for IBH-6, IBH-7, and HS-578T; 0.14 pM for MCF-7; 2–82 pM for HBL-100 and MCF-10A cells, and a biphasic behaviour with a maximum value at 38.0 pM, was observed for MDA-MB-231 cells. The specific α2-adrenergic antagonist rauwolscine always reversed this stimulation at 0.1 nM. In conclusion, this study describes for the first time, the presence of α2-adrenoceptors in human epithelial breast cell lines. Moreover, activation of these receptors was associated with an enhancement of cell proliferation.
Access options
Buy single article
Instant access to the full article PDF.
USD 39.95
Price excludes VAT (USA)
Tax calculation will be finalised during checkout.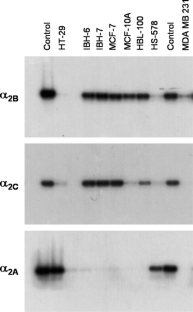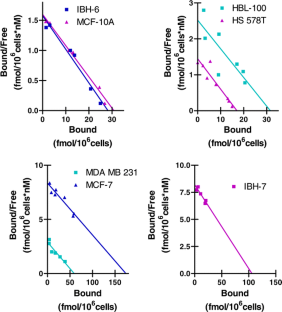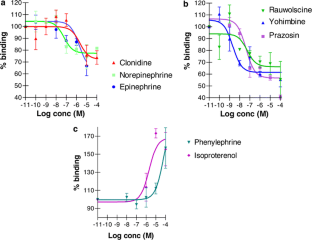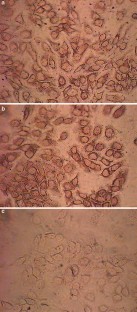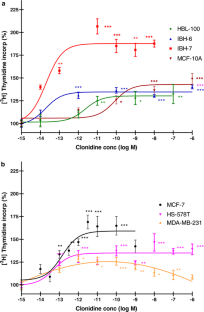 References
Alblas J, van Corven EJ, Hordijk PL, Milligan G, Moolenaar WH (1993) Gi-mediated activation of the p21ras-mitogen-activated protein kinase pathway by alpha 2-adrenergic receptors expressed in fibroblasts. J Biol Chem 268:22235–22238

Berthois Y, Katzenellenbogen JA, Katzenellenbogen BS (1986) Phenol red in tissue culture media is a weak estrogen: implications concerning the study of estrogen-responsive cells in culture. Proc Natl Acad Sci USA 83:2496–2500

Black PH (1994) Immune system-central nervous system interactions: effect and immunomodulatory consequences of immune system mediators on the brain. Antimicrob Agents Chemother 38:7–12

Boe R, Gjertsen BT, Doskeland SO, Vintermyr OK (1995) 8-Chloro-cAMP induces apoptotic cell death in a human mammary carcinoma cell (MCF-7) line. Br J Cancer 72:1151–1159

Brede M, Philipp M, Knaus A, Muthig V, Hein L (2004) alpha2-adrenergic receptor subtypes—novel functions uncovered in gene-targeted mouse models. Biol Cell 96:343–348

Bylund DB, Eikenberg DC, Hieble JP, Langer SZ, Lefkowitz RJ, Minneman KP, Molinoff PB, Ruffolo RR Jr, Trendelenburg U (1994) International union of pharmacology nomenclature of adrenoceptors. Pharmacol Rev 46:121–136

Bylund DB, Ray-Prenger C (1989) Alpha-2A and alpha-2B adrenergic receptor subtypes: attenuation of cyclic AMP production in cell lines containing only one receptor subtype. J Pharmacol Exp Ther 251:640–644

Cailleau R, Young R, Olive M, Reeves WJ Jr (1974) Breast tumor cell lines from pleural effusions. J Natl Cancer Inst 53:661–674

Caras I, Grigorescu A, Stavaru C, Radu DL, Mogos I, Szegli G, Salageanu A (2004) Evidence for immune defects in breast and lung cancer patients. Cancer Immunol Immunother 53:1143–1152

Cheng Y, Prusoff WH (1973) Relationship between the inhibition constant (K1) and the concentration of inhibitor which causes 50 per cent inhibition (I50) of an enzymatic reaction. Biochem Pharmacol 22:3099–3108

Cho-Chung YS (2004) Antisense protein kinase A RI alpha-induced tumor reversion: portrait of a microarray. Biochim Biophys Acta 1697:71–79

Cho-Chung YS, Clair T, Bodwin JS, Berghoffer B (1981) Growth arrest and morphological change of human breast cancer cells by dibutyryl cyclic AMP and L-arginine. Science 214:77–79

Chomczynski P, Sacchi N (1987) Single-step method of RNA isolation by acid guanidinium thiocyanate–phenol–chloroform extraction. Anal Biochem 162:156–159

Compas BE, Stoll MF, Thomsen AH, Oppedisano G, Epping-Jordan JE, Krag DN (1999) Adjustment to breast cancer: age-related differences in coping and emotional distress. Breast Cancer Res Treat 54:195–203

Cussac D, Schaak S, Gales C, Flordellis C, Denis C, Paris H (2002) alpha(2B)-Adrenergic receptors activate MAPK and modulate proliferation of primary cultured proximal tubule cells. Am J Physiol Renal Physiol 282:F943–F952

Daunt DA, Hurt C, Hein L, Kallio J, Feng F, Kobilka BK (1997) Subtype-specific intracellular trafficking of alpha2-adrenergic receptors. Mol Pharmacol 51:711–720

Donello JE, Padillo EU, Webster ML, Wheeler LA, Gil DW (2001) alpha(2)-Adrenoceptor agonists inhibit vitreal glutamate and aspartate accumulation and preserve retinal function after transient ischemia. J Pharmacol Exp Ther 296:216–223

Dorn GW, Oswald KJ, McCluskey TS, Kuhel DG, Liggett SB (1997) Alpha 2A-adrenergic receptor stimulated calcium release is transduced by Gi-associated G(beta gamma)-mediated activation of phospholipase C. Biochemistry 36:6415–6423

Dowdy S, Wearden S (1983) Statistics for research. Wiley, New York

Eason MG, Liggett SB (1993) Human alpha 2-adrenergic receptor subtype distribution: widespread and subtype-selective expression of alpha 2C10, alpha 2C4, and alpha 2C2 mRNA in multiple tissues. Mol Pharmacol 44:70–75

El Mowafy AM, Alkhalaf M (2003) Resveratrol activates adenylyl-cyclase in human breast cancer cells: a novel, estrogen receptor-independent cytostatic mechanism. Carcinogenesis 24:869–873

Fontana JA, Miksis G, Miranda DM, Durham JP (1987) Inhibition of human mammary carcinoma cell proliferation by retinoids and intracellular cAMP-elevating compounds. J Natl Cancer Inst 78:1107–1112

Gaffney EV (1982) A cell line (HBL-100) established from human breast milk. Cell Tissue Res 227:563–568

Ge H, Scheinin M, Kallio J (2003) Constitutive precoupling to G(i) and increased agonist potency in the alpha(2B)-adrenoceptor. Biochem Biophys Res Commun 306:959–965

Hackett AJ, Smith HS, Springer EL, Owens RB, Nelson-Rees WA, Riggs JL, Gardner MB (1977) Two syngeneic cell lines from human breast tissue: the aneuploid mammary epithelial (Hs578T) and the diploid myoepithelial (Hs578Bst) cell lines. J Natl Cancer Inst 58:1795–1806

Hammon HM, Bruckmaier RM, Honegger UE, Blum JW (1994) Distribution and density of alpha- and beta-adrenergic receptor binding sites in the bovine mammary gland. J Dairy Res 61:47–57

Heck DA, Bylund DB (1997) Mechanism of down-regulation of alpha-2 adrenergic receptor subtypes. J Pharmacol Exp Ther 282:1219–1227

Herschbach P, Keller M, Knight L, Brandl T, Huber B, Henrich G, Marten-Mittag B (2004) Psychological problems of cancer patients: a cancer distress screening with a cancer-specific questionnaire. Br J Cancer 91:504–511

Huang Y, Stamer WD, Anthony TL, Kumar DV, St John PA, Regan JW (2002) Expression of alpha(2)-adrenergic receptor subtypes in prenatal rat spinal cord. Brain Res Dev Brain Res 133:93–104

Hurt CM, Feng FY, Kobilka B (2000) Cell-type specific targeting of the alpha 2c-adrenoceptor. Evidence for the organization of receptor microdomains during neuronal differentiation of PC12 cells. J Biol Chem 275:35424–35431

Inderwies T, Pfaffl MW, Meyer HH, Blum JW, Bruckmaier RM (2003) Detection and quantification of mRNA expression of alpha- and beta-adrenergic receptor subtypes in the mammary gland of dairy cows. Domest Anim Endocrinol 24:123–135

Inderwies T, Riedl J, Kiossis E, Bruckmaier RM (2003) Effects of alpha- and beta-adrenergic receptor stimulation and oxytocin receptor blockade on milking characteristics in dairy cows before and after removal of the teat sphincter. J Dairy Res 70:289–292

Jansson CC, Marjamaki A, Luomala K, Savola JM, Scheinin M, Akerman KE (1994) Coupling of human alpha 2-adrenoceptor subtypes to regulation of cAMP production in transfected S115 cells. Eur J Pharmacol 266:165–174

Jansson CC, Savola JM, Akerman KE (1994) Different sensitivity of alpha 2A-C10 and alpha 2C-C4 receptor subtypes in coupling to inhibition of cAMP accumulation. Biochem Biophys Res Commun 199:869–875

Kobilka BK, Matsui H, Kobilka TS, Yang-Feng TL, Francke U, Caron MG, Lefkowitz RJ, Regan JW (1987) Cloning, sequencing, and expression of the gene coding for the human platelet alpha 2-adrenergic receptor. Science 238:650–656

Lalchandani SG, Lei L, Zheng W, Suni MM, Moore BM, Liggett SB, Miller DD, Feller DR (2002) Yohimbine dimers exhibiting selectivity for the human alpha 2C-adrenoceptor subtype. J Pharmacol Exp Ther 303:979–984

Lamb D, Steinberg RA (2002) Anti-proliferative effects of 8-chloro-cAMP and other cAMP analogs are unrelated to their effects on protein kinase A regulatory subunit expression. J Cell Physiol 192:216–224

Limon-Boulez I, Bouet-Alard R, Gettys TW, Lanier SM, Maltier JP, Legrand C (2001) Partial agonist clonidine mediates alpha(2)-AR subtypes specific regulation of cAMP accumulation in adenylyl cyclase II transfected DDT1-MF2 cells. Mol Pharmacol 59:331–338

Lomasney JW, Lorenz W, Allen LF, King K, Regan JW, Yang-Feng TL, Caron MG, Lefkowitz RJ (1990) Expansion of the alpha 2-adrenergic receptor family: cloning and characterization of a human alpha 2-adrenergic receptor subtype, the gene for which is located on chromosome 2. Proc Natl Acad Sci USA 87:5094–5098

MacNulty EE, McClue SJ, Carr IC, Jess T, Wakelam MJ, Milligan G (1992) Alpha 2-C10 adrenergic receptors expressed in rat 1 fibroblasts can regulate both adenylylcyclase and phospholipase D-mediated hydrolysis of phosphatidylcholine by interacting with pertussis toxin-sensitive guanine nucleotide-binding proteins. J Biol Chem 267:2149–2156

Marchetti B, Spinola PG, Plante M, Poyet P, Follea N, Pelletier G, Labrie F (1989) Beta-adrenergic receptors in DMBA-induced rat mammary tumors: correlation with progesterone receptor and tumor growth. Breast Cancer Res Treat 13:251–263

Marjamaki A, Ala-Uotila S, Luomala K, Perala M, Jansson C, Jalkanen M, Regan JW, Scheinin M (1992) Stable expression of recombinant human alpha 2-adrenoceptor subtypes in two mammalian cell lines: characterization with [3H]rauwolscine binding, inhibition of adenylate cyclase and RNase protection assay. Biochim Biophys Acta 1134:169–177

Marshall FH (2001) Heterodimerization of G-protein-coupled receptors in the CNS. Curr Opin Pharmacol 1:40–44

Morris GM, Hadcock JR, Malbon CC (1991) Cross-regulation between G-protein-coupled receptors. Activation of beta 2-adrenergic receptors increases alpha 1-adrenergic receptor mRNA levels. J Biol Chem 266:2233–2238

Oberbeck R (2004) Therapeutic implications of immune-endocrine interactions in the critically ill patients. Curr Drug Targets Immune Endocr Metabol Disord 4:129–139

Olli-Lahdesmaki T, Kallio J, Scheinin M (1999) Receptor subtype-induced targeting and subtype-specific internalization of human alpha(2)-adrenoceptors in PC12 cells. J Neurosci 19:9281–9288

Philipp M, Hein L (2004) Adrenergic receptor knockout mice: distinct functions of 9 receptor subtypes. Pharmacol Ther 101:65–74

Regan JW, Kobilka TS, Yang-Feng TL, Caron MG, Lefkowitz RJ, Kobilka BK (1988) Cloning and expression of a human kidney cDNA for an alpha 2-adrenergic receptor subtype. Proc Natl Acad Sci USA 85:6301–6305

Ruffolo RR Jr, Nichols AJ, Stadel JM, Hieble JP (1991) Structure and function of alpha-adrenoceptors. Pharmacol Rev 43:475–505

Ruffolo RR Jr, Nichols AJ, Stadel JM, Hieble JP (1993) Pharmacologic and therapeutic applications of alpha 2-adrenoceptor subtypes. Annu Rev Pharmacol Toxicol 33:243–279

Sabbioni ME, Siegrist HP, Bacchi M, Bernhard J, Castiglione M, Thurlimann B, Bonnefoi H, Perey L, Herrmann R, Goldhirsch A, Hurny C (2000) Association between immunity and prognostic factors in early stage breast cancer patients before adjuvant treatment. Breast Cancer Res Treat 59:279–287

Salahpour A, Angers S, Bouvier M (2000) Functional significance of oligomerization of G-protein-coupled receptors. Trends Endocrinol Metab 11:163–168

Saunders C, Limbird LE (1999) Localization and trafficking of alpha2-adrenergic receptor subtypes in cells and tissues. Pharmacol Ther 84:193–205

Shayo C, Fernandez N, Legnazzi BL, Monczor F, Mladovan A, Baldi A, Davio C (2001) Histamine H2 receptor desensitization: involvement of a select array of G protein-coupled receptor kinases. Mol Pharmacol 60:1049–1056

Shivachar AC, Eikenburg DC (1999) Differential effects of epinephrine and norepinephrine on cAMP response and g(i3)alpha protein expression in cultured sympathetic neurons. J Pharmacol Exp Ther 291:258–264

Slotkin TA, Zhang J, Dancel R, Garcia SJ, Willis C, Seidler FJ (2000) Beta-adrenoceptor signaling and its control of cell replication in MDA-MB-231 human breast cancer cells. Breast Cancer Res Treat 60:153–166

Soule HD, Maloney TM, Wolman SR, Peterson WD Jr, Brenz R, McGrath CM, Russo J, Pauley RJ, Jones RF, Brooks SC (1990) Isolation and characterization of a spontaneously immortalized human breast epithelial cell line, MCF-10. Cancer Res 50:6075–6086

Soule HD, Vazguez J, Long A, Albert S, Brennan M (1973) A human cell line from a pleural effusion derived from a breast carcinoma. J Natl Cancer Inst 51:1409–1416

Takesono A, Zahner J, Blumer KJ, Nagao T, Kurose H (1999) Negative regulation of alpha2-adrenergic receptor-mediated Gi signalling by a novel pathway. Biochem J 343(Pt 1):77–85

Vandewalle B, Revillion F, Lefebvre J (1990) Functional beta-adrenergic receptors in breast cancer cells. J Cancer Res Clin Oncol 116:303–306

Vanhamme L, Szpirer C (1988) Transforming activity of the human mammary line HBL100 DNA is associated with SV40 large T antigen genetic information integrated in its genome. Carcinogenesis 9:653–655

Vazquez SM, Mladovan A, Garbovesky C, Baldi A, Luthy IA (2004) Three novel hormone-responsive cell lines derived from primary human breast carcinomas: functional characterization. J Cell Physiol 199:460–469

Vazquez SM, Pignataro O, Luthy IA (1999) Alpha2-adrenergic effect on human breast cancer MCF-7 cells. Breast Cancer Res Treat 55:41–49

Vogel WH (1985) Coping, stress, stressors and health consequences. Neuropsychobiology 13:129–135

Wellner RB, He XJ, Marmary Y, Baum BJ (1988) Functional beta-adrenergic receptors in a human mammary cell line (HBL-100). Biochem Pharmacol 37:3035–3037

Wozniak M, Limbird LE (1996) The three alpha 2-adrenergic receptor subtypes achieve basolateral localization in Madin–Darby canine kidney II cells via different targeting mechanisms. J Biol Chem 271:5017–5024

Xu J, He J, Castleberry AM, Balasubramanian S, Lau AG, Hall RA (2003) Heterodimerization of alpha 2A- and beta 1-adrenergic receptors. J Biol Chem 278:10770–10777

Yamada S, Okura T, Kimura R (2001) In vivo demonstration of alpha(1A)-adrenoceptor subtype selectivity of KMD-3213 in rat tissues. J Pharmacol Exp Ther 296:160–167

Zheng W, Lei L, Lalchandani S, Sun G, Feller DR, Miller DD (2000) Yohimbine dimers exhibiting binding selectivities for human alpha2a- versus alpha2b-adrenergic receptors. Bioorg Med Chem Lett 10:627–630
Acknowledgements
This work was supported by the "Consejo Nacional de Investigaciones Científicas y Técnicas" (CONICET), and "Agencia Nacional de Promoción Científica y Tecnológica", Argentina.S.M.V. and Ariana Bruzzone are CONICET fellows; Alberto Baldi and I.A.L. are members of the Research Career, CONICET, Argentina. We gratefully acknowledge the discussion and suggestions of Drs. Carlos Davio, Claudia Lanari, Alfredo Molinolo, Tomás Santa Coloma and Lucrecia Calvo.
About this article
Cite this article
Vázquez, S.M., Mladovan, A.G., Pérez, C. et al. Human breast cell lines exhibit functional α2-adrenoceptors. Cancer Chemother Pharmacol 58, 50–61 (2006). https://doi.org/10.1007/s00280-005-0130-4
Received:

Accepted:

Published:

Issue Date:

DOI: https://doi.org/10.1007/s00280-005-0130-4
Keywords
α2-Adrenoceptors

Breast cancer

Normal breast

Cell proliferation

Clonidine

Rauwolscine