Zusammenfassung
Die Neuordnung des Bereichs der Persönlichkeitsstörungen (PS) in ICD-11 und DSM-5 wird Bewegung in die Entwicklung von Behandlungskonzepten bringen. Die verbesserte Diagnostik und das mittlerweile enorme therapeutisch-methodische Wissen können nun in neuer Weise zusammengefügt werden. Dabei wird auch die "Störungsspezifität" neu definiert werden müssen. Orientiert an Leitlinien und "best practice" gibt es bereits jetzt erfolgreiche Behandlungskonzepte, die auch in Zeiten des dimensionalen Modells weiter Bestand haben werden. Das vorgestellte Konzept strukturbezogener Behandlungspfade an einer Klinik der Regionalversorgung hat sich über Jahre auf der Grundlage einer dimensionalen Betrachtung der PS entwickeln können.
Abstract
The reorganization of personality disorders in ICD 11 and DSM 5 will stir up the development of treatment concepts. Improved diagnostics and the enormous therapeutic and methodological knowledge on hand can now be combined in a new way. Disorder specificity will also have to be redefined. There are already successful treatment concepts oriented towards guidelines and best practice that will continue to exist even in times of the dimensional model. The presented concept of structure-related treatment paths at a regional care clinic has been developed over years on the basis of a dimensional consideration of personality disorders.
This is a preview of subscription content, log in to check access.
Access options
Buy single article
Instant access to the full article PDF.
US$ 39.95
Price includes VAT for USA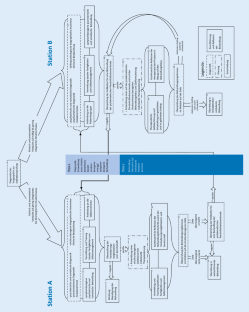 Literatur
Arbeitskreis OPD (Hrsg) (2014) OPD-2 – Operationalisierte Psychodynamische Diagnostik. Huber, Bern

AWMF (2009) Behandlungsleitlinie Persönlichkeitsstörungen. Praxisleitlinien in Psychiatrie und Psychotherapie, Bd. 1. Steinkopf, Heidelberg

Bach B, Markon K, Simonsen E, Krueger RF (2015) Clinical utility of the DSM-5 alternative model of personality disorders: six cases from practice. J Psychiatr Pract 21:3–25

Bach B, Sellbom M, Kongerslev M, Simonsen E, Krueger RF, Mulder R (2017) Deriving ICD-11 personality disorder domains from DSM-5 traits: initial attempt to harmonize two diagnostic systems. Acta Psychiatr Scand 136:108–117

Bateman AW, Gunderson J, Mulder R (2015) Treatment of personality disorder. Lancet 385:735–743

Berberich G, Zaudig M (2015) Das alternative Modell für Persönlichkeitsstörungen im DSM-5. Forens Psychiatr Psychol Kriminol 9:155–163

Bohus M, Wolf-Arenhult M (2012) Interaktives Skillstraining für Borderline-Patienten. Schattauer, Stuttgart

Choi-Kain LW, Finch EF, Masland SR, Jenkins JA, Unruh BT (2017) What works in the treatment of borderline personality disorder. Curr Behav Neurosci Rep 4:21–30

DGPPN, BÄK, KBV, AWMF, Leitliniengruppe Unipolare Depression (2017) S3-Leitlinie/Nationale Versorgungsleitlinie Unipolare Depression – Langfassung. Version 5, 2. Aufl. https://doi.org/10.6101/AZQ/000364

Dick B, Sitter H, Blau E et al (2006) Behandlungspfade in Psychiatrie und Psychotherapie. Nervenarzt 77:12–22

Falkai P, Wittchen HU (Hrsg) (2015) Diagnostisches und statistisches Manual psychischer Störungen DSM-5. Hogrefe, Göttingen

Fiedler P, Herpertz SC (2016) Persönlichkeitsstörungen, 7. Aufl. Beltz, Weinheim

First MB et al (Hrsg) (2018) Structured clinical interview for the DSM-5 alternative model for personality disorders. Amer Psychiatric Pub, Washington

Herbold W (2017) Eine allgemeine Psychotherapie der Persönlichkeitsstörungen – wie könnte das gehen? Personlichkeitsstorungen 21:56–62

Herbold W (2018) DSM-5 und ICD-11 – Die neue Systematik der Persönlichkeitsstörungen aus psychodynamischer Sicht. Psychodynamische Psychotherapie PDP 17:183–191

Herpertz S et al (2017) The challenge of transforming the diagnostic system of personality disorders. J Pers Disord 31:577–589

Hopwood CJ (2018) A framework for treating DSM-5 alternative model for personality disorder features. Personal Ment Health. https://doi.org/10.1002/pmh.1414

Hopwood CJ et al (2017) The time has come for dimensional personality disorder diagnosis. Personal Ment Health. https://doi.org/10.1002/pmh.1408

Hopwood CJ, Zimmermann J, Pincus AL, Krueger RF (2015) Connecting personality structure and dynamics: towards a more evidence-based and clinically useful diagnostic scheme. J Pers Disord 29:431–448

Luborsky L, Albani C, Eckert R (1992) Manual zur ZBKT-Methode (deutsche Übersetzung mit Ergänzungen). Psychother Psychosom Med Psychol 52:226–235

Morey LC, Benson KT (2016) Relating DSM-5 section II and section III personality disorder diagnostic classification systems to treatment planning. Compr Psychiatry 68:48–55

NHRMC (2012) Clinical practice guideline for the management of borderline personality disorder (www.nhmrc.gov.au/guidelines/publications/mh25)

NICE (2009) Borderline personality disorder: recognition and management (www.nice.org.uk/guidance/cg78)

Ramb C (2017) Spezifische stationäre Intervallbehandlung als Chance für Menschen mit schweren Persönlichkeitsstörungen. Personlichkeitsstorungen 21:63–74

Rudolf G (2013) Strukturbezogene Psychotherapie, 3. Aufl. Schattauer, Stuttgart

Sachsse U, Herbold W (2008) Schritt für Schritt – Differentialindikation und spezialisierte Psychotherapie in einer psychiatrisch-psychotherapeutischen Fachklinik der Regionalversorgung. Fortschr Neurol Psychiatr 76:155–159

Spitzer C, Rullkötter N, Dally A (2016) Stationäre Psychotherapie. Nervenarzt 87:99–110

SST (2015) National clinical guideline for the treatment of emotionally unstable personality disorder, borderline type. https://www.sst.dk/en/publications/2015/national-clinical-guideline-for-the-treatment-of-emotionally-unstable-personality-disorder,-borderline-type. Zugegriffen: Juli 2018

Tyrer P, Reed GM, Crawford MJ (2015) Classification, assessment, prevalence, and effect of personality disorder. Lancet 385:717–726

Zimmermann J (2014) Paradigmenwechsel in der Klassifikation von Persönlichkeitsstörungen: Die neuen Modelle in DSM-5 und ICD-11. Psychother Dialog 15:16–20

Zimmermann J, Ehrenthal JC, Cierpka M et al (2012) Assessing the level of structural integration using Operationalized Psychodynamic Diagnosis (OPD): implications for DSM-5. J Pers Assess 94:522–532

Zimmermann J, Benecke C, Bender D et al (2013) Persönlichkeitsdiagnostik im DSM-5. Psychotherapeut 58:455–465

Zimmermann J, Dahlbender RM, Herbold W et al (2015a) Der OPD-Strukturfragebogen erfasst die allgemeinen Merkmale einer Persönlichkeitsstörung. Psychother Psychosom Med Psychol 65:81–83

Zimmermann J, Brakemeier EL, Benecke C (2015b) Alternatives DSM-5-Modell zur Klassifikation von Persönlichkeitsstörungen – Bezüge zu psychodynamischer und verhaltenstherapeutischer Diagnostik. Psychotherapeut 60:269–278
Danksagung
Der Autor dankt den Mitarbeitenden der Stationen 6 und 11.2 der Abteilung Psychotherapie und Traumatherapie des Asklepios Fachklinikums Göttingen für die langjährige Zusammenarbeit bei der Konzeptentwicklung sowie Lisette Morris und Birgit Neef für ihre wertvolle kritische Lektüre dieser Arbeit.
Ethics declarations
Interessenkonflikt
W. Herbold gibt an, dass kein Interessenkonflikt besteht.
Dieser Beitrag beinhaltet keine vom Autor durchgeführten Studien an Menschen oder Tieren.
Additional information
Aus Gründen der besseren Lesbarkeit wird in diesem Beitrag überwiegend das generische Maskulinum verwendet. Dies impliziert immer beide Formen, schließt also die weibliche Form mit ein.
About this article
Cite this article
Herbold, W. Strukturbezogene Behandlungspfade bei Persönlichkeitsstörungen. Psychotherapeut 64, 55–64 (2019). https://doi.org/10.1007/s00278-018-0325-x
Schlüsselwörter
ICD

DSM

Strukturelle Funktionen

Persönlichkeitsmerkmale

Algorithmen
Keywords
ICD

DSM

Structural functions

Personality traits

Algorithms