Abstract
Sarcopenia is known to be associated with an increased risk of adverse outcomes in a variety of malignancies, but its impact in extranodal natural killer/T cell lymphoma, nasal type (ENKTL-NT) is unknown. The aim of this study was to explore the prognostic relevance of sarcopenia defined by MRI-based masticatory muscle index in ENKTL-NT patients. A total of 112 patients with newly diagnosed ENKTL-NT who underwent cranial magnetic resonance imaging (MRI) were enrolled. The masticatory skeletal muscle index (M-SMI) was measured based on T2-weighted MR images and sarcopenia was defined by M-SMI<5.5 cm2/ m2. The median M-SMI was 5.47 (4.91–5.96) cm2/m2; 58 were identified with sarcopenia in this cohort. On multivariate analyses, sarcopenia was the only independently risk factor predicting overall survival (HR, 4.590; 95% CI, 1.657–12.715; p = 0.003), progression-free survival (HR, 3.048; 95% CI, 1.515–6.130; p = 0.002), and treatment response (HR, 0.112; 95% CI, 0.042–0.301; p < 0.001). In addition, we found that integrating sarcopenia into prognostic indices could improve the discriminative power of the corresponding original model. Stratification analysis showed that sarcopenia was able to further identify survival differences in patients that could not be distinguished by prognostic models. In summary, our study suggests that sarcopenia defined by MRI-based M-SMI represents a new and routinely applicable prognostic indicator of clinical outcome or predictor of treatment response in ENKTL-NT patients, and may aid in risk stratification and treatment decisions.
Access options
Buy single article
Instant access to the full article PDF.
USD 39.95
Price excludes VAT (USA)
Tax calculation will be finalised during checkout.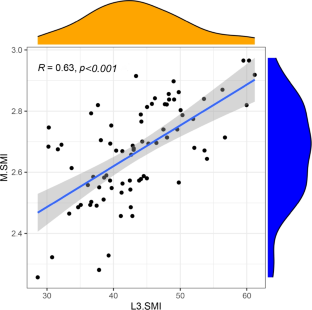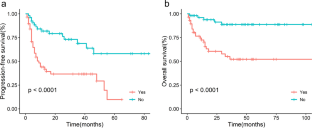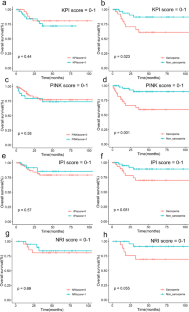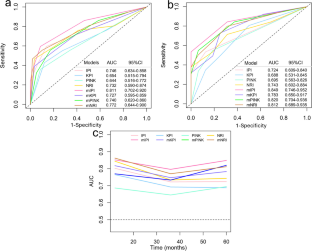 Data availability
The datasets used and analyzed in the current study are available from the corresponding authors.
Abbreviations
ENKTL-NT :

extranodal NK/T cell lymphoma, nasal type

NHL :

non-Hodgkin's lymphoma

EBV :

Epstein-Barr virus

MRI :

magnetic resonance imaging

CT :

computed tomography

M-SMI :

masticatory muscle index

PFS :

progression-free survival

OS :

overall survival

IPI :

International Prognostic Index

KPI :

Korean Prognostic Index

PINK :

Prognostic Index of Natural Killer Lymphoma

NRI :

Nomogram-revised Risk Index

SMI :

skeletal muscle index

L3 :

third lumbar vertebra

CSA :

cross-sectional area

LDH :

lactate dehydrogenase

ECOG PS :

Eastern Cooperative Oncology Group performance status

RLN :

regional lymph node

DLN :

distant lymph node

BMI :

body mass index

OR :

odds ratio
References
Zhou X, Sun X, Zhao W et al (2019) Prognostic significance of peripheral blood absolute lymphocyte count and derived neutrophil to lymphocyte ratio in patients with newly diagnosed extranodal natural killer/T-cell lymphoma. Cancer Manag Res 11:4243–4254

van Doesum JA, Niezink A, Huls GA et al (2021) Extranodal natural killer/T-cell lymphoma, nasal type: diagnosis and treatment. Hemasphere 5:e523

Di QS, Xu T, Song Y et al (2020) High C-reactive protein to albumin ratio predicts inferior clinical outcomes in extranodal natural killer T-cell lymphoma. Dose Response 18:710600640

Li H, Shao G, Zhang Y et al (2021) Nomograms based on SUVmax of (18)F-FDG PET/CT and clinical parameters for predicting progression-free and overall survival in patients with newly diagnosed extranodal natural killer/T-cell lymphoma. Cancer Imaging 21:9

Sanchez-Romero C, Bologna-Molina R, Paes DAO et al (2021) Extranodal NK/T cell lymphoma, nasal type: an updated overview. Crit Rev Oncol Hematol 159:103237

Kwong YL, Kim WS, Lim ST et al (2012) SMILE for natural killer/T-cell lymphoma: analysis of safety and efficacy from the Asia Lymphoma Study Group. Blood 120:2973–2980

Yamaguchi M, Suzuki R, Oguchi M et al (2017) Treatments and outcomes of patients with extranodal natural killer/T-cell lymphoma diagnosed between 2000 and 2013: a cooperative study in Japan. J Clin Oncol 35:32–39

Yang Y, Zhu Y, Cao JZ et al (2015) Risk-adapted therapy for early-stage extranodal nasal-type NK/T-cell lymphoma: analysis from a multicenter study. Blood 126(1424–1432):1517

Chen SY, Yang Y, Qi SN et al (2021) Validation of nomogram-revised risk index and comparison with other models for extranodal nasal-type NK/T-cell lymphoma in the modern chemotherapy era: indication for prognostication and clinical decision-making. Leukemia 35:130–142

Dong G, Liu X, Wang L et al (2022) Genomic profiling identifies distinct genetic subtypes in extra-nodal natural killer/T-cell lymphoma. Leukemia 36:2064–2075

Xiong J, Cui BW, Wang N et al (2020) Genomic and transcriptomic characterization of natural killer T cell lymphoma. Cancer Cell 37:403–419

Hu WH, Chang CD, Liu TT et al (2021) Association of sarcopenia and expression of interleukin-23 in colorectal cancer survival. Clin Nutr 40:5322–5326

Lee J, Liu SH, Dai KY et al (2021) Sarcopenia and systemic inflammation synergistically impact survival in oral cavity cancer. Laryngoscope 131:E1530–E1538

Srpcic M, Jordan T, Popuri K et al (2020) Sarcopenia and myosteatosis at presentation adversely affect survival after esophagectomy for esophageal cancer. Radiol Oncol 54:237–246

Surov A, Wienke A (2021) Sarcopenia predicts overall survival in patients with malignant hematological diseases: a meta-analysis. Clin Nutr 40:1155–1160

Zilioli VR, Albano D, Arcari A et al (2021) Clinical and prognostic role of sarcopenia in elderly patients with classical Hodgkin lymphoma: a multicentre experience. J Cachexia Sarcopenia Muscle 12:1042–1055

Tagliafico AS, Bignotti B, Torri L et al (2022) Sarcopenia: how to measure, when and why. Radiol Med 127:228–237

Cruz-Jentoft AJ, Bahat G, Bauer J et al (2019) Sarcopenia: revised European consensus on definition and diagnosis. Age Ageing 48:16–31

Pamoukdjian F, Bouillet T, Levy V et al (2018) Prevalence and predictive value of pre-therapeutic sarcopenia in cancer patients: a systematic review. Clin Nutr 37:1101–1113

Beaudart C, McCloskey E, Bruyere O et al (2016) Sarcopenia in daily practice: assessment and management. Bmc Geriatr 16:170

Xu Z, Yang D, Luo J et al (2023) Diagnosis of sarcopenia using the L3 skeletal muscle index estimated from the L1 skeletal muscle index on MR images in patients with cirrhosis. J Magn Reson Imaging

Faron A, Sprinkart AM, Kuetting D et al (2020) Body composition analysis using CT and MRI: intra-individual intermodal comparison of muscle mass and myosteatosis. Sci Rep 10:11765

Zaffina C, Wyttenbach R, Pagnamenta A et al (2022) Body composition assessment: comparison of quantitative values between magnetic resonance imaging and computed tomography. Quant Imaging Med Surg 12:1450–1466

Zwart AT, Becker JN, Lamers MJ et al (2021) Skeletal muscle mass and sarcopenia can be determined with 1.5-T and 3-T neck MRI scans, in the event that no neck CT scan is performed. Eur Radiol 31:4053–4062

Mitsiopoulos N, Baumgartner RN, Heymsfield SB et al (1998) Cadaver validation of skeletal muscle measurement by magnetic resonance imaging and computerized tomography. J Appl Physiol 85:115–122

Chargi N, Ansari E, Huiskamp L et al (2019) Agreement between skeletal muscle mass measurements using computed tomography imaging and magnetic resonance imaging in head and neck cancer patients. Oral Oncol 99:104341

Khil EK, Choi JA, Hwang E et al (2020) Paraspinal back muscles in asymptomatic volunteers: quantitative and qualitative analysis using computed tomography (CT) and magnetic resonance imaging (MRI). Bmc Musculoskelet Disord 21:403

Chang SW, Tsai YH, Hsu CM et al (2021) Masticatory muscle index for indicating skeletal muscle mass in patients with head and neck cancer. PLoS One 16:e251455

Ganju RG, Morse R, Hoover A et al (2019) The impact of sarcopenia on tolerance of radiation and outcome in patients with head and neck cancer receiving chemoradiation. Radiother Oncol 137:117–124

Pedersen LM, Klausen TW, Davidsen UH et al (2005) Early changes in serum IL-6 and VEGF levels predict clinical outcome following first-line therapy in aggressive non-Hodgkin's lymphoma. Ann Hematol 84:510–516

Xie G, Jin H, Mikhail H et al (2023) Autophagy in sarcopenia: possible mechanisms and novel therapies. Biomed Pharmacother 165:115147

Mancuso S, Mattana M, Santoro M et al (2022) Host-related factors and cancer: Malnutrition and non-Hodgkin lymphoma. Hematol Oncol 40:320–331

Sinelnikov A, Qu C, Fetzer DT et al (2016) Measurement of skeletal muscle area: comparison of CT and MR imaging. Eur J Radiol 85:1716–1721

Chianca V, Albano D, Messina C et al (2022) Sarcopenia: imaging assessment and clinical application. Abdom Radiol (Ny) 47:3205–3216

Schlaeger S, Weidlich D, Klupp E et al (2020) Water T(2) mapping in fatty infiltrated thigh muscles of patients with neuromuscular diseases using a T(2) -prepared 3D turbo spin echo with SPAIR. J Magn Reson Imaging 51:1727–1736

Shen W, Punyanitya M, Wang Z et al (2004) Total body skeletal muscle and adipose tissue volumes: estimation from a single abdominal cross-sectional image. J Appl Physiol 97:2333–2338

Vangelov B, Bauer J, Kotevski D et al (2022) The use of alternate vertebral levels to L3 in computed tomography scans for skeletal muscle mass evaluation and sarcopenia assessment in patients with cancer: a systematic review. Br J Nutr 127:722–735

Jimenez-Gutierrez GE, Martinez-Gomez LE, Martinez-Armenta C et al (2022) Molecular mechanisms of inflammation in sarcopenia: diagnosis and therapeutic update. Cells 11:2359

Chim CS, Ma SY, Au WY et al (2004) Primary nasal natural killer cell lymphoma: long-term treatment outcome and relationship with the International Prognostic Index. Blood 103:216–221

Kim SJ, Yoon DH, Jaccard A et al (2016) A prognostic index for natural killer cell lymphoma after non-anthracycline-based treatment: a multicentre, retrospective analysis. Lancet Oncol 17:389–400
Ethics declarations
Ethics approval
The study protocol was approved by the institutional review boards of Zhongnan Hospital of Wuhan University and Hubei Cancer Hospital, Tongji Medical College, Huazhong University of Science and Technology in accordance with the Helsinki Declaration.
Patient consent
Informed consent was waived due to the retrospective nature of the present study, and data of the participants have been anonymized.
Competing interests
The authors declare no competing interests.
Additional information
Publisher's Note
Springer Nature remains neutral with regard to jurisdictional claims in published maps and institutional affiliations.
Supplementary information
Below is the link to the electronic supplementary material.
Rights and permissions
Springer Nature or its licensor (e.g. a society or other partner) holds exclusive rights to this article under a publishing agreement with the author(s) or other rightsholder(s); author self-archiving of the accepted manuscript version of this article is solely governed by the terms of such publishing agreement and applicable law.
About this article
Cite this article
Xu, T., Li, Y., Liu, Y. et al. Clinical and prognostic role of sarcopenia based on masticatory muscle index on MR images in patients with extranodal natural killer/T cell lymphoma, nasal type. Ann Hematol 102, 3521–3532 (2023). https://doi.org/10.1007/s00277-023-05436-7
Received:

Accepted:

Published:

Issue Date:

DOI: https://doi.org/10.1007/s00277-023-05436-7
Keywords