Abstract
Myeloproliferative neoplasms are rare at a young age, and few reports have described the disease characteristics and outcomes in this group. This study aimed to elucidate the clinical course of essential thrombocythemia (ET) and polycythemia vera (PV) in children and young adults aged <39 years focusing on thromboembolic events (TE) and second primary malignancies (SPMs). A total of 990 patients who were diagnosed from 2008 to 2017 were included by analyzing the Health Insurance Review and Assessment Service database in Korea. The incidence was 2.53 per 1,000,000 for ET (643 patients; 276 male patients; median 31 years) and 1.37 per 1,000,000 for PV (347 patients; 309 male patients; median 32 years). Three ET patients developed secondary acute myelogenous leukemia and three developed secondary myelofibrosis. The 5-year cumulative incidence of TE was 14.2% in ET and 21.3% in PV. Thus, the incidence was higher in PV; in particular, arterial TE (ATE) was evidently higher in PV than in ET. The 5-year cumulative incidence of SPMs was 2.5% in ET and 2.6% in PV. While the use of both aspirin and hydroxyurea reduced the incidence of ATE, hydroxyurea significantly increased the incidence of SPMs. The incidence of ET and PV was very low, and ET was more common than PV in children and young adults. The high incidence of TE in young patients suggests the importance of thrombosis prevention. However, hydroxyurea appears to increase the incidence of SPMs; therefore, the risks and benefits should be considered.
Access options
Buy single article
Instant access to the full article PDF.
US$ 39.95
Tax calculation will be finalised during checkout.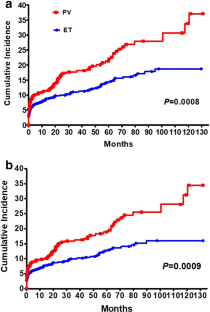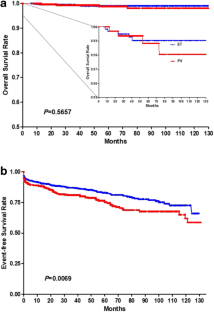 Availability of data and material
The data that support the findings of this study are available from the corresponding author upon reasonable request.
Abbreviations
ALL:

Acute lymphoblastic leukemia

ATE:

Arterial thromboembolic events

ACS:

Acute coronary syndrome

AYA:

Adolescent and young adults

BCS:

Budd-Chiari syndrome

CVT:

Cerebral vein thrombosis

DVT:

Deep vein thrombosis

ET:

Essential thrombocythemia

HIRA:

Health Insurance Review and Assessment Service

MPN:

Myeloproliferative neoplasms

NHIS:

National Health Insurance Service

OS:

Overall survival

PE:

Pulmonary embolism

PV:

Polycythemia vera

PMF:

Primary myelofibrosis

SAML:

Secondary acute myeloid leukemia

SMF:

Secondary myelofibrosis

SPMs:

Second primary malignancies

TE:

Thromboembolic events

VTE:

Venous thromboembolic events
Funding
This work was supported by a research fund from Seoul National University Bundang Hospital (grant number: SNUBH 13-2018-018).
Ethics declarations
Ethics approval
This study was exempted by the Institutional Review Board of Seoul National University Bundang Hospital (IRB Approval No. X-1803/459-905), and the need for informed consent from each patient was waived, as the authors did not have access to any identifying information. All procedures followed were in accordance with the ethical standards of the responsible committee on human experimentation (institutional and national) and with the Helsinki Declaration of 1975, as revised in 2008.
Conflict of interest
The authors declare no competing interests.
Additional information
Publisher's note
Springer Nature remains neutral with regard to jurisdictional claims in published maps and institutional affiliations.
Supplementary Information
About this article
Cite this article
Choi, H.S., Hong, J., Hwang, S.M. et al. Evaluation of the need for cytoreduction and its potential carcinogenicity in children and young adults with myeloproliferative neoplasms. Ann Hematol 100, 2567–2574 (2021). https://doi.org/10.1007/s00277-021-04527-7
Received:

Accepted:

Published:

Issue Date:
Keywords
Child

Essential thrombocythemia

Polycythemia vera

Second primary malignancy

Thromboembolism