Abstract
Mantle cell lymphoma has a dismal prognosis at relapse or in the refractory setting. Among therapies, mTor pathway targeting by temsirolimus has been the first strategy approved for relapse in Europe. While its efficacy in monotherapy has long been demonstrated, its use remains limited. In the T3 phase Ib clinical trial, we investigated the recommended dose of temsirolimus in association with R-CHOP (R-CHOP-T), or high-dose cytarabine plus rituximab (R-DHA-T), or fludarabine, cyclophosphamide plus rituximab (R-FC-T). From November 11, 2011 to February 26, 2015, forty-one patients were enrolled. Patients presented with high MIPI (47.5%) at relapse and a median number of treatments of 1 (1–3). Patients were treated by R-CHOP-T (n = 10), R-FC-T (n = 14), or R-DHA-T (n = 17) according to the choice of local investigators. The maximum tolerated dose (MTD) was 15 mg in the R-CHOP-T arm and has not been determined in other treatment arms because of toxicities. All patients experienced ≥ Grade 3 adverse events, mainly thrombocytopenia (76%). Twenty-six patients discontinued prematurely the treatment, mostly for toxicity (n = 12) and progression of the disease (n = 8). Of note, 6 patients of the R-DHA-T arm reached complete remission (35%). Temsirolimus with immuno-chemotherapy is associated with a high rate of toxicities. Determination of MTD could only be achieved for R-CHOP-T arm. Associations between temsirolimus and other targeted therapies may be warranted for R/R MCL patients.
Access options
Buy single article
Instant access to the full article PDF.
US$ 39.95
Tax calculation will be finalised during checkout.
Subscribe to journal
Immediate online access to all issues from 2019. Subscription will auto renew annually.
US$ 119
Tax calculation will be finalised during checkout.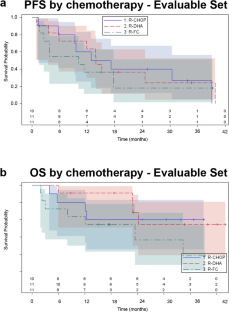 References
1.

Leux C, Maynadié M, Troussard X, Cabrera Q, Herry A, Le Guyader-Peyrou S, Le Gouill S, Monnereau A (2014) Mantle cell lymphoma epidemiology: a population-based study in France. Ann Hematol 93:1327–1333

2.

Kluin-Nelemans HC, Hoster E, Hermine O, Walewski J, Trneny M, Geisler CH, Stilgenbauer S, Thieblemont C, Vehling-Kaiser U, Doorduijn JK, Coiffier B, Forstpointner R, Tilly H, Kanz L, Feugier P, Szymczyk M, Hallek M, Kremers S, Lepeu G, Sanhes L, Zijlstra JM, Bouabdallah R, Lugtenburg PJ, Macro M, Pfreundschuh M, Procházka V, di Raimondo F, Ribrag V, Uppenkamp M, André M, Klapper W, Hiddemann W, Unterhalt M, Dreyling MH (2012) Treatment of older patients with mantle-cell lymphoma. N Engl J Med 367:520–531

3.

Le Gouill S, Thieblemont C, Oberic L et al (2017) Rituximab after autologous stem-cell transplantation in mantle-cell lymphoma. N Engl J Med 377:1250–1260

4.

Jares P, Colomer D, Campo E (2012) Molecular pathogenesis of mantle cell lymphoma. J Clin Invest 122:3416–3423

5.

Hess G, Herbrecht R, Romaguera J, Verhoef G, Crump M, Gisselbrecht C, Laurell A, Offner F, Strahs A, Berkenblit A, Hanushevsky O, Clancy J, Hewes B, Moore L, Coiffier B (2009) Phase III study to evaluate Temsirolimus compared with Investigator's choice therapy for the treatment of relapsed or refractory mantle cell lymphoma. J Clin Oncol 27:3822–3829

6.

Hess G, Coiffier B, Crump M, Gisselbrecht C, Offner F, Romaguera J, Kang L, Moran PJ (2015) Effect of prognostic classification on temsirolimus efficacy and safety in patients with relapsed or refractory mantle cell lymphoma: a retrospective analysis. Exp Hematol Oncol 4:11

7.

Dreyling M, Jurczak W, Jerkeman M, Silva RS, Rusconi C, Trneny M, Offner F, Caballero D, Joao C, Witzens-Harig M, Hess G, Bence-Bruckler I, Cho SG, Bothos J, Goldberg JD, Enny C, Traina S, Balasubramanian S, Bandyopadhyay N, Sun S, Vermeulen J, Rizo A, Rule S (2016) Ibrutinib versus temsirolimus in patients with relapsed or refractory mantle-cell lymphoma: an international, randomised, open-label, phase 3 study. Lancet Lond Engl 387:770–778

8.

Wang ML, Rule S, Martin P, Goy A, Auer R, Kahl BS, Jurczak W, Advani RH, Romaguera JE, Williams ME, Barrientos JC, Chmielowska E, Radford J, Stilgenbauer S, Dreyling M, Jedrzejczak WW, Johnson P, Spurgeon SE, Li L, Zhang L, Newberry K, Ou Z, Cheng N, Fang B, McGreivy J, Clow F, Buggy JJ, Chang BY, Beaupre DM, Kunkel LA, Blum KA (2013) Targeting BTK with Ibrutinib in relapsed or refractory mantle-cell lymphoma. N Engl J Med 369:507–516

9.

Trněný M, Lamy T, Walewski J, Belada D, Mayer J, Radford J, Jurczak W, Morschhauser F, Alexeeva J, Rule S, Afanasyev B, Kaplanov K, Thyss A, Kuzmin A, Voloshin S, Kuliczkowski K, Giza A, Milpied N, Stelitano C, Marks R, Trümper L, Biyukov T, Patturajan M, Bravo MC, Arcaini L, SPRINT trial investigators and in collaboration with the European Mantle Cell Lymphoma Network (2016) Lenalidomide versus investigator's choice in relapsed or refractory mantle cell lymphoma (MCL-002; SPRINT): a phase 2, randomised, multicentre trial. Lancet Oncol 17:319–331

10.

Ansell SM, Tang H, Kurtin PJ, Koenig PA, Inwards DJ, Shah K, Ziesmer SC, Feldman AL, Rao R, Gupta M, Erlichman C, Witzig TE (2011) Temsirolimus and rituximab in patients with relapsed or refractory mantle cell lymphoma: a phase 2 study. Lancet Oncol 12:361–368

11.

Hess G, Keller U, Scholz CW, Witzens-Harig M, Atta J, Buske C, Kirschey S, Ruckes C, Medler C, van Oordt C, Klapper W, Theobald M, Dreyling M (2015) Safety and efficacy of Temsirolimus in combination with Bendamustine and rituximab in relapsed mantle cell and follicular lymphoma. Leukemia 29:1695–1701

12.

Visco C, Finotto S, Zambello R, Paolini R, Menin A, Zanotti R, Zaja F, Semenzato G, Pizzolo G, D'Amore ESG, Rodeghiero F (2013) Combination of rituximab, bendamustine, and cytarabine for patients with mantle-cell non-Hodgkin lymphoma ineligible for intensive regimens or autologous transplantation. J Clin Oncol Off J Am Soc Clin Oncol 31:1442–1449

13.

Inwards DJ, Fishkin PA, LaPlant BR, Drake MT, Kurtin PJ, Nikcevich DA, Wender DB, Lair BS, Witzig TE (2014) Phase I trial of rituximab, cladribine, and temsirolimus (RCT) for initial therapy of mantle cell lymphoma. Ann Oncol Off J Eur Soc Med Oncol 25:2020–2024

14.

Robak T, Huang H, Jin J, Zhu J, Liu T, Samoilova O, Pylypenko H, Verhoef G, Siritanaratkul N, Osmanov E, Alexeeva J, Pereira J, Drach J, Mayer J, Hong X, Okamoto R, Pei L, Rooney B, van de Velde H, Cavalli F, LYM-3002 Investigators (2015) Bortezomib-based therapy for newly diagnosed mantle-cell lymphoma. N Engl J Med 372:944–953

15.

Witzens-Harig M, Memmer ML, Dreyling M, Hess G (2013) A phase I/II trial to evaluate the safety, feasibility and activity of salvage therapy consisting of the mTOR inhibitor temsirolimus added to standard therapy of rituximab and DHAP for the treatment of patients with relapsed or refractory diffuse large cell B-cell lymphoma - the STORM trial. BMC Cancer 13:308

16.

Zhao X, Lwin T, Silva A, Shah B, Tao J, Fang B, Zhang L, Fu K, Bi C, Li J, Jiang H, Meads MB, Jacobson T, Silva M, Distler A, Darville L, Zhang L, Han Y, Rebatchouk D, di Liberto M, Moscinski LC, Koomen JM, Dalton WS, Shain KH, Wang M, Sotomayor E, Tao J (2017) Unification of de novo and acquired ibrutinib resistance in mantle cell lymphoma. Nat Commun 8:14920
Acknowledgements
• KB, BB, TL, RG, GC, CT, CS, CH, OC, EG, OH, and SLG performed the research.
• SLG designed the research study.
• BT and SLG analyzed the data and wrote the paper.
• CJ performed the statistical analyses.
Funding
This trial was funded by Pfizer, Inc. and LYSARC was the sponsor.
Ethics declarations
Conflict of interest
The authors have no competing interests.
Ethical approval
All procedures performed in studies involving human participants were in accordance with the ethical standards of the institutional and/or national research committee and with the 1964 Helsinki declaration and its later amendments or comparable ethical standards.
Informed consent
Informed consent was obtained from all individual participants included in the study.
Additional information
Publisher's note
Springer Nature remains neutral with regard to jurisdictional claims in published maps and institutional affiliations.
EUDRACT Registration: 2011-001744-29
Electronic supplementary material
About this article
Cite this article
Tessoulin, B., Bouabdallah, K., Burroni, B. et al. Safety and efficacy of temsirolimus in combination with three different immuno-chemotherapy regimens in relapse and refractory mantle cell lymphoma, final results of the T3 phase IB trial of the LYSA. Ann Hematol 99, 1771–1778 (2020). https://doi.org/10.1007/s00277-020-04159-3
Received:

Accepted:

Published:

Issue Date:
Keywords
Mantle cell lymphoma

Temsirolimus

Immuno-chemotherapy