Access options
Buy single article
Instant access to the full article PDF.
USD 39.95
Price excludes VAT (USA)
Tax calculation will be finalised during checkout.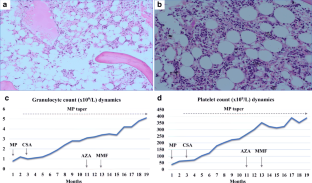 References
Yilmaz U, Ar MC, Esatoglu SN, Bavunoglu I, Erzin YZ, Hatemi AI, Yildirim S, Hatemi G, Celik AF (2020) How to treat myelodysplastic syndrome with clinical features resembling Behçet syndrome: a case-based systematic review. Ann Hematol 99:1193–1203

Ahn JK, Cha HS, Koh EM, Kim SH, Kim YG, Lee CK, Yoo B (2008) Behcet's disease associated with bone marrow failure in Korean patients: clinical characteristics and the association of intestinal ulceration and trisomy 8. Rheumatology (Oxford) 47(8):1228–1230

Chung JW, Cheon JH, Lee KJ, Kim JS, Jang SJ, Yang WI, Kim TI, Kim WH (2010) Aplastic anemia with trisomy 8 and trisomy 9 in intestinal behcets disease. Korean J Gastroenterol 55(4):256–260

Grignano E, Jachiet V, Fenaux P, Ades L, Fain O, Mekinian A (2018) Autoimmune manifestations associated with myelodysplastic syndromes. Ann Hematol 97(11):2015–2023

Köse O, Simşek I, Pay S (2011) Mycophenolate sodium in the treatment of mucocutaneous Behcet's diseases. Int J Dermatol 50(7):895–896

Kappen JH, Mensink PB, Lesterhuis W, Lachman S, van Daele PL, van Hagen PM, van Laar JA (2008) Mycophenolate sodium: effective treatment for therapy-refractory intestinal Behçet's disease, evaluated with enteroscopy. Am J Gastroenterol 103(12):3213–3214

Shugaiv E, Tüzün E, Mutlu M, Kiyat-Atamer A, Kurtuncu M, Akman-Demir G (2011) Mycophenolate mofetil as a novel immunosuppressant in the treatment of neuro-Behçet's disease with parenchymal involvement: presentation of four cases. Clin Exp Rheumatol 29(4 Suppl 67):S64–S67

Stalder MP, Rovó A, Halter J, Heim D, Silzle T, Passweg J, Rischewski J, Stern M, Arber C, Buser A, Meyer-Monard S, Tichelli A, Gratwohl A (2009) Aplastic anemia and concomitant autoimmune diseases. Ann Hematol 88(7):659–665

Montoro J, Gallur L, Merchán B, Molero A, Roldán E, Martínez-Valle F, Villacampa G, Navarrete M, Ortega M, Castellví J, Saumell S, Bobillo S, Bosch F, Valcárcel D (2018) Autoimmune disorders are common in myelodysplastic syndrome patients and confer an adverse impact on outcomes. Ann Hematol 97(8):1349–1356

Komrokji RS, Kulasekararaj A, Al Ali NH, Kordasti S, Bart-Smith E, Craig BM, Padron E, Zhang L, Lancet JE, Pinilla-Ibarz J, List AF, Mufti GJ, Epling-Burnette PK (2016) Autoimmune diseases and myelodysplastic syndromes. Am J Hematol 91(5):E280–E283
Ethics declarations
Conflict of interest
The authors declare that they have no conflict of interest.
Ethics
The patient provided informed consent for this publication. The General Hospital of Šibenik-Knin County, Croatia, does not require ethical approval for reporting individual cases or case series.
Additional information
Publisher's note
Springer Nature remains neutral with regard to jurisdictional claims in published maps and institutional affiliations.
About this article
Cite this article
Krečak, I., Šupe, M., Ilić, I. et al. Behҫet-like syndrome associated with aplastic anemia successfully treated with mycophenolate mofetil. Ann Hematol 100, 2411–2413 (2021). https://doi.org/10.1007/s00277-020-04119-x
Received:

Accepted:

Published:

Issue Date:

DOI: https://doi.org/10.1007/s00277-020-04119-x