Abstract
Acute myeloid leukemia (AML) is a heterogeneous malignant disease characterized by a collection of genetic and epigenetic changes. As a consequence, AML can evolve towards more aggressive subtypes during treatment, which require additional therapies to prevent future relapse. As we have previously detected double-stranded DNA (dsDNA) in tumor-derived extracellular vesicles (EVs), in this current study we attempted to evaluate the potential diagnostic applications of AML EV-dsDNA derived from primary bone marrow and peripheral blood plasma samples. EVs from plasma of 29 pediatric AML patients (at initial diagnosis or during treatment) were isolated by ultracentrifugation, after which dsDNA was extracted from obtained EVs and analyzed for leukemia-specific mutations using next generation sequencing (NGS) and GeneScan-based fragment-length analysis. In 18 out of 20 patients, dsDNA harvested from EVs mirrored the (leukemia-specific) mutations found in the genomic DNA obtained from primary leukemia cells. In the nanoparticle tracking analysis (NTA), a decrease in EV numbers was observed in patients after treatment compared with initial diagnosis. Following treatment, in 75 samples out of the 79, these mutations were no longer detectable in EV-dsDNA. In light of our results, we propose the use of leukemia-derived EV-dsDNA as an additional measure for mutational status and, potentially, treatment response in pediatric AML.
Access options
Buy single article
Instant access to the full article PDF.
US$ 39.95
Tax calculation will be finalised during checkout.
Subscribe to journal
Immediate online access to all issues from 2019. Subscription will auto renew annually.
US$ 119
Tax calculation will be finalised during checkout.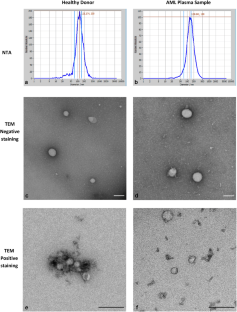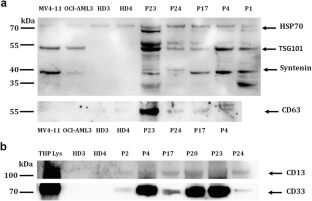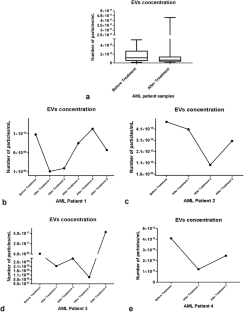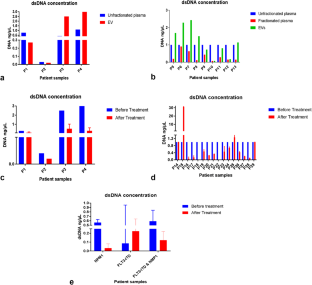 Acknowledgments
We thank Dr. Verena Börger and Michel Bremer from the working group of Prof. Bernd Giebel, Institute of Transfusion Medicine, University Hospital of Essen, for introducing us to ultracentrifugation and NTA devices. We also thank Dr. Thomas Herold from the Institute of Pathology and Institute of Neuropathology for providing us access to devices for analyzing the quality of EV-DNA.
Funding
The current study is supported by the José Carreras Leukemia Foundation grant DJCLS 18 R-2017 and Stiftung Universitätsmedizin Essen.
Ethics declarations
Conflict of interest
The authors declare that they have no conflicts of interest.
Informed consent
Informed consent was obtained from all individual participants (or their parents) included in the study. Each patient was consented following institutional review board approval AML-BFM 2004 (3VCreutzig1).
Ethical approval
All procedures performed in studies involving human participants were in accordance with the ethical standards of the institutional and/or national research committee and with the 1964 Helsinki declaration and its later amendments or comparable ethical standards.
Statement of welfare of animals
This article does not contain any studies with animals performed by any of the authors.
Additional information
Publisher's note
Springer Nature remains neutral with regard to jurisdictional claims in published maps and institutional affiliations.
About this article
Cite this article
Kontopoulou, E., Strachan, S., Reinhardt, K. et al. Evaluation of dsDNA from extracellular vesicles (EVs) in pediatric AML diagnostics. Ann Hematol 99, 459–475 (2020). https://doi.org/10.1007/s00277-019-03866-w
Received:

Accepted:

Published:

Issue Date:
Keywords
Acute myeloid leukemia

EVs

dsDNA

Mutational detection

Pediatrics