Abstract
Despite improvement in survival of newly diagnosed adult precursor B-acute lymphoblastic leukemia/lymphoma (B-ALL), the results of relapsed/refractory disease are poor. Blinatumomab, a bispecific monoclonal antibody directed against CD19/CD3 show clinical activity against relapsed/refractory B-ALL and in minimal residual disease (MRD)-positive patients.
We report our "real-world" experience with blinatumomab in patients with relapsed/refractory B-ALL.
Twenty-one patients, at a median age 52 years with median disease duration of 10 months, were included. Indications for treatment were hematological relapse (n = 17), MRD positivity (n = 2), inability to continue intensive chemotherapy (n = 1), and bridging to a second alloSCT (n = 1). Blinatumomab was given as first salvage in 11 patients and after at least one prior salvage treatment in eight.
Complete response (CR) was newly achieved in 47% and was maintained in 75% of patients with baseline CR. At a median follow-up of 12.4 months, 13 patients were alive, and 11 in CR. Median leukemia-free survival was 8.7 months, and median overall survival was 15.2 months. Median leukemia-free survival and overall survival were not reached in patients proceeding to alloSCT compared to 5.1 and 15.2 months, respectively, for patients who did not receive stem cell transplantation.
Treatment was well tolerated with neurological events reported in two patients (10%) and GI events in three patients (14%). Cytokine storm was reported in four patients (19%).
In conclusion, treatment with blinatumomab is effective and tolerable in adult patients with relapsed/refractory B-ALL outside of a clinical trial stetting.
Access options
Buy single article
Instant access to the full article PDF.
USD 39.95
Price includes VAT (USA)
Tax calculation will be finalised during checkout.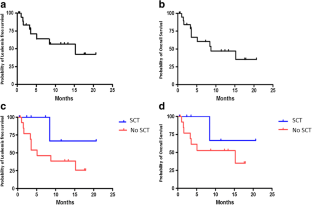 Ethics declarations
Conflict of interest
The authors declare that they have no conflict of interest.
Informed consent
Since this is a retrospective data collection, a waiver from informed consent was received from the local IRB.
Additional information
Publisher's note
Springer Nature remains neutral with regard to jurisdictional claims in published maps and institutional affiliations.
About this article
Cite this article
Apel, A., Ofran, Y., Wolach, O. et al. Safety and efficacy of blinatumomab: a real world data. Ann Hematol 99, 835–838 (2020). https://doi.org/10.1007/s00277-019-03854-0
Received:

Accepted:

Published:

Issue Date:
Keywords
Blinatumomab

Precursor B-acute lymphoblastic leukemia/lymphoma

Minimal residual disease

Salvage therapy