Abstract
In Germany, analyses of clinical and laboratory features of patients with acute porphyrias are only available for hereditary coproporphyria (HCP) but not with other acute porphyrias, acute intermittent porphyria (AIP) and variegate porphyria (VP). The aim of the study was to analyze a large cohort of patients with particular focus upon quality of life aspects. Sixty-two individuals from separate families with acute porphyrias (57 AIP, 5 VP) were included into an observational study collecting biochemical, genetic, and clinical data. A questionnaire was designed to complete anamnestic information and to assess the influence on quality of life. Most frequent signs and symptoms or laboratory abnormalities were abdominal colicky pain, red coloration of urine, and hyponatremia. Depression or anxiety was reported by 61% or 52% individuals, respectively. Fatigue was mentioned as the most quality of life-limiting symptom. In 59/61 patients, mutations could be identified. 44% (20/45) had to be admitted to an intensive care unit. Heme arginate was used in 64% (29/45) of patients for treatment of acute attacks at least once and in 33% for long-term treatment with high frequency of administration. Serum creatinine values increased in 47% (7/17) of the patients with recurrent attacks. Our analysis confirms a substantial influence of the diseases on the quality of life on patients. Percentages of urine discoloration and intensive care unit admissions were much higher than in other reports. Long-term treatment with heme arginate requires careful monitoring of iron status and renal values.
Access options
Buy single article
Instant access to the full article PDF.
US$ 39.95
Tax calculation will be finalised during checkout.
Subscribe to journal
Immediate online access to all issues from 2019. Subscription will auto renew annually.
US$ 119
Tax calculation will be finalised during checkout.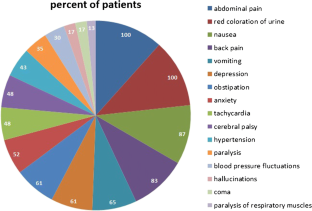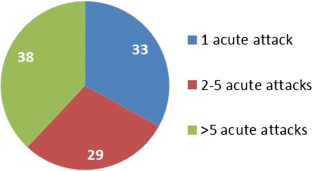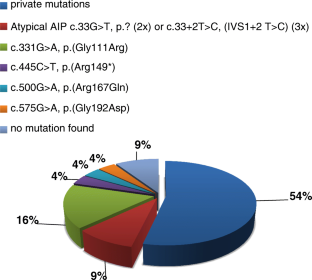 Abbreviations
5-ALA:

5-aminolevulinic acid

PBG:

porphobilinogen

siRNA:

silencing RNA

AIP:

acute intermittent porphyria

HCP:

hereditary coproporphyria

VP:

variegate porphyria

FMF:

familial Mediterranean fever
References
1.

Bissell DM, Anderson KE, Bonkovsky HL (2017) Porphyria. N Engl J Med 377:862–872

2.

Kühnel A, Gross U, Doss MO (2000) Hereditary coproporphyria in Germany: clinical-biochemical studies in 53 patients. Clin Biochem 33:465–473

3.

Bonkovsky H, Maddukuri VC, Yazici C, Anderson KE, Bissell DM, Bloomer JR, Phillips JD, Naik H, Peter I, Baillargeon G, Bossi K, Gandolfo L, Light C, Bishop D, Desnick RJ (2014) Acute porphyrias in the USA: features of 108 subjects from porphyrias consortium. Amer J Med 127:1233–1241

4.

Puy H, Deybach JC, Lamoril J et al (1997) Molecular epidemiology and diagnosis of PBG deaminase gene defects in acute intermittent porphyria. Am J Hum Gen 60:1373–1383

5.

Cerbino GN, Gerez EN, Varela LS et al (2015) Acute intermittent porphyria in Argentina: an update. Biomed Res Int 2015:946387. https://doi.org/10.1155/2015/946387

6.

Herrero C, Badenas C, Aguilera P, To-Figueras J (2015) Acute intermittent porphyria: Long-term follow up of 35 patients. Med Clín (English Edition) 145:332–337

7.

Bylesjö I, Wikberg A, Andersson C (2009) Clinical aspects of acute intermittent porphyria in Northern Sweden: a population-based study. Scand J Clin Invest 69:612–618

8.

Schneider-Yin X, Harms J, Minder EI (2009) Porphyria in Switzerland, 15 years experience. Swiss Med Wkly 139:198–206

9.

Hift RJ, Meissner PN (2005) An analysis of 112 acute porphyric attacks in Cape Town, South Africa: evidence that acute intermittent porphyria and variegate porphyria differ in susceptibility and severity. Medicine 84:48–60

10.

Di Pierro E, Ventura P, Brancaleoni V et al (2009) Clinical, biochemical and genetic characteristics of variegate porphyria in Italy. Cell Mol Biol (Noisy-le-grand) 55:79–88

11.

von und zu Fraunberg M, Pischik E, Udd L, Kauppinen R (2005) Clinical and biochemical characteristics and genotype-phenotype correlation in 143 Finnish and Russian patients with acute intermittent porphyria. Medicine 84:35–47

12.

Yang J, Chen Q, Yang H et al (2016) Clinical and laboratory features of acute porphyria: a study of 36 subjects in a Chinese tertiary referral center. Biomed Res Int 2016:3927635. https://doi.org/10.1155/2016/3927635

13.

Kumar S, Bhalla A, Sharma N, Dhibar DP, Kumari S, Varma S (2017) Clinical, biochemical characteristics and hospital outcome of acute intermittent porphyria patients: a descriptive study from North India. Ann Indian Acad Neurol 20:263–269

14.

Stauch Th, Doss M, Petrides PE et al (2017) Determination of reference ranges and cut-off values for the creatinine ratios of porphyrin precursors 5-aminolevulinic acid and porphobilinogen for the reliable evaluation of urine spot samples. International Congress of Porphyrins and Porphyrias, Bordeaux, France, June 2017

15.

Lin CN, Huang YC, Ro LS et al (2018) Validation and evaluation of two porphobilinogen deaminase assays for diagnosis of acute intermittent porphyria. Clin Chim Acta 479:1–6

16.

Brasch L, Zang C, Haverkamp T, Petrides PE (2004) Molecular analysis of acute intermittent porphyria: mutation screening in 20 patients in Germany reveals 11 novel mutations. Blood Cells Mol Dis 32:309–314

17.

Siegel FP, Tauscher J, Petrides PE (2013) Aquagenic pruritus in polycythemia vera: characteristics and influence of life in 441 patients. Am J Hematol 88:665–669

18.

Petrides PE (2011) Simultaneous presence of acute intermittent porphyria and familial Mediterranean fever in a Turkish female patient. International Porphyrins and Porphyrias Meeting Cardiff, UK, 10-14.April 2011

19.

Petrides PE (1998) Acute intermittent porphyria: mutation analysis and identification of gene carriers in a German kindred by PCR-DGGE analysis. Skin Pharmacol Appl Skin Physiol 11:374–380

20.

Haverkamp T, Bronisch O, Knösel T, Weichert W, Stauch T, Beykirch M, Petrides PE (2019) Heterogeneous molecular behaviour in liver and gall bladder tumors of patients with acute intermittent porphyria. International Congress on Porphyrins and Porphyrias, Milan, Italy, 8-11. Sept.2019

21.

Grath S, Parsch J (2016) Sex biased gene expression. Annu Rev Genet 50:29–44

22.

Stewart MF (2012) Review of hepatocellular cancer, hypertension and renal impairment as late complications of acute porphyria and recommendations for patient follow up. J Clin Pathol 65:976–980

23.

Pallet N, Karras A, Thervet E, Gouya L, Karim Z, Puy H (2018) Porphyria and kidney diseases. Clin Kidney J 11:191–197

24.

Pandey U, Dixit VK (2013) Acute intermittent porphyria in pregnancy: a case report and review of the literature. J Indian Med Assoc 11:850–851

25.

Tollånes MC, Aarsand AK, Sandberg S (2011) Excess risk of adverse pregnancy outcomes in women with porphyria: a population based cohort study. J Inherit Metab Dis 34:217–223

26.

Simon A, Pompilus F , Querbes W et al. (2018) Patient perspective on acute intermittent porphyria with frequent attacks: a disease with intermittent and chronic manifestations. Patient 11: 527–537

27.

Millward LM, Kelly P, Deacon A, Senior V, Peters TJ (2001) Self-rated psychosocial consequences and quality of life in the acute porphyrias. J Inherit Metab Dis 24:733–747

28.

Millward LM, Kelly P, King A, Peters TJ (2005) Anxiety and depression in the acute porphyrias. J Inherit Metab Dis 28:1099–1107

29.

Naik H, Stoecker M, Sanderson SC, Balwani M, Desnick RJ (2016) Experiences and concerns of patients with recurrent attacks of acute hepatic porphyria: a qualitative study. Mol Genet Metab 119:278–283

30.

Yang J, Zhu T, Zhao Y et al (2018) Acute intermittent porphyria in the north of China: the acute attack effect on quality of life and psychological condition. Biomed Res Int 2018:3216802. https://doi.org/10.1155/2018/3216802 eCollection 2018

31.

Gouya L, Ventura P, Balwani M et al. (2019) EXPLORE: a prospective multinational natural history study of patients with acute hepatic porphyrias (AHP) with recurrent attacks. Hepatology Sept 12. https://doi.org/10.1002/hep.30936

32.

Schmitt C, Lenglet H, Yu A, Delaby C, Benecke A, Lefebvre T, Letteron P, Paradis V, Wahlin S, Sandberg S, Harper P, Sardh E, Sandvik AK, Hov JR, Aarsand AK, Chiche L, Bazille C, Scoazec JY, To-Figueras J, Carrascal M, Abian J, Mirmiran A, Karim Z, Deybach JC, Puy H, Peoc'h K, Manceau H, Gouya L (2018) Recurrent attacks of acute hepatic porphyria: major role of the chronic inflammatory response in the liver. J Intern Med 284:78–91

33.

Sardh E, Harper P, Balwani M et al (2019) Phase 1 trial of an RNA interference therapy for acute intermittent porphyria. N Engl J Med 380:549–558

34.

Jian L, Berraondo P, Jerico D et al (2018) Systemic messenger RNA as an etiological treatment for acute intermittent porphyria. Nat Med 24:1899–1908
Acknowledgments
We thank the patients for providing information through personal interviews and QOL questionnaires and their informed consent.
Funding
This study was not funded.
Ethics declarations
Conflict of interest
The authors declare that they have no conflict of interest.
Ethical approval
This article does not contain any studies with human participants performed by any of the authors.Informed consent
Informed consent was obtained from all individual participants included in the study.
Additional information
Publisher's note
Springer Nature remains neutral with regard to jurisdictional claims in published maps and institutional affiliations.
About this article
Cite this article
Bronisch, O., Stauch, T., Haverkamp, T. et al. Acute porphyrias: a German monocentric study of the biochemical, molecular genetic, and clinical data of 62 families. Ann Hematol 98, 2683–2691 (2019). https://doi.org/10.1007/s00277-019-03831-7
Received:

Accepted:

Published:

Issue Date:
Keywords
Acute porphyria

Quality of life

Recurrent attacks

Mutation analysis